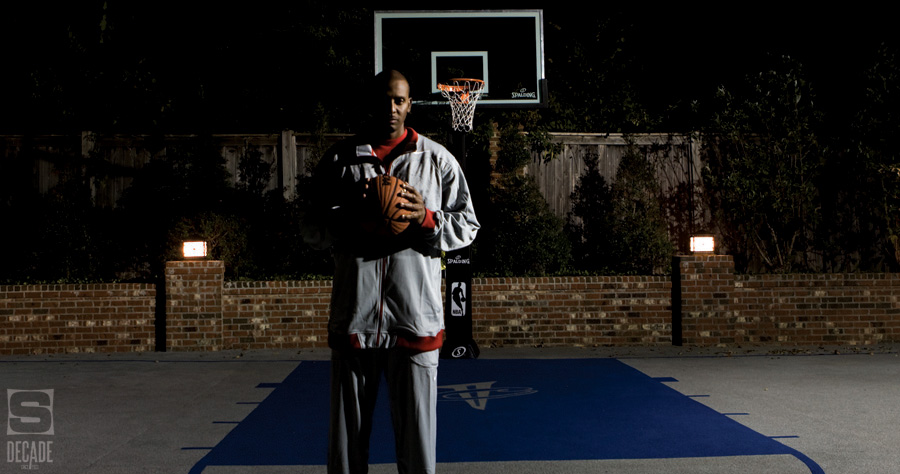 as told by Steve Mullholand & Nick DePaula
published in Issue 45 of Sole Collector Magazine, the 10th Anniversary Issue
Nick DePaula: I just really remember that the interview was on a Tuesday at his house, and we were actually in northern Wisconsin for meetings at Eastbay the day before. So we had to drive all through the night from Wisconsin down to Memphis. [Laughs]
Steve Mullholand: Straight through the night! It was like a 12-hour drive and we left at 8 p.m. We go from all of these amazing meetings with Eastbay where we're just talking shoes for hours with those guys, and then we go straight to Penny's place. It was just how we did things early on with the magazine, for guys like TMac, Vick and everyone else. It was just so much fun to go to their houses like that and just hang out for a bit.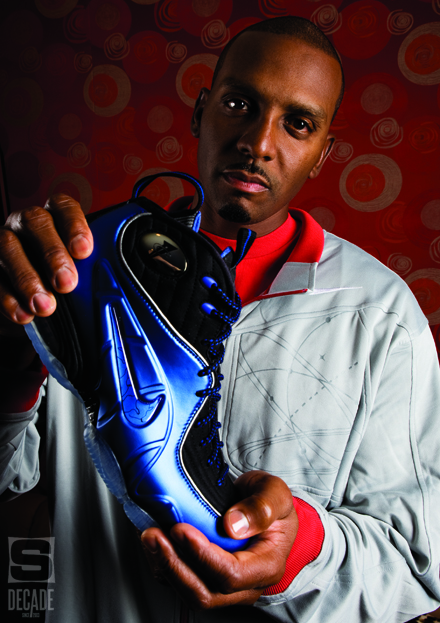 NDP: For the cover, we had this idea of shooting him with all of his shoes. I actually had everything but the Penny IV in size 13 and 14, so I was going to bring it all with me and we thought it was going to work out great. The day before we're supposed to be at his place, I'm at Eastbay and on my phone trying to find a IV. I was able to track down a guy from New York, Oluyemi Finerson, who actually does all the photos for Packer Shoes now, and he had a size 13 IV in White / Black / Blue.
He overnighted them to Memphis, which is actually where the Fed-Ex hub is based. He sent them to one of the centers by Penny's house, and it couldn't have worked out better. Our interview was at noon, and the shoes were available to get picked up at 11 that morning.
SM: When we finally get to Memphis, there was apparently a miscommunication on the time. [Laughs] We get there at noon and knock on the door, and the housekeeper answers and says, "Yeah, Penny is playing in a golf tournament 'til 5. He's not here."
It was one of those things. I had done enough interviews by that point to know that schedules don't always get locked in. One time, I was supposed to shoot Big Tigger, and it was during one of the NFL Playoff games.
There're a bunch of cars out front and people at his house, yet they're telling me Big Tigger is sick and can't do it. I'm like, "Come on, he's throwing a huge party and I can actually see it." [Laughs] I flew all the way out there too, but hey, some shit happens sometimes.
So at that point, we're all tired as hell from the drive and we're looking at each other like, "Well, we might not have this Penny story like we thought we were going to." [Laughs] We were told to come back at 6, so we took off, went to an Olive Garden for a couple hours and then checked out the Nike Clearance Store in Memphis.
We get back to his place at 6, and he's got a couple friends over and they let us in. We're all just hanging out and talking it up, and then in walks Penny. He actually lives on a golf course out there in Memphis, and he comes in all dressed up from the course in his Tiger Woods gear. He goes and changes into a track suit real quick, comes on over to where we are and is just great.
We go upstairs to do the photoshoot, and this was really the first time we were dealing with Penny. I've gotta say, Penny was one of the few NBA athletes that was as excited about telling these stories as we were to hear them. That was also the first time that he had done a big interview about his shoes, and also the first time he saw the ½ Cent in person.
NDP: It was still really early in the time that Marc Dolce was working on his shoes, so Penny actually hadn't seen them up to that point. We were able to bring a size 9 right to Memphis and that was the first time he had seen them.
SM: It was so cool. He was like a kid getting a present, and right away, he was pointing out all of the details from each shoe that went into the ½ Cent, and he got every one right. It was really cool to see. He's the guy that, to me, has the second best line of sneakers ever, and he was just so excited to be having a new shoe like that.
NDP: He's been that way for every one of his other new shoes now too. It's so awesome.
SM: I remember you were sitting with him on the couch for the interview, asking him a bunch of questions. I just wanted to stop taking photos and sit down and talk too, because the interaction between Penny and us was just amazing. The stories he was telling, and the depth that he was telling us, you didn't get that often. He didn't shy away from any of the questions at all. I remember handing him my iPhone, which was kind of new at the time, and we were playing old commercials of his for him on it. We watched the "Frozen Moment" ad with Lil Penny at the park, and he was just smiling and laughing along. I just thought, "Man, this is what it's about."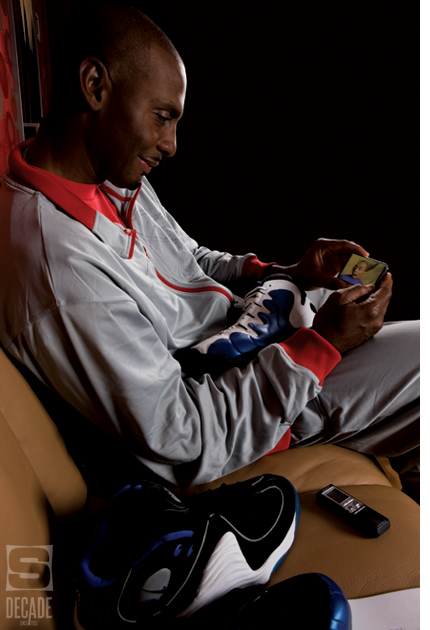 This is an absolute All-Star, the guy with the second-best sneaker line ever released, and here he is talking to us about shoes like we've been friends for years. I'll never forget that interview. It's one of those ones that I just play over and over in my mind. I wish other athletes were as genuinely excited as he was, and as interested in telling all of the stories appropriately as they related to each shoe.
Everything was just great. Between the game room we shot him in, the movie room he had with all of his teammates' jerseys from the '96 Olympic team framed up along the walls, to checking out his shoe closet in his room – his place was amazing.
We were there for the entire night, and he was just so cool and welcoming. He has a custom court in his backyard, and there's a 1 Cent logo in the key. We had to shoot him there, so we all go out to the court and all of a sudden we're shooting around. This was a real proud moment of Nick for me. [Laughs]
Nick is over on the wing, and the ball gets to him and he takes a shot. Penny didn't say shit when Zac shot and definitely didn't say shit when I shot. But man, when Nick shot, Penny just goes, "Ok, ok. I see that shot." [Laughs] And Nick made like four or five shots in a row. So at least he knew one of us could actually play.
Then Penny goes to the baseline corner, looks at us and goes, "Alright, I'll let you guys call it in the air. $10,000." We were just like, "Oh, get the fuck outta here." [Laughs] Of course, the first one he just drains. I just wish we could've been like, "Oh yeah, lets play for sure." But come on. There was no chance.
NDP: To me, that was the coolest thing we ever did. The thing that I always took from it was just how grateful he was that people were still following his shoes all these years later. You just could see it come across so easily, and then again in other interviews we've done with him and with the event in Las Vegas. He's just so good about that and appreciates all of his fans all this time.
SM: Fast forward to the event in 2011 and the other times we've hung out with him, and he's very consistently an appreciative guy. I'll never forget when he was just about to leave the Las Vegas event, which was one of our very best events. He comes back in by the back entrance and says to me, "Steve, can you go find Victor so I can say goodbye?"
Victor translates and puts the magazine out for us in China, is based in Beijing, and flew to Vegas just for the event. Obviously Penny might not see him for a while, and for him to be thinking like that and to make sure he got to say bye to Victor, you just don't see that. Penny is the real deal. There's nobody better.
Looking back now at this cover, the thing that stands out too is that it just took time and it took work. We were on the edge. We drove all that way just to get to the interview. We were pushing it all the way to the limit all the time, and that's what you had to be doing to capture these kinds of things. You have to put in the time, get a little bit lucky and be prepared. You have to have the great photos and just know how to capture a great interview, and that's what we had. That's why that whole thing worked. Every one of us was on it at Penny's house. You could show that interview in its entirety to anyone into sneakers, and they'll sit there and read every word.
Sole Collector Magazine // Issue 25 -- October 2008