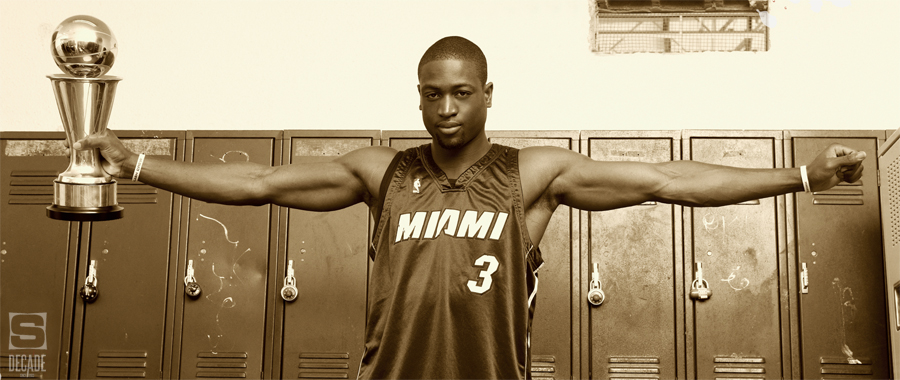 as told by Steve Mullholand
photography // Kevin Roberts
published in Issue 45 of Sole Collector Magazine, the 10th Anniversary Issue
This shoot with DWade was great, because usually when you're going to shoot someone and the brand brings you in, which in this case was Converse, all you want to do is give that brand love. You can't go asking him about a bunch of other brands or anything like that.
But this time, I did. [Laughs] I broke one of my cardinal rules, and I was like, "You know what, the guys at Converse are really cool, they're based in Chicago, and they know that DWade is from there and was into other sneakers."
So we get to this photoshoot in Miami, and of course, this is way before he ends up joining Jordan Brand. It was right after he won the title and Finals MVP in 2006. You couldn't write a better story, and he played one of the best games of any NBA player ever. It was a crazy time for him, and he was flying high.
He's with Converse, just won a title and just had his first shoe really take off. They were doing a big photoshoot with him before our interview, and they had a lights set up that probably cost $10,000 just to rent for the day. [Laughs]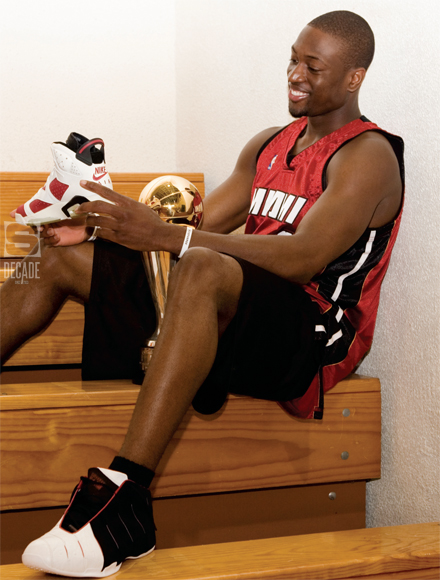 It was a ridiculous amount of stuff. They had 20-foot-wide softboxes and just crazy equipment. Our photographer Kevin [Roberts] and I come in with these little-ass softboxes to shoot him with and we were just like, "Well, this is what we got." [Laughs]
He didn't give a shit, and he goes, "So where do you guys want to shoot this?" Earlier in the day, we scouted this locker room in a high school in Miami, and it was really cool. It was kinda grungy, but I thought it could be cool, so we all went over there. Before we started shooting, we interviewed him on the bleachers of the gym.
I said to him right before, "DWade, what kind of cover do you want? Do you want to be strong? Do you want it to be introspective, mean, or what?" He just said, "Whatever you guys do, don't make the cover soft. I want to look strong." So, we shot all of these photos of him, and it was probably an hour-plus photoshoot after our interview.
During the interview, I bring along a duffle bag of stuff that I could possibly get in a whole shitload of trouble on. [Laughs] We ask him all the Converse stuff about his own shoes, and then I break out the Carmines.
I took out the Carmines, and I handed them to him, and the expression on his face, with the Finals MVP trophy sitting between his legs, was just absolutely insane. I got the photo taken so that the 'Nike Air' was on the back of the shoe, and you can definitely tell what shoe it is. The look on his face was 100 percent genuine. You could just feel it, that this is what got him started into shoes.
He's a Chicago guy, and Michael was everything to him. It was just one of those tipping points, and the guys at Converse were totally cool with it. Paul, who is just awesome, said, "Dude, we know that there are other shoes that DWade liked in the past, and that's not something that you shouldn't be able to talk about."
Plus, Nike just bought Converse a couple years before that, so they were kind of part of the same family anyways. It wasn't like we were asking DRose now about Jordans or something like that.
We knew that was pure gold then, and who knew Wade was going to end up going to Jordan Brand. That was one of the most iconic photos we'd ever taken, with the Finals MVP trophy, the Converse on his feet, and an original Jordan VI Carmine sitting in his hand in perfect deadstock condition.
We get back to the office, and I send Anthony Gilbert some of the photos to check out, and there was one that looked like he was almost praying over the trophy. AG really liked that photo, and I just said, "Man, we can't use that photo. He said he wants something strong." The cover photo we had was super tough, and I was like, "I can't break my word to the guy. The other one is great and everything, but it's not as powerful." If you look inside Lace 'Em Up in the issue, you can actually see all three shots that we were considering for the cover. That one of him holding the trophy that we went with is as good as it gets.
That wasn't actually even what we tried to do for the cover. We had done a bunch of poses, and then that one was just him having fun and being naturally strong and glaring at the camera. Because we didn't think at the time that that was going to be the shot for the cover, we didn't have the speed and settings all exactly dialed in, so we had to touch up a couple things on his face to make it sharper. Kevin just really warned me, "Man, changing anything on someone's face can be real tricky. Just don't make it look like he got plastic surgery or something." [Laughs]
So I Photoshopped it just a little, without telling anyone else that I did, and when I sent out the photo to everyone at the magazine and at Converse to check it out, everyone thought it looked amazing. It's definitely been one of our better covers all these years later, and Wade has always been awesome every time we've worked with him since.
Sole Collector Magazine // Issue 13 -- Summer 2006