words & images // Steve Mullholand
published in Issue 45 of Sole Collector Magazine, the 10th Anniversary Issue
MAN I LOVE MY JOB. I work with the best people in the sneaker world on projects that have helped sculpt the sneaker industry in a positive way. Well, most of the time they are positive for sneakerheads. I've made some mistakes and I'll be the first to admit them, but luckily, with the help of my team, I've made many more positive choices than negative ones. So let's jump back in time and chronicle how we got here.
Instyleshoes and the Forums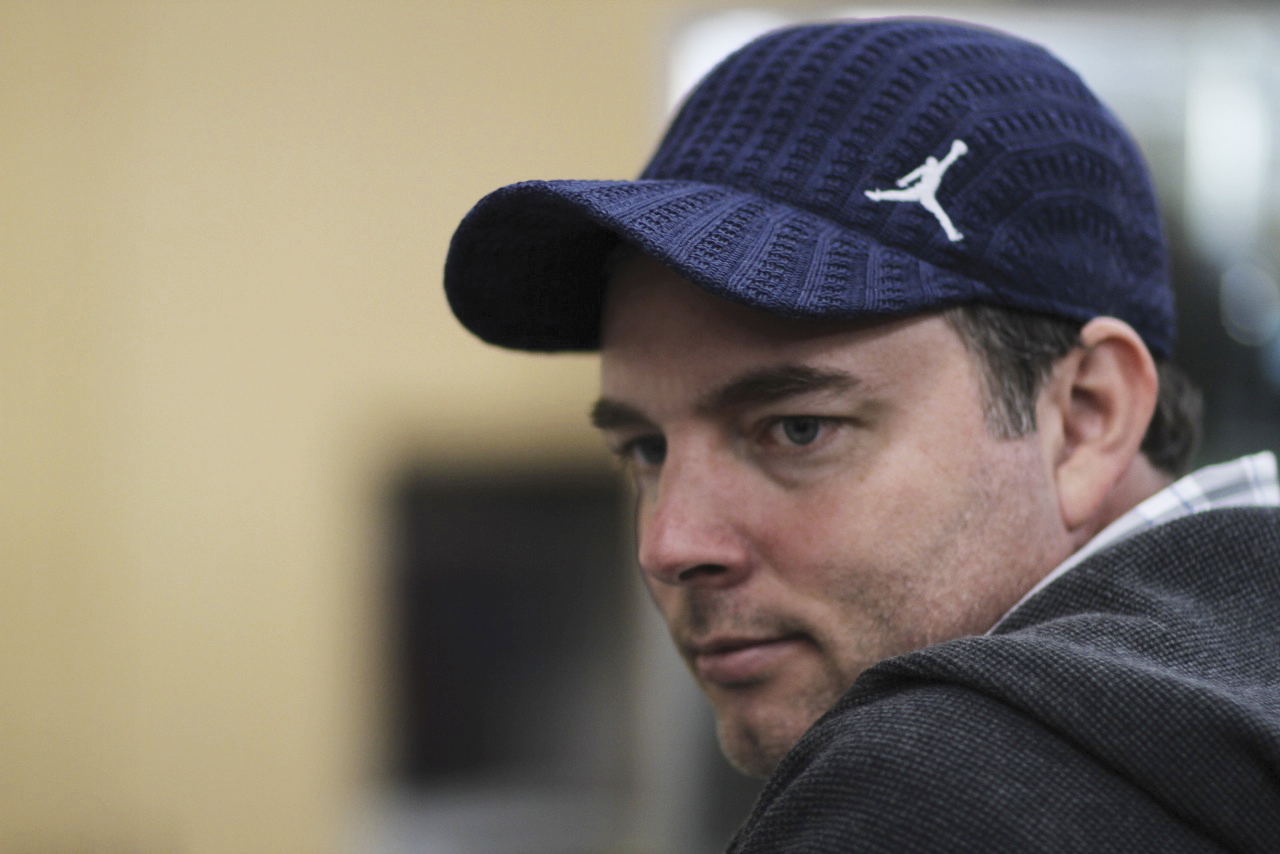 To get an understanding of how SC was started, we have to go beyond the magazine's launch date of 2003 and take a look at 1999. I started a site called Instyeshoes in 1999, and it was a mean site. Back then – and I know this is going to be hard to believe – but digital cameras were not prevalent, so most eBay auctions just had text descriptions of items for sale.
I thought that was pretty weak, so I invested in a digital camera and started posting sneaker auctions with really good photos. I started off with a $30,000 investment that grew to over $400,000 the first year. The stars were aligned, as this would be the seed money for SC – I just didn't know it yet.
During the first year of Instyleshoes, I started a small forum. When I say small, I mean we had fewer than 100 users! (Fast forward 13 years and now we have more than 450,000.)
While the Forum, then called ISS, was growing, I started to meet a few of the Forum members. A number of the members wanted to sell their collections to me as a whole, and I would drive to meet them and buy their shoes. This is when I started seeing the people behind the sneaker culture – the people who were driving it by participating on the forums and chat rooms.
But something was missing; there wasn't a face to our culture except for athletes and celebrities. Yes, there were forums, but nothing that legitimized the culture or brought it to the next level. I mean, for all I knew, the kids into kicks were really 40-year-old guys just reliving their past and as soon as they exited, the sneaker culture would die off. But they weren't. They were sharp kids who wanted to learn everything that they could about kicks, but were limited to just forums. That was when the seed was planted – I knew what I had to do. I had to create a magazine.
Sole Collector Magazine Is Born
SC was born out of a void in the sneaker world. I can distinctly remember going to the bookstore and doing some research on other magazines dedicated to "collectors." I found magazines dedicated to stamp collectors, coin collectors and all kinds of stuff. Okay, real boring. Watch collectors? Now this is more like it.
And then the magazine that sold me on it. As soon as I saw this magazine I knew we could justify a magazine dedicated to kicks. And that magazine was: a rubber stamp collecting magazine. I mean come on, if there is a magazine dedicated to collecting rubber stamps, there sure the hell can be one for sneakers! That day in Barnes & Noble, I knew the idea would work. But how do we go from an idea on a bar napkin to actually delivering the first issue? I had no fucking idea. But that never stopped me before.
The first thing I needed to do was to find a printer to print the magazine. I looked locally and found nothing. I looked around the state of Florida; there were printers, but they had a limit on how many issues they could print. I got a tip on a great printer out of Kentucky called Publishers Press. Their prices were good, and to this day we continue to print with them. As for the software to design the magazine, we used InDesign and were the first ones at Publishers Press to use this software – everyone else used Quark. We lucked out here. If we would have invested in Quark, like everyone else, then we would have been buying into a dinosaur. We bought a Canon 1Ds for the photo side, which I took control of. And then we needed a writer with some creditability.
Enter Alex Wang. I was living in Satellite Beach, Florida, and I knew the options were limited to find someone to help me start this magazine. But I knew a lot of people on the forums and I reached out to the most knowledgeable sneaker kid I could find, who was Retrokid. I flew RK out to Satellite Beach so we could meet up with my other partner to map out the content for the magazine. We put together a great first issue and talked about future issues. We could only think of enough content for the rest of the year. But even though we exhausted our ideas, I knew that we would find other things to talk about. And 10 years later, we still have things to talk about, now on a daily basis!
When we launched the first issue, we didn't have any paying ads, and that was by design. Before we accepted funds from advertisers, I wanted them to see what I was talking about. I sure didn't want to go to a meeting and say, "Well the mag is going to look like this – just imagine – it will be great!" When the first issue was printed and I started meeting with the marketing people at different sneaker companies, I would always get the same look. I would tell them that I started a sneaker magazine and they thought that was nice, but they had conjured up "sneaker geeks" as the imagery for the magazines, not "sneaker gods."
I wanted the gods. So when I opened up my backpack and threw the first issue of the magazine on the table, I got a gratifying feeling because in their eyes I could see shock. They sure didn't imagine the sneakerheads of my world being "cool."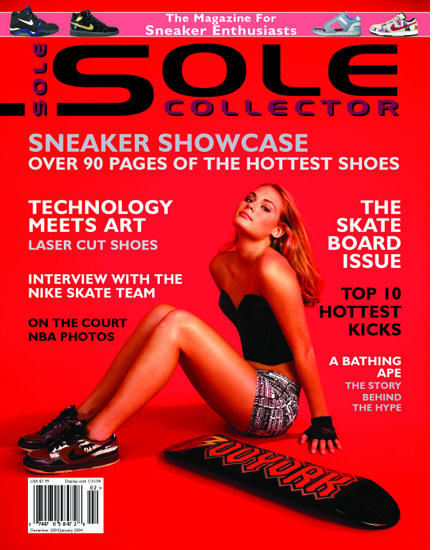 One of my missions with SC was to make sure I did my fellow sneakerheads right. I didn't want them to look like coin collectors or stamp collectors. I wanted everyone to know that the kids reading this magazine are the tastemakers, the trendsetters, the alphas. I knew one way to do this was to take great photos of kids, designers, celebrities and, of course, the kicks. We have probably spent over $100,000 in camera equipment over the past 10 years to make sure we stayed ahead of the curve. Personally, I think we have the best sneaker photographers in the business. So much so that we have been hired many times by the biggest sneaker companies to take photos for their own uses.
So, the first issue launches, and the kids on the Forum thought it was a great first try. It was our test issue, and we pushed the envelope as much as we could. I was in the garage with a skillsaw cutting fake shoes in half, and RK was writing 90 percent of the words, and we just did it. We did it because we loved it. We loved starting something new and making our sneaker community look great.
Was the first issue fucking awesome? No. But it was solid. It proved that we could do it, but it wasn't what I hoped it would be. But what first issue is? How about the encore? Ah, now that is a different story.
A little back story first. Before I started Sole Collector, I bought a CSY 44 sailboat and was set to go on a 1,500-mile sail, and after that, then get ready to sail around the world. Right before we went on the 1,500-mile cruise, we finished up the second issue. I told the printers to send it to Georgetown, Bahamas, and I should get it there.
I arrived at the grocery store in Georgetown that has a post office in it, and man, was all excited to get it. But nothing was there. I called the printers and asked them to ship it to the Turks and Caicos and hold it at the FedEx office. When we anchored out at the Turks and Caicos, I went onto the island and walked to the FedEx building, and man was it hot. I finally get there, grabbed a couple of drinks of water, and walked up to the FedEx counter to ask if there was a package for me.
There it was, and my heart started beating. I was hoping for the best, but I just didn't know how it was going to turn out. I sat on a ledge outside the office and held the FedEx envelope in my hand and wondered if all the time and money was worth it. I pulled the ripcord off the envelope and took out two of the most glorious magazines ever. Okay – they might not be the most glorious to you, but at that moment, they were to me.
Everything about that issue was a huge upgrade over the first issue, and I knew that we had the capability of making a truly solid sneaker magazine. So the trip around the world? It was placed on hold, and after a five-week sail, I went back to the States, started working on the magazine full-time and sold the sailboat.
Writing a feature story for each and every issue would be pretty easy to do seeing how each issue was a place in time not only in the words and photos that we printed, but also with what was going on outside the magazine like events, website upgrades and many other very interesting projects. I can't go into every story, as I'd take up this entire issue, so I'll just go over some of the major highlights for me.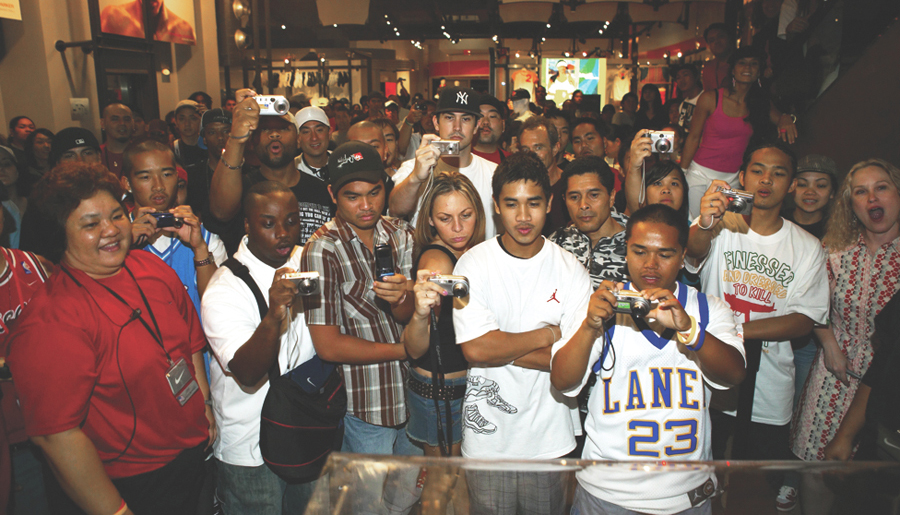 The SC Events and Competitions
Sneaker competitions were one of the first major projects that Sole Collector worked on with Nike. It started with an idea that I had about bringing the sneaker community together in person and in a safe environment. My dream was to have people bring in shoes that people have never seen before. I didn't want people just to have tables with their best kicks just for viewing; I wanted there to be some kind of award for the people with the best kicks at the event. But where could we have these events? Luckily, a lunch meeting answered that question.
Fairly early on in the idea development process, I had a lunch meeting with two real cool guys, Lee Banks from Nike and PK from NIKETOWN. It was the first time that I met up with PK, and we were all just talking about the normal topic – sneakers. And I brought up this sneaker event that I'd been toying with and said I just need to find a venue. PK immediately threw out, "Why not have it at NIKETOWN?" Man, that made total sense! We would have to have some ground rules, like only Nike shoes on display, but hell, that was easy since most people's best shoes were Nikes or Jordans. Now the big questions – will anyone come, and who will come?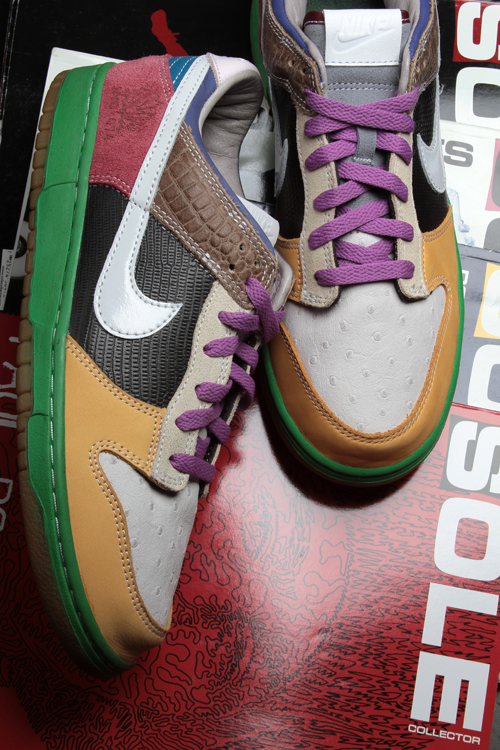 The first event was at the NIKETOWN in San Francisco in 2004. Sole Collector was in charge of getting people to come to the event, and our only outlet to pump up the event was advertising it on our website. Connecting a digital platform to a real life event was a little scary, because we didn't know if enough local people were even on our website. I can distinctly remember getting everything set up at the NIKETOWN, and then walking over to a bookstore to see if Sole Collector was on the shelf. When we left, nobody was in line and, of course, the worrying game started. But when we came back, not only were there two people in line – they were wearing Nike Dunk Supreme Highs. They were "our" kind of people.
The event ended up being a huge success. The only issue that we had was the catering company accidently set off the fire alarm because they were cooking in a closet and they burned something, so the event was shut down for 15 minutes while the fire trucks came and made sure everything was alright. And without skipping a beat, the event started back up like nothing happened. Of course, I said the fairly lame joke to everyone that, "There is so much heat in the building the fire brigade had to come."
The events as a whole were amazing. We created many unique colorways to sell at the events as well as some ultra-rare one-of-one shoes from the Zoo for auction. And the final event in Las Vegas in 2006? Just amazing! To all of the kids out there who attended the events, thank you for making them successful. It was a ton of work on the SC and Nike team to pull these events off, but I have to say – we never had a huge problem, and all the events in my eyes were seriously successful on all fronts. PK even won a Nike ACE award for the events, the company's annual award for its best and most creative employees.
The Breakthrough
As many of you know, Issue 7 of Sole Collector, which came out in 2005, was a milestone for many reasons. One, it was the first magazine to showcase every Jordan model and colorway ever created. (Okay, there were a few colorways missing that we just couldn't get our hands on, but those were shoes that nobody we knew had – and we knew people with serious Jordans, so you know they were rare.) It was also the first time we worked with the all-star team at Jordan Brand.
From Larry to Roman to G to Keith to H to Dinusha to Tinker and Smitty, it was just an amazing group of people to work with on our first major print project. But more than that, I learned how the best sneaker company operated and treated their brand. The professionalism of Roman and his group taught me lessons I still use to this day. For years we were part of the JB family, and that was something I've always respected. And if it weren't for that crew of people, Sole Collector wouldn't nearly be the company that it is today.
After Issue 7, we had to follow it up with the second Jordan issue, which was issue 11.
SC Goes On Tour
In our first Jordan issue, we showcased every Jordan and interviewed 20 different sneaker collectors, including Spike Lee. The question was: How could we top that?
We had to do something different – something people weren't expecting – zig when others zag. So I went into the meeting with Roman sometime in October and pitched the 50-State Run idea. My idea was to put out a contest to be showcased in the magazine. I didn't say that it was going to represent your state – I just wanted the people with the best Jordan stories. Roman really liked the idea, and now I was on the hook to make it happen. We made a post on the site and asked people to send in a small story on why they should be chosen to be in our next Jordan issue. What we ended up doing was choosing the best one per state, and we purposely picked a wide range of ages so we could dive deep into what a Jordan collector looks like.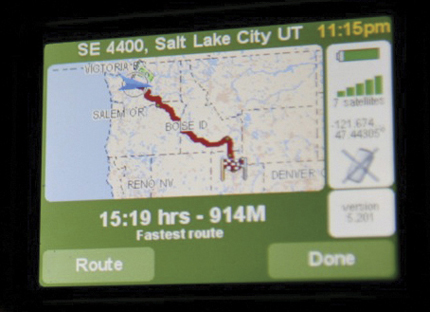 And when I say now I was on the hook to make it happen, that meant I really was on the hook! Sometimes I have these ideas and I know they are possible to pull off, but I don't think of all the small elements that make the project near impossible to pull off. But my team and I weren't the type to back down from any type of hardship. We knew we had to do it, and we just figured it out. We bought a map of the U.S., put it up on the wall, and placed pins in each of the cities we had to go to. From there we split up. We had a team at the office really being the mission control center, and then I rented a Dodge Durango, made sure it had unlimited miles, and headed north to the Georgia border. Some people thought it was crazy for me to be the lone driver and photographer on the entire trip, but hell, I thought it was an adventure. And it was an adventure of a lifetime.
There is no doubt that the trip was really tough in the beginning. My goal was to photograph three people per day on the East Coast, because the states are smaller. My earliest photo shoot was at 6 a.m., and my latest one on the trip was 2 a.m. After I got past all the crazy traffic on the East Coast, things became easier and a little more relaxed. Although I usually only slept two to four hours per night in rest areas, it just seemed right. It felt like I was doing something special, and the people I met kept me super motivated. Think about it, shooting 50 people in their homes or workplaces – from a real cowboy in Wyoming wearing black Jordan Vs, to shooting a Hawaiian on a beach in Oahu – it was compelling stuff. And the stories were way better than I could have ever imagined. I mean, this trip did push my mental and physical limits, but in the end, it was so worth it because we were able to capture an amazing cross-section of the sneaker community. And I think our readers enjoyed the stories, because they could connect with so many different people.
Sole Collector In China
The China project that I have been working on for years has been an enlightening project. I always looked to NYC / U.S. / Tokyo (yeah – NYC is its own country in this genre) as the leaders in the footwear industry. If you want to see fresh kicks, hang out on any block from Brooklyn down to the Financial District and you'll see a pair of kicks you need. Same with Tokyo back in the day – hardcore heads with a real talent for pushing the fashion envelope. So when I got to China, I pretty much thought they would be lagging way behind. And they were.
The thing about China's sneaker game is that it only recently started. They weren't lucky enough to have access to sneaker icons ravaging arenas like MJ. They were introduced to Jordans around the XIII, and once they understood what MJ was all about, then it just blew up. So the fact of the matter is this: SC has some of the most knowledgeable sneakerheads in the world, and China has the most rapidly expanding sneaker culture that is consuming sneaker history at an alarming rate. SC fits the role perfectly. We have a solid reputation as an authentic content source, and the Chinese consumer wants to learn what is hot now as well as what was hot and why it was hot back in the day. And to Victor Sun, who leads the SC China team in Beijing – I have to say – the Chinese food in China is way better than here!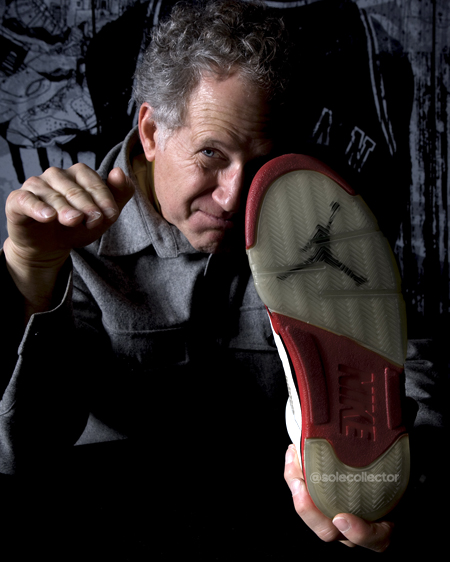 Partnerships, Relationships and the Readers
One of the true marks of success at SC has been the collaborations that we have done. I think we have done some of the strongest collaborations out there, and you will see what I mean a little further in this issue as we have many of them pictured. Some of the greatest memories were working with Gentry and Marc on some next-level kicks, the "Cowboy" at NikeiD who taught us how far we can push the envelope, the Zoo, Smitty for some of the most next-level kicks ever for our sneaker competitions, and Yuron, KP, Leo, JP and the Nike Basketball team for some truly powerful and timely kicks. It is so damn amazing to look back at what we have done over the past decade. It inspires me to move forward at a quicker and smarter pace.
Another important partnership was with Foot Locker and Eastbay. Both played a key role in the growth and direction of SC. Working with these two teams helped shape how we connected to a broader audience. The lessons we learned from these partnerships aren't taught in any book or seminar. It was seeing how a multi-billion dollar business stayed connected to an ever-changing elite consumer. Words can't express the respect I have for people that we have worked with over the years like Dave Lokes and Dick Johnson, not just for who they are but also for what they did for Sole Collector.
And the most powerful relationship we have made over the years was with Nike. From the sneaker events, to the iPad releases, to the sneaker collaborations, to the true partnership that we continue to have means the world to me. As a businessperson, you have to make sure you have a great business plan and be flexible with it as times change. Those are just the fundamentals that are a reality. But to truly next-level your business, you have to be the right person to connect to the right people at the companies you want to partner with. My thinking was always, if the person I'm working with was cool enough and trustworthy enough to be a friend outside of work, then there is an opportunity to do something truly special at work. And I've been lucky enough to become friends with some of the best people in the industry – ones that I would go to the wall for, and I think they would do the same for me. From Tinker Hatfield, Tim Hershey, Mark Smith and many others – if it wasn't for your support, we wouldn't have been able to change the sneaker world in such a monumental way. Every project we worked on had a true passion behind it, and the consumer could feel it. Real people with real talent will always win, and I'm damn lucky to be able to work with you guys.
There are tons of other stories to talk about, and you can check out everything from our ten best covers, ten best interviews and collaborations all in the following pages. Maybe I need to write a book. From the second issue on, the ride has been truly amazing. From almost going bankrupt when the economy went south, to finding the best employees in the sneaker world that have become personal friends, to meeting the likes of Michael Jordan – to say it has been one of the most amazing adventures of my life is an understatement. And now with Complex purchasing Sole Collector, the door is open to next-level every thing. The dreams I've had are becoming a reality today, and the next 10 years are going to be a hell of a great ride as well. I'm thoroughly impressed with Complex and where we can go. Those guys have the muscle, and we have the content. Great things are on the horizon.
Lastly, I'd like to thank the most important component of SC: you the reader. I know, that sounds like a Grammy acceptance speech from the latest flavor, but in reality it is 100 percent true. Without your encouragement, your support and your participation, SC wouldn't be where it is today, and I have a deep respect for you. I can truly say that the sneaker community has affected me as much as SC has affected the sneaker culture, and I'm humbly proud of that.