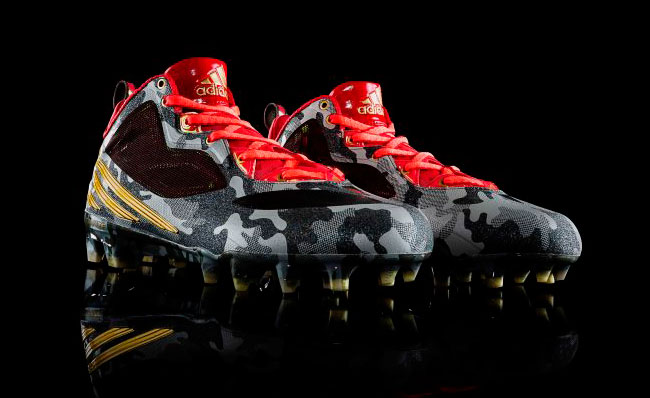 words // Brandon Richard
via Press Release
During tonight's Thursday Night Football game, Washington Redskins quarterback Robert Griffin III will honor the men and women of the US military by debuting his first adidas signature football cleat in a camouflage colorway.
RG3 is the proud son of two Army vets, was born at Camp Lester Naval Hospital in Okinawa, Japan and lived on various military bases growing up before settling at Ford hood near Copperas Cove, Texas. Military values of discipline and hard work instilled in him by his parents remain with him today.
"Everyone who knows my history knows that I'm a military kid," said Griffin III. "My parents put in a combined 34 years of service. To have a cleat that represents not only the military, but what my parents gave me and my sisters, is truly an honor."
Celebrating Veteran's Day, RGIII's signature cleat features an exterior in green and gold, representing the formal dress greens worn by the US Army. Modern digital camouflage print is inspired by the early 1990s green pattern worn by Griffin's parents. Bright color pops that adorn the interior, insoles and laces mirror the poppy flower that serves as a Veteran's Day remembrance. The heel tab is emblazoned with RG3's motto "Know Your Why."
To commemorate Veteran's Day on November 11, adidas will release a limited number of special gift boxes, including signed RGIII cleats in the special colorway with a matching flat brim hat, graph tee and Team Speed socks. Each box will be sold for $1,111 on Twitter and Facebook using the hash tags #BUY #THERGIII together via Chirpify. 100% of the proceeds will be donated to ORHF.
"Robert Griffin III is one of the most authentic athletes in all of sports and is a role model on and off the field," said David Baxter, VP of Sport Performance for adidas America. "Creating a signature cleat for Robert solidifies him as a sports icon side by side with the likes of Derrick Rose and Lionel Messi."
Griffin III joins adidas icons Derrick Rose of the Chicago Bulls and Lionel Messi of FC Barcelona in having his own signature footwear.
"It's every kid's dream when they are watching superstars on TV, to one day have your own shoe," said Griffin III. "In my second year as a pro, it is a dream-come-true to have my own signature cleat and being able to honor the men and women who serve this great country with this shoe makes it that much more special."
Griffin's signature cleat was designed and built to the quarterback's specifications to enhance his unique style of play and his ability to fuse performance and style. A lightweight 5/8 speed-mid cut provides support without extra bulkiness and weight while a full length internal adidas TechFit liner wraps the foot with a sock-like fit, locking it in place over the top of the plate for quick changes of direction. The engineered lightweight upper featuring QuickWeb technology provides zoned, lightweight support and the QuickFrame plate gives Griffin III the traction to stop on a dime and make quick changes of direction.
The RGIII signature cleat will officially launch next April 1. Keep an eye on facebook.com/adidasfootballus and twitter.com/adidasUS for early launch information.