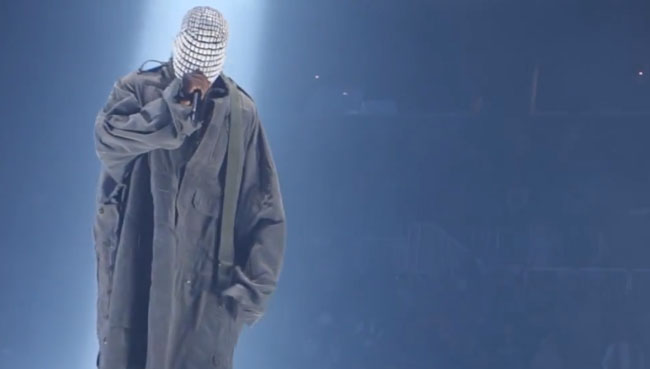 Words // Zac Dubasik
Kanye West is no stranger to controversy, and his rants have left him in unfavorable light more than once before. But love him or hate him, agree or disagree, he has raised some interesting points over the years.
Last night, during the second Yeezus tour performance at Brooklyn's Barclays Center, Ye accused Nike CEO Mark Parker of minimizing the potential of the Yeezy. "They tried to make it as small as possible. Mark Parker even talked shit, talking 'bout he don't even know why people like the Yeezys."
Whether that statement was made or not, it's very obvious that people do like the Yeezys. It's also obvious, with their resale prices as proof, that there is far more demand than supply. It was true with the original Yeezy, and even more so with the Yeezy 2. From the second that rumors of a collab hit, the hype began. Surely the success of the Yeezy 1 would have proved any doubters wrong.
The fact is that times have changed, and entertainers, whether we like to admit it or not, are now arguably just as influential as athletes. Even lower tier artists, like Big Sean have had huge success through their collaborative efforts with sneaker companies.
That doesn't diminish the importance of athlete signature lines. Retro Air Jordans, which all started as performance models, still sell out at a rapid pace. But not acknowledging entertainers influence is an antiquated way of thinking.
It's hard to imagine that Kanye's comments won't hurt any future projects between the rapper-cum-"architect" and Nike. But if what he is saying is true, it's understandable that Ye would be upset. Why limit the most anticipated shoe on earth to a few thousand pairs, when so many fans would be happy to drop $250 on a pair? Why leave fans upset and empty handed, while simultaneously leaving money on the table? When graphic foams got hot, there was no hesitation to force those out at a monthly rate.
Nike obviously knows a lot about running a successful business, but not capitalizing on such a potentially huge partnership, that fans are so passionate about, makes it easy to understand Kanye's frustrations. If things are over with Nike, could another brand capitalize by snatching up Ye's services?
It's hard to understand how a more productive relationship couldn't have been made, with so much potential, based on past projects. Then again, when personalities as big as Kanye's, and the CEO of a company like Nike get involved, it could be as simple as "creative differences."