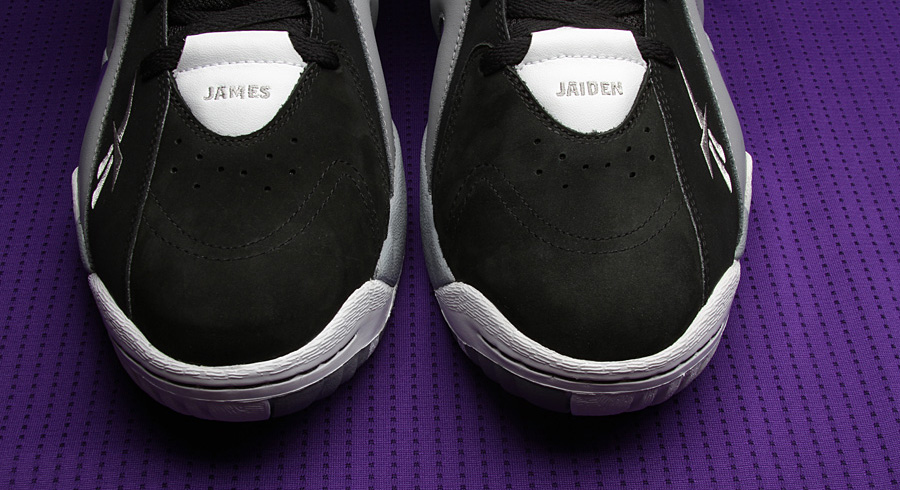 words, images & interview // Nick DePaula
For as long as Isaiah Thomas can remember, he's enjoyed proving people wrong. Whether it was being named to the All-Pac-10 First Team twice during his collegiate career or far exceeding expectations as the final pick of the 2011 NBA draft, the 5'9" point guard's young basketball career is already off to a great start.
Now, he's one of the first players to get his own player exclusive version of the Reebok Kamikaze II, and for a hoops and sneakers-obsessed guy that grew up just south of Seattle during Shawn Kemp's prime, he's feeling pretty good about it.
Sole Collector caught up with Thomas yesterday over the phone to talk all about how his Reebok deal came together, what he thinks of his latest PEs, and what models from the brand he likes best.
Read ahead for an exclusive interview with the Kings guard, as well as a detailed look at his size 12 away Kamikaze II PE.
Nick DePaula: When you were growing up, what was the sneaker scene like in the Tacoma and Seattle area?
Isaiah Thomas: As a kid, I was into all the shoes I could get. Well, that my parents could get me. [laughs] Whether it be Jordans, the Kobes when he was with adidas, or most importantly, and it's funny because I'm with Reebok now, but when I was growing up, my first AAU team was blue and gold, and my first team shoes were the yellow and blue Reebok Questions that were supposed to be for the All-Star game. That was my favorite Reebok shoe, and it's crazy that I'm actually sponsored by Reebok now, and I've had a relationship with Reebok for so long. Growing up in the Tacoma area, and being around for the hype of Shawn Kemp and his Reebok shoes, it made it that much easier.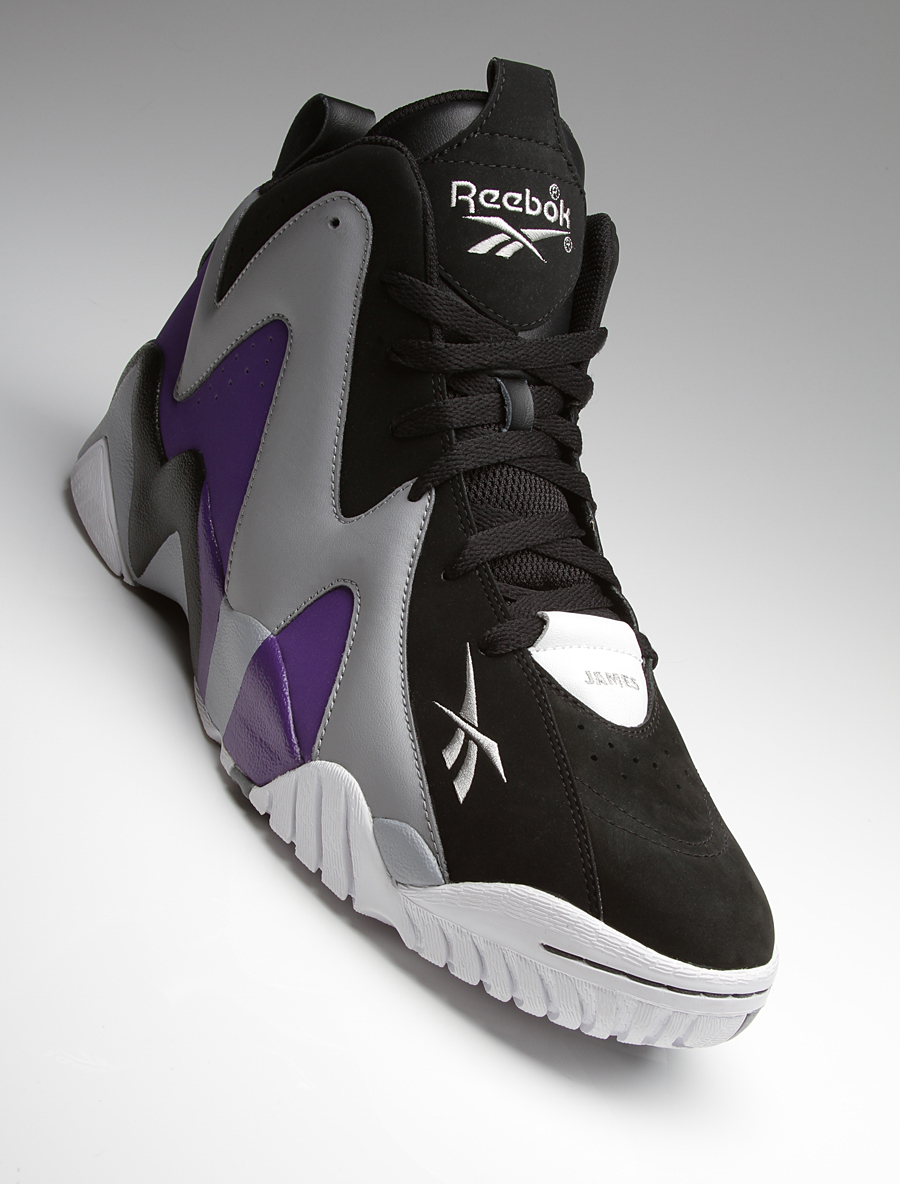 NDP: Once you decided to go pro after you were at the University of Washington, how many brands were you talking to about a sneaker deal, and what was it like going through that process?
IT: I was talking to just Nike and Reebok. I had played for Friends of Hoops, which was a Seattle AAU team sponsored by Nike. I had a lot of ties with Nike, but at the same time, I had ties with Reebok as well. I had been going to ABCD Camps, going to Reebok University Camp, and then actually going overseas and participating in the Euroleague Pre-draft Camp with Team Reebok. I've been dealing with Reebok for awhile, and when they came to me with an offer, I couldn't decline it just because I felt a loyalty in the end, and I felt they had stuck with me the longest.
NDP: Obviously you were the 60th pick at the time, and it's pretty rare that someone at that pick will then get a shoe deal. What do you think it was about you that Reebok really liked, and made them want to offer you a deal?
IT: I don't know! [laughs] They had faith in me, but a lot of it also had to do with a mentor of mine, Jason Terry, who is also with Reebok and from Seattle. He was pushing for me to get signed with Reebok as well. I think that had a lot to do with it, but they had seen me play, and they've known me for so long and were very interested. They had faith in me that I could prove a lot of people wrong, and that's what I'm trying to do.
NDP: That's really cool, and I'd say you've beaten the normal expectations of a 60th pick for sure. [laughs] One cool thing about you is you have a connection in some way to each of the three big Reebok signature athletes from the 90's. What was it like growing up in Washington when the Kamikaze originally came out? What do you remember the hype around those shoes being back then?
IT: It was definitely big, and especially with me growing up around the Seattle area, if people had on Reeboks, they were definitely the Kamikazes. A few years later, it was the Iversons, but initially, it was the Kamikazes. They only had a few big pairs that people really wore like that at first, and you can still see it today doing so well with the Kamikaze coming back out and everyone wearing it. The Retro is coming back out in all kinds of different colors, and it's not just a great shoe on the court, but it's a good looking shoe off the court too and you can rock them with some jeans or whatever you like wearing.
NDP: What'd you think when Reebok said they wanted to make you your own PE version? Were there any certain materials, colors or details you wanted to see?
IT: When they told me they were going to make them, I knew they'd be the Kings colors of course, so all I said was to put my two sons' names on them, Jaiden and James, and my little logo on them. They did that and made them from scratch from there. Every time I wear my Kamikazes, in the summer time or even in the games, people will be talking about them. Gerald Green last night was like, "Man, they need to make me some of those! I need to talk to Reebok." [laughs] He just said, "You're the man, you're the only one with customized Kamikazes now." [laughs] It's crazy, because they're a hot shoe right now, and I've got my own pair.
NDP: That's a great story. Gerald even won a dunk contest in Reeboks, so you'd think he might be able to get some. He's got his own Q96 PEs though.
IT: Exactly! So I told him, "All you gotta do is go say something!" [laughs]
NDP: Do you have a favorite colorway of those that just came back out?
IT: You know what, I really just like the original white and black, with a little bit of green in it. Those are probably my favorite ones, and I actually wear those in practice every now and then. Those are my favorites, just because it brings back memories of the Seattle Sonics.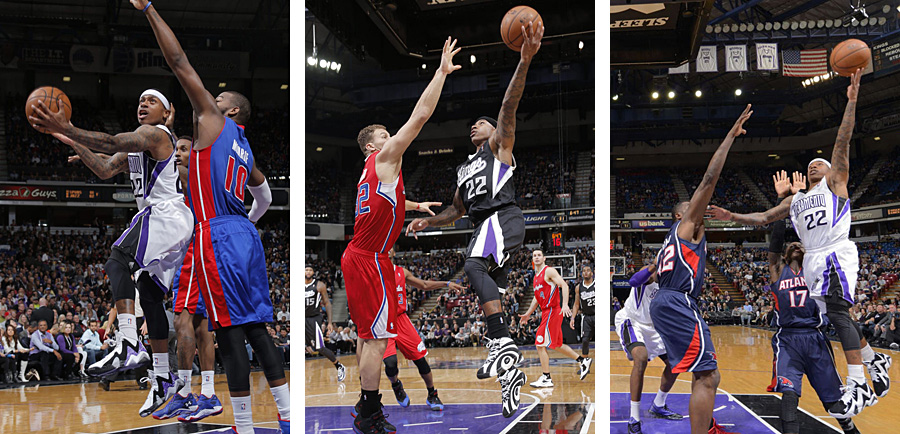 NDP: AI has of course meant a lot to Reebok over the years, and you're a smaller guard that can really score the ball too. What was it like growing up, to be able to see a guy his size have the success that he did?
IT: It affected me a lot. Like you said, he's a guy that can score and he's probably the best under-6-footer to ever do it in the game of basketball. Not just on the court, but off the court with his braids and his tattoos too. Most importantly, with his Reebok shoes. They were iconic. They were shoes you could play in and wear with some jeans too. You could always wear them with jeans and then also look good on the court. The Questions are definitely my favorite pair of Reeboks, but I like all the Iversons, and I'm really happy that they're starting to come back out with all of the Iversons. They were the best Reebok shoes.
NDP: Other than the Questions, do you have a favorite model from the Answer series?

IT: Not really, because the Questions really are my favorites, by far. All of the other ones, I like. I always ask for a couple pairs of each, so I have a pair I can hoop in and then a pair I can rock with sweats or with jeans.
NDP: Have you gotten to meet with AI before, being apart of the brand now?
IT: No, I haven't. [laughs] I actually met him one time, before I was in the NBA. I was working out with Jason Terry in Atlanta, and I got to meet him briefly. Since I've been with the brand, I haven't gotten to communicate with him, and that's one of my little pet peeves that I want to do soon. [laughs] I've been on the head of Reebok Basketball to let me meet with Allen Iverson. I'm still waiting on that chance. [laughs]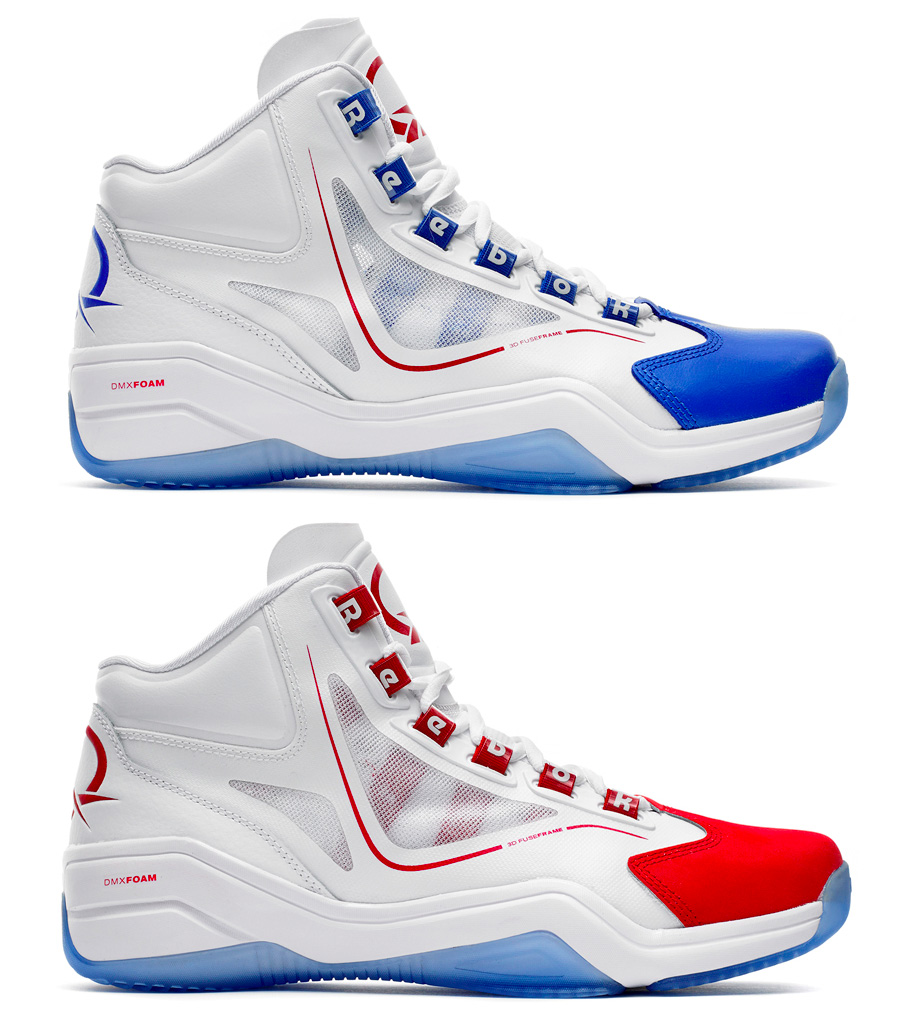 NDP: That's pretty funny. I know he can be hard to track down sometimes. You're in the new commercial for his new shoe, the Q96 though. What was it like – you know, I'm a big fan of the Pizza Guys ads too – but what was it like being apart of a big national campaign like this?
IT: [laughs] It's a blessing from God, first and foremost. It surprised me. Me, Jason Terry and Nerlens Noel did the commercial in September in LA. It was an all-day shoot, and I had a great time. At the same time, I didn't think it was going to be on TV like it was. I was watching the Chicago Bulls and Indiana Pacers game in my living room one night, and it came on! I was in shock. It wasn't my first time seeing the commercial, but it was my first time seeing it on national TV. It came on three or four times that night. It was just a blessing from God. I thank Reebok for giving me the opportunity to be with a big name shoe company and also to be in a national commercial. It was nice. Everywhere I go now, everybody will pop their collar like I was doing. My teammates always will say something about it, like, "Ah man, you're big time now! You're on a national commercial." [laughs] It's fun, and of course I like it.
NDP: The original Question is of course a little more heavy if you were to play in it nowadays, but have you gotten a chance to play in the Q96 much? How are they better?
IT: Yeah, I've been practicing in them, and I'm waiting on my pairs to get here so I can rock them. They're just way lighter. Like you said, the original Question is a heavier shoe, and these Q96s are lighter and they're made for guys like me today, that are quick and want to get around the court a hundred miles per hour. They're very light and comfortable and I can't wait to rock 'em in my Kings colorway.
NDP: Have you told them how you want your version to look, or are you waiting on them to do the home and away colors for you?
IT: They're definitely going to do a home and away for me, and I'm not sure what the colors are yet, but I'm going to have a few different pairs, with my sons' names on them of course.
NDP: The last few years in the league, there's been a big trend where guys are going on eBay, to Flight Club or RIF, and they're tracking down older stuff and wearing them in games. Have you thought about trying to track down any of the older Iverson or Kemp stuff yourself, or are you sticking mostly with what they're giving you now?
IT: Right now, I'm sticking mostly with what they're giving me, but once we get to a city on a road trip where I can check out Flight Club in New York or in LA, then I'm going to try and see what they've got, so I can bring some heat to the court.
NDP: A guy like Derrick Williams, that's a size 15, he has a hard time finding stuff sometimes. But you're a 12, so that should also make it a bit easier.
IT: Exactly! I just gotta get out there and go look for them now. I know those stores have some of the great Reebok exclusives, so I'll be doing that this year.
NDP: The Reebok Classics category has really come on strong too. What are some of your favorite models from the group to wear around off the court?
IT: I actually have the original Reebok Classics on right now, and they send them all the time in different colors. That's probably the shoe that I wear the most off the court, and I wear the Question every now and then, and also the original Pumps, the Dee Brown's that he won the Slam Dunk Contest in. I wear those to pay homage to those guys. For the most part, the low-top Reebok Classics are what I'm always wearing. I've got a crazy colorway on right now, and they're navy blue, red and yellow.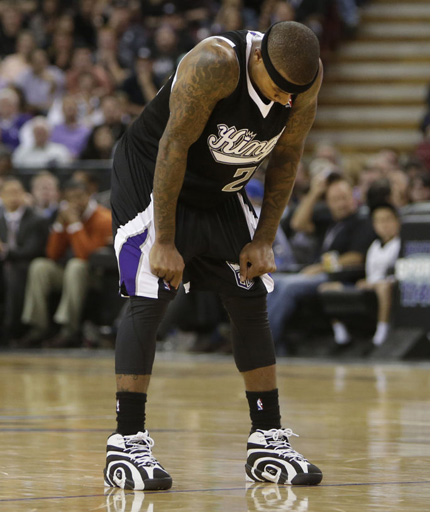 NDP: Do you have any favorite color or materials that you like wearing most?
IT: Not really. I just wear them all. Whether it's the all white with the icy bottom, or all red or all blue, I try to wear them all and always have something different on my feet.
NDP: Another new thing with the Kings this year is Shaq is now a part owner. He was of course one of the biggest Reebok guys during the 90's and I saw you were wearing his Shaqnosis a couple times. Have you guys gotten a chance to talk much about your connection to the brand?

IT: We haven't, 'cause I've only seen him twice during the first couple games of the season, but he knows I'm with Reebok. I wore his shoes to pay homage to him at the second game of the season. I wore the Shaqnosis, and I liked them a lot. I like the Shaq Attaq too, but they're just a little too big of a shoe for me. I tried them out in practice, but I can't seem to wear them in a game, because they're a bit bigger.
NDP: Yeah, they were built for a guy a little bigger than you, so they're a little more bulky.
IT: Exactly! [laughs]
NDP: The Shaqnosis looked great on court again though, so that was cool to see.
IT: Definitely. Those are great.
NDP: I know you're from nearby Seattle, so it had to be tough going through the back-and-forth the last few years, and I'm actually from Sacramento, so I was happy to see the team stay of course. What's it been like now to know that the team is staying put in Sacramento, and you don't have to worry about all of the uncertainty?
IT: It's great, first of all, and it's just good to know that we're here to stay. It was hard as players, and just for anybody really, for the fans as well. For the last few years, you just never knew what was going to happen. Whether it was Seattle or Sacramento, I just wanted the decision made, so that we could know where we were going to be. I'm just glad that we're in Sacramento, and we're here to stay, and the fans needed that.
NDP: I'll be going home for Thanksgiving next week, so I'll try and catch a game in person then, but what's the building been like now? Is there just a whole new feeling and a new atmosphere now that you're under new ownership?
IT: Everything is different! There's just a different vibe, and from the ownership to the coaches to the players, there's just a winning mentality. People want change around here, and I think it's going to happen. Even though we've gotta be patient, and we know it's going to take awhile, guys are working harder, coaches are working even harder, and the ownership has been unbelievable. They're changing things little by little, each and every day, and I'm happy for it. Hopefully I'm here long-term.