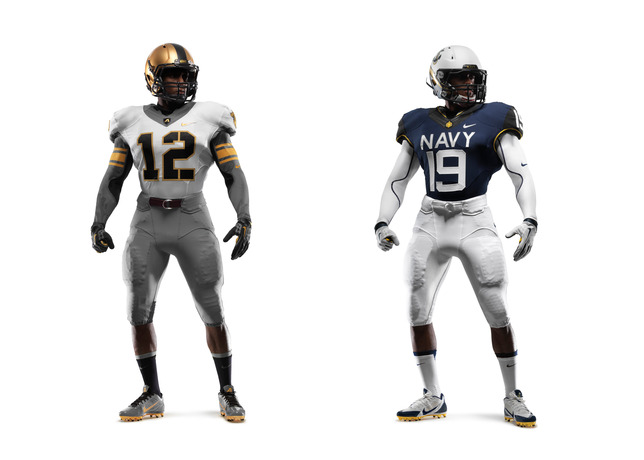 words // Brennan Hiro Williams
The Army Black Knights and Navy Midshipmen will meet on the gridiron once again next month, going head to head in the 114th annual Army-Navy Game. To mark the occasion, Nike designed special uniforms for the two academy teams, both of which were unveiled earlier today online. Nike explains the inspirations behind each design below:
Army's striking white and grey uniform pays tribute to the enduring legacy of General Winfield Scott, nicknamed "Old Fuss and Feathers" for his insistence on maintaining proper military dress. Scott served as General in the U.S. military longer than any other. During the summer of 1814, in the heat of the War of 1812, General Scott led a company of soldiers to victory against the British—the first U.S. victory on open ground. All West Point cadets still wear the same color grey as worn by General Scott on that day, which carries over to Army's new football uniform pants and baselayer. The sleeves of the baselayer are decorated with elements of the West Point crest—olive branches (representing peace) on one sleeve, and oak leaves (representing strength) on the other. The Army helmet carries a deep gold hue with a black stripe down the center.

Navy's uniform design pays tribute to the dying command of Captain James Lawrence: "Don't Give Up the Ship." Commodore Oliver Hazard Perry flew a flag emblazoned with the statement during the decisive Battle of Lake Erie, one of the biggest naval battles of the War of 1812. Perry's charge engrained a never-say-die attitude in the U.S. Navy and the sentiment remains to this day. Mimicking the burlap fabric of the "Don't Give Up the Ship" flag on display at the Naval Academy, Navy's baselayer serves as poignant reminder of action-based tradition. The baselayer top also acts as the root for the uniform, which matches a navy jersey to white pants—in step with the Navy's dress uniform. A Naval officer's cover serves as inspiration for the helmet design with a thick gold stripe representing the traditional gold braid.
The 114th Army-Navy Game takes place on Saturday, December 14 at Lincoln Financial Field in Philadelphia, PA.