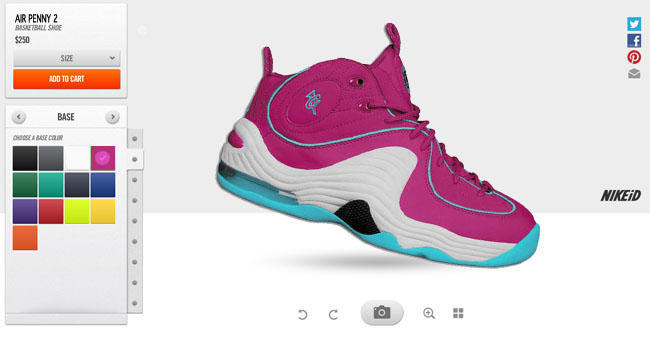 words // Zac Dubasik
When NIKEiD launched in 1999, the premise was exciting. For the first time, fans had a chance to customize Nikes in their own colorways, and to add personal text. But while the concept was exciting, in reality, the models offered were less than popular, and the options extremely limited.
As time went on, more desirable models became available, like the Shox NZ, and the Presto. They still weren't the shoes we REALLY wanted, and the options still left a lot to be desired, but things were getting better.
By the mid-2000s, the concept was finally starting to take off. The Air Zoom Huarache 2K4 and 2K5 were both extremely popular NIKEiD shoes, which were available with more options than we'd previously seen. The Dunk, at the peak of its SB popularity, even made its way to iD, albeit with limited options.
Excluding an extremely limited promotion for the Zoom Kobe 1 at the 2006 All-Star Game, the first signature shoe available to the masses on NIKEiD was the Zoom Kobe 2 in 2007. And after taking a year off and skipping the Kobe 3, NIKEiD became a tradition with the Kobe line beginning with the 4.
Not only were more and more possibilities becoming available as far as colorways, but more choices like materials and finishes have become available. Even performance options, like outsole types and cushioning setups have been added in more recent years. And in 2011, we even saw the first Air Jordan hit iD.
It's been a long time in the making, but NIKEiD, with the recent introduction of the LeBron 11, seems to be in full stride. And while that's great, we still look back and wonder what may have been possible if NIKEiD had been around back in the day. There have been some great models, both signature and otherwise, that either came before, or were just never made available to customize.
What models do you wish could have been on NIKEiD, and what would you have wanted to do with them? Let us know in the comments.