words // Zac Dubasik
Thanks to the recent picture Kim Kardashian posted of the "Red October" Air Yeezy 2s, the shoe has come back into heavy discussion. But this time, October is half over, and there's still no word on a release.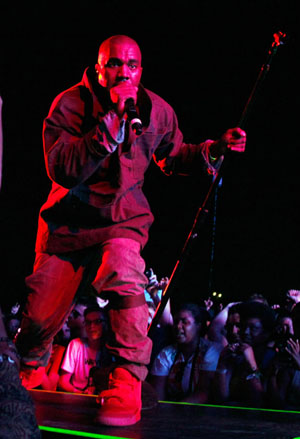 The last official info we heard on the shoe came from Nike's Heidi Burgett, who killed rumors that the shoe would be releasing on June 16th, by simply saying it was planned for "later this year." But when Kanye referred to them as the "Red Octobers" in Hold My Liquor, it seemed to answer when the highly anticipated shoe would finally come out.
We've seen Kanye wear the shoe plenty of times since then, and Kim even tagged them "#RedOctobers" in her post this week. With only a couple weeks left in October though, is time running out? How could they still release? Here are a few possibilities.
Same as the other Air Yeezy 2s:
When the first colors of the Air Yeezy 2 launched in summer of 2012, the shoes began hitting celebrity social media accounts, and were announced on Nike, Inc., roughly 10 days prior to the launch. With more than 10 days still left in October, this could closely follow that launch if done the same.
Show up unannounced:
Back in the old days, you often first saw a shoe whenever you happened to be out at the mall shopping. The Air Yeezy 2 showing up at stores and online unannounced would surely be a shock, and could potentially cut down on the craziness normally associated with a release such as this.
Auction style:
The original Air Yeezy's proceeds benefitted the Kanye West Foundation's Loop Dreams program, which helped underprivileged youth gain access to musical enrichment programs. An auction-style release, such as the one used for the Air Mag, could help the line return to its charitable roots.
How would you like to see the shoe be released? Do you think it will even happen in October, or ever? Let us know your ideas in the comments, and stay tuned for more info if and when it becomes available.