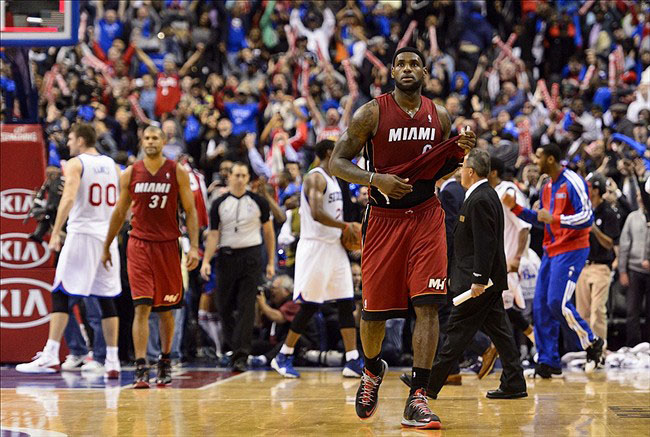 words // Zac Dubasik
Things went great on opening night for LeBron James and the Miami Heat. Not only did they collect their Rings and wear some special sneakers, they convincingly beat the team that many consider the top contender to their title, in the Chicago Bulls. On their second night of a back-to-back however, things didn't go quite so well.
Last night, the Heat dropped a game to a team widely considered to be one of the worst in recent memory: the Philadelphia 76ers. (LeBron even ended up in an Evan Turner poster - check out the video below). The 76ers own coach, Brett Brown, just last week said, "You have six NBA players and then you have a bunch of guys who are fighting for spots and want to be seen and need opportunity."
For LeBron, it was a particularly interesting sneaker game. After starting the game in the black and red "Away" colorway of the 11, which Nike even treated us to a video of yesterday touting "Unbelievable comfort. Unprecedented Control.", he changed into the LeBron X for the second half.
What do you think the reason was for the change? Were they too unbelievably comfortable and easy to control? Was it a superstitious things? Maybe a halloween costume, where he went as last season's LeBron? Let us know your thoughts in the comments. Do you think he'll be right back to the 11 tomorrow to face the Nets?