words & interview by Nick DePaula
When a brand has an athlete of an incredible magnitude like Derrick Rose, they can literally go "all in" from every possible angle of the definition. And when a season-ending injury comes into the equation at the worst of times, it can certainly cause all kinds of headache.
Such was the case last year when "The Return" never quite happened.
While the Rose 3 was left with a tough set of variables for success, the adidas Basketball team is excited to be looking ahead at the upcoming year. It'll be a year in which DRose is fully ready to return to his MVP-level of play, and a year that his namesake signature shoe was able to take a leap in both performance and design.
To hear all about the personal insights that went into Derrick's newest shoe, along with some behind-the-scenes stories from his worldwide tour earlier in the summer, we caught up with Lawrence Norman, VP of adidas Basketball. Read ahead for the exclusive chat and more on building around DRose.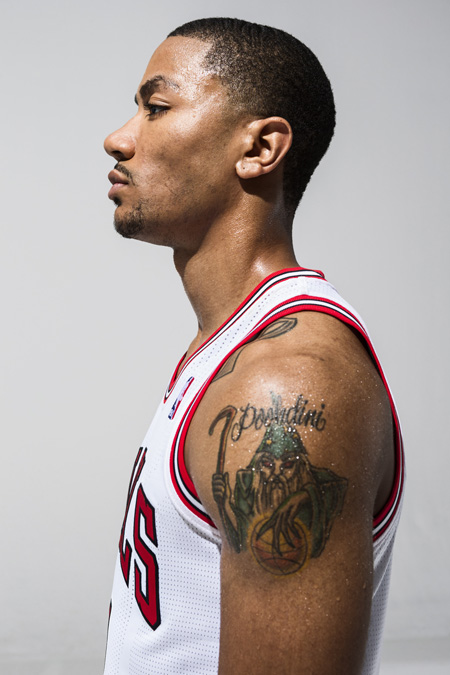 Nick DePaula: What are some of the details that really came from working with Derrick on this new shoe?
Lawrence Norman: Like all of the products, Derrick is very involved. To the point that from the sketch all the way to the first, second prototype and on, he is very involved. Even today, we're going to be showing him first and second prototypes for the 5 after this behind the curtain. He is still, as he was in 2008, focused on a couple things. He wants the best innovation that can help him be one step quicker and jump one inch higher, and this shoe certainly lives up to that. He comes from humble beginnings in Englewood, and he always had said that he wants all of his fans and kids in Chicago to be able to wear his shoe on and off the court. So style is a big thing for him. His style is evolving, and the more that we get to know him, we see it.
I had a great opportunity with him this summer, and he had a great chance to tour all over Europe to Germany, France and Croatia. The first thing we always do is study how his game is changing and how we can help him on court. After that, we really go into some of the other things that we have to offer, whether it's from Y-3, Originals or our performance products. We go through collection by collection to see what materials he likes.
He was really into an outdoor shoe the last time. He really has begun hiking for his training, and we didn't know that. We only found that out this summer, and we can now incorporate that feedback into the entire collection or things like apparel. He's very involved, and our relationship is really evolving. Even before this interview, I studied an hour and a half of footage we had of him going through materials. We want to make sure we live up to his expectations. If we do that, our products will be great and fans will love it.
NDP: During the process of going through design and all of the tweaks along the way, what were some of the things that he was really big on?
LN: One of the things he wanted on this shoe was a little more padding on the collar, so Geofit was added for that. He was talking about how cuts are so important for his game, so we incorporated Crazyquick into the medial side for that. In general, he knows that Sprintframe has been the traditional way that we've locked down his ankle and then we have Sprintweb as well. He was really big on us using great materials too. You know better than anyone, stories can be a huge piece, and each colorway here has a story that ties back to Chicago.
NDP: When you were on the tour with him, what were some of the things that you got to see? Whether it was fans excited to see him playing out there, or maybe a personal story of when you guys were hanging out together.
LN: There were so many great stories. I was in Europe and throughout Asia with him, and it's very humbling to say that. Five years from now, I'll be looking back at these moments as being pretty special moments in my career. It was great to spend that time with him, but also with his family. In Asia, traveling with his mom Brenda and Reggie, Allan and Dwayne, his three brothers – it was the first time they had ever traveled outside the US together.
For Allan and Dwayne, it was the first time they had been outside the US. So, there were some crazy foods in China. [laughs] It was a pretty interesting experience to sit around the breakfast table and listen to them. These are the stories we love, because we get to take some of those stories and incorporate them into the product. We found out that Derrick's nickname from his mom is "Old Soul," because that's how she viewed him. He grew up with his grandmother in the same household, and we got to hear about the relationship that they had. Also just seeing how Brenda controlled the conversation with the four boys. As a single mom, she's so strong and powerful in their lives. When she says something, they listen and they do it. I don't know what it's like to travel with your family around the world –
NDP: Same exact thing with my mom. [laughs]
LN: It can be fun, but it's not easy. [laughs] I really respect him for staying the exact same person that he was when I met him in 2008. He's still humble, he still loves his family, and every single year when I ask him what he wants to achieve, it's still the same answer, "I want to win a championship." He does not care about accolades for himself, and that hasn't changed.
Click on Page 2 below to continue reading.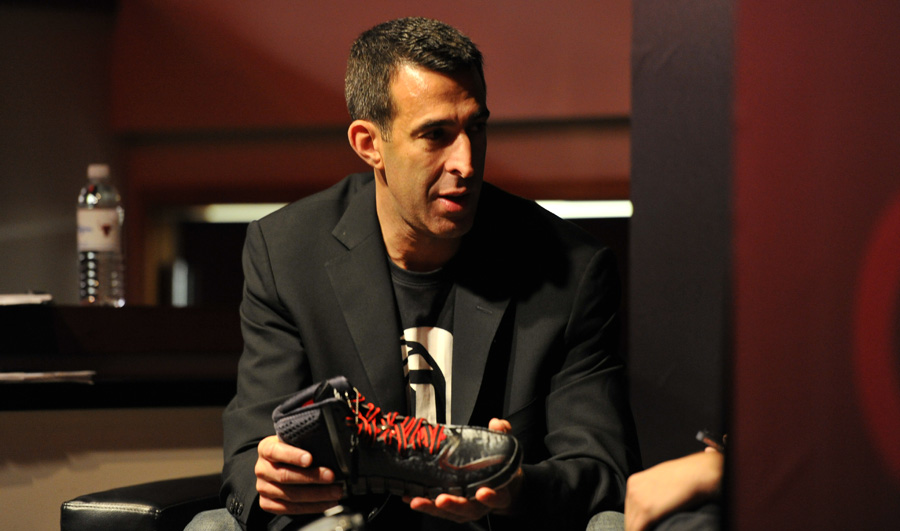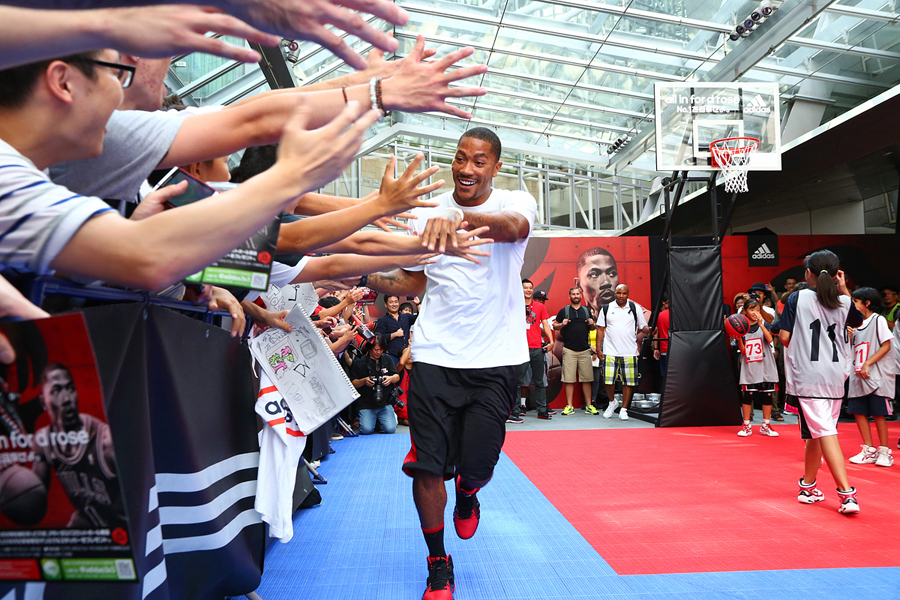 NDP: You guys also went to the adidas world headquarters in Germany right?
LN: Yeah, and that's another cool story. In Herzogenaurach, Germany, it was the first time he had been there. We did a variety of things. We did a Q&A in front of the whole company. We played ping-pong, which is one of the things he likes to do off the court. But then, we went into the archives, and he saw the spike that Jesse Owens used in the 1936 Olympics and the gloves that Muhammad Ali used. He was just blown away. Adidas has such a rich history, and every chance we have to bring someone like Derrick Rose over, we try and take advantage of that. It's a great way for us to tell our story and also learn more about him. We were going through our innovation lab to learn what they do, and the entire time was a great experience with a million stories.
NDP: Was there any moment during the tour while he was playing where you said to yourself, "Man, this guy is back and he's fully explosive!" I saw he was playing against overseas guys, sumo wrestlers and even ninjas.
LN: Yeah, he was in Japan playing against ninjas and sumos. [laughs] Sure, that's not exactly the same as playing against the Heat, but you could just tell. When we study film of him, we've always noticed that when Derrick Rose shifts gears, his shoulders thrust back. It's really unique the way that he plays, and we saw that. He has another gear, and the difference between seeing him play now and play eighteen months ago, is that he looks better. I don't say that lightly. He was the MVP and the youngest to ever win it, but he's fifteen pounds stronger, he looks quicker and his shot is better. He's been working on his shot a lot. He brought his Bulls trainer with him for the entire tour and he was working incredibly hard the entire time.
NDP: Last year, you guys had "The Return" as the overarching marketing strategy. This year, it's less about coming back from the injury and more about his explosive game and a celebration of basketball. Can you talk about the differences in those approaches, and why you guys went the direction you did for this season?
LN: He came to watch the finals of the adidas Nations in California, which is our grassroots tournament with all of the best high school players from around the world. He was sitting there, and John Wall and Damian [Lillard] were there as well, and afterwards we went to talk to him about the commercial. He had already seen the rough cut of the new one, and in the last four years, including this one, we had "Fast Don't Lie" with Slim Chin, the running of the bulls in Madrid, and "The Return," which were all pretty cool spots. I always loved Slim Chin and thought that was a breakthrough for us when we launched the Rose 1. We also had him in the Crazy Light spot too, for the 9.8 ounce launch.
I asked him what his favorite one was and why, and he said by far this new one is his favorite. I said, "Well, why is that? You were laughing non-stop with Ken Jeong. I knew he loved the running with the bulls in Madrid, and then "The Return" was epic because he was able to communicate back and forth with his fans and tell his story. He said, "Cause this is me. This is exactly who I am. I'm all about basketball. Family and basketball is all I care about." Once I heard that, I knew the spot was right. The spot is authentic to Derrick, basketball is everything to him and it's become my favorite spot because of that. Even though I've always gravitated to Slim Chin, this one is great too.
NDP: Another big thing is that last year there were two price tiers with the Rose 3s at $160 and $180. This year, the price has gone down to $140. How much of an internal debate was there before you guys landed on lowering the price?
LN: There wasn't much of a debate. We assess the market every year, and price our products based on the market. We have DRose at $140, the 773 at $110 and we feel those are the right prices for the marketplace, but we'll assess those every year as we go forward.
NDP: Something I've really noticed is you guys have really started to take an ownership of the Bulls. You have guys like Jimmy Butler, Taj Gibson, Joakim Noah now and a few others. Can you talk about the idea of having him surrounded by guys also in three stripes?

LN: Chicago is a very important city in basketball. Chicago, New York and LA are really the biggest cities. Black and red, and the Bulls certainly has a ton of history in your world and in sneakers. No team has more firepower historically than the Bulls, so it's important for us to be represented here. Adidas is stronger in Chicago than in any other city in the US, and we'll continue to look at signing more guys here.
NDP: In terms of the overall NBA landscape, last year with Derrick being out, there were a lot of guys wearing the 3.5. Is that going to be the plan going forward again, or will Derrick be the only one wearing the 4?
LN: The plan for the NBA is that Derrick will be the only one wearing the 4. There will be some support in college though.
NDP: Lastly, are you going to be in Miami for the first game of the season? Or Chicago for the first home game against the Knicks? How excited are you for him to be back for those first two games?

LN: I hope! I'm going to be in Rio, when Derrick Rose plays against John Wall in a preseason game. Two of our biggest brand icons, and it should be amazing. I really hope to be there for the 29th and his first game back. Yes, it's because of Derrick Rose, but it's also because of just loving basketball and loving the NBA and playing basketball since before I could even walk. I'm just a huge fan and continue to be and play as much as I can. To be apart of that and see the Bulls play on opening night, it's one of those parts of the job where you can't believe you get to do this for a living and it's one of those things that you just love. It's going to be a fun day.