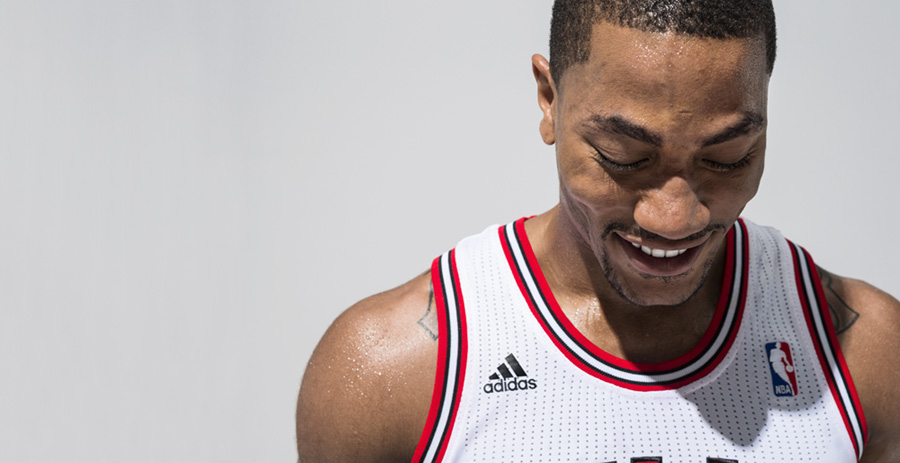 words & interview // Nick DePaula
Every fall, Derrick Rose has the same goal. He wants to win a championship.
All-Star nods. Top seeds. Scoring titles. All-NBA votes. They're all nice to hunt down, definitely, but that's not what kept him training twice a day the past eighteen months while he itched to get back on the game's grandest stage.
Best of all, his "Why not me?" attitude – a balanced arrogance at times – already has him eyeing a place in the game's echelon of elite.
"I remember coming to training camp saying that I wanted to be MVP," Rose said at his actual MVP press conference in 2011, which is a must watch. "I wasn't trying to be cocky at all. I knew that I put a lot of hard work in during the offseason in the summer and I just wanted to push myself."
Youngest ever to win most valuable, he's back to taking that same fearless approach into the upcoming season. A season that the world, and definitely Chicago, can't wait to get started.
After wrapping up a thirteen city tour around the globe to celebrate the game of basketball this summer, Rose and adidas teamed up in late September for a free event at the United Center for kids from his hometown. There was a Big Sean appearance, a dunk contest, and most importantly, Rose in the flesh connecting with some of his biggest fans.
"Coming back here, this is the biggest thing I ever did in Chicago," he told the crowd. "It's something special."
Just before the event, we spoke with DRose to hear all about his newest shoe, his favorite highlights from the world tour, and of course, what his expectations for the new year are.
Nick DePaula: What were some of the insights and things that you really wanted to see in the shoe this time?

Derrick Rose: With me being a basketball player, the comfort has to be it. With the Rose 4, the comfort is there. I think this will be the year that I will wear a new pair of shoes every game. Usually I have to break my shoes in, but with these, the comfort level is super high. I'm just looking for a great shoe, and with my shoe, if you just touch and feel, it don't feel like a normal basketball shoe. It's all premium materials. I always want my shoes real clean. The front of my shoe is really like my personality, where off the court I'm kind of calm and kind of shy a little bit – low key. In the back, it's kind of crazy, just like me on the court. I love how they involved both of my personalities into the shoe.
NDP: One of the big things too is the Crazyquick bottom. Can you talk about what that does for your game and how that helps you out?

DRose: With that stability, it's to make sure you're not turning your ankle or twisting your ankle in, and making sure you're always on balance. Especially being a basketball player, you always don't want to feel like you're slipping on the court. You want to feel good in your shoes, and with these, right when I put them on, I knew it was a great shoe.
NDP: What's your relationship with Kohei the designer, and how has that evolved over the years?

DRose: Kohei is a genius. [laughs] I think Kohei is really a genius. He's someone that's so dedicated with his craft and everything. Just being around him, he's always asking questions and he'll text, email and ask me what new things I saw that I like. He'll tell me about something he found when he was researching swords, or just crazy things that you wouldn't even think of. I think for someone to make any kind of shoe period, you have to be creative, and he definitely has that creative mind.
NDP: Have you been getting more familiar with the tech terms and how you can give your feedback?
DR: Yeah, the tech terms like Sprintweb, Crazyquick like you said, which is the first time they've put that into my shoe. I know it's going to be a success, but I know that if I'm out there and I'm doing good it's going to probably be in all of my shoes.
NDP: Something big for your shoes is that every color has a theme and has a story. What were some of the colors or themes you wanted to see for this shoe?
DR: I think every year is different. With the consumer and with people that are interested in your shoes, you don't want to just hear the same story every year. We made the low-top Englewood shoe, and that really came from my mom and was just about my neighborhood to give them a shoe. With all of the other crazy ways I can [give back], there's a Simeon shoe, a Downtown shoe and there's so many colorways. Sometimes I forget, because there's like eight different shoes, but I think they're all positive. They're relating back to Chicago, and everyone here can relate to a shoe and find one that they relate to more.
Click on Page 2 below to continue reading.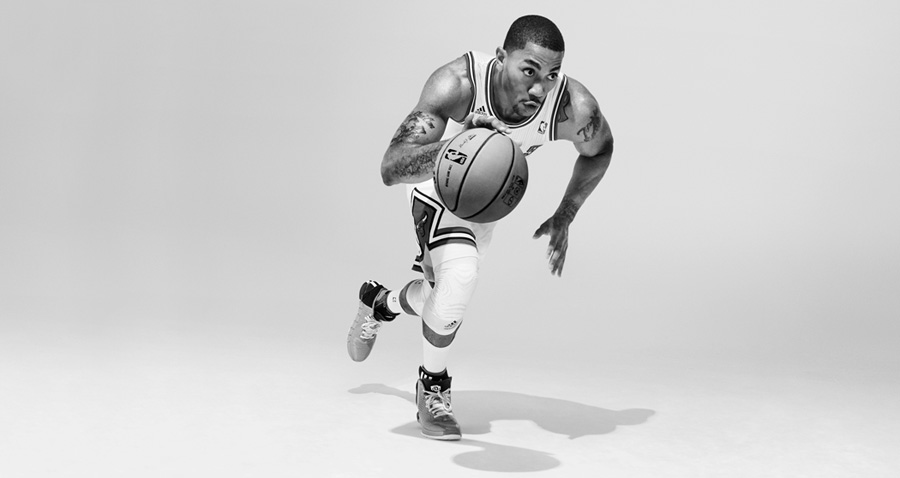 NDP: You just went on a huge tour all around the world, and I heard a cool story about how you went to the headquarters in Germany and got to see Jesse Owens' original track spike. What was that experience like?
DR: I went into the archives, and just being in there, they have everything you can think of. From jerseys to shoes to shorts to tank tops. Anything you can think of. To see my shoe in there kind of tripped me out. [laughs] I actually wanted to see a Jesse Owens shoe, and they gave me the opportunity to see it. Of course, you have to put on gloves, and the gloves that I put on that day, I actually gave to my agent. Once I get settled in here a little and buy my house, I'm going to get them framed and put up, so that when my son is a little older and he learns about Jesse Owens, I can say, "I actually touched his shoes with these gloves." I love keeping stuff like that.
NDP: Something else going great with the brand is the Originals category. What are some of your favorite off-court models and which ones do you really like?
DR: Stan Smiths, and I think I have a shoe coming out on the Stans and I have an opportunity to be apart of that. I love the Pro Models. I love the Big Seans. I have the first pair, and the second pair that's all black, I still have to get some of those.
NDP: How'd you not get a pair?
DR: Exactly! [laughs] They said it was limited edition. I guess I'm not that big.
NDP: I got a 13.
DR: [laughs] I guess I'm not that big. I have to wait for 'em. Just being apart of adidas though, I'm learning more about the brand and learning about the legacy of adidas, and now it's like it's my turn and I'm doing something right.
NDP: What can you tell me about the Stan Smiths you've got coming out?
DR: Well, I probably can't tell you. [laughs] But I think it's a cool shoe that they're involving me with.
NDP: You had the Jeremy Scott Rose 3 last year and that was pretty crazy. Is that something you guys are looking to do again going forward, and have you thought about what a Jeremy Scott Rose 4 might look like?
DR: A lot of people have been talking about them, and I didn't know it was going to get that big. Just having the opportunity of working with him and an icon like that, where I can tap into that fashion market being a basketball player, I'm trying to take advantage of that. I think the shoe that came out was a great shoe, and having the relationship with him, if in the next couple of years we could collab on a new shoe together, I think people would go crazy for it. Just seeing how they went crazy over a shoe I didn't wear last year, if I actually wore the shoe on the court and got fined for it, it'd be great. [laughs]
NDP: What was your summer like training in LA?
DR: This summer I was just going hard. Working on my floater, working on my left hand, but if anything, just working on my jumpshot. Trying to extend my range, and trying to be unguardable while I'm out there. Last year was the most I ever watched basketball while missing the whole year. Being a point guard and having the ball in my hand the majority of the time on the floor, I think that I should be able to control a NBA game.
NDP: Was there anything from watching that you were able to notice or pick up on certain teams?

DR: You learn people's tendencies and you learn everything that they're doing. You learn everything about the coach that your coach is coaching against. You learn how players act in certain situations. I think watching that is going to help me a lot.
NDP: The last question – the one everyone is probably asking you every single day – how excited are you to be back and playing soon?
DR: I'm anxious, but I can't get overwhelmed. I never want to be that emotional guy on the court trying to prove myself. I think when I come back, it's going to be the same way, where I think I haven't missed a step. If anything, my confidence grew as a player and it should be a great [first] game. I think it's going to be a great season, not only for myself and for the Bulls' sake, but in the NBA, a lot of players have traded teams and traded conferences. If you're a NBA fan, I think you should be getting your NBA League Pass right now.
NDP: Man, they raised the price on us!
DR: It's worth it! [laughs]
NDP: I've had it the last seven years, so I'll probably be getting it. [laughs]
DR: It'll be worth it. [laughs]