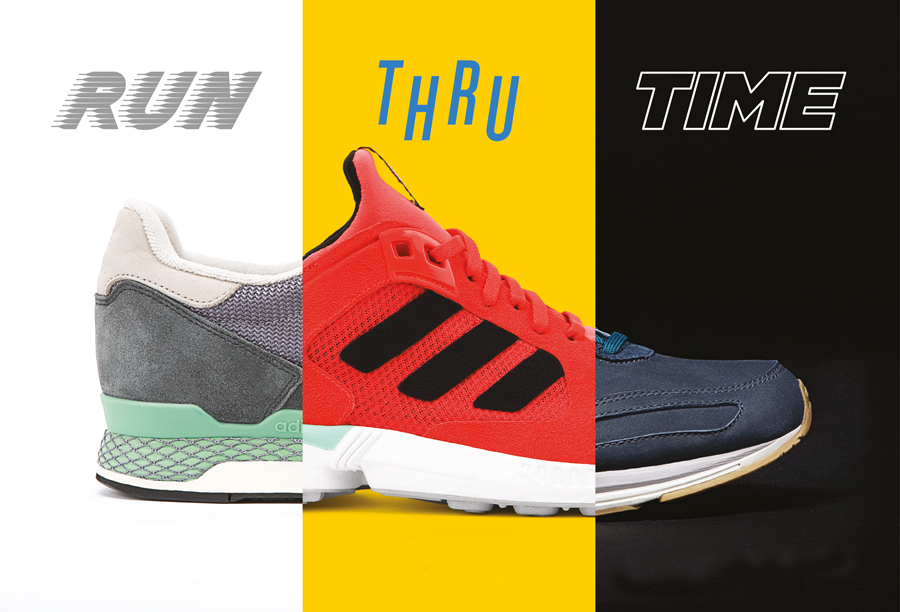 words // Zack Schlemmer
adidas Originals celebrates the brand's running heritage throughout the years with a collection blending models and colorways from the 1980's to 2000's. The "Run Thru Time" collection brings the past 30 years of adidas Running back to life in a fresh, contemporary way.
The Run Thru Time capsule includes three sets of colorways for the ZXZ ADV, the Z5000 Response and adizero Adios 2 to represent the 1980's, 1990's and 2000's. Each decade's set features one of each model in colorways and material concepts synonymous with styles of the time.
First up in the collection is the 80's pack featuring classic mesh, vintage suede and reflective stripes on each to replicate the look and feel of a classic 1980's adidas running shoe.
ZXZ ADV - 'Collegiate Silver/Metallic Silver/Black'
Taking inspiration from the legendary ZX 500, which was adidas' flagship distance running shoe when it was debuted back in the mid-80s, the ZXZ ADV finds Kazuki Kuraishi forging a signature ZX trainer of his own for the Originals 84-Lab range. The renowned designer once again utilizes the impeccable tooling seen in his SS '09 and SS '10 ObyO collection. This tried and tested design merges an almost mountain boot-like upper with the ZX 500 OG upper that was created for the Consortium re-release.
ZX 5000 Response - 'Collegiate Silver/Metallic Silver/Black'
Based on 1994's Response Trail, the ZX 5000 Response has been reinvigorated for the modern day with an updated upper and ZX 5000 tooling. The Response Trail, with its unparalleled stability, was originally designed for the toughest and most ambitious runners. Adding key elements from the ZX 5000 provides a shoe that is sure to lead the pack. First released in 1989, the adidas ZX 5000 represented running shoe perfection. With impeccable cushioning, it was ideal for middle to long distance runners, and the incorporated torsion bar allowed flexibility for the foot while still providing support and stability.
Adizero Adios 2 - 'Collegiate Silver/Black/Metallic Silver'
The Adizero Adios 2 is the fastest running flat in the world – it's what current marathon world record holder Patrick Makau had on his feet when he achieved the incredible feat at the Berlin Marathon in 2011. A snug micro-fit upper, grippy Continental™ rubber outsole and a lively midsole combine perfectly to give a forefoot propulsion like no other. Specifically designed for adidas' top athletes by our Japanese pattern master Mr Omori, the running shoe has gone on to win over 100 major races on the feet of our sponsored athletes since it was first unleashed.
The 80's Run Thru Time collection is available now at select European adidas Originals retailers, with the 90's pack arriving October 8 and the 00's on October 21.