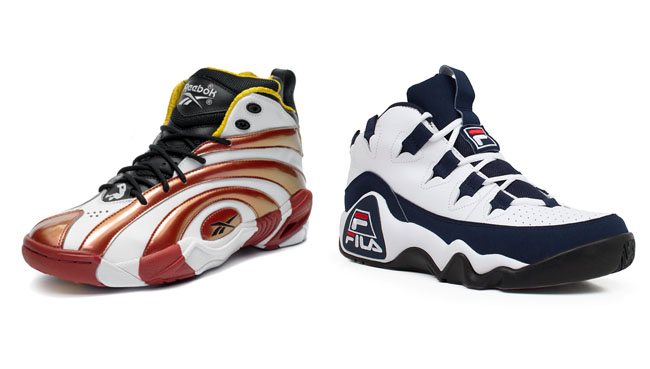 words // Zac Dubasik
Many sneaker fans were overjoyed last Fall when news hit that shoes like the Shaqnosis and Kamikaze II would be retroing in their original form. In an era where retro releases have fans lining up multiple times a month, these were among the last remaining shoes to have never made a comeback.
Within a few months time, we learned that along with those, shoes like the Shaq Attaq, ES22, Answer, and seemingly every other memorable Reebok model from that era would be returning. This again, was great news. Classic shoes returning in their original colorways always excites fans.
When the releases finally came though, they were fast and furious. And in just a few months time, Reebok was so "back," that every shoe fans really cared about had already come out.
And then came new colorways. Unlike certain other shoes, there weren't that many original colorways of most of these Reebok models. There was only one Shaqnosis for example. Which means that new colorways needed to be introduced in order for more releases to be possible. And next thing you know, there's a Miami colorway of the Shaqnosis, despite Shaq never wearing the Shaqnosis with the Heat. (At least this makes more sense than Air Jordan's releasing in colors of teams MJ played AGAINST and beat for titles.) While the colorway may have made sense, it wasn't exactly something fans were anxiously awaiting. The same could be said for the "Houston" and "OKC" Kamikaze II, which were fairly brutal in their own right.
This issue hasn't been limited to Reebok either. Fila has launched a plethora of retro releases, including the Cage, Stackhouse I & II, and Grant Hill I & II. These shoes have been met with varying degrees of interest, but it'd be hard to argue that anything outside of the original colorways of the Grant Hill II had many fans asking for it.
Let's go ahead and get this out of the way to start. Not all retros are created equal. Jordans are Jordans, and play by a different set of rules. They're literally the most popular sneakers of all time, and have a fanbase that is untouched by anything else. That's not to say Jordans haven't had retro missteps - that's a huge discussion for another post. But with such a large fanbase, even most of the least popular non-original colorways sell out eventually. Part of the reason Jordans have had such a long and successful retro run is because there are so many. So, yes, maybe a Jordan retro every week can succeed, even with non-original colors. But with only a handful of original models and colorways to pick from, sometimes less could be more for brands like Reebok and Fila.
Did these brands release too much, too soon, in terms of retros? Could they have better kept your interest by spreading them out? Do all retros need to be released in tons of non-original colorways? Let us know your thoughts in the comments.