words // Nick DePaula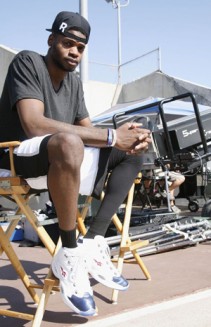 After quite a bit of confusion as to their recent on-court strategy, Reebok has made their biggest high profile NBA signing since 2010, when they inked then-#1 pick John Wall.
Philadelphia 76ers big man Nerlens Noel, who, like Wall, was also a Kentucky Wildcat for a lone season before turning pro, was officially introduced by the brand today as the newest member of the Reebok family.
First reported earlier this afternoon by our friends over at SLAM, Noel is looking forward to leading a new era for Reebok, as they'll be mixing both classic Retro models along with new modern takes on classic silhouettes.
"I don't think I'm just a prototypical big man," Noel told SLAM. "I think I'll be able to sell shoes. ... What they really want to do is bring it back to retro."
As far as we're concerned, it's a great signing. While Nerlens might have quite a bit of work left to polish off his game, he's shown a willingness to try and stand out and promote himself, whether it's with his trademark flattop or his off-court style.
As an athletic big man, he can also wear classic Shaq models in their original colorways, mix in AI tributes as a 76er and even rotate through some past Kamikazes.
We'll be sure to keep you posted on further developments with Nerlens and Reebok, as well as any additional signings for the brand.