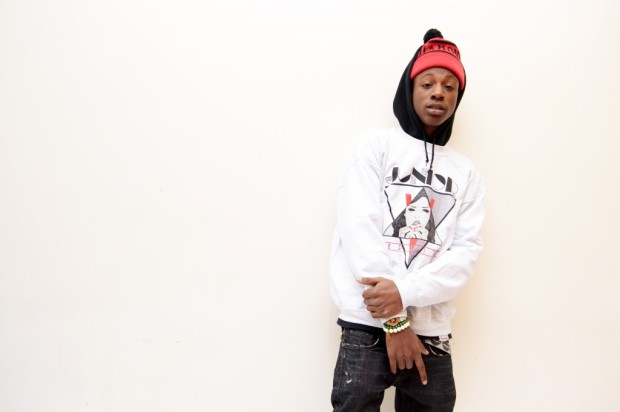 words & interview // Luis Sanchez
Portland's annual MusicFest NW brought plenty of great acts to SC's backyard, but none more anticipated than Joey Bada$$, who took time out of his busy Northwest schedule to sit down with SC and talk kicks.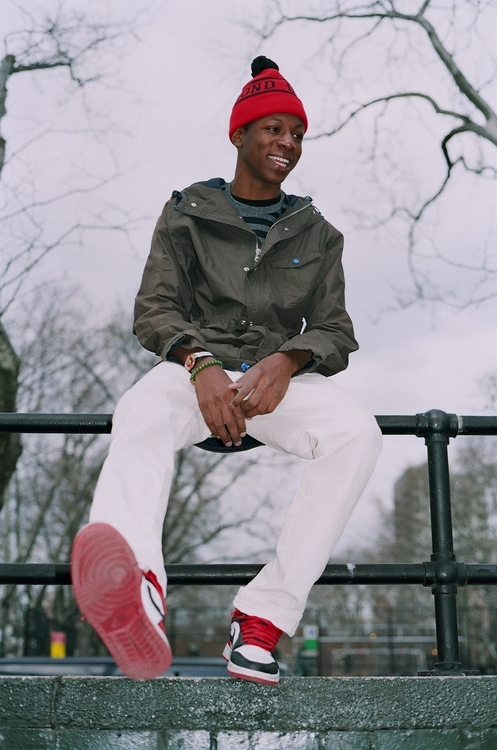 As I arrived for the interview at Portland's historic Roseland Theater, Bada$$ wasted no time interacting with his fans, addressing determined MC's looking to get a verse from the young rhyme spitter. We quickly made ourselves to the dressing room area, where the Brooklyn MC was welcomed to Portland with a special package from Nike containing a pair of the Flyknit Lunar1+ iD and a sweet Nike hoodie to match. Joey was quickly impressed, and began to talk about just how comfy he was going to be now for his lengthy red eye flight back to the east coast following his show.
Impressive footwear was everywhere among Joey's crew, with dope models such the Air Max '97, Air Jordan 9 and Air Jordan 7 on the feet of his supporting cast. Joey killed them all though, rocking the often forgotten and one of his personal favorites in the "Nubuck" Air Jordan 12.
Check out our interview with Joey Bada$$ below, where he shares with us everything from his first-ever pair of J's, to the one shoe that defines his crew and even what the sneaker scene is like in his hometown of Brooklyn.
Luis Sanchez: How long have you been into sneakers and what are your earliest memories with sneakers?
Joey Bada$$: Ever since I was a small child, my mom used to always cop me the fresh J's. First joints I had, well, the first joints I remember having is like the Flint 13s? I was like two or three with the Flint 13s. I had the black XVs too. I had a few nice shoes.
LS: What's one shoe that defines your childhood?
JB: Can't really remember. had the black XVs though, really liked those. I also had some Xs. Dark blue.
LS: You've been spotted multiple times in several colorways of the Air Jordan XII, what does the Air Jordan XII mean to you?
JB: XII's is probably my favorite. XIIs and VIIs are both my favorite.
LS: We've also seen you countless times in several styles from Nike SB, what is it about Nike's skateboarding line that draws your attention?
JB: I like SBs, SBs is way more comfortable than J's to me. Some Slip-Ons, they come in mad different assortments. (Laughs.)
LS: Describe Brooklyn's footwear style and what you see most on the feet of BK natives?
JB: Yeah. The thing is, when sneakers come out, I don't really like buying them then. I don't like to have sneakers when everybody have it. So you know, I don't really like paying attention to what be out. But yeah, people go hard in Brooklyn. They'll be long ass lines outside of Foot Locker.
LS: One shoe that defines Pro Era?
JB: Pumas. The Puma Clydes. All-Black.
LS: All-time favorite shoes?
JB: I like the OG Raptor 7s. ( Just as Kirk Knight props his on-foot pair on the table.)
LS: Any particular shoe you like to perform in?
JB: I like to perform in my XIIs. My Flu Games.
Big Thanks to Joey and the whole Pro Era crew for the interview. // Be sure to follow him on twitter @joeyBADASS and Instagram @badassjoey // Listen to Joey's latest release Summer Knights, below.