words & interview // Nick DePaula
After making a name for himself this past year as Kansas' top threat, Ben McLemore is already looking forward to a season of great expectations with the Sacramento Kings.
Drafted 7th overall, the explosive top-flight scorer will be called upon to provide playmaking and shooting for a team that's struggled to execute over the past several seasons. I would know -- I've been watching all of their games on NBA League Pass for the last five years after growing up in the capital city. (Hey, at least the team is staying put.)
While at Kansas, McLemore of course rocked all of the latest sneakers from adidas Basketball on the hardwood. Now that he's a pro, he's excited to be continuing that tradition and recently joined the newest rookie class of Three Stripes endorsers.
I caught up with the Kings' most recent lottery pick last week to talk about joining the adidas family in an official capacity, and of course, his favorite sneakers to play in. Look for him to be switching things up all season long in Sactown.
Nick DePaula: After playing at Kansas, you're now part of the new group of rookies that adidas signed. How'd that come together for you?
Ben McLemore: I think it was a great opportunity. It's a great family of people, and I've been wearing adidas for awhile. Even before Kansas, I was always back and forth between Nike and adidas, and I knew in the future that that's what I wanted to wear. At Kansas, they really helped me build my brand and name, and as far as adidas, I love 'em and they're great comfortable shoes that I can go out and perform on the court in. I'm a sneakerhead and I like to try different types of shoes, and adidas has a bunch of great options and I wanted to be apart of that.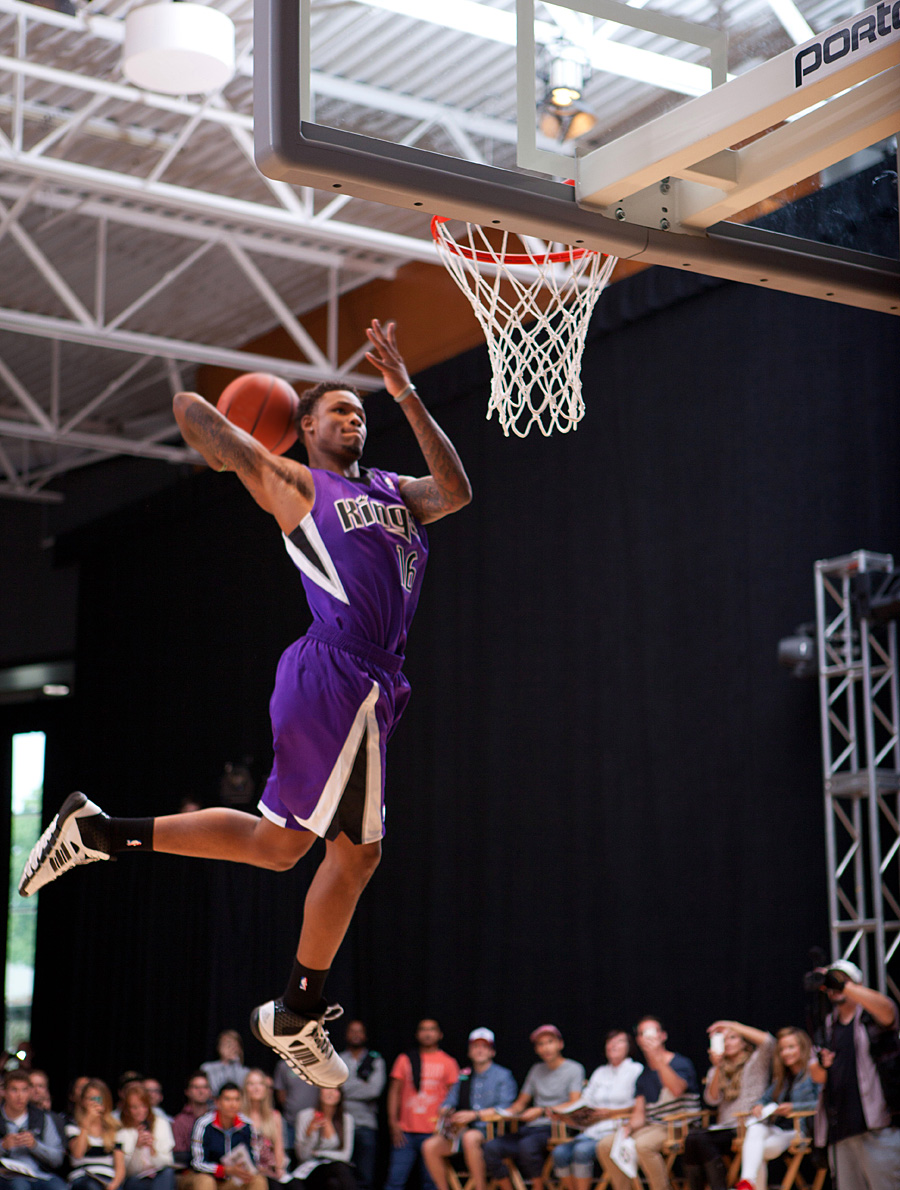 NDP: What do you usually look for in your shoes? Is lightweight the biggest thing for you?
BM: That's the biggest thing really, comfort and being light. I'm a quick guard, and an athletic guard, and I want my stuff to be comfortable and real supportive on my ankles. If I feel good with my shoes, then I'm gonna be good on the court.
NDP: Over the last few years that you've been wearing the brand, do you have any favorite models?
BM: At Kansas, I was wearing the Ghost, Crazy Light and Crazyquick and liked all of those a lot. I'm also a big Crazy 8 guy, and that's my favorite shoe. I love those, and I can play in them and also get dressed up in them for whatever. Now that I'm with adidas, they've been asking me what kinds of shoes I want to wear, and I've been asking for a bunch of Crazy 8s.
NDP: Real cool. I saw you were showing off the new Crazy 97s from the old Kobe dunk contest too. Is that a shoe you'll be wearing?
BM: Yeah, hopefully. I'd definitely love to wear those.
NDP: What from the Originals category has really stuck out for you?
BM: Oh, the Jeremy Scott stuff is crazy! Also, they have some new models that are kind of like the Crazy 8 that they showed us that I really like. I really like a lot of the stuff they have going on, and I can wear those with jeans or with sweats, and with my swag and how I dress, I can put together all kinds of outfits.
NDP: In terms of hoops, what are some of your favorite drills you've been doing this summer that really help your game out?
BM: Before everything, after I've stretched and gotten loose, I always start with ballhandling. That's something I need to get stronger at on my game, and I know that, and that's my weakness. That's what's going to hold me back from being great, so I really am focusing on my ballhandling. With shooting drills, I can do all of that in my sleep now. [laughs] I'm able to keep in shape fine, but really, it's the ballhandling I'm working on.
NDP: What about a drill you hate doing that you know will help your game? I always hated doing defensive slide drills in practice.
BM: I really don't have a particular drill that I don't like. As a basketball player, I just want to get better each and every day and I don't mind anything. On a defensive drill, some people might say, "Oh man, this is getting boring." But it's something that I really built on with Kansas, and that's something that we really worked on. We wanted to score off of our defense, and now I'm a big defense guy and want to get a lot better at that too. I'll have to, cause I'll be going against great players like Kobe, James Harden and all of those types of guys. [laughs] I've just got to keep working on my game and I'll be good.
NDP: What was it like being at the Village today and being apart of this experience where you got to see all of the employees really come out and show some love?
BM: It's really one of the greatest feelings I've had, right behind the NBA Draft. It was a great experience, and it's my first time being out here in Portland, Oregon and seeing the facilities here. Now, it's great to be part of the adidas family and be able to see all of the people that work here and want to support us. The things they've been showing us all week, like different products and shoes, and also meeting the people that actually work on that stuff and will be helping us with our shoes has been the best thing about being here. I've really enjoyed my time and am excited to be apart of adidas now.