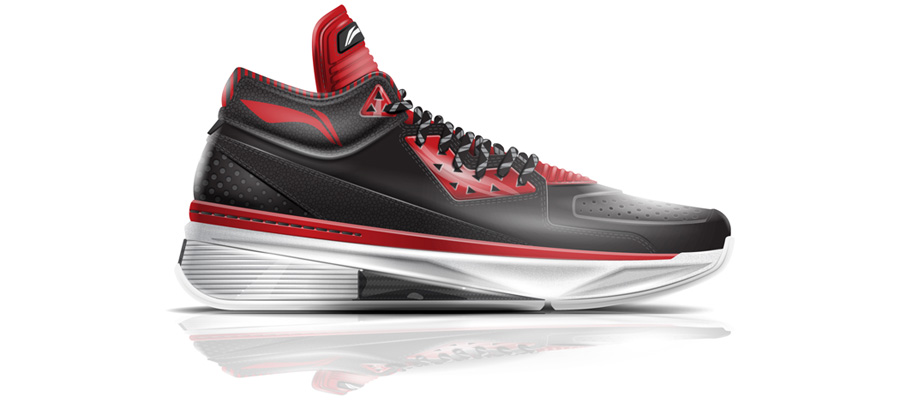 words & images // Nick DePaula
As Dwyane Wade and Li-Ning look to celebrate their second season together, you can expect to see Dwyane all year long breaking out his newest signature model, the Way Of Wade 2.
Exclusively seen below for the very first time, this Black / White / Red colorway takes inspiration from the "Announcement" Way Of Wade, a road colorway made at the start of last season for the brand's welcoming ceremony.
The two have already gotten off to a great start in their lengthy deal, with Wade winning the 2013 NBA Championship during his first year with the brand.
"At the end of the season," begins Wade's designer Eric Miller. "DWade told our CEO, 'This shoe kept me from getting injured. This was the most comfortable shoe of my career and I love it.' It was a week after he won the title, and his whole thing was he didn't need too many improvements or changes from a comfort, construction and stability standpoint."
With that feedback in mind, the Li-Ning team and Wade looked to bring more graphics into this year's outsole and liner, and carry on with the distinct Way Of Wade design language.
"He really didn't want too much changed. He wanted a new fresh look," Miller describes. "He wanted to stay in the leather zone and continue to make a product that had character and charisma and could be something that appealed both on-court and off. There are a lot of shoes now that are just manufactured. They don't have that hand-crafted stitch detail. We worked with Alejandro Ingelmo and learned some things from the fashion world, and we worked with Dwyane's stylist and learned some things about him and had a bunch of fun doing it."
Check out the "Announcement" Li-Ning Way Of Wade 2 below in detail, and look for this to be the first colorway of the shoe hitting retail later this fall. Stay tuned all week for additional colorways as well.