words & images // Nick DePaula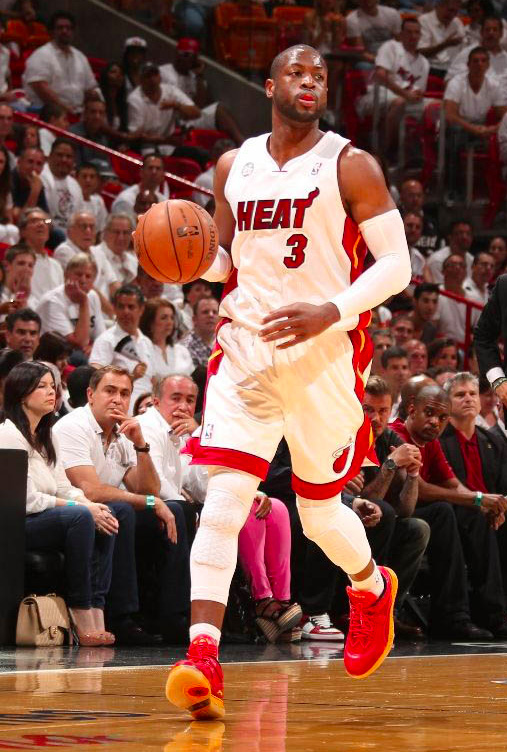 Even though Pat Riley is known for his strict color guidelines and his infamous quote, "All my soldiers wear the same [color] boots," players still like to get as loud and flashy as possible on the court.
This year, Dwyane Wade will once again break out what he calls the "Code Red" theme, a bold red and yellow take on his new Way Of Wade 2. The new colorway takes on more hits of black throughout the shoe, along with some splatter accenting. The biggest change of all for the model is the shift from the more overt "W" lacing seen last year to a toned-down spelling of the first letter of his last name.
"We had some success with the 'W' lace and also the 'W' two-tone pattern on the laces last year, so we wanted to follow that up," designer Eric Miller begins. "This year, we went with a spaced-out W that's a more simple pattern, but the grey is reflective in there."
Another carry-over from last year to this year are the personal nods to those closest to Dwyane, found along the outsole.
"We have 'ZZDG' on the sole for his immediate family," says Miller. "That'd be his sons Zaire, Zion, Dada and then Gabrielle. 'Way Of Wade' was something he wanted on the sole. You can hide information in the rubber, and it's recessed in to the parts that won't wear down, so you can always read it."
As for those numbers?
"'92' is his grandmother's age. '12116' is his three kids' ages when the shoe comes out," continues Miller. "We did that last year and we had '10105' at first. He called me and said, 'Hey, when's the shoe gonna come out?' I said after the season starts. He goes, 'Well, change it cause one of them has a birthday between then and now.' [laughs] So it became '11105.' You also see 'TNS' for his 'Team No Sleep' crew of friends that are always up working."
Check out the "Code Red" Way Of Wade 2 in detail below, and be sure to also catch up on both the home and away colorways from earlier this week if you haven't already. Look for the "Code Red" to hitting stores later this fall.