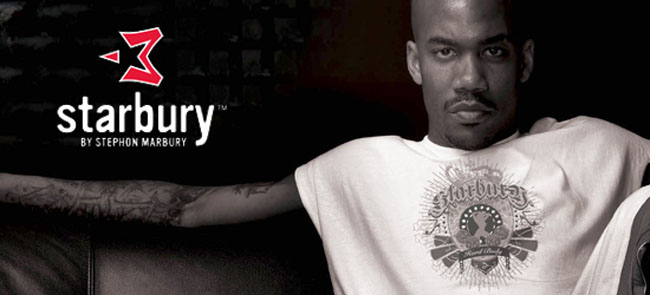 words // Zac Dubasik
The original Starbury line was groundbreaking in the sense that it offered a fairly legitimate performance shoe for a mere $15. Along with that shoe, an entire line was launched which included apparel, as well as some more casual-based sneaker options.
When news broke last week that the brand may be making a comeback, it was accompanied by images of potential upcoming models. But despite being new "designs" from Starbury, these shoes looked surprisingly familliar.
This wasn't the first time we'd seen less-than-original "designs" coming out of the brand. Even back when the original line launched, the casual sneakers featured heavy "inspiration" in the design department from classic models in sneaker history.
Let's take a look back through the past, as well as the new designs, and compare the shoes they appear to have taken inspiration from. While they haven't gotten any more original, we can at least say that they've gotten more ambitious and diverse with the latest batch.
Original vs. Starbury

Somewhere in the official sneaker rule book, there's a regulation that states that all budget-priced brands must knock off the Nike AF1. This is the Starbury attempt.
Original vs. Starbury
Right down to the materials and heel counter, Starbury nailed their "interpretation" of the New Balance 574. Much like the AF1, they are hardly the first to knock off the 574, which has even been done by high-end brands like Louis Vuitton.
Original vs. Starbury

To Starbury's credit, their version of the Air Jordan XII is probably better than the Jordan 12 Fusion. This is probably what Jordan Brand should have done, simply adding an AF1 sole to the XII upper, rather than reworking the iconic rising-sun design.
Original vs. Starbury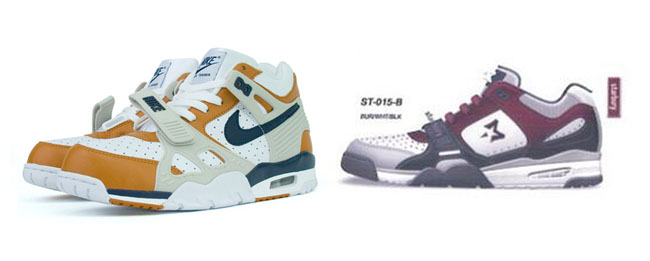 Starbury could have taken the easy route with this one, and simply copied the iconic Medicine ball colorway along with the design of the Air Trainer SC III. And you'll see later on that they often did copy everything. But at least for this model, the "borrowing" was limited to the design. So props for keeping it to a minimum on this one.
Original vs. Starbury

It's hard to think of a collaboration that recieved less interest than the long-forgotten Reebok x Orchard Street collection. But it's somehow been replicated here, even down to the grid pattern and off-center lacing.
Original vs. Starbury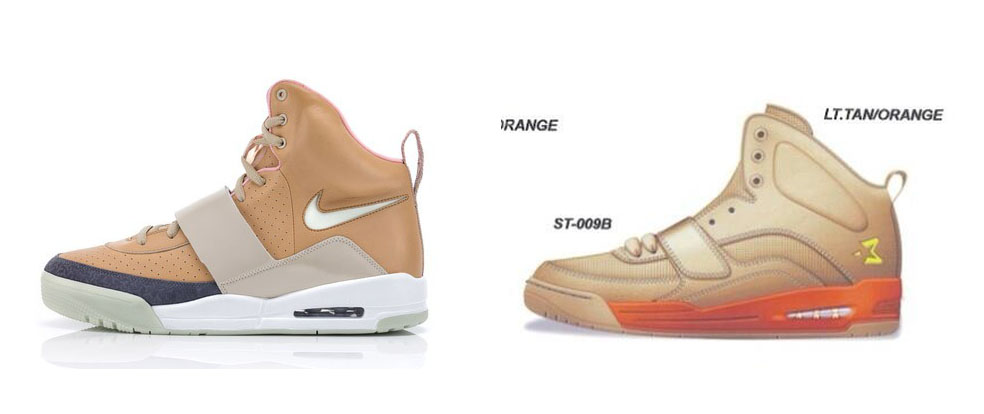 To be fair, Starbury is hardly the first to have borrowed heavily from the Air Yeezy design. Heck, Nike has even done it themselves. I would have been more surprised if there WASN'T a Yeezy-based Starbury at this point.
Original vs. Starbury

Before there was the Yeezy, there was the Ato Matsumoto. Kanye helped popularize the Atos at a time when the sneaker world wasn't yet ready for high-end designers. But while the shoe never quite took off, Starbury has still recreated it, right down to the exact colorway.
Original vs. Starbury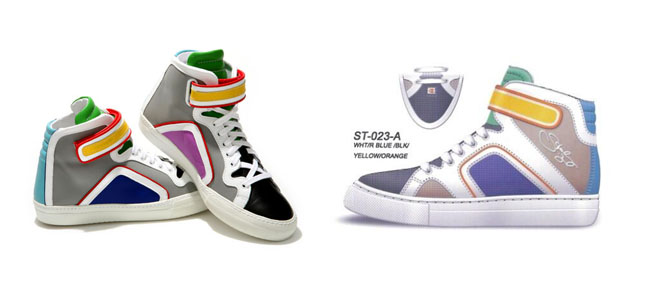 In the hierarchy of high-end sneakers, Pierre Hardy probably falls somewhere near the bottom. They aren't as subtle or tasteful as many of the sneakers offered by brands like Lanvin or Balenciaga, not as coveted as those from Raf Simons, nor as shocking as something like Rick Owens. They kind of fall in that no man's land where the most exceptional thing about them is the price. Now, you can get that look for a whole lot less, thanks to Starbury.
Original vs. Starbury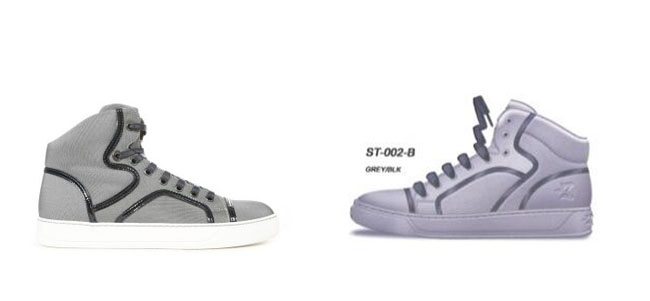 In terms of Lanvin models, this mid-top is probably one of their least recognizable, behind their classic cap-toe low-top, and puzzle-piece highs. Maybe "change two lines on a less obvious model" was the Starbury design brief here.
Original vs. Starbury

The story of the Nike LeBron 6 is a complex one, that involves an 11th hour redesign, which eventually yielded the model on the above left. Something tells me that the design process in which this Starbuty was created was much more simple. Colorway inspiration aparently came from the sale racks, where this Ohio State-based LeBron 6 could easilty be found.