words & images // Nick DePaula
When it comes to retro product, not every brand gets it right. Over the last few years that Reebok Classic has revamped and relaunched some of their greatest hits though, they've been sure to keep a keen eye on every last detail and material during the promo sample and eventual production process.
In order to make sure the modern versions of iconic models from decades ago like the Kamikaze, Question and Shaqnosis are as close to the original as possible, they've been re-designing lines and looks, and along the way comparing every last millimeter alongside an original pair.
"Paul Smith in the Classics group is another tremendous designer and I actually brought in my original size 9 sample to help them remake the Shaqnosis," explains Jonathan Morris, the shoe's original designer. "We didn't have any of the original outsole toolings or anything, so they had to use the sample to work on the tooling and help with the pattern."
In this toe-to-toe comparison between a 1995 original and 2013 retro pair of the Shaqnosis, you'll notice that things like the midsole heights, leather, nubuck textures and collar foam packaging are all precisely alike. Of course, the shoe's most important feature, its radiating lines that circle around the entire shoe, all line up just as well as they did in size 22 on-court in 1995.
After several months of revisions, updates and factory work throughout the 2012 calendar to make sure the Shaqnosis was as hypnotizing as Shaq himself remembers it, the team had an exact replica that was all ready for its much-anticipated return this past July.
Perhaps most importantly, the shoe's original designer, Jonathan Morris, even gave a glowing co-sign: "The Classics group did a great job with the new one."
Enjoy the comparison images below, and keep in mind that the right shoe in the group shots is an original and the left shoe is a Retro.
Original 1995 Reebok Shaqnosis: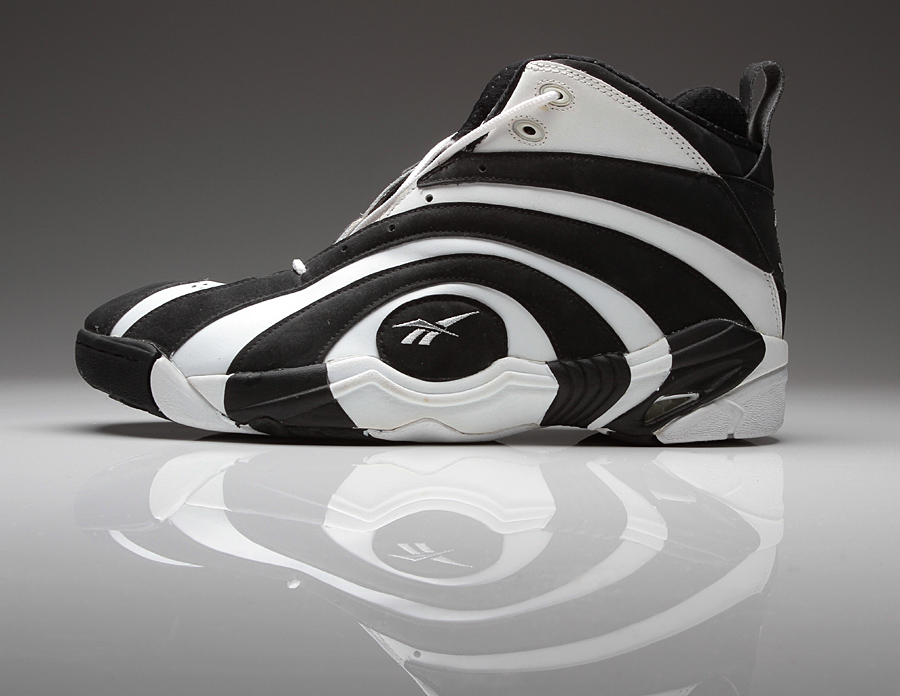 2013 Reebok Shaqnosis Retro: