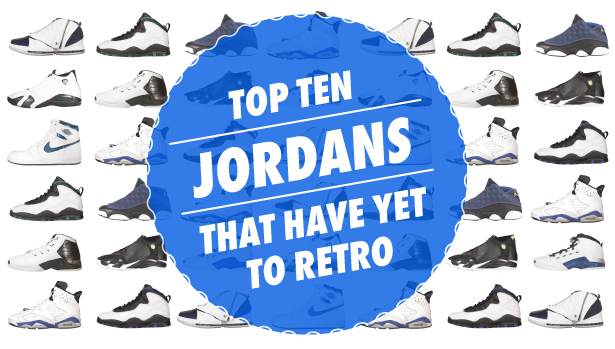 words // Luis Sanchez & Nick DePaula
Looking back at the selection of models reissued by the Jordan Brand over the years, its become increasingly obvious we've been treated to the same select few classics while other original styles just go unnoticed.
Not that it's a huge issue, but there's still plenty of other models that deserve to be celebrated through a retro release by the Jordan Brand. From the metallic blue Air Jordan I, to the Air Jordan XVII+, the list of classics which both old and new generation Jordan fans would appreciate if reissued could go on for a while.
Looking to get the conversation going in the sneaker community and hopefully expose the undeniable demand for these classics, SC has compiled a list of the Top Ten Jordans that have yet to retro. Continue on for a look at the full list, and be sure to let us know which model you'd like to see return the most.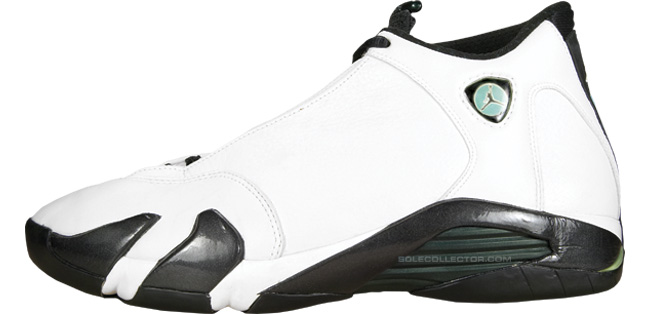 10. Air Jordan XIV - Oxidized Green
The Indiglo XIV is definitely the gem of yet-to-return XIVs, but the White/Black/Oxidized Green colorway perfectly captured just how clean of a design Tinker nailed with the shoe. Glossy black midsole wraps and subtle carolina and green hits throughout nicely accented the shoe's stark white and black. Also, these were worn by David Robinson during the lockout year when tons of players paid tribute to Mike by sporting the XIV, so bonus points for that.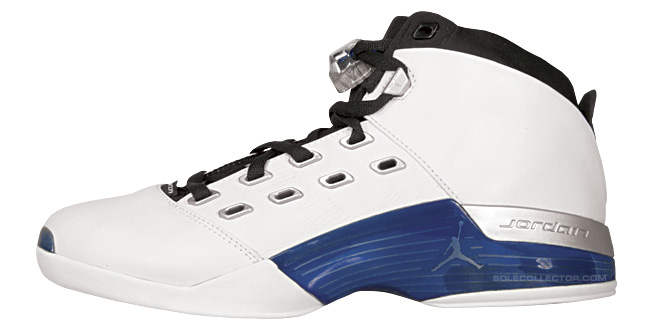 9. Air Jordan XVII - College Blue
While most purists were only counting Jordans I-XIV as true "game shoes" worn by Mike on-court, the XVII owns the distinction of being the shoe Michael returned to the game in for one last run. Designed by Wilson Smith III, the XVII's clean turn-stitch upper and great craftsmanship have aged well through the years, making it a no-brainer Retro in the near future that we'd love to see. One question remains -- do we really need the briefcase this time around?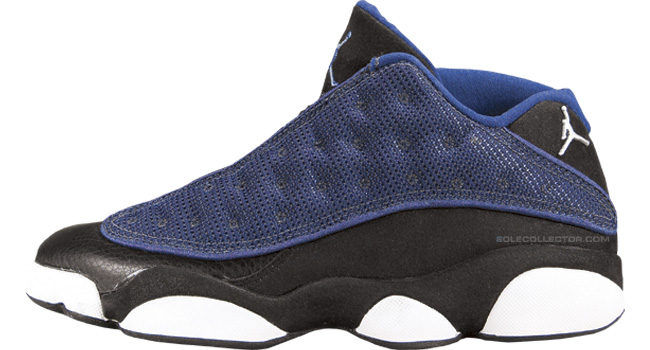 8. Air Jordan XIII Low - Black/Navy
We're totally cool with the Chutney XIIIs staying in the vault, but there was always something to like about this Black/Navy XIII Low. The silver Jumpman along the heel and the upper panel's different geometry from the Mid gave it a new look, and that mesh and 3M panel went way harder than leather too. All we ask is that it's real 3M again.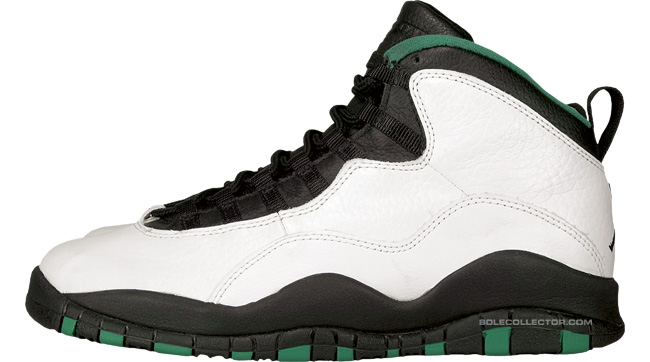 7. Air Jordan X Seattle
You may know Kendall Gill these days as the annoying guy commentating NBA Summer League games, but way back when, he actually played a part in the original Air Jordan X "City Series." Gill was a forward for the Sonics during the 94-95 season, and represented the city of Seattle with one of the most beloved colorways of the X. We're obviously fine without his custom #13 stitch detail -- just please, please, use some solid leather on these if and when they return.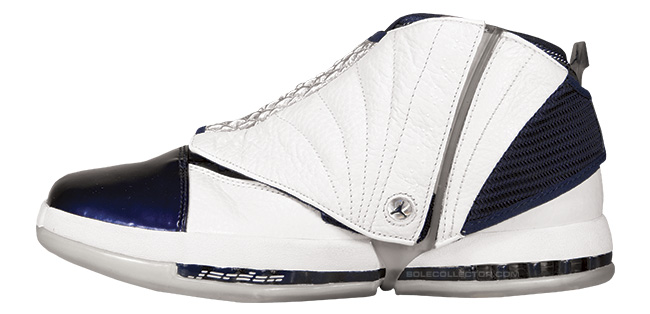 6. Air Jordan XVI Mid Navy
The XVI embodied Michael's short-lived hardwood-to-boardroom transition of the early 2000's, and introduced a removable shroud to the line for those obvious times when you'd want to wear an Air Jordan to important corporate meetings with your suit. Either way, the shoe is severely underrated these days and its patent toe cap and slim upper would work well with today's style. Just maybe don't go for it with a suit.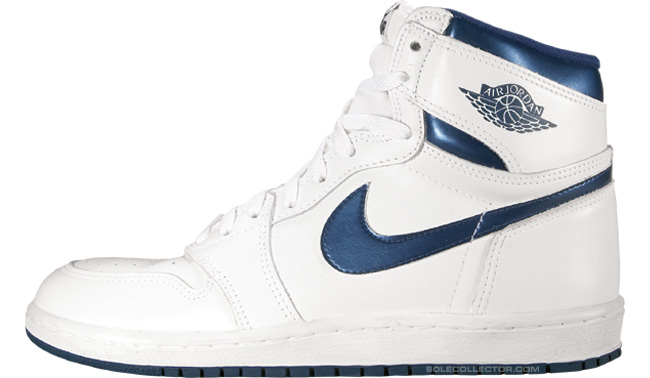 5. Air Jordan I Metallic Blue
Coming in at number 5 is easily one of the rarest looks for the original Air Jordan in the "Metallic Blue" Air Jordan I. We saw two metallic looks back in 2009, however longtime Jordan fans have longed for a retro release of this classic metallic blue version for quite a while now, One of several metallic looks released during the AJ I's original run, this particular pair sports a full white leather build with metallic blue accents. Judging by the growing popularity of the Air Jordan I as a casual lifestyle shoe, the White/Metallic Blue Air Jordan I would definitely be a huge success if ever reissued by Jordan Brand.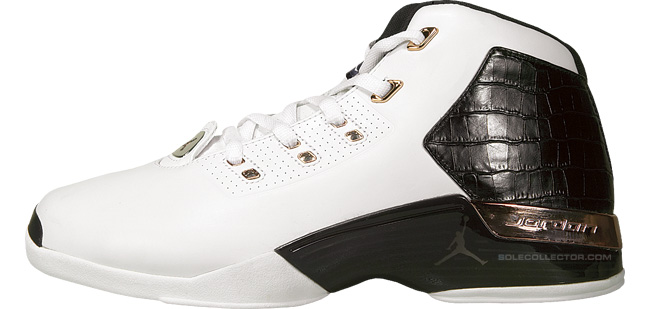 4. Air Jordan XVII+ Copper
Looking back, the Air Jordan XVII was groundbreaking in a number of ways during their original run back in 2002. Not only were they the first Air Jordan to break the $200 price point, they were also the first to utilize animal print with the "Copper" Air Jordan XVII+ sportng croc skin overlays. A little ahead of their time when originally released, Air Jordan fans would now definitely welcome them with open arms if ever reissued.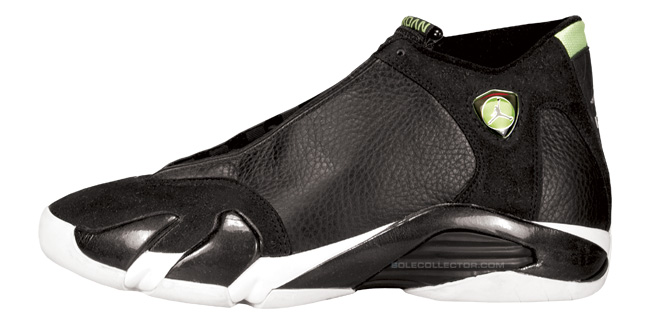 3. Air Jordan XIV Indiglo
Known as the last Air Jordan rocked by Michael during his time with the Bulls, the Air Jordan XIV over time has also been widely recognized for their unique off-court colorways. Among the many lifestyle-driven looks released back in 1999 is the "Indiglo" edition, capturing everyone's heart with their premium leather and nubuck build in black/white with just the right amount of hits of indiglo setting them off. With very few original pairs still floating around, fans always beg for a retro release whenever a crisp pair is seen on the web or the streets.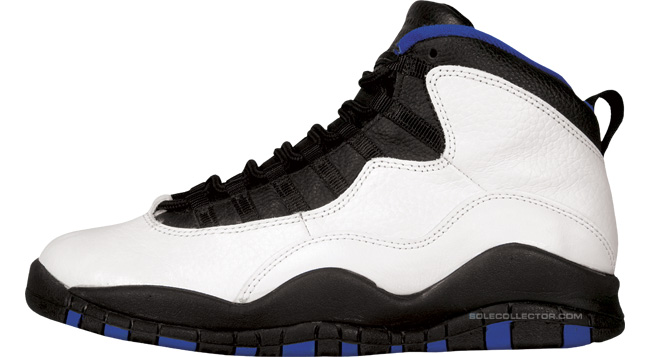 2. Air Jordan X New York
We all know how incredibly coveted the "City Series" Air Jordan X collection is among sneaker collectors worldwide. However if you had to pick one pair to reissue, most would be quick to agree that the New York Knicks edition is definitely at the top of the list. With an original Air Jordan X color block, and the forever iconic combination of royal and orange accenting throughout, the "Knicks" Air Jordan X is easily one of the most wanted retro releases in not only the Jordan Brand's, but also Nike's entire catalog of footwear. With a number of complex colorways already released and a few expected next year, it really makes us wonder why the Jordan Brand just wouldn't keep things simple and give us at least one of the city series Air Jordan X colorways. Sigh.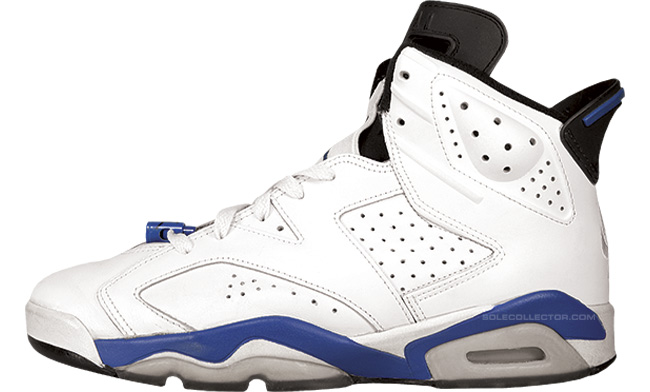 1. Air Jordan VI Sport Blue
Iconic in more ways than one with their groundbreaking design and historical significance when it comes to Michael's championship career, few would argue against having an Air Jordan VI at the top of our list. Already reissued in several original looks, including all three colorways worn by Michael on-court, the "Sport Blue" edition is just one of two Air Jordan VI colorways we've never been given a second chance at. One of the rarest original colorways to track down in mint condition, the "Sport Blue" Air Jordan VI would cause tons of chaos to say the least, if ever reissued. Make it happen Jordan Brand.