words // Zac Dubasik
images // Jotham Porzio & Nick DePaula
When images of the KD VI first leaked, my first thoughts were that it looked like a soccer shoe. The toe Swoosh no doubt played a part in that thinking, as did the reported influence from the Kobe line. While designer Leo Chang later debunked the widely held soccer influence theory during our lengthy interview, it was my next observation that ended up defining the shoe.
"What's going on with that tongue?" I wondered.
Rather than having a traditional tongue, which attaches near the toes, or even a bootie construction, the KD VI tongue is actually a part of the upper, which Chang described as a "burrito"-like construction. Imagine if the two sides of an ASICS Gel Lyte III were long enough to overlap, and that should give you an idea of how the tongue here works if you are having a hard time imagining it. The theory was that by reducing layers, the upper can better overlap and hug the foot.
It's a concept that makes a lot of sense, and has even more potential. But in practice, at least for my feet, it just didn't work here.
My first issue with the "tongue" was that the top layer was so wide that it bumped against the lace loops, which prevented it from being as dynamic and hugging as the concept would need to be to provide adequate variances in fit. My feet are even a little on the wide side, and I simply couldn't get them tight enough to prevent slipping. That doesn't mean I didn't do my best to pull them tighter though.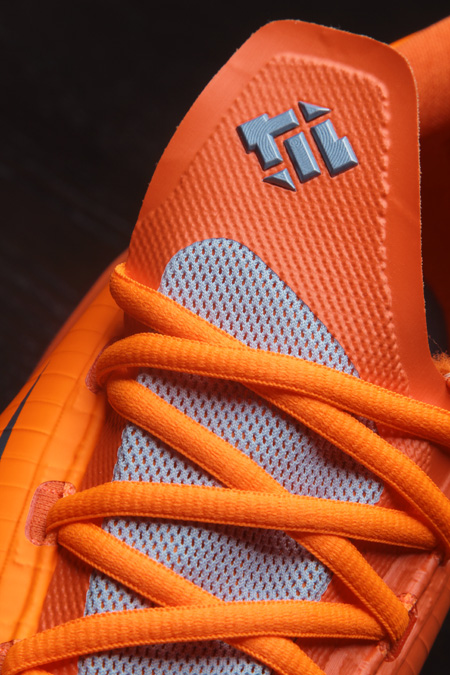 Making it even harder was the fact that the looped eyelets offered very little friction. When I was able to get them as tight as possible, it created yet another issue: comfort. Not only was there barely any padding in the tongue, but the firm, synthetic material buckled and crumpled behind the laces when pulled tight enough for me to play in. So not only did it lack padding at that point, it also wasn't even smooth, which created about the most painful lace pressure I can remember playing in.
I thought the concept still had potential though, so I decided to try making some modifications myself. Seeing that there was a fairly wide strip of Fused material at the edge of the top tongue layer, I decided to shave it down with some basic scissors. The result was a more narrow tongue, which, in theory at least, would allow the fit to be more dynamic and tighter, since it had more room to close before crashing into the eyelets.
So, did it work?
Kind of. It definitely alleviated some of the pressure on the top of foot, thanks to less bunching of the material. But ultimately, I still just couldn't achieve a tight enough fit. I found the issues to be most noticeable on defense, where I could feel my feet slipping laterally within the shoe every time I shuffled my feet.
Getting the right fit down is really a must on these. Another guy at my gym that I often play with who seems to play in a wide variety of shoes without any particular logic or taste didn't seem to have any issues with the fit or playability when I asked him about his pair of the KD VI. "They're cool. I like 'em."
Then there was a guy who often is more particular and narrowed in on his shoes. Right away after I asked him what he thought so far, he yelled out, "I'm sliding all over the place on D in these!" That lack of true lockdown within the shoe is really the KD VI's biggest flaw if fit ranks highly for you.
I've focused a lot on the negatives so far, because for me at least, if a shoe doesn't fit securely, I'm going to have a hard time liking it no matter what else it offers. But fit is a subjective thing, and if you are a player who the shoe happens to fit right, or you are used to not lacing up as tightly as possible, then there are a number of positives.
For one, despite even the fit issues in the forefoot, the collar padding did a commendable job of securing the heel, which led to a feeling of confidence in the shoe's extra-low cut. This is about as low a cut as you'll find in a shoe designed for basketball, which makes for an exceptional range of motion. With a good fit, this shoe could feel very fast.
Adding to the shoe's speed factor is outstanding traction. I had to swipe a bit more than I would have liked, which kept it from scoring the highest rating, but when clean, the traction was so good that it was making the fit problems more noticeable. The shoes would stop, but my feet would keep sliding over the footbed.
I also found the cushioning to be very good. In the past, a setup like this could have been considered as good as it gets. But advancements in cushioning, with technology like Flight Plate, are leaving the old standard a step behind. Still though, I experienced a level of responsiveness I've come to expect through the forefoot Zoom bag, and plenty of impact protection in the heel. The KD VI's heel-to-toe transition may not be as good as that found in the glory days of the line (the II and III), but it's still smooth and fast.
But that brings up a bigger issue.
The KD II was a better shoe by miles than the KD VI, and retailed for $85. That's $45 less than the current model. And the trends so far have been moving in the wrong direction, at least from a performance-to-value standpoint. For me, each model since the II has taken steps back in performance, while creeping up higher and higher in price. Sure, more visible technology has been added, more creative stories and themes have been told, and KD's profile has risen. But the bottom line is, that from a performance standpoint, the line has been regressing.
The KD VI is great at being a signature shoe. It innovates with its concept and construction. It tells stories about KD's roots and style with its detailing and colorways. It's eye catching on and off the court. But as a performance shoe, it just didn't work for me. For anyone interested in the KD VI as an on-court shoe, I'd highly recommend trying them on, and seeing if you can achieve a proper fit.
It's hard to even speculate where the next model will head, after last year's surprise high-top KD V. But as much as I was disappointed with how this new construction method actually worked, I love the concept, and would like to see a second generation evolve and improve on the idea. For now, these will work best as an off-court shoe.
Below: A look at Zac's modified KD VI that include a trimmed tongue to allow for a closer and more snug fit. Zac simply cut off the outter edge of the tongue, seen below the shoe in the middle photo.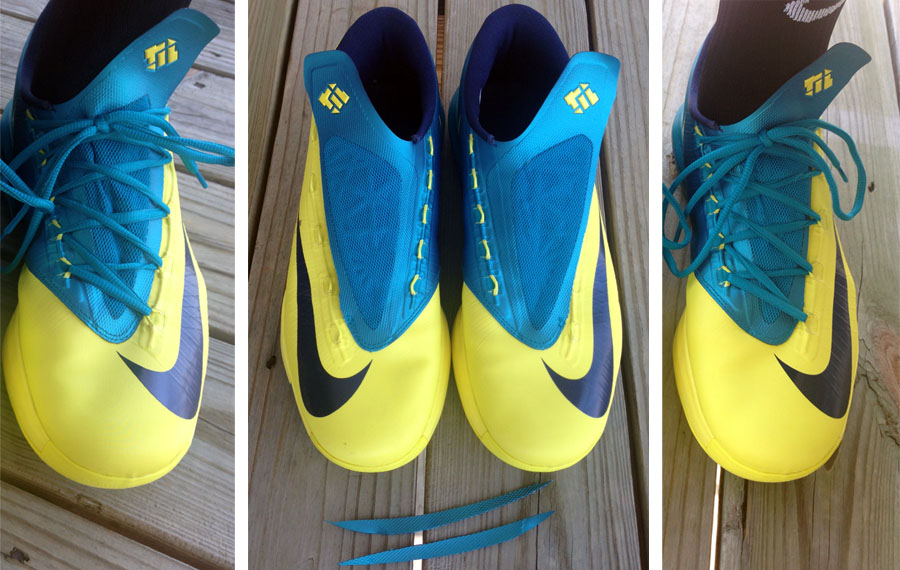 GRADE BREAKOUT //
designed by: Leo Chang
best for: players with wide feet who favor very low cuts, great traction and cushioning
colorway tested: Sonic Yellow / Tropical Teal / Midnight Navy
key tech: Forefoot Zoom Air, Heel Air Max, Flywire
pros: range of motion; cushioning; traction
cons: fit, comfort improvements: upper pattern needs to allow for more dynamic fit; more friction in eyelets; padding in tongue to protect from lace pressure
buying advice: The construction and design of the KD VI represents some exciting new possibilities for how hoops shoes can be made. But in my experience with the shoe, it's just not ready yet. I had such a hard time getting a secure fit, even after making my own modifications to the "tongue," that it's a hard shoe for me to recommend from a performance standpoint. That said, if you have a wider foot, or are able to size down, or achieve a good fit one way or another, there are a ton of positives. This is definitely one to try on before you buy if you plan on hitting the court in them.