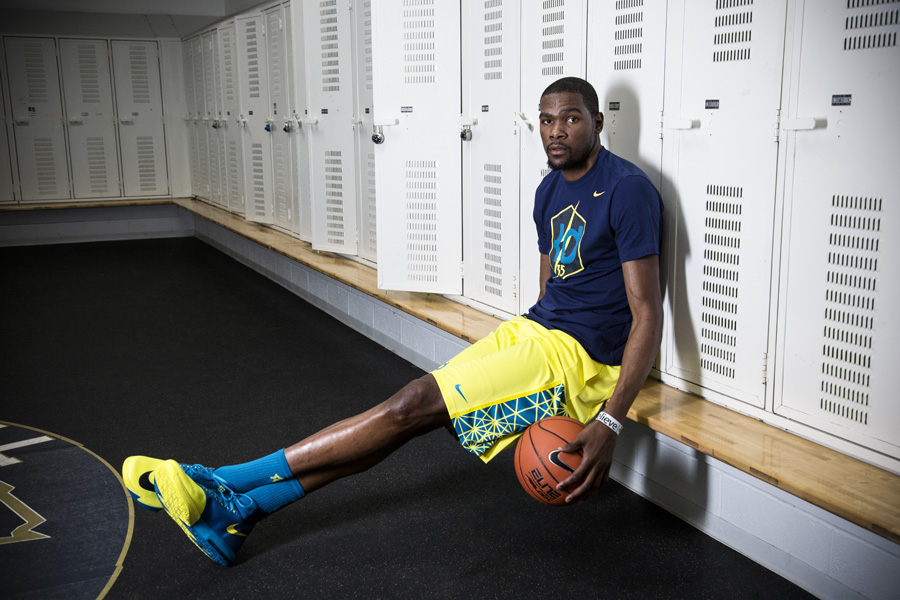 words // Nick DePaula
images // Victor Sun and courtesy Nike
as published in Issue 44 of Sole Collector Magazine, available at Foot Locker and Barnes & Noble.
Superstardom in the NBA can be an overwhelming task. The endless interviews, obligations and constant grind of an 82-game season can really wear on guys, not to mention the actual stresses over wins and losses. For Kevin Durant, he's been able to keep a clear head with everything that's been thrown at him along the journey, and a lot of his grounded nature can be credited to his mom and brother that raised him in the Washington D.C. Area.
For the launch of his newest signature sneaker, KD took things back to where it all started, hosting an event with his family at the very place where he learned to love the game, the Seat Pleasant Activity Center. "Every memory I have growing up is in this center," says Durant. For his entire childhood, he could be spotted playing on the basketball court, just down the road from his grandmother's house.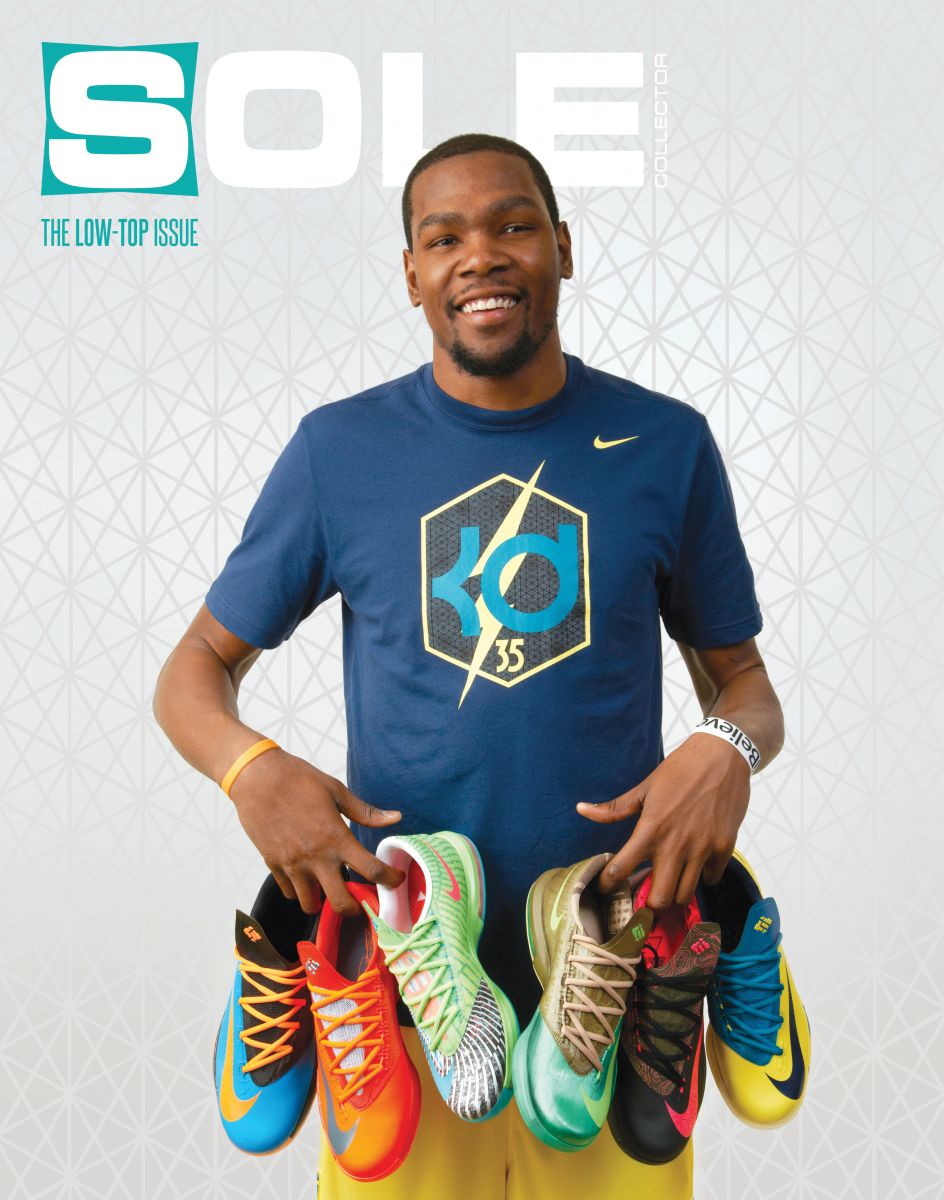 All of the success that's come his way in the last decade can be directly traced to his endless days in Seat Pleasant, and none of his current status, success and achievement has seemed to surprise his mother, Wanda Pratt, much at all. "Whatever basketball required of him, he was dedicated and committed to do that," says Pratt. "[Where he's at now] really doesn't surprise me, cause I understand that hard work, dedication and commitment is all key to success. It's all key to the journey of success. The things that I see him doing now are just a reward for all those years of dedication."
Now ready to embark on a new season of championship aspirations, Durant will be leading the way for the Oklahoma City Thunder this fall in his low cut Zoom KD VI signature model. To get a sense of how far he's come, what his new home and the OKC community means to him and also what he thinks of his new kicks, ESPN's Michael Wilbon recently hosted a roundtable discussion with KD and the shoe's designer, Leo Chang.
Michael Wilbon: Clearly Nike and Kevin have a strong relationship, and it's a partnership that began in 2007. Now that you're back here again in Seat Pleasant, do you recognize this place?
Kevin Durant: I don't, I don't. [laughs] It was a little more grainier. It looks nice though.
Wilbon: When you come back, how's it different for you now? Now you're the person that everyone is looking up to.
KD: Well, it's just a blessing to come back here, first off. Somewhere I spent so much time as a kid honing my skills, and just being a kid. I did everything here. Homework. I even slept here. [laughs] To be able to come back and try to give some hope to these kids that are from my same neighborhood is a tremendous honor.
Wilbon: We talked with your mom a few seconds ago, but Kevin, obviously to raise kids sometimes, it takes a village. Who are some of the important folks here that really helped you?
KD: Well, there are a few people that passed away. Guys that worked behind the desk every time I came here, they'd let me into the gym. They'd let me stay in the gym until 12 or 1 in the morning. My mom was always at work, and Coach Brown here taught me the game of basketball. He was my godfather, and he taught me the game. The first time I came in here, I loved the game of basketball. Those people did such a great job of letting me be who I am, and also of giving me a platform with this gym to do something I love.
Wilbon: I hear you spent hours here. There's even a story about a curtain.
KD: Well, the gym would open at 10, and it would close at 5 and then it was two hours before it'd open up again. I didn't want to walk all the way home to my grandma's house, which is about ten minutes up the road, so I would just sit behind the curtain and just go to sleep on a yoga mat until the gym would open up again. I spent – literally – all of my time here every day and it paid off.
Wilbon: Now that you're older, what is it as you look back that connected you to basketball?
KD: It's real simple: I just liked to run up and down the court. That's all I really wanted to do. There's so much space here, and of course it looks smaller now, but when I was a kid, it looked like a big arena. I just wanted to run up and down the court. Once I first got the ball in my hands, it was so hard to shoot a basket, and I just wanted to start to perfect it and that's when I really got to working.
To continue reading, click on Page 2 below.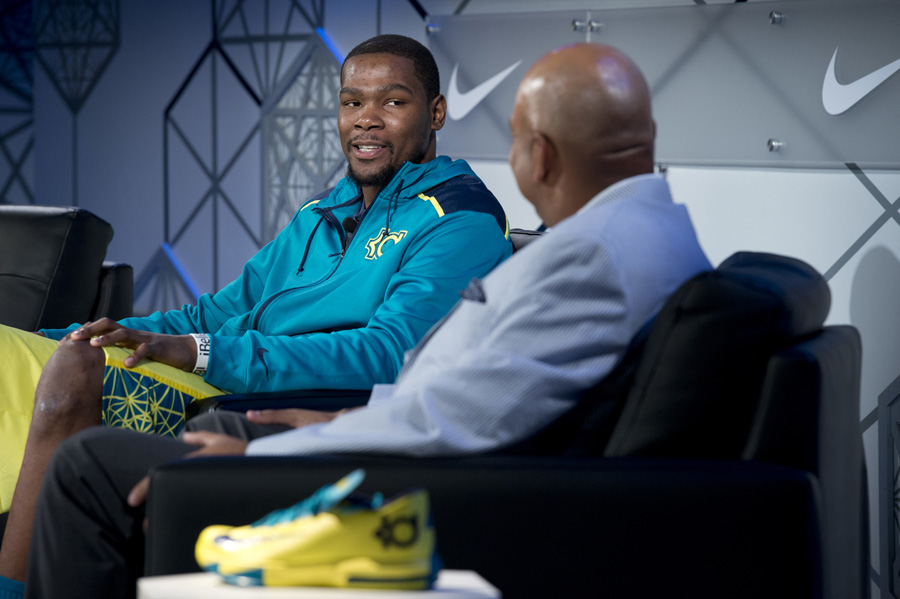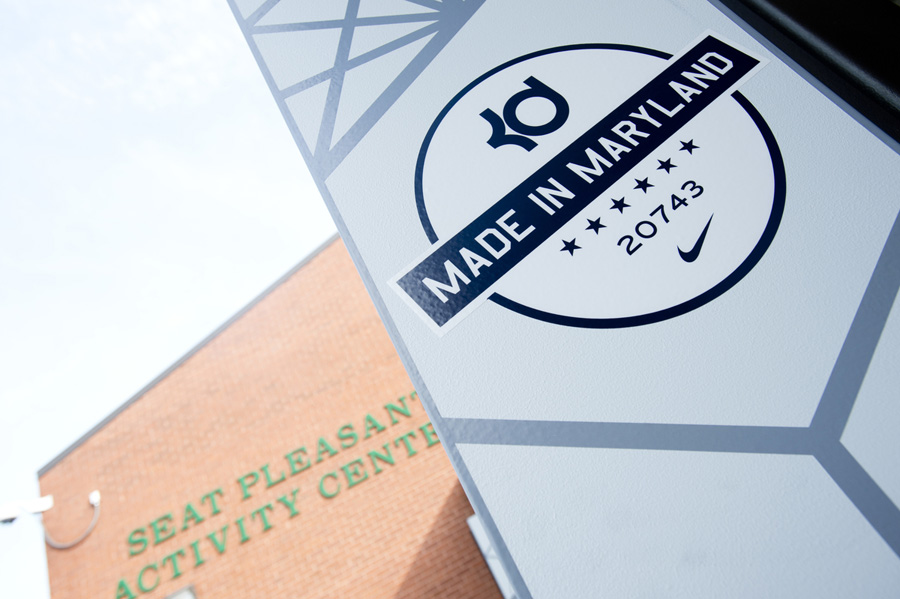 Wilbon: You've had a busy year. A year ago, you were in the NBA Finals, then you were off to London where you won your first Gold Medal. Just a few months ago, the Thunder won more games than anyone else in the Western Conference. What's this year like been for you?
KD: Well, it's been fun, first off. It was just a blessing to represent my country in the Olympics and to play for such a great organization with the Thunder. To win the West last year and go to the NBA Finals was an unbelievable experience. Of course, we didn't finish it off like we wanted to, but we learned from it as a group and to come back here a year later, has been a whirlwind. It's something I've always dreamed of as a kid and I'm happy to be going through it.
Wilbon: I talked to LeBron recently, and he said he had have some down time now to recharge. Is that the summer plan for you, do you have to recharge too or do you have a full schedule for the summer?
KD: I don't have a full schedule. Those guys still have off the court obligations that they have to do, but I guess when you say "take some time off," you mean not going in the gym and not picking up a basketball.
Wilbon: Can you imagine that?
KD: I can't. [laughs] I've done it for about two or three weeks. I did it for two weeks after we lost in the 2nd round this year. It felt good, but then I had to start working out and get back in the swing of things. The time off was much needed, but I just can't wait for once the season starts, and I'm looking forward to that.
Wilbon: While Seat Pleasant is where you grew up, I know Oklahoma City is where you live now. I know that it touched you deeply when Oklahoma City went through the tornado tragedies that they recently had. So much so, that you donated $1 Million dollars of your own money to disaster relief.
KD: I consider Oklahoma City my home. I live there the majority of the year, and I meet so many people just from being around. A lot of people that I've met are from Moore, where the tornadoes hit the worst. I just wanted to do something for them to try and get back on their feet. Of course, those people do so much for our organization, support us and are always there no matter what, so I just wanted to give back and let them know I care. It's much more than just giving money, it's about letting them know that I care. Walking through that area was unbelievable, and I've never seen anything like it. I saw a trailer in somebody's living room. But everybody was smiling still and saying they're still going to be at the games to support us. Just to say that, makes me feel better that they're able to get through things with a smile, because it's tough. I don't know how they're able to get through it, and I just wanted to help them out.
Wilbon: When you signed with Nike back in 2007, you formed an immediate bond with your shoe's designer Leo Chang. Tell us about your relationship with Leo.
KD: Well, it's grown over the years. It's been almost six years and we keep working and keep moving forward. Leo has been a big part of every shoe that I've had since I've been in the NBA. He's done such a great job and is a genius. He makes my feet safe and makes me feel comfortable on the floor. Just like I'm getting better at my game, he's getting better and better every year too.
To continue reading, click on Page 3 below.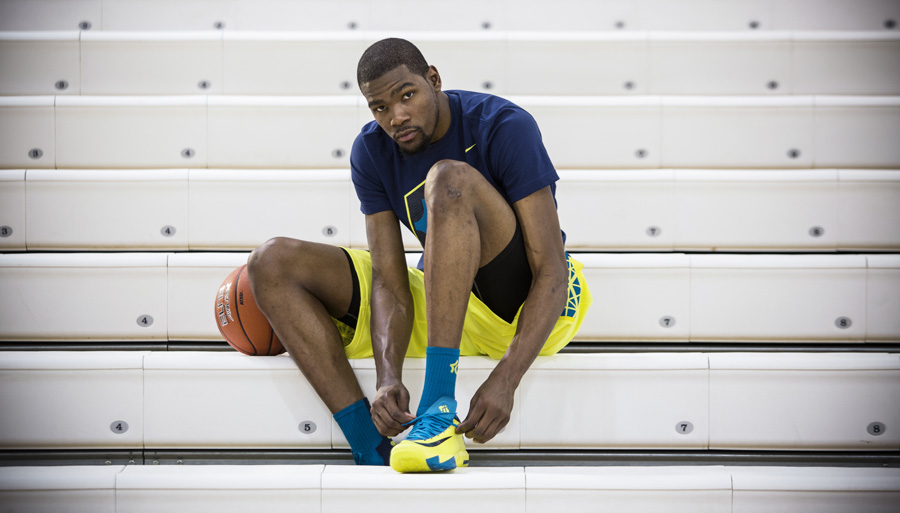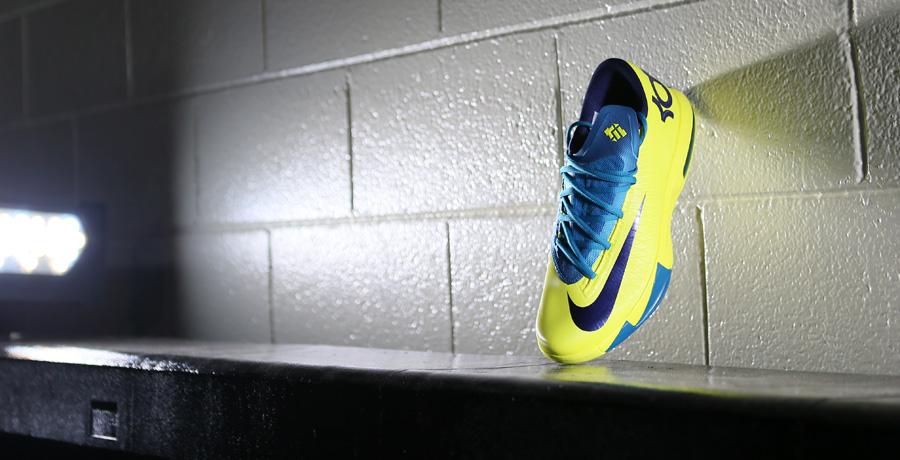 Wilbon: Leo, how do you start each shoe?
Leo Chang: With every shoe that we start, it starts with him and his insights. Everything from performance to style and his story. That's something that we really like to play up.
Wilbon: What literally happens? How do you guys collaborate on what you're going to do?
KD: The best thing about it is they just ask me what I want. [laughs] I'm not a shoe designer, but I just tell them the cut I want, and they know my style and my "swag" as they say, and Leo just brings it together. Every time he comes through with a different shoe, it always leaves me in awe. They do such a great job, and of course, we're already working on the next one, so we're always prepared. This shoe came out pretty nice.
LC: He's great to work with, and over the years, we've taken him to Asia to see how his shoes are even made. He's learned about how shoes are made, and every year we get better and better. Just watching him and hearing his stories, there are so many good and rich things that we can play on.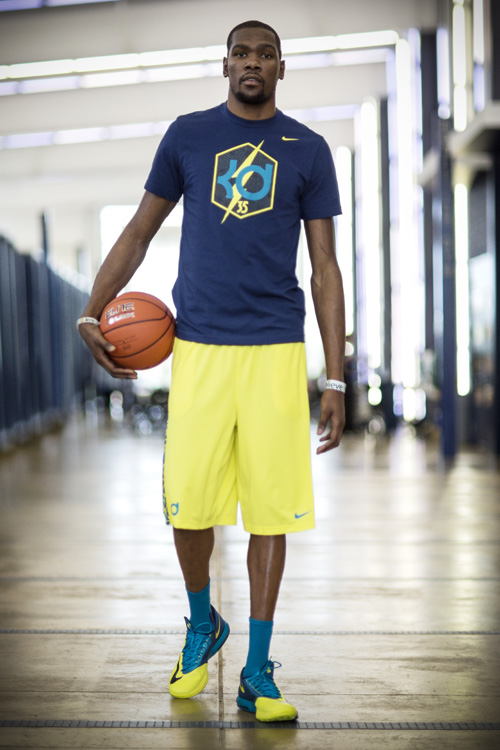 Wilbon: Give me an example.
LC: When we first started in 2007, that was actually the first time I was in this gym. He took us to all of the really, really important places to him in DC, and this was one of them. I was just going crazy taking pictures, and he probably thinks I'm crazy with my camera and stuff, but it's great. These are things I keep, and sometimes I forget, but I keep them on my computer and I always look back on it to dig up more information. On the VI, he came to us with this idea about precision watches. So we looked into how they work and just the amazing precision, detailing and craftsmanship of them.
Wilbon: A precision watch? That's pretty advanced now. You said you weren't a designer.
KD: Well, I know what I like, and I expect him to do all of the work. [laughs] That makes it easier for me.
Wilbon: What percentage of the NBA would you say is actually wearing a low top shoe?
KD: Just from looking at guys, I want to say fifty percent of guys are wearing low top shoes now. Everybody I see is either Kobes, old Kobes or my Elite shoes in the playoffs. Guys are gravitating more towards low cut shoes. I just wanted to try something new from what I had before. Everything I had was either a mid or higher cut, so I just wanted to go real low and see how it goes.
Wilbon: You're always able to manage that sense of control Kevin, whether you're on or off court. How would you describe your game at this point. I've heard you talk about adding several things, but where do you go next?
KD: I try to do different things that I can't, and I'm trying to add some different shots this summer. Off balance stuff. Getting stronger. Ball handling. Just everything for my overall game. I'm trying to do things that maybe I've never seen before in the game too. Just different things that I think might challenge me to get better. I'm looking forward to continually getting better and having fun with it.
Wilbon: I know you're a big historian of the game. Are there older moves that older players did that we might see you incorporate into your game.
KD: I've been working on the Magic Johnson running hook. I've been practicing that this summer, and it's been taking me awhile to master it. If I had to shoot twenty of them, I'm sure I'd make only four or five. [laughs] I've been working on that this summer and trying to add that to my game.
Wilbon: Are you guys already thinking about the KD VII and working on the next one? Is it on a board somewhere?
KD: Yeah, I'm sure it's almost done, to be honest. We always want to be ahead of schedule. I'm always looking forward to new designs and they do such a great job of making sure they're prepared for the future. I'm just going to enjoy this new shoe, and once we sit down to really go over the details of the next one, I'm sure I'm going to like how that ends up as well. It's a blessing to have my own shoe, and it's something I dreamed about as a kid. To be able to launch the KD VI here at the place where I grew up is unbelievable.
Wilbon: What was your favorite shoe to wear as a kid? What shoe did you like most?
KD: Well, my mom and I weren't really going to Foot Locker like that because I had such a big foot. I was a 18 since I was about fourteen or fifteen, so it was hard to find shoes. I had some Tim Duncan Foamposites back in the day though when he was with Nike. I'm glad to now have my own shoe, and when I see other people wear it, it makes me feel good.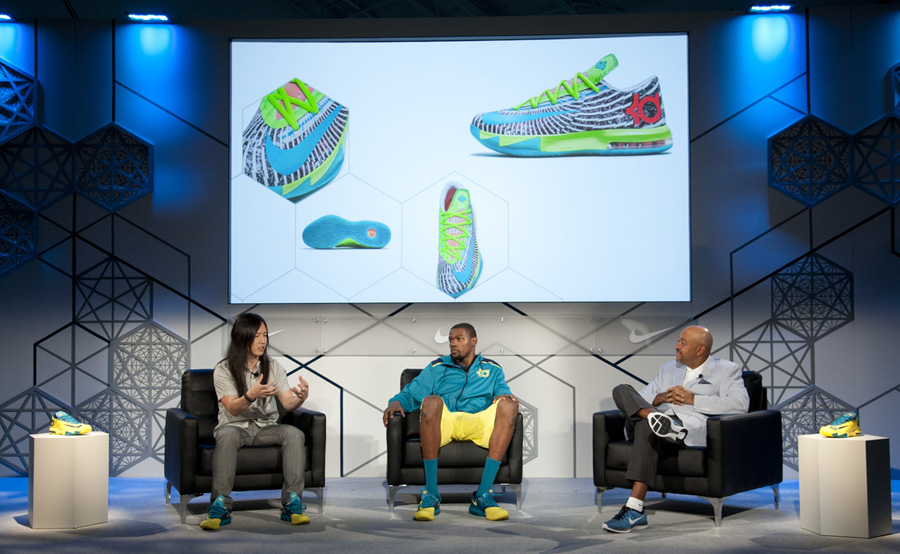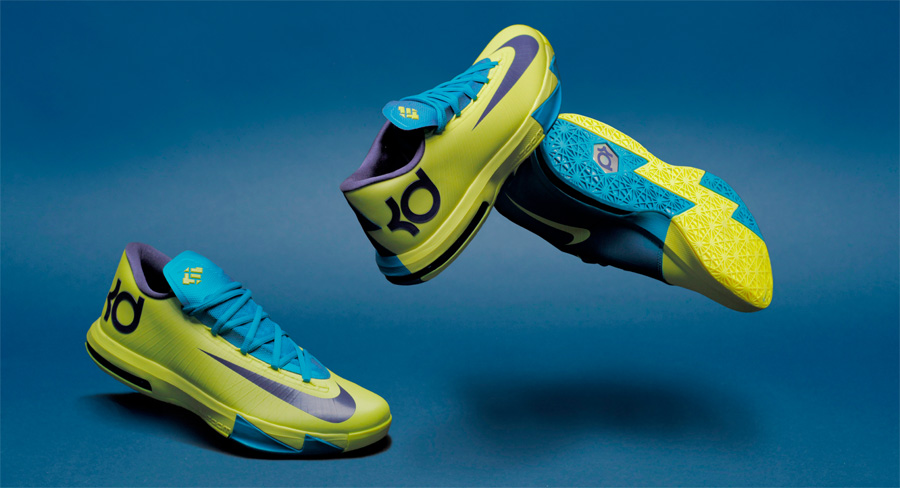 Wilbon: What can you tell me about the colors of this launch colorway of the KD VI?
KD: When I was growing up, we were the Seat Pleasant Lakers. Obviously, I don't like the Lakers now [laughs], so they actually changed the colors here a few years back. It was purple and gold, and they had to get rid of that. So they changed the colors of the gym to this yellow and teal, and I just wanted something to represent where I came from, where I learned the game and where it all started. They do such a great job of telling stories through footwear, and it was unbelievable how this one came out. I was excited when I seen it, and I'm sure people will appreciate it when they see it.
Wilbon: With you guys taking so much inspiration from Seat Pleasant for this shoe, if you guys could bring some new stories to life, what might they be?
KD: Hmm. I have so many. I want to bring a story of me and my brother as kids, how we would do everything together. We would catch the bus in the mornings, he would drop me off first to make sure I was ok, and then he would go to school. He took care of me while my mom was working all the time. Somehow, we're going to bring that to life in a shoe, cause it meant so much to me as a kid growing up, and I really appreciate it now. He almost raised me too. There's a small piece of something that I'm sure Leo is going to find.
LC: I'm on it!
[everyone laughs]
KD: We'll see how that works. [laughs]
Wilbon: What other colors can we look for in the coming months?
LC: Well, many people probably know that on the KD IV, we started with a pretty cool story around "The Weatherman." That was during the lockout, and we asked him, "If you weren't playing basketball, what would you be?" And he said, "A weatherman." So, we thought that was pretty funny, and on the KD IV we told that story. This time around, we wanted to have a little different take on that, and not just use the same colors and the same graphics. We wanted to make sure we were evolving with him and his style. He's growing up before everyone's eyes and he's matured, so we looked at this as more of a grown man's "Weatherman" shoe.
One of my favorites is also the Maryland Pre-heat, and the whole idea around this one is how with precision watches you can see inside to the inner workings of it. Our graphic designer Erick Goto did his thing on this one, and you can really see this cool grey map of Maryland underneath, inside of the shoe. Then, there's these translucent layers of materials over it and this timewarp graphic over it.
Audience: What is one of your favorite memories from playing here at Seat Pleasant?
KD: One of my favorite memories had to be my first game as an 8 year-old. I was so nervous to play, and I didn't know what to expect. Playing organized basketball was the funnest part, cause I was playing with my friends and I enjoyed playing on a team. It's where I really first started to learn the game of basketball in an organized setting, and it propelled me to where I am today and I'm never going to forget it.
Audience: When you signed with Nike, did you ever think that your signature shoe line would become as popular as it has?
KD: Well, I knew that everything would feed off of my play on the court. That's one thing I just really tried to focus on, was coming out and being a great basketball player first, and then everything else was going to follow. I think I got pretty good style and I know what I like in my shoes and I know what's comfortable to me. I think people are starting to gravitate to it, and Nike does such a great job of letting me focus on basketball and they take care of everything on the shoes. We come together so well and make a product.
Audience: How much practice time did you have in this shoe before you approved it, and what did you notice about the shoe from the first time you wore it?
KD: We cleared it to go awhile ago, and I've been playing in them since the season ended and I fell in love with it. I've been working out in it and playing in it every single time and I'm ready to roll. I'm looking forward to playing in it during the season and hopefully I'll be able to see some other guys wearing it as well.
Wilbon: How different is it from the previous one?
KD: The lower cut is different, but it feels lighter than my other shoes too. That's what I always tell Leo, is that I want to feel like a point guard and be able to run and jump and play my game comfortably.
Wilbon: Style is something that's important now in the NBA. Especially for you and your teammate Russell and some of his innovations.
[everyone laughs]
Wilbon: How has the style changed around the league?
KD: Yeah, and guys always say, "If you look good, you play good." Everyone always looks at your feet first I think, when you're playing in a basketball game, and everyone wants to look good. They're doing a great job with mine.