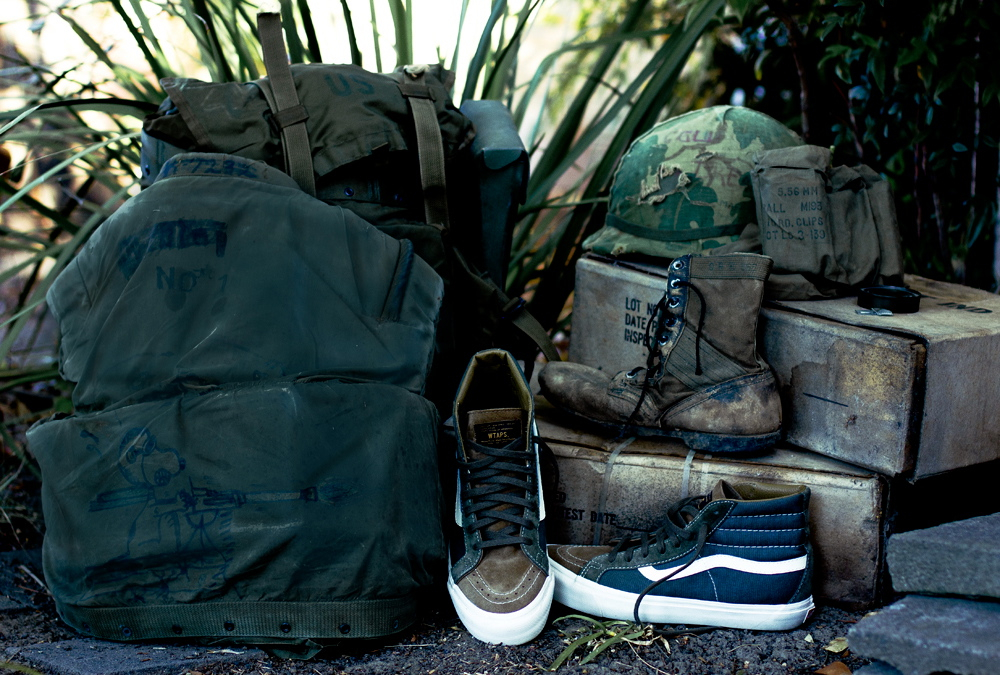 words & interview // Brennan Hiro Williams
photography // Moe Tang and Brennan Hiro Williams
When it comes to collaborations, few brands are as prolific or as profound as Vans, with its top-tier lines, Vault and Syndicate, adding to a memorable catalog of co-branded products virtually every season. Between the fashion-minded Vault line and the deeply-rooted skate culture of Syndicate, collaborators cover the map, with important names ranging from Marc Jacobs to John Cardiel. Seldom does any Vans collaborator, however, command the level of attention and anticipation of WTAPS.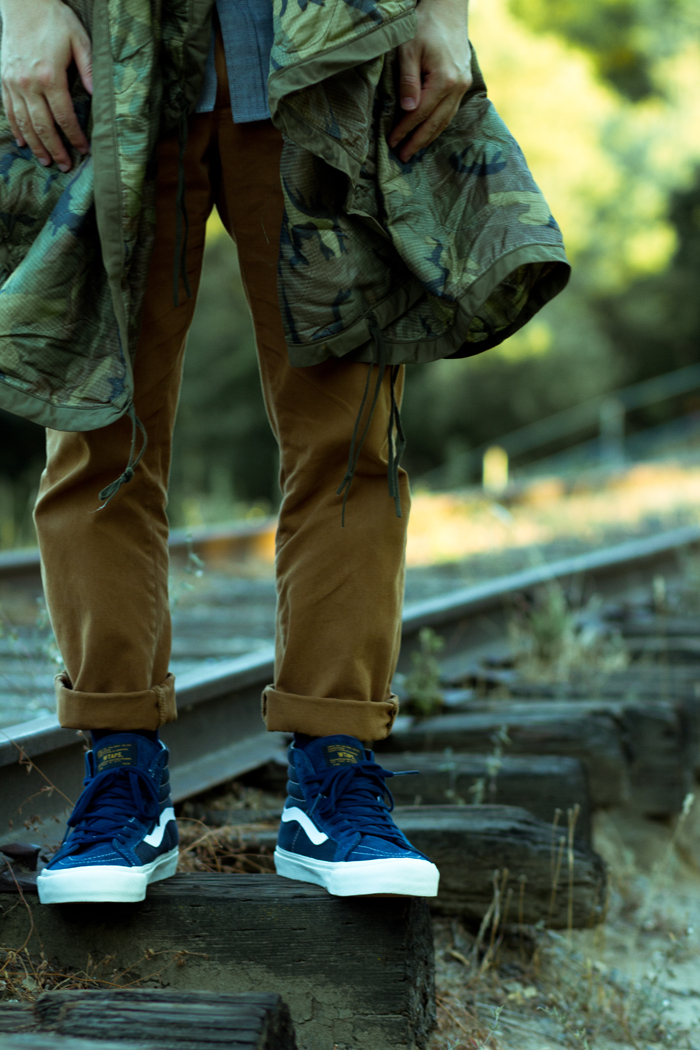 Over the past two decades, Tetsu Nishiyama, better known simply as Tet, has established WTAPS as one of the leaders of the street fashion world, seamlessly blending together military aesthetics with Taoist sensibilities. Admired for its philosophy as much as its quality products, Nishiyama's brand continues to deliver superb garments, season after season, while consistently living up to two fundamental principles: craft with pride and place things where they should be.
This week, WTAPS and Vans will celebrate the 10th anniversary of Vault with an all-new collaborative collection. The three-model, six-colorway set serves as a retrospective of sorts, utilizing concepts drawn from the rich heritage of both brands – a reminder that, even in an era of new technology and constant innovation, we cannot ignore the importance of history.
I recently met with Jon Warren, Head of Design for Vans Vault, and Ryan Pozzebon, Senior Design Manager for Vans Syndicate, in Southern California to discuss the new WTAPS x Vans Vault collection and the long-standing friendship between the two brands.
Brennan Williams: Let's go back to the beginning. When did you first start your relationship with WTAPS?
Rian Pozzebon: The beginnings of Vans and WTAPS working together came organically. Berto Liechty, then of Union LA and Supreme LA, and now Defcon, who we started Syndicate with, introduced us all during a trip to Japan. What began as just a friendship naturally grew into an opportunity. To be honest, I don't remember who asked who, I just remember working together.
Jon Warren: When we started Syndicate, this whole Japanese streetwear thing was starting to really make its way stateside, and Berto was friends with the WTAPS guys – Tet, Nao and Mitch. We were out on a development trip to China and on the way back we stopped in Japan for a couple days. We met up with those guys and ended up having a great kind of kinship. Their past is very similar to ours, growing up skateboarding.
The common link is skateboarding, first and foremost. They grew up reading Thrasher magazine, we grew up reading Thrasher magazine, all learning about these different things happening in the world. We all kind of went to high school together, and skateboarding at the time made you an outsider. We didn't really fit in. We were weirdos, and because we were weirdos, we had to always do things ourselves. We developed a do-it-yourself mentality. We made skateboard zines. Tet and his crew made skateboard zines. We wanted to make t-shirts so we learned how to screen print...
BHW: You all share an amazingly similar path.
JW: Eventually, we went out drinking to this bar in Tokyo where you're able to choose and play your own records. There was a great rapid fire of "oh that? Oh this? This record! That record!" When we left, there was that kind of feeling of brotherhood, and we were like, "hey listen we have a lot in common, we're trying to do something really cool with Vans. You're doing something really cool with WTAPS. It really makes sense for us to develop this relationship."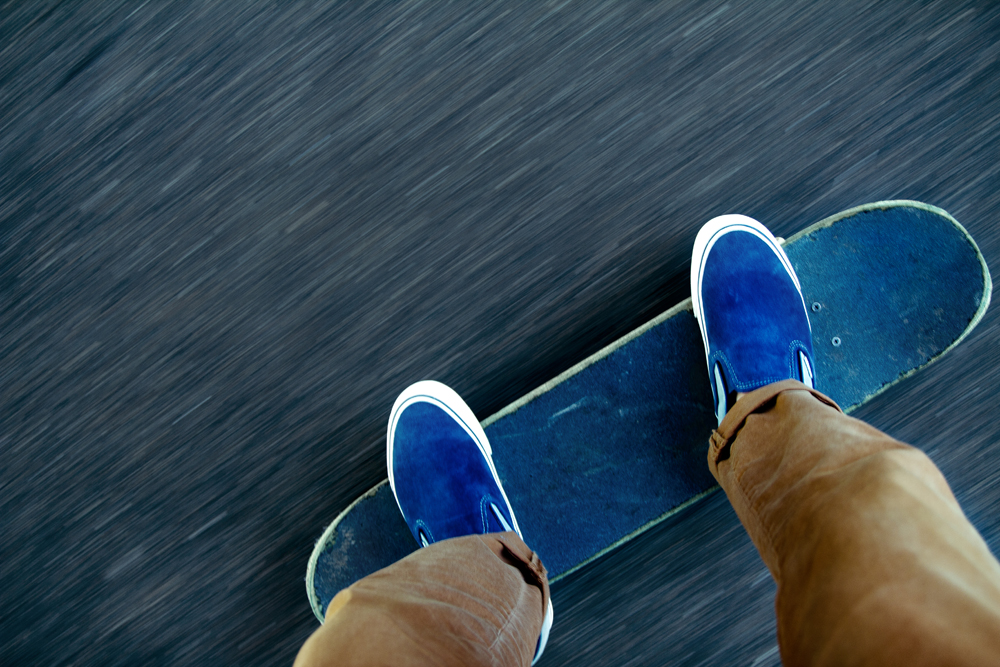 BHW: You've now worked on several collaborations with WTAPS, including a completely original collection...The Greaserz model is a personal favorite...Can you take us through that history?
JW: We started to talk about where we wanted to take the brand. With Vault we wanted to do fashion. At that time, we started working with Marc Jacobs...but Vans has this cool duality where what we wanted to do on that flipside, with Syndicate, was show things that were more part of our culture, coming from the skate side of things. A little more hardcore.
Based on our friendship with WTAPS, and our mutual love for skate, we've done three collections with our basic classics. Those are the ones that everyone's familiar with. The first collection was with the W's, and the second was with the bones, which we later did reprints of. Around that time, the market was kind of shifting, and we had an idea that, "if you could design what Vans was missing back in the day, what would that look like?" We wanted to use someone who was an outsider and not an insider to give their take.
RP: We wanted to build a small collection of shoes that evolved what Vans could be. The brief for the project was simple: Design a vulcanized skate shoe from the '70s, design a cup sole skate shoe from the later '80s/early '90s and design a new vulcanized shoe for Vans. We had many conversations about design with Tet over the years and we all believed Tet would be the best choice to take on the challenge.
JW: That's when Tet designed the Rudeez, the wingtip based on the ska movement, the BASH, which stood for "basketball skate shoe," and the Greaserz, based on The Outsiders. That was actually a really fun project. We opened a bunch of molds. I think it was the first time that we really designed a new project from the ground up.
BHW: What is it like working with Tet and his team?
JW: When were developing the three original Syndicate models with Tet, we spent a couple weeks out in Japan – one on the front end and one on the back end, working on multiple mold changes. Throughout that process it was really interesting to see how Tet and his crew work.
With Syndicate it was always about "the devil is in the details." The small, very minute things that only people who are really picky would see. I think that's who we were always trying to cater to. This might not speak to everybody, but the guys that pick it up and really understand it and start looking at it might see that the eyelets are different, the pattern's a little different, this is triple stitched or the lining is modified. A twist on something you haven't seen before.
We've learned a lot about the process of thinking about how you design that type of product from Tet and his crew. Anytime that you work with a designer, you always take something away. Tet really does a lot of research on the front end, and really dives deeply into what he's going to design. If it's a jacket, he'll read books and shop vintage stores and travel and actually go find the original.
Then he'll move to "how is it made? Why is it made?" For instance, I learned from him that with tiger camo, there's actually a prime cut. When the GIs went over to Vietnam, their pants were getting destroyed because of the moisture. They weren't able to get the camo pants made in the US and get shipped in quick enough, so they started getting the pants made in Vietnam. The Vietnamese didn't have a good black dye, so the dye was actually a really dark purple. The real rare tiger camo actually comes from Japan now and has a purple hue to it. That's the type of deep dive Tet would do on products. He even bought an embroidery machine from Vietnam that was used to make the old war patches. There was a particular machine that would make the patches. He researched it, found it, and brought it over to Japan to make his patches period correct.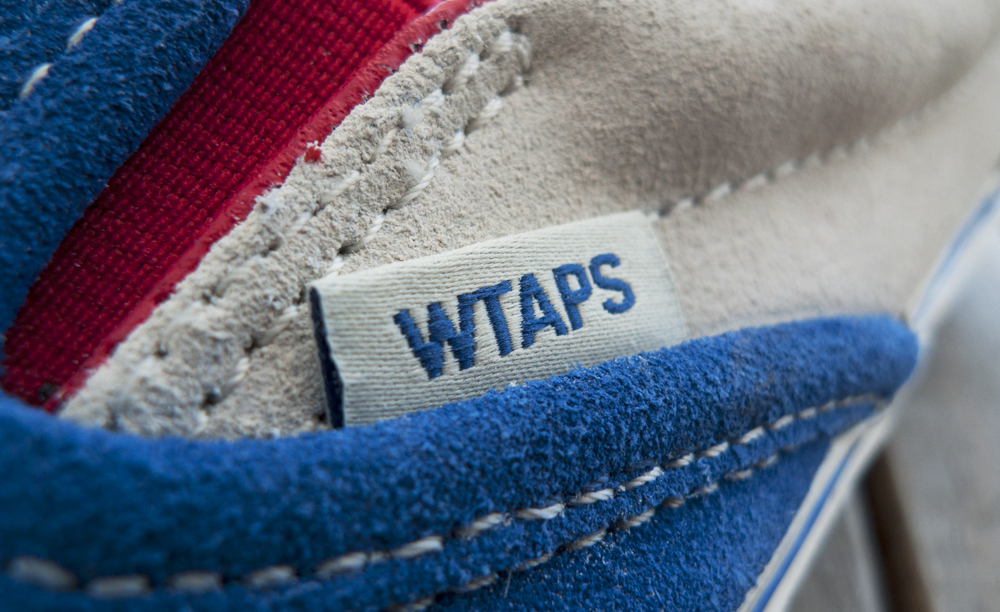 As skateboarders, we destroy equipment. Everything has to function. Growing up, it wasn't about how it looked, it was about the function. Tet takes the look and the function and the history and makes beautiful products. Everything on every product he makes has a purpose and a reason for it. My big takeaway was that, when you're really getting into these ideas, these things that you're designing, it's good to be really, intimately knowledgable about what you're doing. His thing was always, you know, craft with pride. That's something he really lives. Something that he really believes in.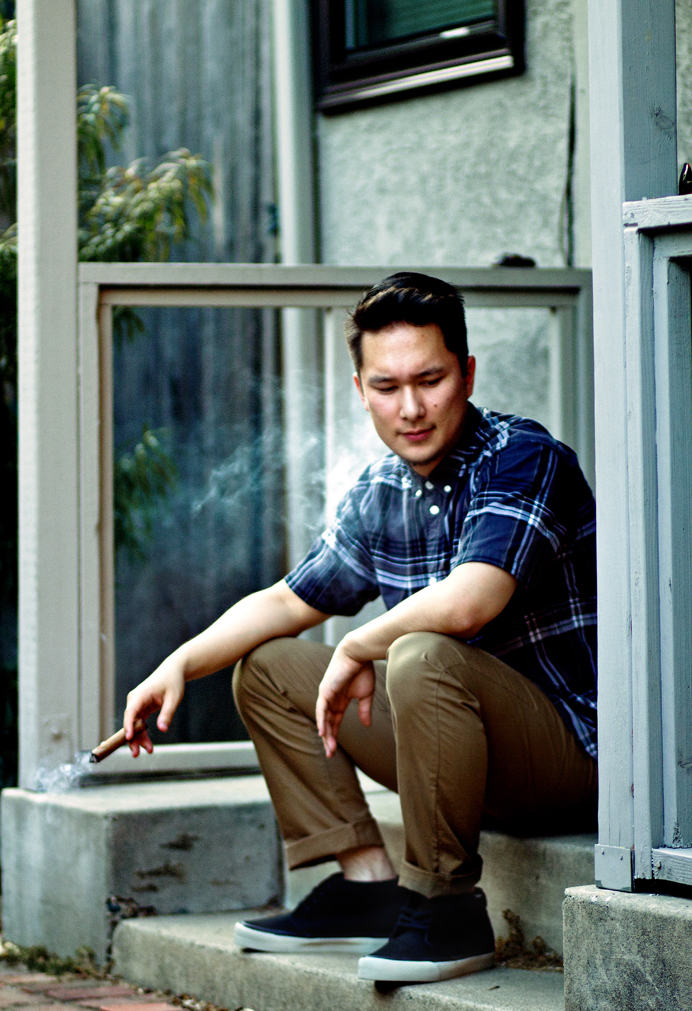 BHW: 10 years later, how has your relationship with Tet and his crew evolved?
RP: I've enjoyed the many years of working with Tet and the WTAPS crew. Since the openness and honesty has been there since day one, there has been genuine dialogue. All of us reaching the goal of true collaboration integrity has always been a key aspect. Other than understanding their unparalleled focus on detail, I can't say much has changed since the beginning.
JW: I think a lot of the partnerships we've had are built on those honest relationships. It's very rare that we work with someone that we're not friends with or have a deep knowledge of. It's really important to have that with these collaborations because it allows for a lot of honest conversation, as opposed to us saying "we'll do whatever you want" or somebody getting frustrated with us. It's a give and take.
With WTAPS, because of our common backgrounds, there's a beautiful relationship that allows us to both show our craft. That's the beauty about these collaborations.
BHW: It seems that you've all really grown together throughout the years.
JW: Working hand in hand with Tet changed my perspective on design. Tet treats design like a craft and something that one works on improving over a lifetime. Much like a master craftsman, it is the process of design and the details of design that interest him. It's that love of what he does that affects the quality of the garments he makes. I took that knowledge and made it part of my thought process at Vans. To constantly hone your craft.
If you really want to wrap your mind around Tet...Tet is a Japanese man who writes really powerful quotes in English. It's his second language. The way that he takes words and puts them together...If I had to go to Japan and put words together that made sense? Wow. [laughs] He's very methodical in his approach, but he's always coming at it from a higher place than you'd imagine. That's what's so cool about working with him.
BHW: Wow, I never looked at it that way. That's very true, especially with his Forty Percent Against Rights line. I've been meaning to ask – what were your impressions of Tokyo during this time? The city itself certainly has its effect on people.
RP: I've been given a rare opportunity to see Tokyo in different ways. With the friendships of some very unique individuals, I have experienced life as though I've lived there. I spent many years earning the respect of some very private people. It's been a honor and one I don't take for granted.
JW: I fell in love with the city and people. It has and always will have a strong effect on the way I design. When I think of Japan, I think of how people view design. It's part of their everyday lives. I think it comes from learning kanji as children and how important each brush stroke is to the meaning of the word. I remember talking to Nao about how important the kanji was to describe his daughter's personality traits in her name. He was stressed on how it would affect her entire life. All that from a few simple brush strokes. That said, I think that same pressure flows into everything else.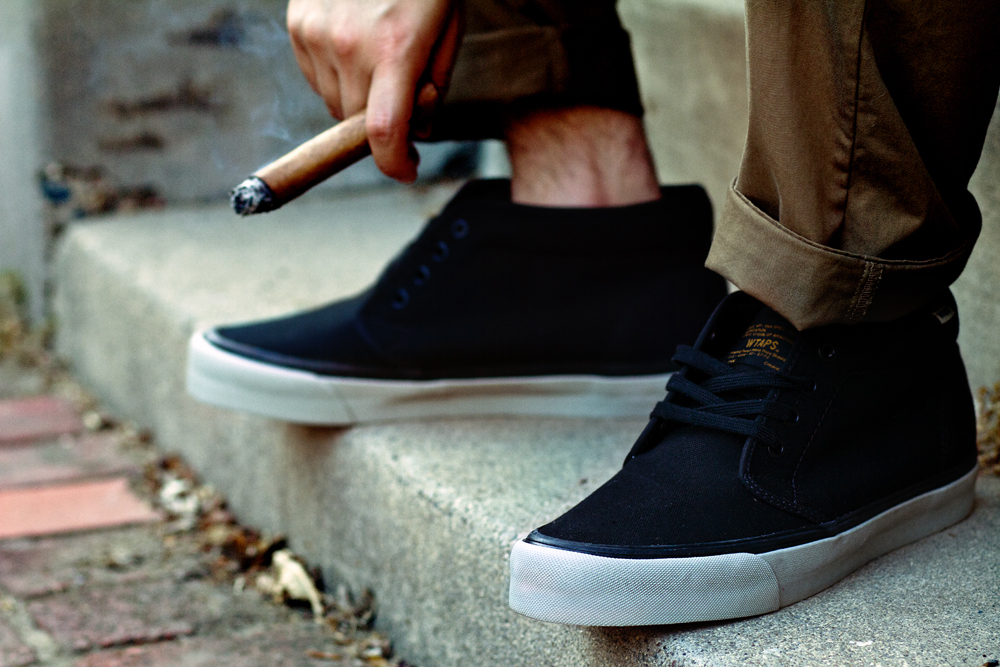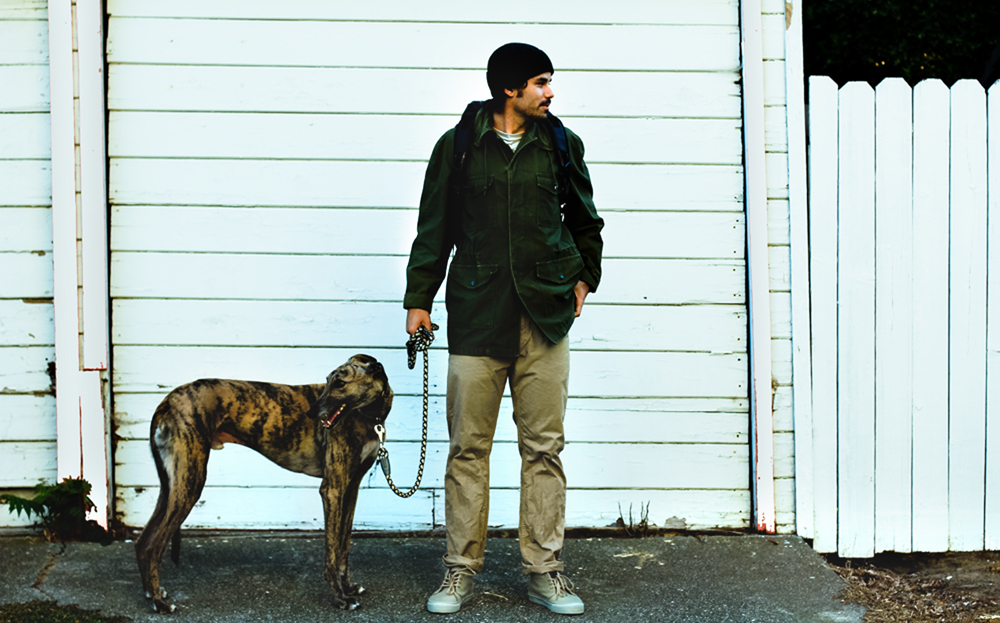 BHW: How and when did the process begin for this current project?
JW: My last project with Syndicate was the Tommy Guerrero collaboration, and around that time I was promoted to head of design for the lifestyle segment of the business. I had to kind of walk away from Syndicate, being that I had a bigger team. The guys who took over the skateboard line took over Syndicate and then I transitioned over to the Classics side. I didn't want to lose that connection with WTAPS so we approached them through Vault.
With Vault, the idea was that we really wanted to take a different approach. Right now with Vault, I went back and worked with the original shell pattern maker and we re-created all of our original patterns. So we opened up all new tooling, all new patterns, foxing stripe heights, rubber thickness...we were really, really meticulous about making sure our stuff looks like it did back in the early '80s. When I approached WTAPS, I said "we're trying to retrench to our roots. I really want to make sure that we're going back to our heritage. Not doing any hybrid products. I really want to focus on retrenching who we are for a couple seasons."
At the time, Tet had been exploring a couple different fashions. One season was ska, and the next was more "rude boys" style. Jumping genres a little. What Tet was originally known for was military style. When I approached Tet and told him we're trying to retrench on who we are, he was like, "at the same time, right now, I'm really pulling back on experimenting with these different looks that I'm really not known for. I'm going to focus on doing what I do best, which is this military look. I'm going to do some things that are different, but I really want to retrench my brand." It was one of those perfectly timed things. That's how we developed this new partnership in Vault.
About two years ago, we flew out to Tokyo and approached them with the idea. The conversation was probably about four to five months before we started putting pen to paper. We did a couple different rounds. There were some shoes that didn't make the collection.
BHW: That really is good timing, especially now with his new GIP-STORE location, which is focused on just his brands, as opposed to the Blackflag shop.
JW: Yes. When you have these brands that are so iconic, you have to experiment. You have these points where you expand, and then when you've realized that you've pushed really far. You retract, get back to your roots and then you expand again. It happens in two to three year increments. I think Tet did the same thing. As a designer you're constantly looking for new inspirations. Sometimes, you get a little away from your foundation, and it's healthy to come back. Through that experimentation, you almost do your foundation better than before because you've played in these different arenas. Tet did that. We did that. You have to experiment and go down some different roads to figure out who you really are. Come back to your foundation but be a little stronger.
BHW: That keeps it moving forward.
JW: Yeah, you don't want to get stale. If you just said the same thing over and over again, the consumer, and even you as a designer, will probably get bored.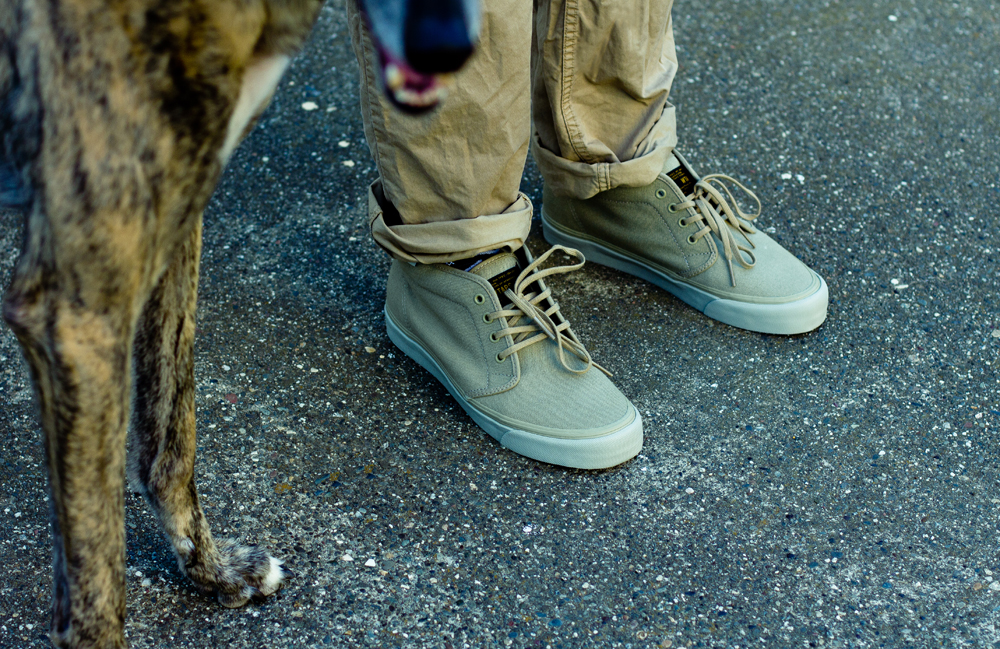 BHW: Your past collaborations with WTAPS were heavily influenced by particular eras and subcultures. What specific inspirations did you draw from for this collection?
JW: The original concept was "Army Navy." The Sk8-Hi is probably the best explanation of it. The material on the quarter panel specifically comes from the N1 deck jacket, which was worn during World War II. The Chukka boots are based on "winos," and for the Slip-On, what Tet wanted to do is pay homage to who we are with a premium upgrade. He loves the roots of Vans. With the Slip-Ons, he wanted to bring it back to those roots. The colorways are original colorways that we remade in premium suede to give it that twist.
The idea for the collection was that, if you went into an army-navy surplus store, this is what could be there. Very government issue, utilitarian product. Modern warfare has changed, but at that time it was very utilitarian.
For a lot of skateboarders, fashion came from the army-navy surplus. No one was making good enough product for skateboarding, so you'd go to the army-navy surplus store because the cargo pants were triple stitched. The cotton was thicker, so when you went skateboarding you wouldn't blow them out as fast, and they were cheaper. If you wanted to get the fancy gear at the time it was expensive, but you could go to the surplus and get a pair of pants for like five bucks. So yes, it's military, but it's also a tie back to skateboarding.
At the end of the day, I think Tet and myself and my crew, we always come back to that foundation of our childhood – skateboarding being an essential thing that taught us function before form. As we got older, it became function with form. We're all those little boys on the corner skateboarding, but now we have clothing brands and shoe brands.
BHW: You can still tell a great story in a minimalist way.
JW: Right now there's so much crazy stuff out there, by not shouting you're actually amplifying your message much louder. Sometimes, by not saying much, you're saying so much more. Let's bring it back and make some really wearable, fun stuff. It's part of the lineage we've had with WTAPS.