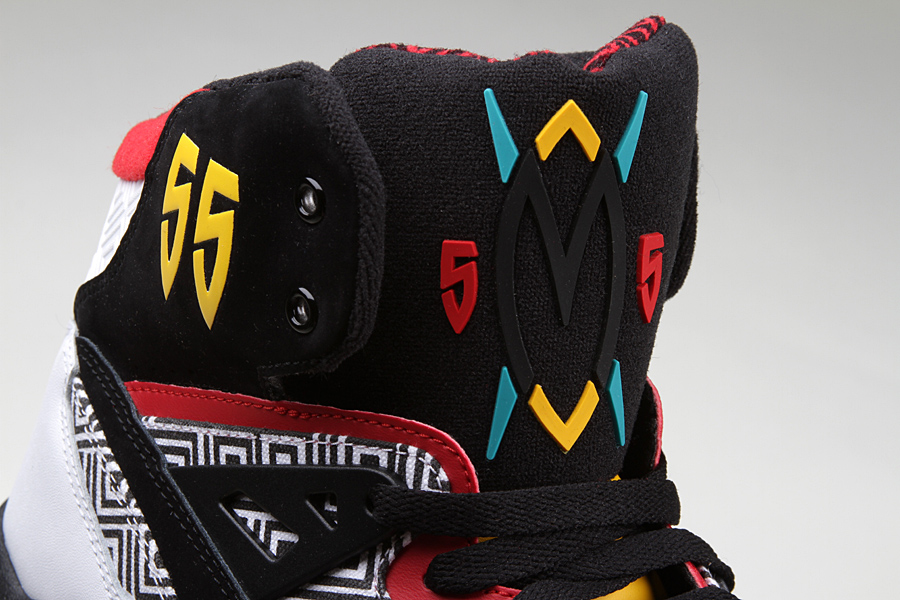 words & interview by Nick DePaula
When it comes to adidas Basketball sneakers from the 1990's, most everyone first thinks of their Kobe-led Feet You Wear series. And while those models were certainly some of the most innovative and unique silhouettes that the brand has ever released, there was an iconic series just before it that also deserves its due.
With a shot-swatting big man from Zaire fully named Dikembe Mutombo Mpolondo Mukamba Jean-Jacques Wamutombo as the lead, the adidas Mutombo series was quickly a cult hit when it first released in 1992.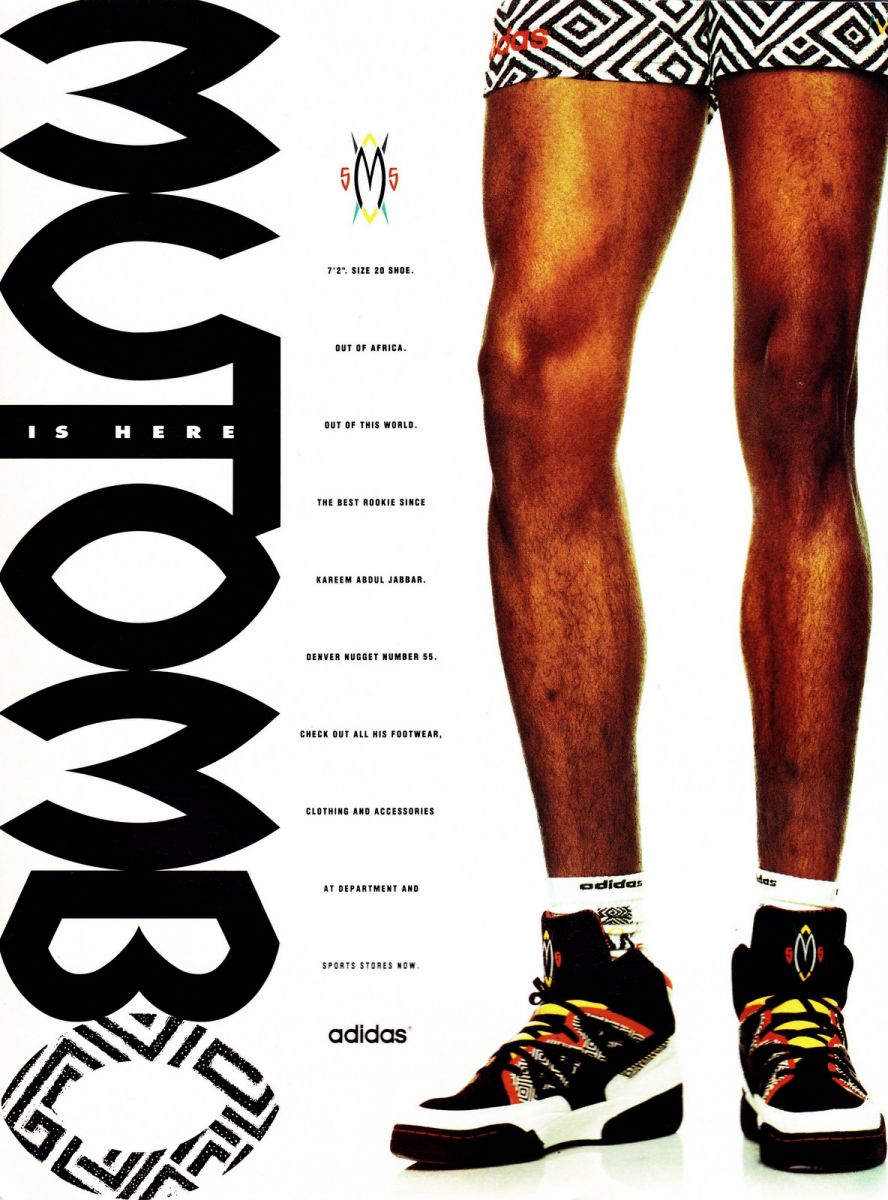 It dialed in a detailed equation of looks and storytelling thanks to its unforgettable logos and badging, African raffia textile inspired patterning and prideful colors. The yellow, green and red found along the tongue's shield logo looked awesome, but also took on further meaning for Deke, as they represented his native country's quest for unity and harmony.
Not only is the much-loved sneaker on the return this Saturday, August 24th, but there's also an accompanying apparel collection that features Mutombo's famous finger wag, shield logo and pattern.
To hear all about the importance of the model to the category, and how they had to actually re-design the shoe from scratch, I caught up with adidas Originals Design Director Brian Foresta earlier this summer for more on the return of Mutombo.
Nick DePaula: How far back did you guys first talk about bringing back the Mutombo?
Brian Foresta: The sample has been in the design studio for awhile. Honesly, we probably talked about it for the last three years. I can't even imagine how many times. [laughs] It's a shoe that I always liked, and it's a super polarizing design. Any time you bring up Mutombo and his blocks and the finger wag, it's ripe with good stories. The last three years, we discussed it pretty heavily, and then a little over a year ago, it went from conversation to getting serious. That's when we approached Mutombo with the idea of bringing it back, to get his thoughts on it and to get him on board.
NDP: What was that process like, to make sure that you could officially call it the Mutombo, use the logos and get him involved?

BF: I think the shield is one of the essential parts of that shoe, with his logo. Also, the 55 that links up so well with it. To me, one doesn't exist without the other, so we really needed his blessing to bring the shoe back to be able to stay true to him and the shoe. He was great, and he really liked the idea of working with us again and he was psyched to be apart of the process.
NDP: You mentioned the shield, but another real iconic piece is the graphic pattern on the upper. Can you talk about how that was originally created and where the inspiration came from?
BF: Peter Moore and I traded a couple of emails on this, and it was cool to hear Peter's perspective. He developed that shield logo and the 55. The whole idea of bringing that pattern in, as a secondary branding, was a pattern from Zaire, so it was a direct link to Mutombo's past. It's now the DR Congo, but at that time was referred to as Zaire.
NDP: That graphic has popped up on the Undr Crwn collaborations a couple years back and on Serge Ibaka's PEs more recently. Have you guys talked about using it in different new ways too?

BF: There was a fun twist on it on the Match Play too. It's a super cool pattern and it's particularly relevant right now. For us, we want to use it with a particular level of discretion and we don't want to flood it out there too much. We use it in small portions on purpose so that it stays special and unique.
To continue reading, click on Page 2 below.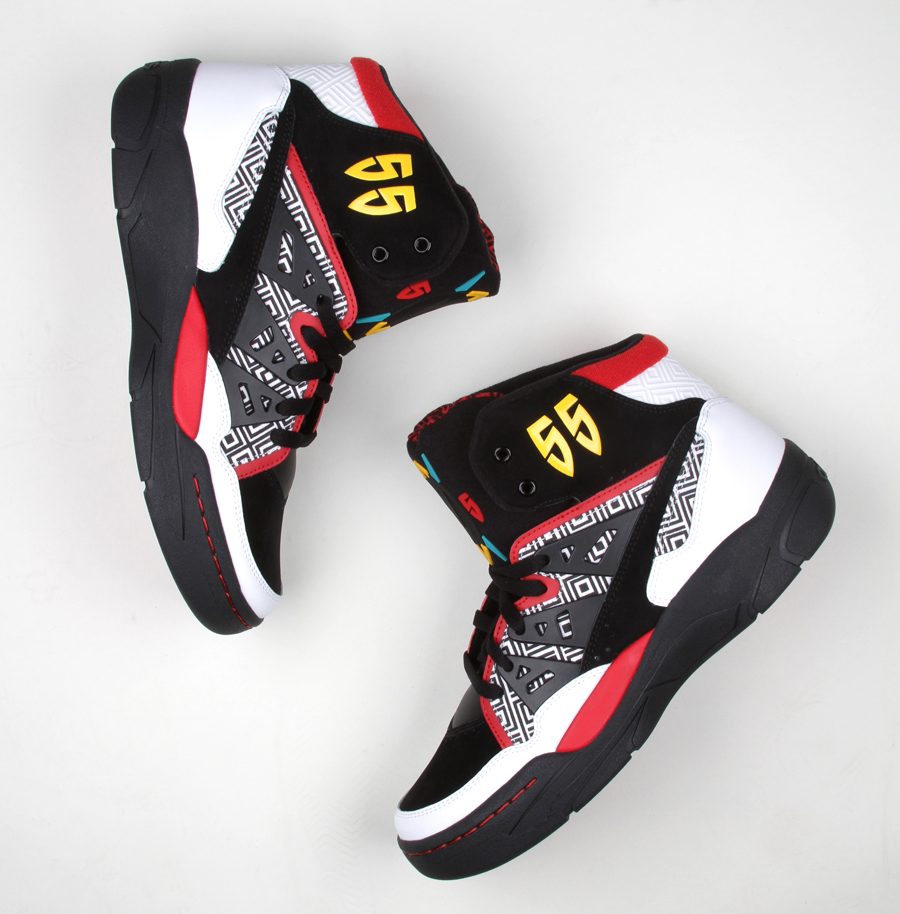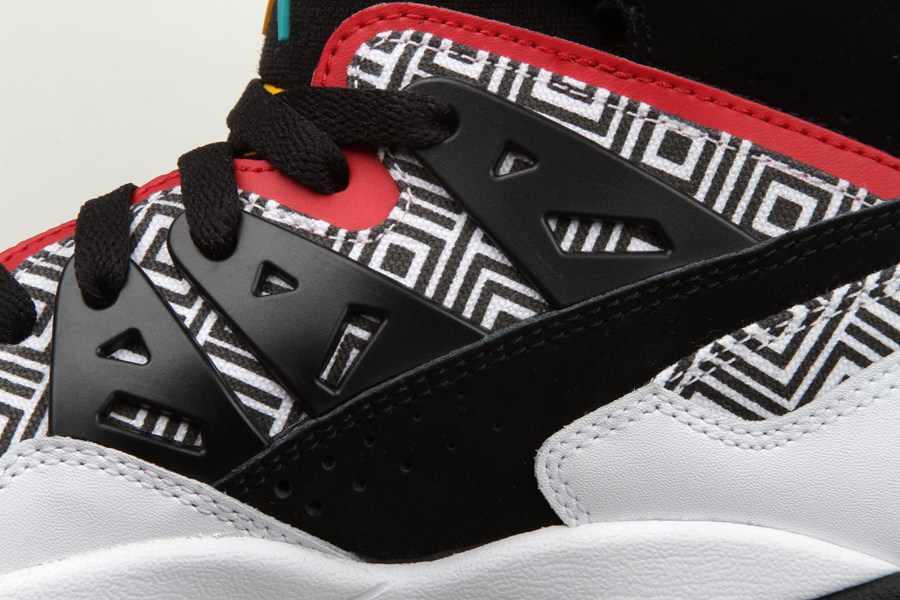 NDP: What do you remember about that whole era, whether it was the different design elements that existed at the time, the chunkiness on most shoes or the different trends going on?
BF: It's an era that I'm particularly fond of, because I feel like it's when all the major brands really started throwing punches. It was really the original battle of the giants in footwear. What I think it did for everyone in the industry was really force them out of their comfort zone and that was when molded technologies really took off. You saw shoes take proportions and shapes that you just hadn't seen in the 80's. I loved that about it. Particularly with the Mutombo, my personal memory of it was that poster of him sitting on the bleachers with the pattern painted on it. I don't know why, but that's the image for me that I really remember most when that shoe dropped originally. One of the coolest things about it, was it was one of the first packs that I could remember as well. There was multiple shoes, t-shirts and a hoody in similar colors and graphics. There was a special box, and I really couldn't think of anything before that where we put together a full package like that.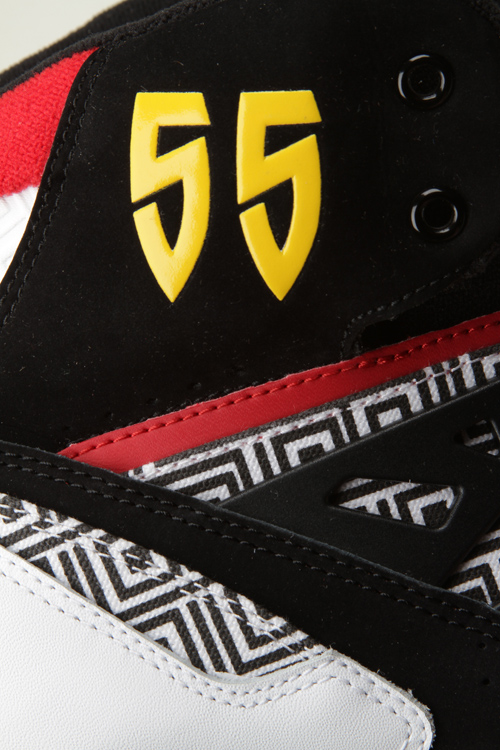 NDP: The original Black/ White/ Red colorway was a classic, but it sounds like you guys have a few new ones on the way too. Where did some of the new inspiration come from?
BF: To be honest, we're staying pretty tight to the archive from the jump. We're not doing too many variations, and there's that one purple color that drops in, but outside of that, it stays pretty close to the originals. There's red, white and blue, and I didn't want to have it too close, but it does have that 76ers feel to it, to tie into other places he played. After late summer, we'll have a couple of drops that are more off the cuff.
NDP: How hard was rebuilding the shoe, and what parts and pieces were out there that you could work from?
BF: The hardest thing about it, was a lot of the things that we had in the archives were things that had been tested. We didn't have anything that was pristine. It was also all in absolutely massive sizes. [laughs] When you're trying to take a shoe and draw it down to a size 9 to build our samples off of, it was tough. We just had to get those proportions and shapes right. The biggest challenge was just to rebuild it, because we had no original patterns and we had no mold drawings.
NDP: The shoe has so many cool molded elements, and that was really representative of the era. Are there any other models from that time or from the Mutombo series that you guys are looking to bring back?
BF: This is definitely the tip of the iceberg in terms of the 90's and Mutombo. There's actually a bunch of product that we had also originally developed for him that we never even brought to market and he just trained in. We found some of that, and we're really interested to see what that'll be like to re-introduce it. It might seem new to people, but it's stuff that we found from the archive that was designed back then. When it comes to the early 90's, we always joke about it within our design team that it's a bit of a lost decade for Originals. That's when the switch within the brand happened and the split between the Trefoil and mountain logo happened. A lot of that product stayed in the archive and hasn't been re-introduced up until recent times. We've got a good slot of product coming in. When you think about Mutombo, it won't take too much strategy to get that one out, but there's also some absolute bangers that are sitting around that will see the light of day again soon.
NDP: Lastly, what'd you think of his Geico commercial, and how cool is it to have him still popping up and visible today?
BF: I think it's great. I think the Old Spice game was also super fun, and people forget. It's cool to remember him for his signature finger wave and the "Not in my house" quote, but if you look at his stats, he was sick. He had a phenomenal career, and when you consider the legacy of someone like Kareem, well, at the end of Dikembe's career, he surpassed him for total blocks. What he was able to do on the court was amazing, and then once he retired, he just became one of the biggest sportsman charity workers ever. The White House even honored him with the "President's Service Award" for all of his charity work. He's never slowed down on giving back, built a hospital where he grew up and is a pretty interesting guy that we feel great about being able to work with. It's great to be able to partner with someone who's had such a prolific life, let alone career.
Stay tuned this week for exclusive looks at the full adidas Mutombo apparel collection, as well as an interview with Dikembe himself.