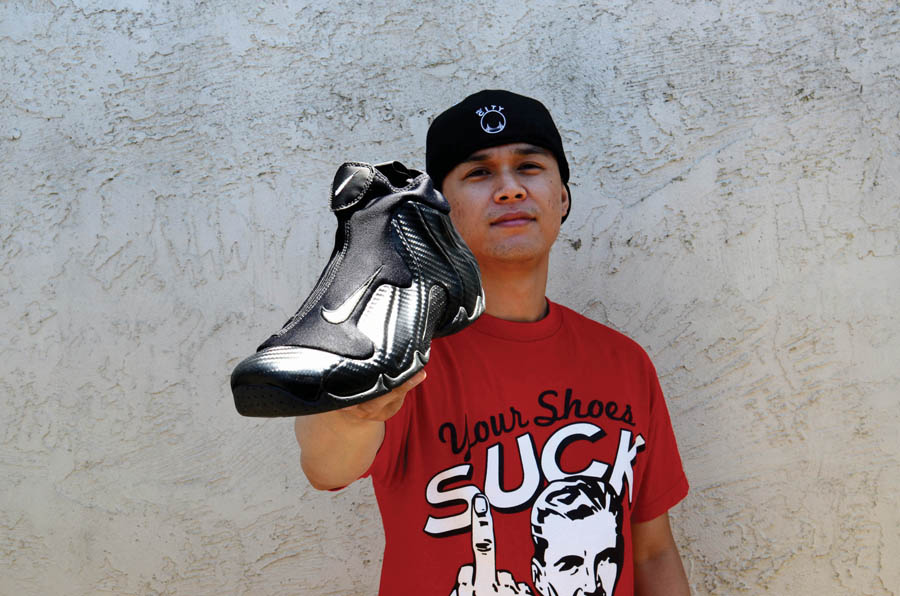 words & interview // Zack Schlemmer
images courtesy of Jojo Castillo
As published in Issue 44 of Sole Collector Magazine, available now.
Way back in Issue 5 from 2004, Sole Collector featured two Nike Foamposite collectors, Eddie Cabrera and Jojo Castillo, who at the time were two of the biggest "Foamheads" you could find anywhere. Keep in mind that we showcased these two now-OG Foam collectors back when the hype surrounding any shoe with the word "posite' in the name was far less than it is today. Just like the shoes they collected, these guys were a bit ahead of their time.
Ever since the "Galaxy" Air Foamposite One hit in 2012, it seems every "sneakerhead" is a Foam collector now, and every model sells out instantly. That one space-themed shoe coincidentally did seem to blast the popularity of the Foamposite into another…well, galaxy. Along with the popularity, the price of each Foamposite seems to keep skyrocketing, as well.
So what does an OG collector think about the current state of the Foamposite? We recently had a chance to catch up with Jojo on how his collection has evolved since 2004, along with his opinion on how the world of Foams has changed over the past few years.
Zack Schlemmer: Welcome back to SC! You're original Focus: Collector piece was way back in September of 2004…What has changed in the world of one of the biggest Foam collectors since then?
JC: A lot has changed with me personally but the addiction stays the same; still no cure. '04 was a long time ago and sadly I had to part with almost all of what was pictured in my original feature.
Collecting Posites back then was an expensive task and I started spending beyond my means at the time just to keep up. Some collectors like shoes for the style and how they can represent it, but the majority see each pair as an investment. Unfortunately, a short while after the feature, I had to finally cash in on that investment.
I definitely wanted to keep specific models, and tried to keep at least one of each style, but over time that "untouchable" list would get looked over again and another pair would see the auction block. The Flightposite 1 samples, a few TB colorways, and the pair of Penny Hardaway FP1 PE's I bought for less than $20, were sold to my partner in that original feature, Eddie Cabrera. I offered them up to him first. I had to make sure the good ones found a proper home.
Several years ago, I had actually quit being a sneaker-head. I got tired of the hustle and took a break. I had most of my shoes in storage and for two years I rocked a couple pairs of Chucks and Vans and stayed off the shoe forums. It felt good going to a mall not knowing what's out and not worrying about any hype.
Those two years went by quickly and I don't even know when or what it was exactly that got me back into the game. It really is a blur. What I do know is that I'm making over double what I was making when I had to cash in for that financial support. Unfortunately, there seem to be some extra 0's on the ends of price tags nowadays and there isn't anything easy about this "game" anymore.
Today, I'm still game for Foamposites, but a big focus in the past few years has been Lebrons. I don't have the urge to own every pair like the Posites, but I still find it hard to pass up on a deal.
ZS: How many pairs of Foams did you have before you started selling off your original collection? How many were left after?
JC: Haha! How many can you count from the old pictures? I can't even remember, but I'm sure there was only a handful that I DIDN'T have. I wish I had an actual number to say. 80?
The only survivors now are Carbon Fiber Flightposite 1's, Gold FP1's, 1997 Royal Foamposite Ones, Voltage Foam Pros, and Gold Flightposite 3's. I just sold a DS pair of Ultraposites a few months ago, too.
ZS: Was there anything you are kicking yourself for getting rid of, or was it all easy come, easy go?
JC: Oh, of course! I went digging in the crates the other day to see exactly what I had left in the Posite family. I was looking for my Platinumposites, a pair of the Kevin Garnett Olympic Flightposites, and a pair of navy "Battlegrounds" Flightposite 3's. I uncovered a ton of Dunks only to come to the realization that those had all been long gone. I really did think I had a pair of Platinumposites stashed somewhere. I could actually do without the FP3's. The only FP2's I'd want back are the Olympics, White OBF's and Zen Grey's. I don't think there was a FP1 colorway I didn't like, so I'd want all of them back! I wouldn't mind having the Carolina Foam Pros back, either.
Jojo Castillo in 2004 from SC Issue 5
Jojo's Current Foam Collection
ZS: So are you actively looking to get those back now?
JC: It's almost impossible to get a hold of some of the ones I listed without a ridiculous price tag attached, so probably not. I doubt they'd be in decent condition, anyways. I'd love to get back the FP1 samples I sold to Eddie, though.
I've picked up most of the Foamposites that have come out in the past few years, but trying to get the collection back to what it was is impossible. I had samples that I can't even Google right now. Some of the models that I let go for $65 have that dreaded extra "0" attached to the asking prices now.
ZS: Name a couple of pairs that you were looking for that you never obtained in your first collection.
JC: Back then, the only shoe I remember searching for and not getting was a Silver Foam Pro sample that was floating around. I was lucky enough to have access to Nike Special Orders back then and getting my hands on TB colorways for the Flightposites was somewhat easy. The discount made it even better. Aside from those Penny PE's that came through to the Nike outlet, the best deal I got from Special Orders was Pearl Foam Pros for $24.50 each. I was lucky enough to be able to get most of what I searched for.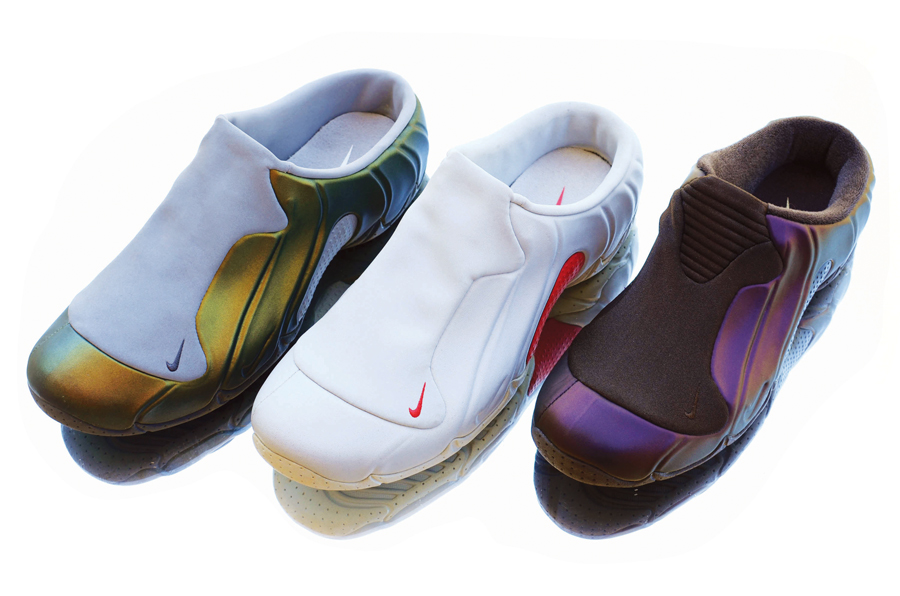 ZS: A big reason a lot of people are into collecting Foams today is the hype. What originally drew you to them back in the day?
JC: Penny Hardaway was one of my favorite players at the time, so naturally I was drawn to his shoes. The Foamposite One was revolutionary. When he wore them, he stood out. Even with just the one colorway available, the material, the style; it was just different. $180 at that time was different, too! Event though they were available, I couldn't afford them. They eventually hit the outlets back then, but you wouldn't know that unless you walked into the store; no internet updates. The Flightposite 1 was actually the one that really started me off with the Foamposite family, though. By then, I was making my own money and was free to spend it like I wanted. Again, it was just about being different. The functionality absolutely helped sell me on the shoe, as well.
ZS: Has all the hype ruined the mystique of Foams or the feeling of individuality that you had when building your original collection?
JC: A little bit, but it's not bad. Almost no one wore them back in the day. So many more people, females included, have them on now and you can spot a pair just about every day. But it's all good. Jordan Brand shoes will always be a staple in a sneakerhead's closet so everyone will have a pair, but there's still enough of that mystique left in Foams that allow them to stand out. When you see someone in a pair of Retro Jordans, you look, identify them, then move on. I think Foams still have that "Wait, what are those?" effect on people. Even if you don't like them, you'll still find yourself staring at them. You can't deny that they're still neckbreakers.
ZS: In your original interview, you mention that the Flightposite I is your favorite Foam model. Since 2004 quite a few new Foamposite models, like the Air Max Hyperposite for instance, have been released. Any new favorite?
JC: No, but I can still appreciate them. I own the Statue of Liberty Hyperposites and almost got the Area 72's. I love the character they put into those models, but the style reminded me of the Total Foamposite Max. They're a bit too bulky for me. ½ Cents caught my eye for a second and Zoom Rookies are really nice, too. I guess I'm just partial to the originals and the Flightposite 1's are staying at the top of the list.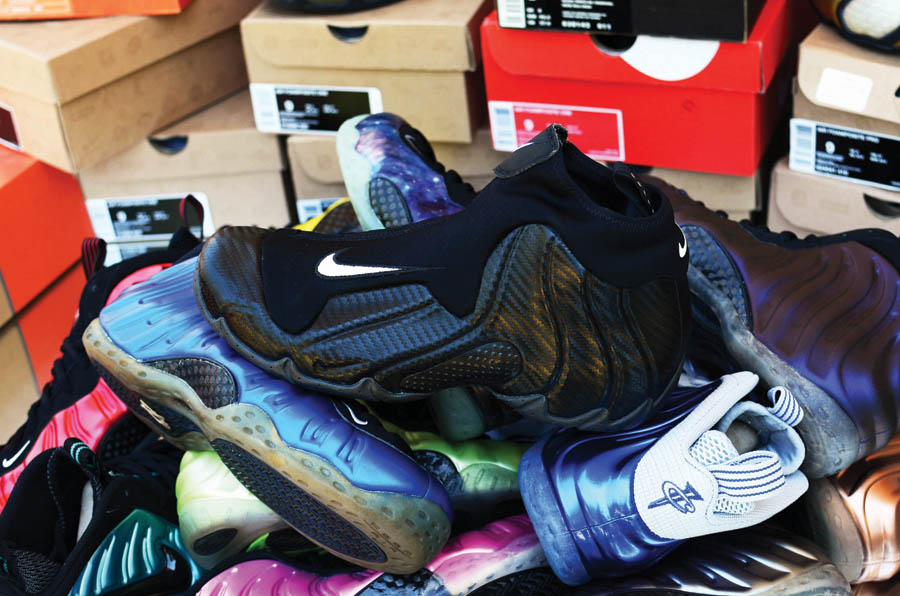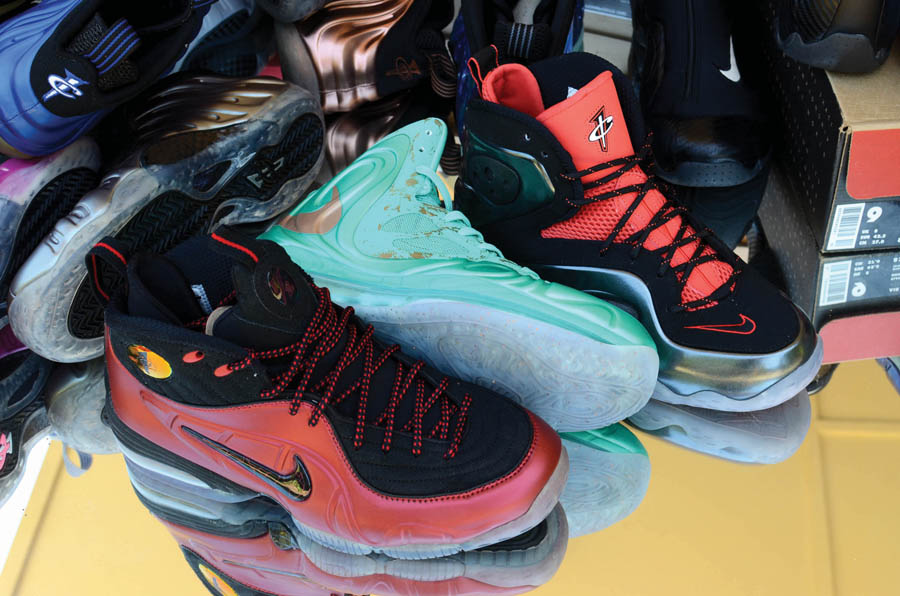 ZS: The price of Foamposites compared to other shoes has always been high, but what do you think of their current prices that seem to keep rising and rising?
JC: In-f**king-sane. When I got back into the habit again, I searched for some old stuff and didn't know whether to laugh or be mad at the prices people were asking for. I couldn't believe it. Some of the prices are ridiculous, but there are always people out there with ridiculous money to burn. I'm just curious where all these new collectors get their income because they keep getting younger and younger.
Resellers have always been a "problem" if you want to call them that, but their hustle won't stop if people are willing to buy what they've got. Supply and demand, right? It's just crazy to see that the norm for a pair of kicks you missed at retail can be marked up anywhere from just $50 to over 5 times the original price. A $180 price tag used to be crazy and asking $300 for a pair of shoes was unheard of. Now we've got $240 for a pair in-store and $2,000 if you missed the boat. Crazy times for a sneakerhead. A wise man once hashtagged, #SGFU.
ZS: The biggest controversy in the Foam world right now is all the graphic prints. What's your take on them?
JC: I guess it's been a long time coming. We've always had sneaker variations that made use of different materials in order to stand out, but that's something that wasn't possible on a Foamposite; it's uniqueness laid in the simple exposure of its most important material. Customizers had used the leather on other shoes as a canvas, but the texture of the Foamposite model was something different to deal with. But, of course, Nike continues to innovate.
The Galaxy print was crazy! I don't think it was mob-worthy, but it was a pair that made me consider camping out for a second. I planned on going to a release and actually wearing them out of the store. That graphic was just fresh, both in style and originality. I really don't know what to make of the Weatherman pieces, though. Give me a decent story behind them and maybe you can sell me on them, but it's not looking that way. There's just something missing from them. Like camouflage, a common print or graphic could be animal prints but that might be doing too much. I think keeping it simpler and using fading or blending colors would work. A combination of that and non-uniform graphics like a splatter or a digitized design like the one used for the floral print on the Janoski SB's wouldn't be bad either.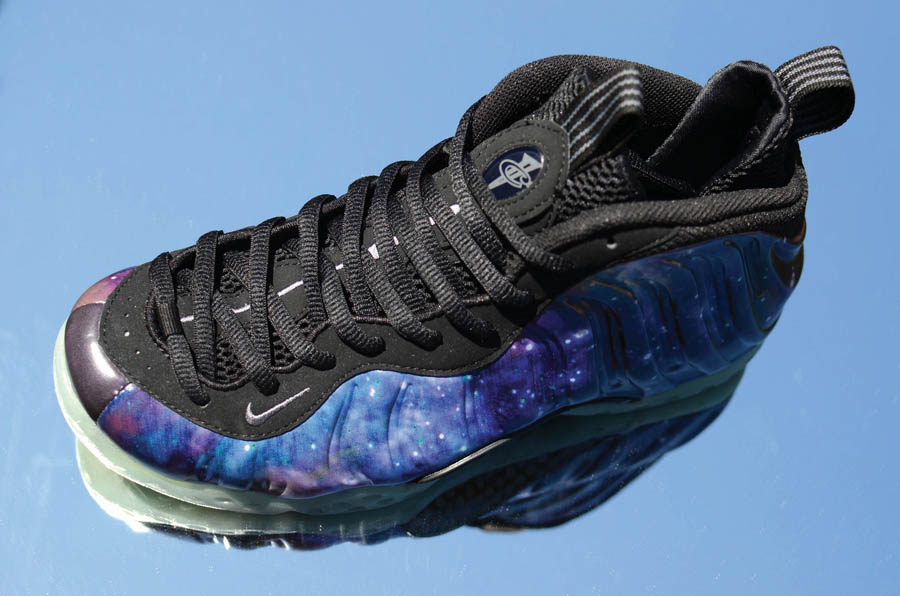 ZS: Any other thoughts on the current state of Foams?
JC: Nike broke the mold when they designed the Foamposite One. Then they literally broke the molds after making them. I'm glad they were brought back and I'm looking forward to the rebirth of the Flightposite 1's!
ZS: Thanks for catching up! Good luck rebuilding your collection!