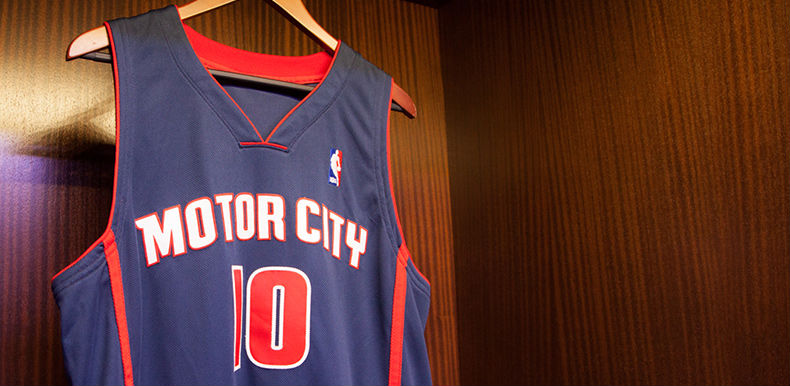 words // Brandon Richard
via Press Release
Today, the Detroit Pistons unveiled a special uniform that will be worn during 10 games throughout the 2013-2014 regular season. The navy and red uniforms feature 'Motor City' across the front and mark the Pistons' first alternate look since '05-'06. A first of their kind, the uniforms are designed to celebrate the pride and character of metro Detroit while paying homage to the region's automative roots.
The Pistons worked in consultation with adidas and the NBA in development of the uniforms. Lettering and numbering style on the jersey is consistent with the team's current look. To contrast the navy and red accents, lettering and numbers on the jersey and shorts are white with hairline red and blue trim. Detroit's secondary logo appears on the shorts — similar to the primary home and away uniforms.
Motor City uniforms will be worn on select Sunday dates as part of the Pistons' Motor City Sunday theme nights, as well as one holiday home game and three road games shown below:
Pistons vs. Celtics - Sunday, November 3
Pistons at Lakers - Sunday, November 17
Pistons vs. Lakers - Friday, November 29
Pistons vs. 76ers - Sunday, December 1
Pistons vs. Heat - Sunday, December 8
Pistons vs. Trail Blazers - Sunday, December 15
Pistons vs. Grizzlies - Sunday, January 5
Pistons at Mavericks - Sunday, January 26
Pistons at Celtics - Sunday, March 9
Pistons vs. Raptors - Sunday, April 13
Fans can place their name on a waiting list to become the first to order a new Motor City jersey by signing up exclusively at www.PistonsLR.com.