words // Zac Dubasik
A lot has changed in the six years since Kevin Durant was the number-two pick in the 2007 NBA Draft. For one, he went through an almost immediate change of scenery. After only one season in Seattle, the Supersonics were sold and relocated to his current home in Oklahoma City.
In that second season, he also acquired the help of a player who would go on to become a superstar teammate in Russell Westbrook. Then, there was his sneaker line.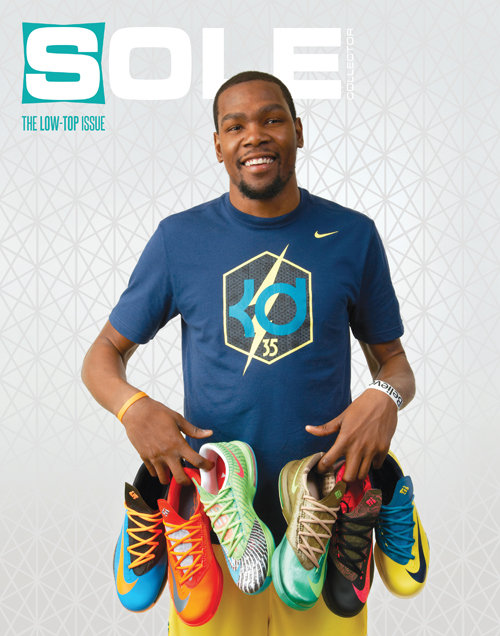 The highest-profile Nike signee since LeBron, KD's signature line launched in that second season. The $85 high-top may have been under the radar at the time, but it was the start of something much bigger.
From there, things began to move at an even faster pace. All of the sudden his sneaker line was becoming one that fans were actually anticipating. As the duo of Durant and Westbrook got a better feel for the League, they also started winning.
And here we are in 2013. The price of the latest KD is $130, he's now appeared in an NBA Finals, Russ is one of the highest profile athletes on the Jordan Brand roster, and the fact that low-tops are now commonplace in the NBA is old news.
The cut of the KD VI may be nothing new, but that doesn't mean the latest shoe in the line lacks innovation. We've got an exclusive interview with the shoe's designer, Leo Chang, as well as KD's own take on his latest shoe.
And now that the concept of a basketball low-top is so widely accepted, what better time to look back at how things got there. We've got a look back at the history of lows in our Kicktionary, as well as a closer look at the shoe that led the current revolution: the Zoom Kobe IV.
There's no doubt that KD's career and life will look a lot different six years from now. But the questions at the beginning, like if he was worthy of being a number two pick, and if he deserved a major sneaker deal and signature line, have been answered.
It's up to KD now to see just how far he can take his career.
IN THIS ISSUE
Kevin Durant in DC // KD chats with Leo Chang about his newest shoe.
History of Lows // Low tops were once taboo in the basketball world. Now they're commonplace. How did we arrive here?
How Low Can You Go? // Why it's not only about the height of the collar that keeps your ankles safe.
Low Top Kicktionary // A look back through the history of low top basketball shoes.
Focus: Collector // Jojo Castillo talks about the evolution of Foamposites.
Focus: Street // The best of what our Forum members have recently worn.
Spotlight // The summer's hottest low tops from Nike, adidas, Jordan and Under Armour.
Beat Heat // Shoes were made to be worn. This is a celebration of those that have been worn and loved.
Check out a snap shot of the issue below. Sole Collector Issue 44 is out NOW at Foot Locker, Barnes & Nobles and sneaker boutiques worldwide.