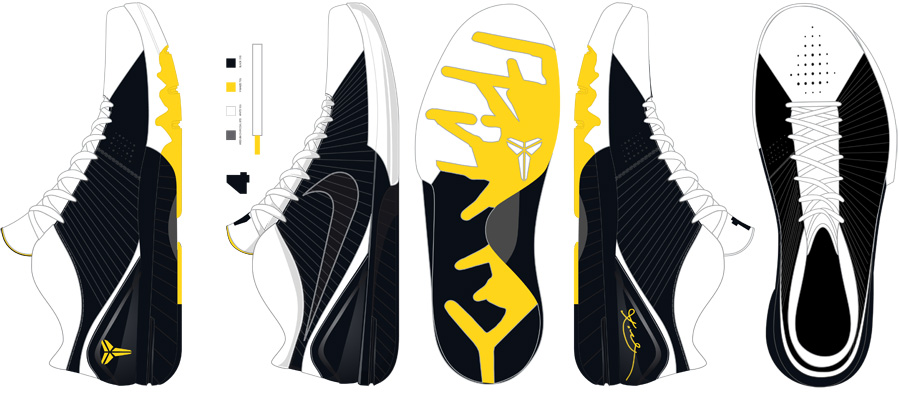 words // Nick DePaula
photography // Steve Mullholand & Zac Dubasik
While it certainly doesn't feel like it, it's been almost a handful of years since Kobe Bryant and Nike Basketball made the unprecedented move to release a low top signature model. It might not even seem like a big deal these days, but for a guy with the status and following of Kobe, it's been a key industry shifting moment that spawned an entirely new era in shoes.
Just how did the group at Nike work together to help take things lower across the landscape of sneakers? Read ahead to let them tell it firsthand, in this comprehensive oral history of how the change came to be made. From Kobe himself to designers and developers from Nike's Innovation Kitchen that have been intimately involved with his product, we've pulled together insights and nuggets from countless interviews spanning the last five years to see just how low tops in basketball became the norm.
As told to Nick DePaula & Zac Dubasik...
THE IDEA:
Ken Link, former Nike Basketball Design Director and designer of the Kobe I and II: "A lot of times, he was already thinking about, 'Could I get to a low?' Getting to a low is not necessarily the easiest thing to do, but he felt like his game and where he was headed was getting to that low thought process."
Eric Avar, Innovation Kitchen Creative Director: "Kobe always comes with a deep, insightful and almost philosophical point of view of inspiration. Whether it's an inspiration on the metaphor side or also on the performance side. The Kobe IV, in particular, was on the performance side, and he said, 'I want the lowest, lightest weight basketball shoe.' I asked him, 'You mean, like a three-fourths height?' 'Low-top,' he says. 'Soccer, Mercurial-type low?' He just looks at me and says, 'Yes!'"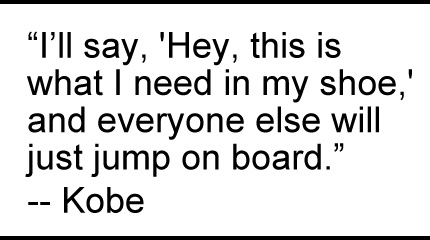 Kobe Bryant:
"I wanted to go low for a couple of reasons. One is, I wanted the foot to move comfortably. I felt like high tops at times can be a little bit restricting of your movement. Also, I wanted to decrease weight. I wanted to cut the shoe [in height], make it lighter, make it sleeker, and we were able to accomplish both of those things."
Eric Avar: "He's coming at this from a performance standpoint, and he just believes that, 'I don't need all this crap around my ankle.' He thinks it's going to help his game with his quickness, his speed and his agility."
Tinker Hatfield, Nike VP of Innovation: "It just makes sense that the lower you are on the floor, the better command you'll have of your feet, your legs and your whole body. You'll have better stability, you can anticipate more, and you'll sprain your ankle less in a shoe that's a little bit lower to the ground because you'll have less of a lever to roll over on."
Kobe: "Nike, they're so true to the athlete and what the athlete wants that I'll say, 'Hey, this is what I need in my shoe,' and everyone else will just jump on board."
Eric Avar: "I actually asked him two or three times, 'You're sure you want a low?' [laughs] And right away, he says, 'Yeah. I don't need all this stuff around my ankle, and in fact, I want to prove to athletes and consumers that you don't need all this stuff.' Then he said, 'People might question, like, 'Can you play in a low?' and I'll go drop 50 and say, 'Yeah, you can play in a low-top.'"
Ken Link: "I think the best thing about Kobe is when he looks at a shoe, he wants to see himself and his game in his shoe. I think that's one of the things about Kobe, is that he gives so much information that it truly drives the process."
To continue reading, click on Page 2 below.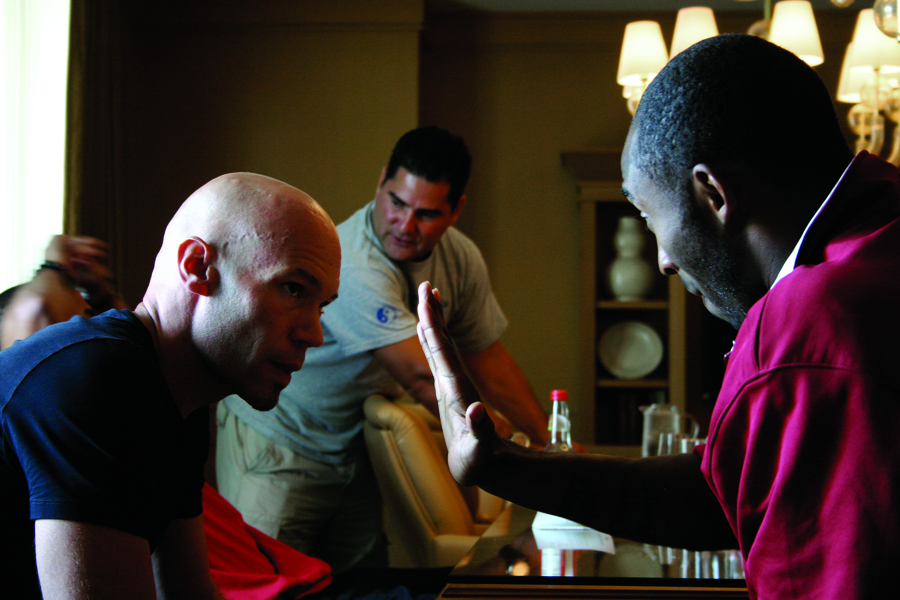 THE DEVELOPMENT:
Tom Luedecke, former Innovation Kitchen designer and developer: "When Eric first came back and said, 'Hey, he wants a low, like a soccer-type low,' I said, 'Great, lets build him one.' So, we built a Kobe III bottom with literally a Ronaldinho cleat upper, just to say, 'Hey, are we on the right track with this, and is this what we're talking about?'"
Kobe: "I just wanted to have better range and flexibility within the ankle and be able to move and cut and not feel like that movement is restricted. I think how the soccer background came into play is understanding how much stress you put on your ankles and how hard you play the game. In soccer, you can still wear low-tops, and they put more stress on their ankles than we do, but they can still wear low-tops. So I think you need a confidence to be able to push the boundaries a little bit."
Ken Link: "Kobe, he's so far along the spectrum of what he expects out of a shoe and what he wants to put into it, and so he's been there every step of the way. He really is ahead of his time, the way that he thinks about his game, the way he thinks about training for his game, the way he thinks about how his game interacts with the rest of his world and the world around it - he really gets that on a level that most people don't get."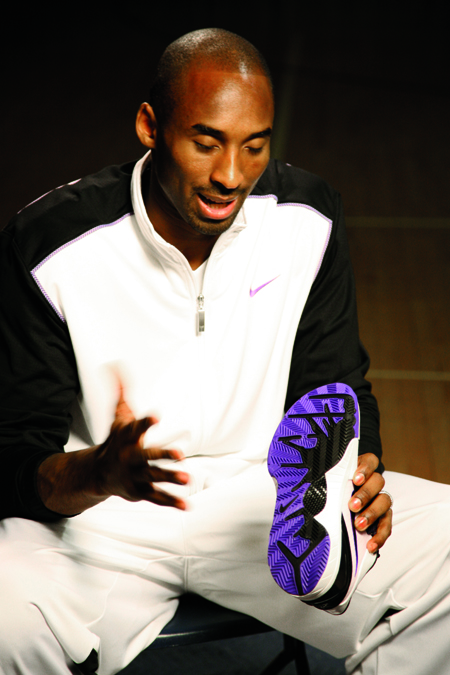 Eric Avar:
"He likes being on the cutting edge of new technology and new style, but also to push the dynamics of what a high-performance basketball shoe could be."
Tom Luedecke: "We did look back at the 2K4's external counter and think that really, if we can get the heel to lock in really well, that does a lot of work for us, and then once we get the midfoot more locked down, then you really can begin to bring the silhouette down. You can't just take any other shoe and just drop it lower. You have to do the homework of the internals and how close you can get to the foot. The stability doesn't only come from the bottom, the stability comes from the upper, and it's a systematic approach."
Kobe: "When you have a low-top shoe or a shoe that is that light, the thing that you want to make sure that it gets an 'A' on is stability. Making sure that the calcaneus is locked in and that it's sitting in there properly and that it's not sliding around on you."
Eric Avar: "So much of it is just trust and building a relationship and building trust. As detailed as Kobe is about things, I think he really trusts us to take care of the millimeters of stuff. He'll stay with the bigger picture of things."
Jeff Spanks, Innovation Kitchen developer: "He's never swayed from his direction of what he was looking for and his voice. He's coming from a pure voice, from an athlete that's on the edge of performance. Who doesn't want a product that fits better, is lighter weight and more minimal on their foot so that they can go further and harder in a basketball game in the fourth quarter?"
Eric Avar: "When you're working directly with the athlete, especially someone like Kobe, it gives you all the justification you need and the confidence you need to make a statement like this."
THE ADOPTION:
Tom Luedecke: "From the onset Kobe told us, 'I'm going to prove to people that they can play in low-top shoes.' We had the same initial feelings. We are talking about going from the Hyperdunk to the IV and then even lower, which was at the time a pretty big leap. And he was just adamant about showing people."
Kobe: "Everyone's first reaction was: 'Hmm… ' [laughs] You know, 'That must do something.' You know what I mean? Because players know how meticulous I am and how detailed I am about my game, and I'm not going to throw something on my feet just to throw something on my feet. The reaction that I got was more of a curious one, and they were like, 'You know, let me try this thing and see what it does. This must do something if he's wearing them.' Once they put them on, they didn't want to take them off."
Eric Avar: "I had no doubts that Kobe's clout would have great influence on the League and basketball players young and old, but it was even faster than I thought. Personally, I think we all agree that a little lower, more minimal, lightweight product – a more Free-type product – works more in harmony with the body and is definitely a design philosophy that we all believe in. But to see it in basketball, and basketball at that level – to see that shift – is pretty amazing."

Tom Luedecke: "When we had it in Wear Testing, people said, 'I don't know – I don't know if I can do this.' They're used to a higher cut. They'd say, 'Yeah I signed up for the test; OK I'll wear them. I'll go 80 percent or 90 percent,' But then by halftime, they would forget, and then after the game, they came to us and would say, 'Wow, my game changes.' We changed perceptions about how people can play."
Kevin Durant: "Just from looking at guys, I want to say fifty percent of guys are wearing low top shoes now. Everybody I see is either in Kobes, old Kobes [laughs] or my Elite shoes in the playoffs. Guys are gravitating more towards low cut shoes."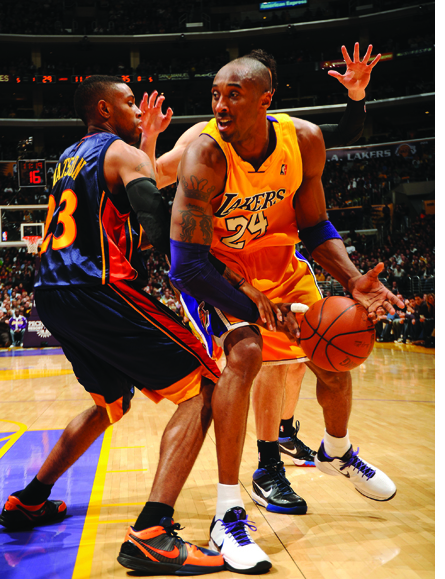 Eric Avar:
"It was probably going to take someone like Kobe to get this message across. Not just by wearing it, but because of all the thinking and all of the reasoning behind it. He's not just wearing it to make a statement, but he's thoughtful and calculated in why he wants to wear it, and there's no one better than Kobe to make this statement."
Kobe: "It's not necessarily about going low just for the sake of going lower or to see if we can top this or top that; it's really about functionality and about doing something that makes sense."
Leo Chang, Nike Basketball Design Director: "The entire Kobe line has been awesome. It's become the norm now, and it's not like we have to fight to get a low in the line. It's there now. It's expected that we have to have lows, because people want it. It's helped to push us to continue the idea around natural motion. Nike is known for natural motion, and that started with the Free and that big movement. You can see that happening all throughout Nike, and it's happening in the Basketball category. Stuff like Kobes really helps to drive that. Players who want lows help drive that."
Eric Avar: "You can quote me on this. Kobe is one of the most intelligent, articulate and creative, not just athletes, but individuals that I've met. It's fun, and it's an honor to work with him. And I think it reflects that in the product."
Ken Link: "We want to think of Kobe in a test pilot type of manner, and how can we really begin to push the envelope with him and do some different things. I think the way that Eric works [in the Innovation Kitchen] is really important for a guy like Kobe and how important he is as a kind of test pilot for Nike. It's important to get out, to get ahead of stuff and try new stuff. The vibe is really amazing, and it's all because of that time to really work with the athlete, fine-tune the idea and push the envelope for performance. But, Eric recognizes that, 'Hey, if I get out of this system, I can really help this guy out. I can really develop a bond and a true insight that will help the category beyond even what it thinks it can be and show it where it could be.'"
Kobe: "It means we were doing it right, because professional athletes aren't going to throw shoes on their feet just to throw shoes on their feet. That's how they make their living, on their feet, so they want to make sure they put something on their feet that's comfortable, that's going to help them perform and that's safe. To see so many people wear 'em, and even have more players still request to wear them is a tremendous honor, and it's a great credit to Eric Avar and his team."