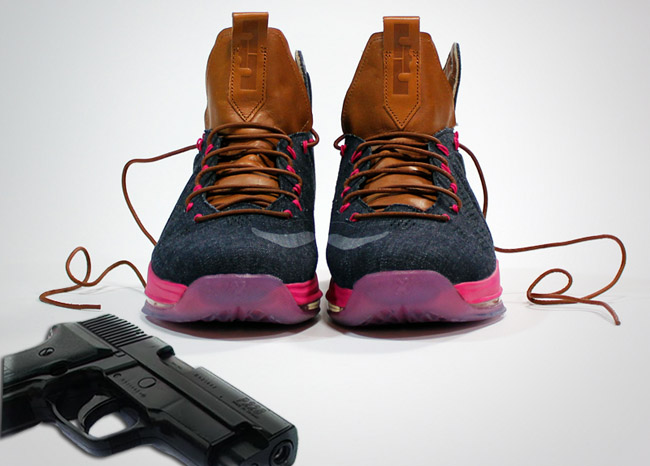 words // Zac Dubasik
Things got ugly – and fatal – this past weekend, at yet another sneaker launch. Wish in Atlanta was the venue this time, for the release of the Denim LeBron X.
"According to witnesses, an armed man tried to rob a group of customers in line about 5:30 a.m. But one of the customers who was armed with his own handgun shot and killed the suspect," reported WSB-TV.
While past incidents may have had more to do with the shoes themselves, this one appears to focus on the fact that customers waiting in line to buy a $180 item are likely to have large sums of cash in their possession. But none the less, it's another blemish on the already shaky record of sneaker releases.
Based on the circumstances, and the gunman's valid claim of self-defense, it would be easy to write this off as a bad guy messing with the wrong person. But the bottom line is, there is a trend of problems associated with high-profile sneaker releases. But who's to blame? And, more importantly, how can it be stopped?
The venue of this most recent incident has already put in place plans to help prevent a similar situation from happening. Check out Wish's new #wishstrike policy below.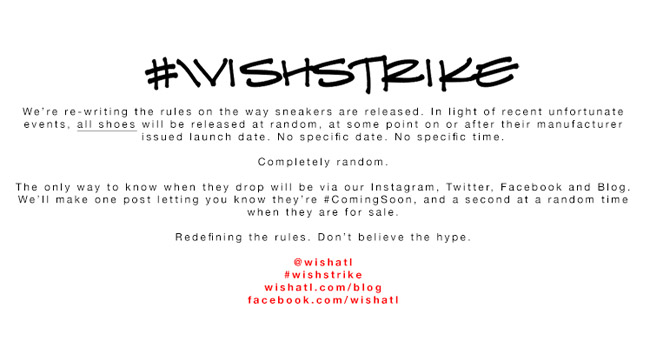 At some point though, consumers will still be walking out of the store with a product, coveted by others, who may not have been fortunate enough to get there in time.
Online-only releases seem to be another option, but that presents its own challenges. Many retailers aren't authorized to sell Nike products online, which could limit them to Nike.com-only releases. And maybe Nike would like that idea, but with many smaller retailers already developing somewhat contentious relationships with Nike, based on more and more products being available exclusively through Nike-owned channels, that could create even more tension. While no retailer wants problems, these sure-fire sellouts represent important revenue.
What about simply releasing enough product to go around? In some cases, this could probably alleviate some of the pain. If Nike can sell 3,000 pairs of Yeezys for $245 a pop, they could certainly sell 6,000. (Who's kidding who, they could sell 50,000.)
It's not always that easy though. Certain colorways, while coveted by sneakerheads, simply weren't made for the masses. The denim LeBron Xs are a great example of this. Had they been available at every mall shoe store in the country, chances are they would have sat on shelves. And the fact that they dropped on the heels of LeBron's second consecutive title made matters even worse. The nature of the colorway was one that made sense to be limited, but its demand was accentuated by the fact that ring-number-two had just been won.
It's easy to point fingers at Nike for creating this frenzied demand. Limited shoes at the top of the line have a trickle-down effect. Most consumers will never touch a Nike product like the denim Xs, but the whole brand seems cooler because of it. As consumers, we must take a look at ourselves too. We want things that no one else has. That hunt is part of what makes sneakers so much fun.
That's not to make excuses for the criminals. Sometimes, bad people do bad things. And while it's ultimately their faults for these problems, these problems persist.
How could these launches be made safer? Are you wary of waiting in line, preferring to shop instead online? Does this type of violence make you less likely to want to attend a launch? What would you like to see change?