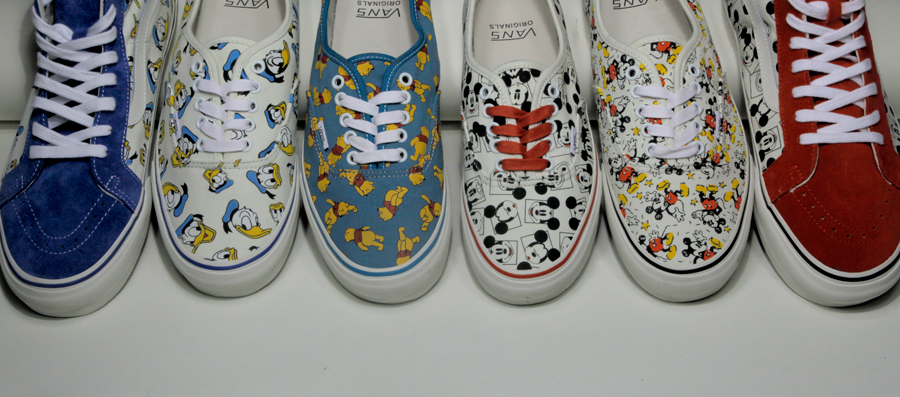 words // Luis Sanchez
photography // Jotham Porzio & Yulia Nidbalskaya
Iconic Disney characters take over some of the most classic Vans styles as part of the all new Disney x Vans Vault OG Classics Collection.
As part of a celebration of 10 years of Vans Vault, Vans reissued classic discontinued Disney prints originally designed in the early '80s. Released as Vault's fourth installment of OG classics this year, we see the OG-styled Authentic LX and Sk8-Hi LX covered in original Mickey Mouse, Donald Duck and Winnie the Pooh prints.
Classic Mickey Mouse prints are brought back in original form over the Authentic LX and Sk8-Hi LX, while another original print featuring Donald Duck covers the Authentic LX and Sk8-Hi LX as well. Winnie the Pooh covers the Authentic LX also, while an original "Mickey Square" print completes the collection over the Authentic LX.
Celebrating the classic collections, Vans Vault has teamed up with Blends San Diego for a special launch party tonight with free drinks, music, and a Disney-themed photo booth by TommyB. Tonight's special launch will also include a restock of the entire Vault by Vans x Disney OG Classics Collection.
Enjoy an exclusive look at the collection below, and be sure to hit up Blends San Diego tonight if you're in the area.
BLENDS San Diego
726 Market St.
San Diego, CA 92101