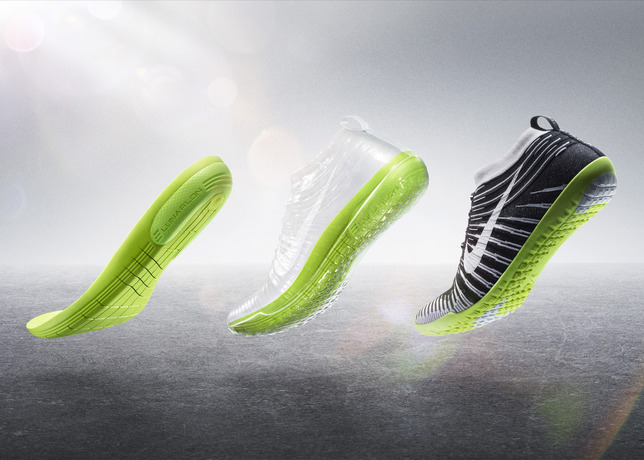 words // Brennan Hiro Williams
The Nike Innovation Summit brought another new shoe to light today, officially unveiling the Nike Free Hyperfeel. Inspired by Nike's "Nature Amplified" design ethos, the new Free Hyperfeel mimics the intricate workings of the human foot, with Flyknit, Free, Lunarlon and Flywire technology all working in unison in one low-profile shoe.
Utilizing data from the Nike Sports Research Lab, the Free Hyperfeel places importance on which areas of the foot come into contact with the ground, absorbing pressure, and which areas require traction, all while keeping the design minimal, natural and close to the surface. Articulated Lunarlon foam replicates cushioned pads under the foot, while a modern waffle outsole with strategically placed pistons reflects key pressure points. Additionally, durable XDR Rubber is added in high-wear areas.
A one-piece Flyknit upper provides a compression fit, eliminating excess structure and weight, while Flywire cables help lockdown the foot. Where the typical Air Pegasus running shoe is made up of 57 components, the Free Hyperfeel has just seven. Upper waste is reduced by an average of 90 percent.
Is this the minimal runner you've been waiting for?
The Nike Free Hyperfeel ($175) arrives at retail on September 5, and is available for pre-order now at nike.com/hyperfeel.