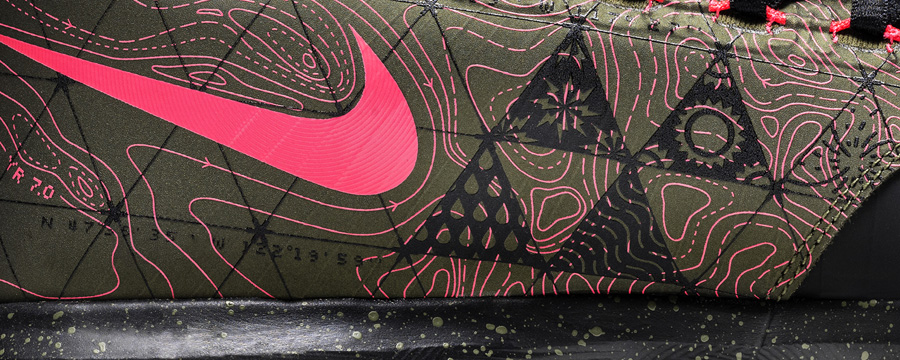 words & interview // Nick DePaula
As you all know, signature shoes don't just release in a couple team colors these days. For Kevin Durant's line, we've been treated to a whole host of theme colorways the past few years, which really took off thanks in part to the "NERF" and "Weatherman" versions of his fourth signature model.
When it came time for the Nike Basketball team to build out the color story for Durant's new Zoom KD VI, they wanted to once again tell the story of his childhood aspirations to be, yes, a Weatherman.
As Nike Basketball Design Director Leo Chang tells us, this new take on the much-loved "Weatherman" KD IV brings a more understated and mature look to the table. Nike Basketball's Graphic Designer Erick Goto once again led the charge from a detail standpoint, mixing in deeper hues with map graphics, numbers and longitudinal coordinates for Austin, Oklahoma City, and of course, Washington DC.
LEO CHANG --
"It's taking 'Weatherman' and doing a grown man twist to it. We want to stay new and fresh every time and not just stay with the same old color palette or graphic. With KD, he's growing and maturing as a human and his tastes are changing. Years ago, he was still kind of a kid and seen as that. People still see him as that now, but he sees himself as more mature and sophisticated. He's dressing better and doing GQ stuff. Between him and Russ, they're trying to compete to see who could have the craziest outfits with all of the obscure high fashion brands that they're wearing. That's exciting, and for us, we want to make sure that we're keeping up with all of that. [Erick] Goto took the approach of doing a more adult, grown man 'Weatherman' version, so the color palette is a little more sophisticated. It's black and olive green in there, and then there's a hot pink thrown in there as an accent. You can even see in the topographical map, there are rings, some '35' hits and nods to KD's story."
The "Meteorology" Nike Zoom KD VI will be releasing August 3rd at Nike accounts and on Nike.com.
Check out our in-depth interview with Leo Chang for the full design process of the Nike Zoom KD VI.