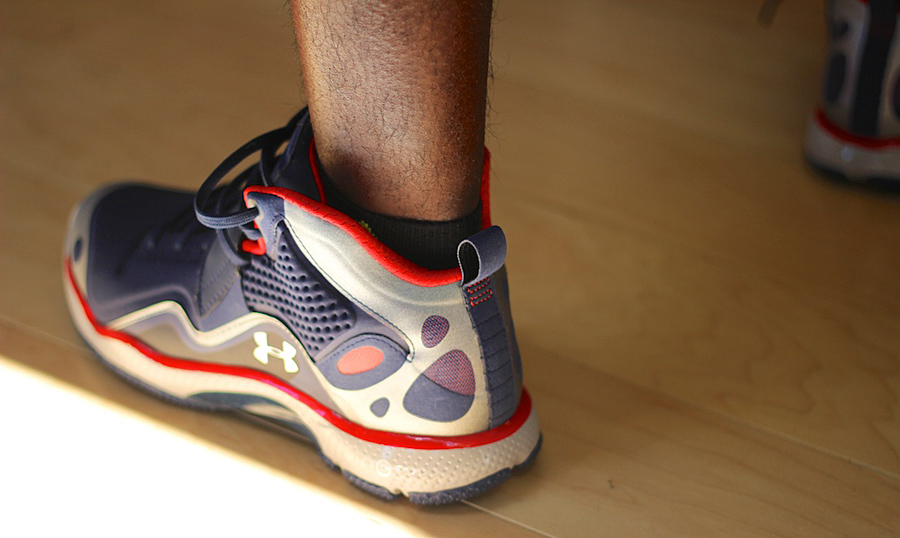 words // Nick DePaula
images // Jacques Slade & Nick DePaula
When it comes to designing shoes meant for high performance training, you don't want fancy inspirations, backstories or points of reference that can cloud the story up. You want a shoe that draws from athlete insights, technical needs and innovation.
For Ross Klein, Lead Designer of the new Under Armour Gridiron Trainer, that's exactly what he set out to do.
With a no-frills design approach, direct involvement from NFL stars Arian Foster and Julio Jones and the brand's apparel DNA in mind, Klein and Dave Dombrow, Creative Director of UA Footwear, set out to build athletes of all levels an all-purpose trainer focused on fit, a low stable stance and comfort.
Read ahead for a full breakdown from Ross Klein and Dave Dombrow on how the new Gridiron Trainer, available now at Foot Locker for $100, came together during the process.
BRAND DNA OVERVIEW & THE FUTURE ATHLETE // DAVE DOMBROW
"DNA and authenticity is so important to ground wherever we go with things. We looked at an older brand spot of ours called "UA Is Football" from years ago, and it really set the tone for about 50% of what we wanted this shoe to represent.
We feel like we should own Training. We are the company that started in football, and there isn't another company that can come with that same DNA that we have. But that's only part of the equation. We're looking at training in general, and we're looking at the future athlete as well. That's where Julio Jones and Arian Foster come into play.
For us, the future athlete is totally and completely different from what it was ten, fifteen years ago. That holds true for a lot of sports, but especially here in football and who we were talking to. The game is different, they play different roles and positions, and it's a more versatile game now. That was a great jumping off point for us from a design point of view. We were trying to figure out how we could capture what being a future athlete means, while still keeping an authentic, grounded aesthetic about the footwear as well."
Below: Ross Klein's concept sketch board for the UA Gridiron Trainer.
To continue reading, click Page 2 below.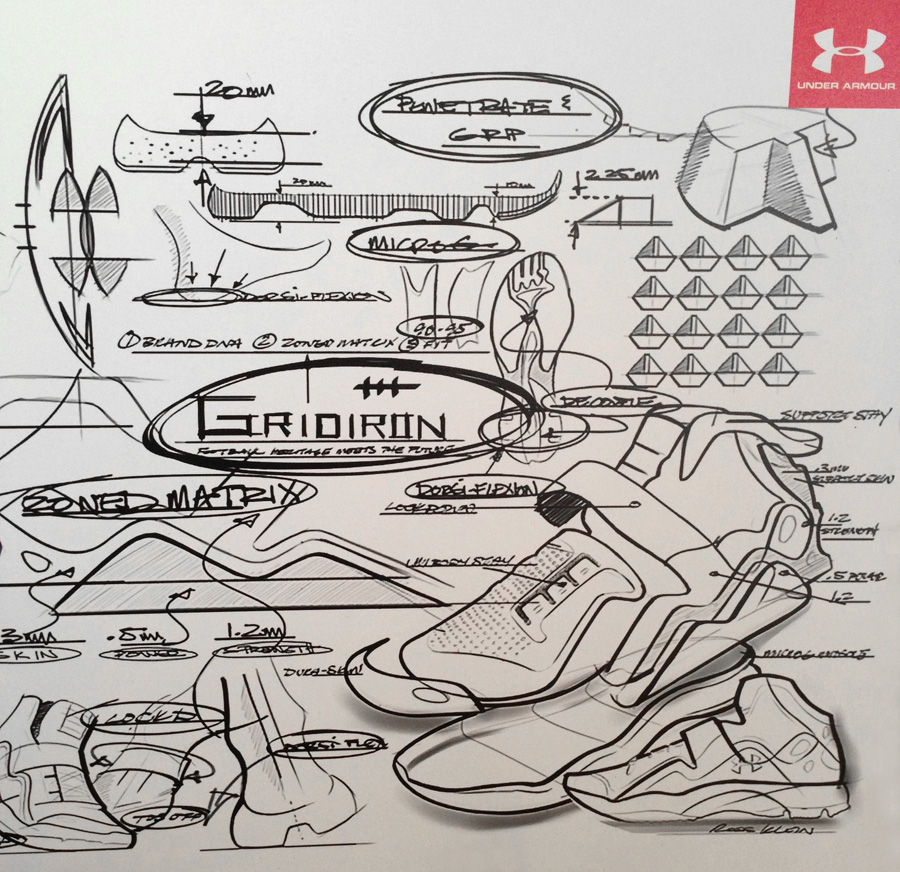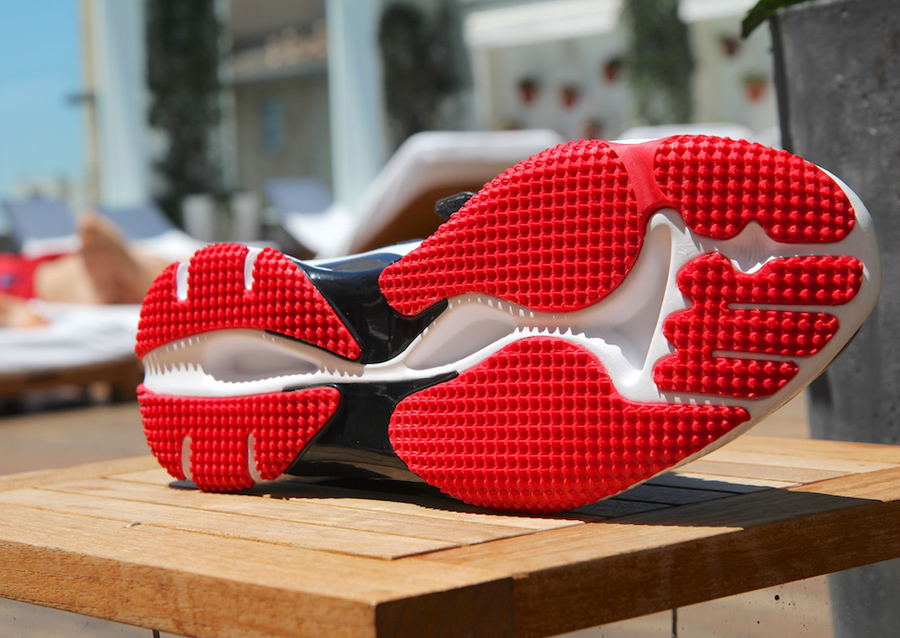 ATHLETE INSIGHTS // ROSS KLEIN
"We dove deep into the idea of watching the body mechanics and what's happening with our players and their foot mechanics. One of the things that's really big for Arian is a low center of gravity. The lower center of gravity you have, the easier you're able to move and be adaptive. That's one thing that we took as a key for this shoe."
ONE-PIECE UPPER // ROSS KLEIN
"For this type of shoe, you have people that are very strong but very fast. Your forefoot and your heel is a big component that takes upon securing that lateral area and the tongue. It's a unibody piece in through the forefoot, and you're going to see the eyestay actually connected into the upper as well. It's just one piece, and there's no added foams, lining or extra pieces there. There's also a toe cap reinforcement here for abrasion."
Below: A deconstructed view of the UA Gridiron Trainer's parts and pieces.
To continue reading, click Page 3 below.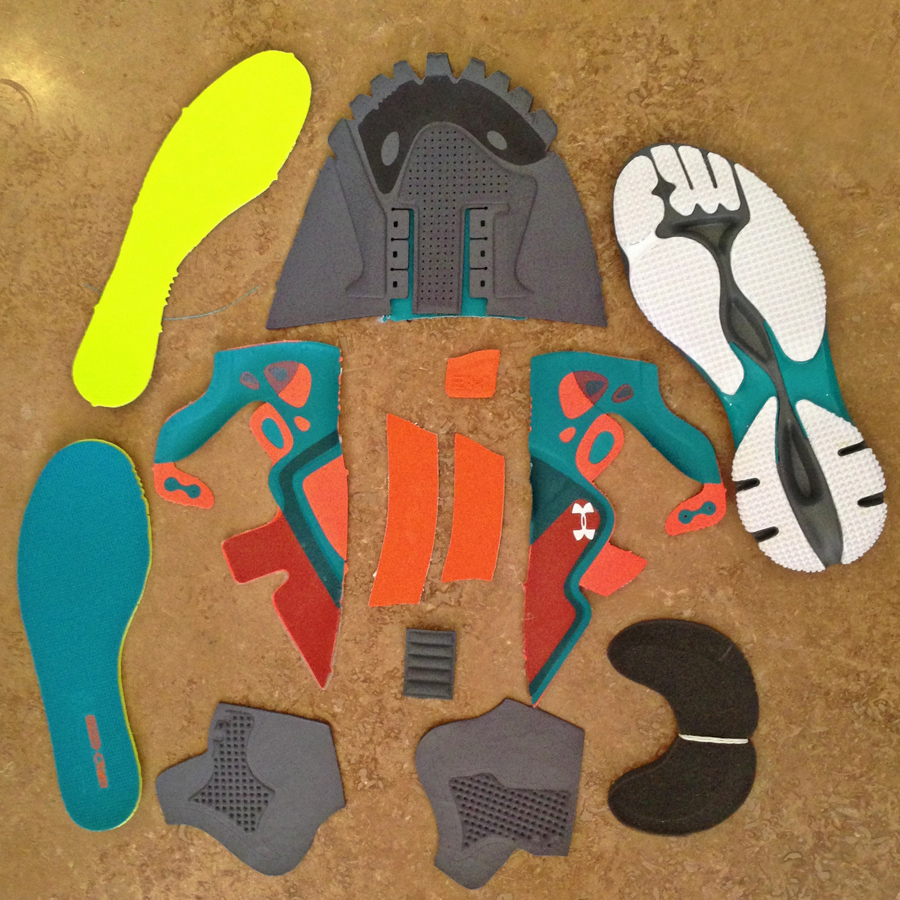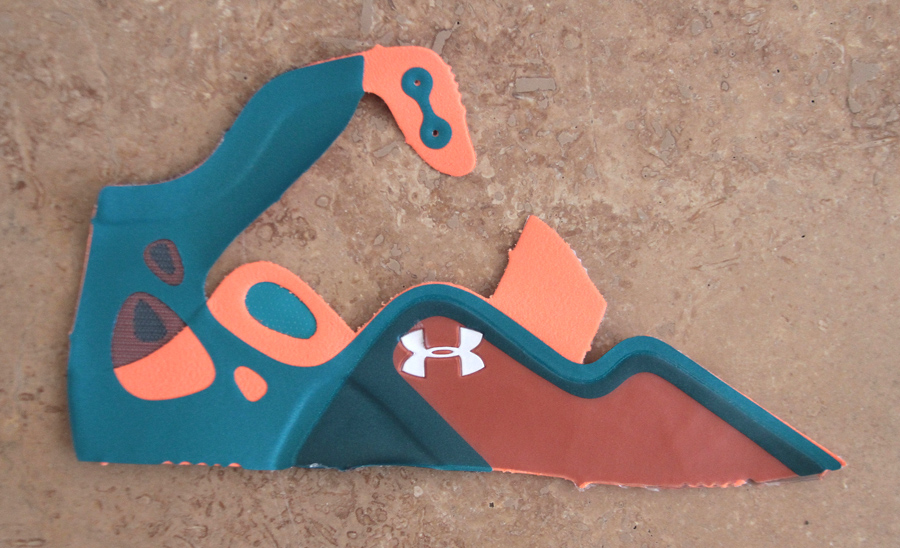 ZONE MATRIX FIT // ROSS KLEIN
"This stretch synthetic through the forefoot is tuned to the point that we have a color pop on all of the shoes underneath, and it's able to tighten things up or allow for more width, dependent on your foot shape. When we talk about speed, it means fit. Fit is very close to us as the DNA of our brand. There's a zone matrix to this piece, and it gives us the ability to control the thicknesses, gauges and elasticity of the piece."
MIDFOOT STRAP // ROSS KLEIN
"We're all very familiar with straps, but when Arian said center of gravity was a very key component for him, Dave and I went back and looked at looking in the center of gravity of the foot, which is the middle of the foot. The strap is really the key to harnessing and giving you that lockdown fit."
OUTSOLE // ROSS KLEIN
"The way it's set up is there's a flat edge against where you're putting the most pressure in the heel, and then you'll see a slant [to the turf nubs] and that's to help you get out of the ground. A big focus of ours was to look at the traction zones that we use in our cleats, and to focus that in a minute way here all around the outsole."