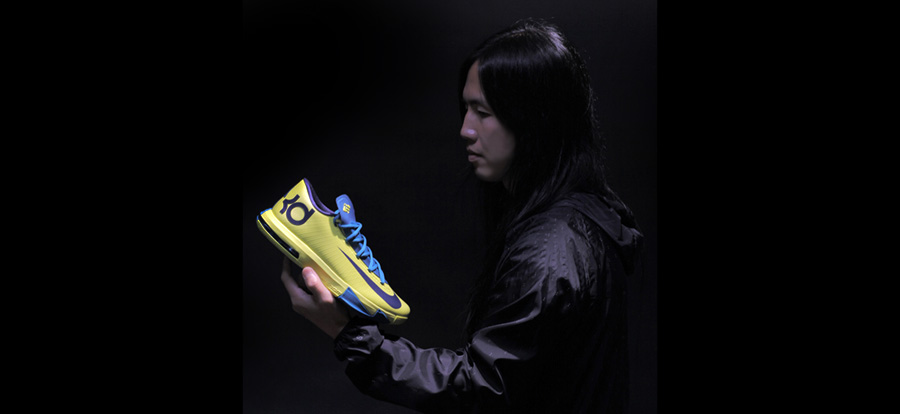 words & interview // Nick DePaula
photography // Jotham Porzio & Nick DePaula
As you can probably tell at a first glance, a lot has changed this year for Kevin Durant and his new signature sneaker. There's a new cut, new price and most importantly, an entirely new time that it actually releases.
With the move from Holiday to the Fall season, that's allowed Nike Basketball to take KD out of his comfort zone and out of his standard team colors even more when it comes to stories they can dress the shoe up in.
To hear all about KD's newest model, which goes back to a low-top, we caught up with Nike Basketball Design Director Leo Chang for an in-depth look at the inner workings of the shoe, what helped to inspire the clean and bold design lines and where things are headed for KD as they continue to evolve his series.
Nick DePaula: As you moved from the 4 to the 5, you mentioned that KD said he wanted "a high top and a bubble in the back." Now you guys have moved back to a Low. Was that just straight from him?
Leo Chang: That was straight from him. He can play in a lot of things, and he just wants it to be really lightweight. Light and tight is what we always say. We want to make sure he has enough cushioning and support underfoot, and for him, he just wanted to go low again. He loves keeping me on my toes and throwing things out, and he just wants every shoe to feel a little different. He doesn't want it to be expected, where someone could just predict the next one. He likes change, and that's good.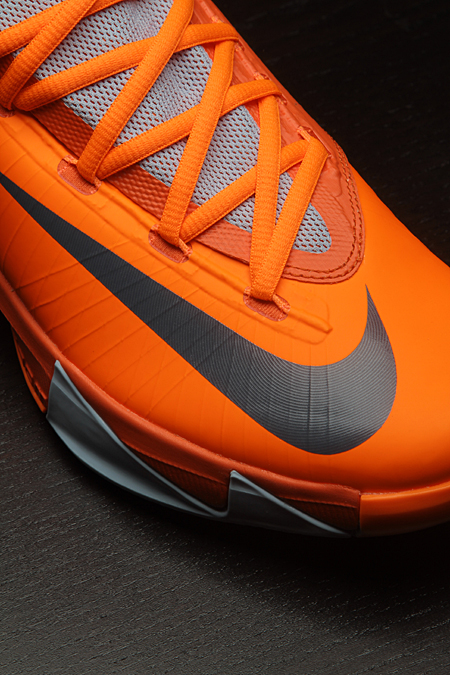 NDP: Was there anything in particular when it comes to cushioning?
LC: This time around, the performance insights remained the same. There wasn't much different, and he just said, "Continue to push it lighter." From an inspiration standpoint, this is where the relationship and the interaction between us gets better every shoe. The V was a good ground breaking moment, because he really didn't like the initial design that I sketched, and then a couple weeks later at LaMarcus Aldridge's charity game [during the NBA lockout], he said, "Hey, why don't we do this, this and this." And I said, "Ok, cool!" I love that stuff. To me, I don't ever take any of that stuff personal, and I'm not going to cry about it or anything. [laughs] What I loved about it, is what not to do was just as important as what to do. Putting some guard rails is kind of important sometimes, and that helped.
Taking all of that into account, and then he also thought that maybe the V was a little too high off of the ground, we considered all of that. In terms of the inspiration, he had really been thinking of precision watches. Audemars, Hublot and all of those really premium level watches. Not any specific one, but those higher end precision watches in general. Really, the notion of being able to see in to the inner workings of the watch. He gave me that general nugget, and I was just like, "Oh, that's really cool." Now, I'm not going to make a shoe look like a watch with a big hole –
NDP: Jordan 2010!
LC: I wasn't about to say that. [laughs] But that was awesome, and I could work with that a little bit. For me, it was about the craftsmanship of it, the finishing of it and considering every detail down to the texture of the Swoosh down to the outsole pattern. Those watches really have a general shape that's a classic form that doesn't change too much. The Royal Oak for Audemars, and the –
NDP: Big Bang.
LC: Yeah, exactly, for Hublot. They stay pretty consistent, but they're able to sustain that for thirty-something years because of the type of function they're after, the new materials they use or a particular collaboration. That was really intriguing to me, and the overall form wasn't this crazy thing. It was classic. You could see the face through the back, and you could reveal the mechanics that are on the inside. I thought that was awesome, and down to the brush marks on each gear. That was inspiring to use that notion.
NDP: Not only is the cut of the shoe changing again, but the actual timeline for the shoe is shifting up. Why's that?
LC: Yeah, this is the first time, and that definitely was a good move for us. We just feel like he needs his own big season to live in and not be stuck between the LeBron and Kobe launch. He had that weird window, where in October and November you'd have LeBron, then all of a sudden in December it's KD, but from Christmas and on it's also Kobe. We wanted to give KD his own space to really give him some time to have his product breathe out in the marketplace.
NDP: Was that a decision that came way in advance to allow you to design on a usual timeline, or was it more of a late change?

LC: It was definitely in advance. We had been talking about it for awhile, and we all just felt like he needed his own space. We don't want to have all of our athletes stacked up on top of eachother. We knew well in advance of designing it that that was going to be the change.
Click on Page 2 below to continue reading.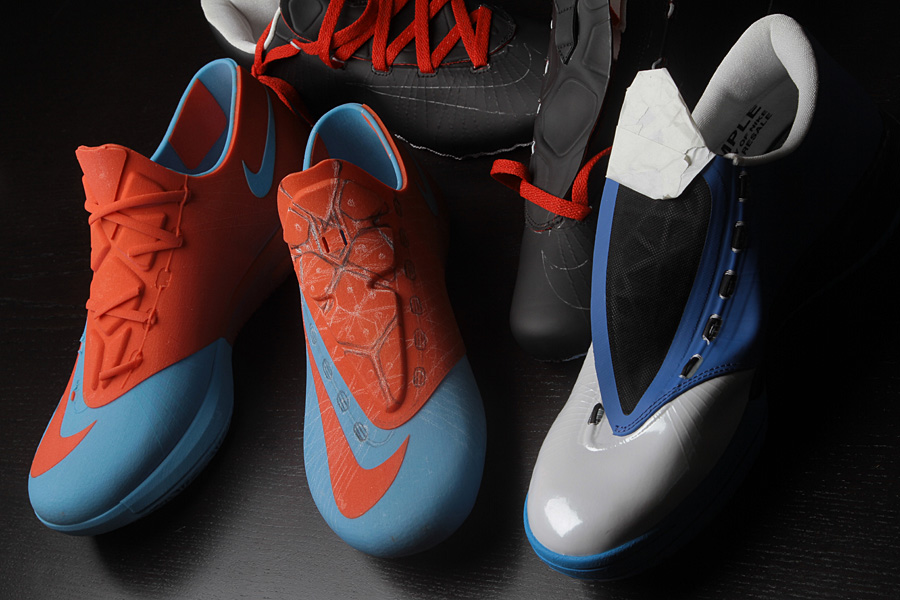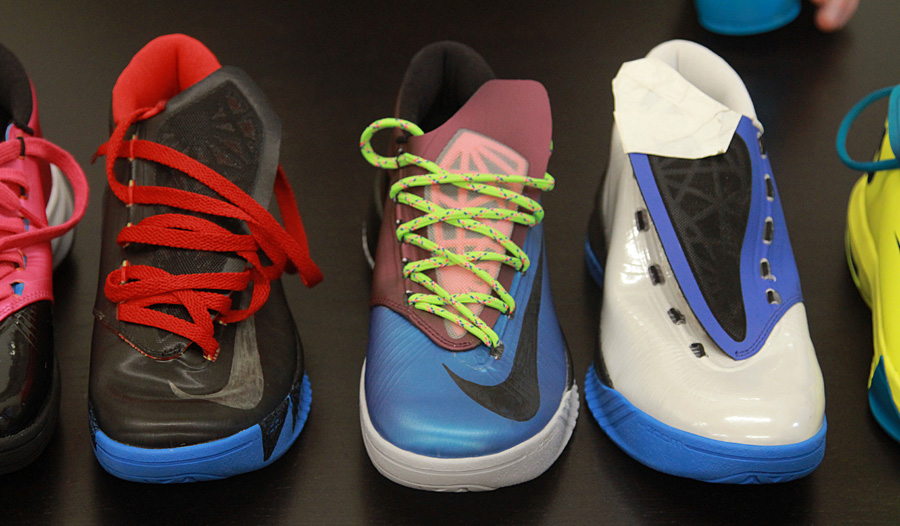 NDP: The tongue is particularly unique here. Can you kind of walk us through the way it works and the pattern?
LC: We're calling it "the burrito." [laughs] The thing I always try and do with his product is focus on the notion of getting closer to the foot. Less layers. The V was a similar idea, where I was trying to reduce layers by basically having a tongue on the outside. The body of the upper sat closer to the foot. We heard some feedback that where the tongue ended, that it was a little tight on some people's feet.
That was something where production went a little tighter than we wanted to. That notion of reducing layers so that the upper can really hug your foot was the thought behind the tongue. Looking at where the foot is and where it flexes the most, it's right here, around the ankle.
Typically on a conventional upper, you'd see that there's ton of layers around where the tongue attaches, and on a shoe like the Air Force 1, you'd even have a big overlay to help reinforce it. Well, get rid of all that. That's the area where you always have rubbing on the top of your foot, stuff that pinches in and bugs you around your toes. That's why we have a shift here, and even the laces became more asymmetrical too. We pulled some seams higher and moved things around, and if you feel on the inside, there's just two overlays now. Comparing that to a conventional tongue, you'll have quarter panels and a tongue that sits underneath. There's just more air and more gaps that way.
If you look at our first prototypes of the upper, it was super rough. We had the Flywire throughout, and then the layering and bumps of the tongue were off. We knew that since it wasn't going to be a conventional tongue shape, just with the way that it opens, that it'd need to be a different construction and we refined it. The tongue top actually sits just a little bit off center. The other aspect that I thought was cool, is that you see a lot of times on basketball players that their tongues will slide a lot to the side. Since it's anchored, it doesn't slide here. That's a big benefit to this.
NDP: Was there any inspiration at all from soccer cleats and how well those fit? That's what a lot of the initial guesswork has been from people online.
LC: No, actually, and everyone makes that assumption. [laughs] It's clean and has the Swoosh on the toe, but Nike Soccer has never done this construction, and if anything, there was maybe a nod to an original prototype that Dan DeHaven, who has been a developer at Nike forever, had. He had one of the original samples of the Jordan XI in his area, and it actually had a burrito-like construction. I always thought that was really cool, because of the functionality of it. It could open up and adapt.
NDP: Did that one have no laces?
LC: No, it had laces, and it was a little asymmetrical. You can see it in some of Tinker's earliest sketches, and I thought that was really cool, just the synching of it. You're allowing the quarter panels to conform, and you're not having this thing in the middle that can get stuck. That was an interesting solution, but then we had to look at how we could modernize it with thinner materials.
NDP: Flywire is also pretty prominent here. We saw it on the III, but not on the last two. Was there a particular reason you brought it back?
LC: I've always been pushing the idea of integrated lacing with him. On the V, I wanted to have the laces almost on top of the tongue, and here, the laces are on top of the foot, and anchored into the Flywire. You don't have to have stuff underneath that can create pressure, gaps or irritation. Pushing the laces a little more forward can be really good for basketball too, and there's a nice asymmetrical lock. The Flywire is more densely spaced right around the forefoot, and the backer on the inside is a softer textile, so against the foot it's softer.
Click on Page 3 below to continue reading.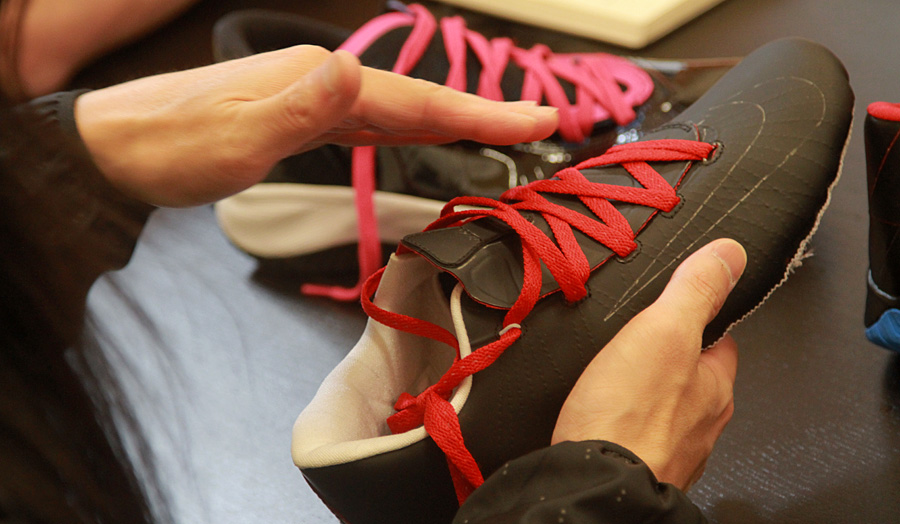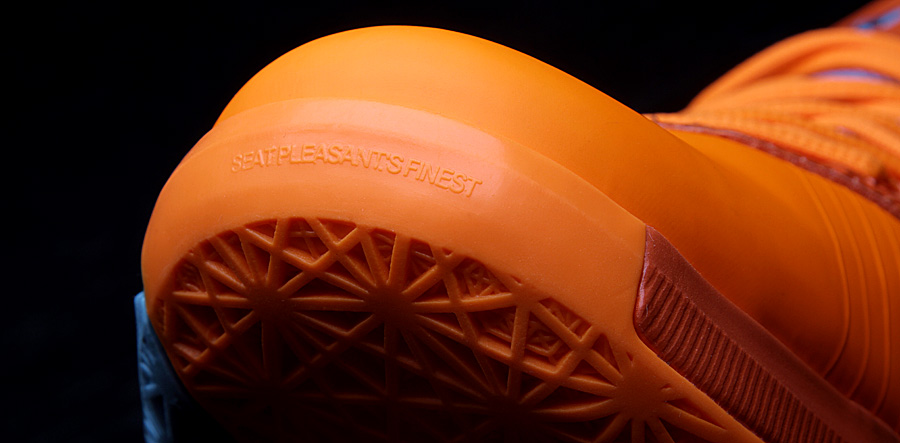 NDP: We saw it with the Lunar Hyperdunk and the last Soldier as well, but that toe Swoosh has become a common thing lately for you guys. Was this shoe fitting into a similar design language, or was it just apart of your design?
LC: Not necessarily, it just worked with the design. It made it look faster, and you could just imagine it if was slapped on the quarter, I think it would've been very regular looking. We took inspiration from the watches even with the circular brush mark that's on the Swoosh, the logo and the tongue logo. It's all around. With the shaping of the tongue, it just naturally falls into the hook of the Swoosh. He's on his toes and he's quick, and when you have the Swoosh shifted to the toe, it allows for it to feel faster.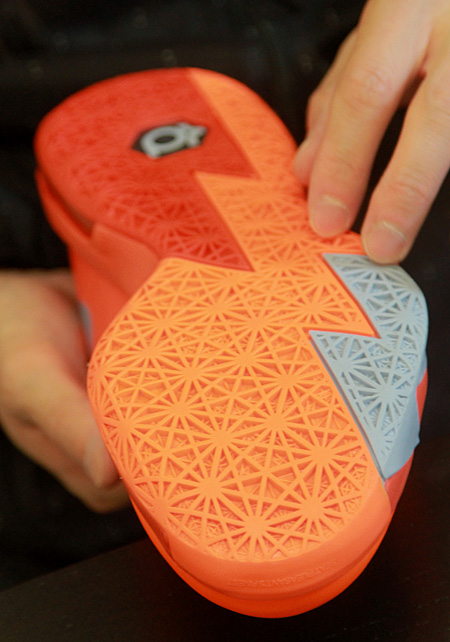 NDP: It also allows for the KD logo to be bigger too.
LC: Yeah! [laughs] You can see on the earlier models, that I actually sketched the logo to be even more massive. [laughs] We wanted to be bold with it, and that's another thing that KD has always talked about years ago. He wants people in the third level of the arena a mile away to be able to see his shoes. That, to me, was always what a good basketball shoe should be. It's super iconic and has a 50-yard read. We wanted to be very blunt with the lines. There's the lightning strike in the back, and then this very contrasting medial and lateral play, and then big and bold logos and having fun with it.
NDP: As you guys were going through the process of laying out the line for the whole year and entire category, obviously the price is something that sticks out as being raised. Was there any hesitation from him or anyone else about veering a little higher in price once again? I remember originally that his thing was to be under the $100 mark.
LC: There's always hesitancy to not to go to the extreme. I think he definitely still wants accessibility, and to us, we have to have a balance. It's a hard one. His game is continuing to rise and rise, and he's one of the top 3 players in the league. We want to make sure he has the best technologies and enough for him to perform and play his game at that level. Another thing is how we can still make that accessible to everyone. If you look at a product even like the Hyperdunk, that's been one that has that really good balance of that amazing innovation and also people playing in it. We started out at $110, then went to $125 and now it's at the $140 zone. It's still a really accessible shoe that tons of people can afford and play in.
So, we feel like around there or just under is a good place for KD to be. It's still the most accessible signature model in our line. This last season, Kobe was $140, LeBron was $180, and so KD is still pretty accessible we think. Also knowing that this season we're also launching the Trey 5 in Fall, that's another accessible model for people to get ahold of to get into the KD line. It's kind of like what the Soldier and Ambassador are for LeBron, or the Dream Season or Venomenon for Kobe.
NDP: One thing I was noticing too, is that in the past there were a ton of more obvious references to friends and family of his on the shoe, like "Big Chucky," his brother and parents. Is that something that you guys are being more subtle about here?

LC: There are elements of that in here too. "Seat Pleasant's Finest" is right on the toe. Shout out there! "Big Chucky" is still on the heel, but it's really fine. It's about the micro details now. That's also a good opportunity to talk about the outsole, and just when we started with the VI, I looked at that hexagon structure for the traction. We looked at his pressure map data that we've gathered at the NSRL, and you can see the depth of that through the whole outsole. That came from the precision of the watch, and being able to see the finest levels of micro detail. You go from macro to micro, and the pattern spirals in and enhances the view of his pressure map. When you talk about signature, that's a part of his DNA and a nice signature touch. No one else has that exact same print, and that came from him. You can see a similar pattern in the reinforcement along the tongue too.
NDP: The V really surprised me. I always give you a hard time and say I'd just rather have herringbone, but right away, the traction on the V was super good. I was nervous going into the V about that pattern, but it was great.
LC: I remember telling you not to worry in last year's interview! [laughs] One of the testers was actually saying that it was like a gecko's foot. Just really stuck to the ground nicely. It just really stuck.
Click on Page 4 below to continue reading.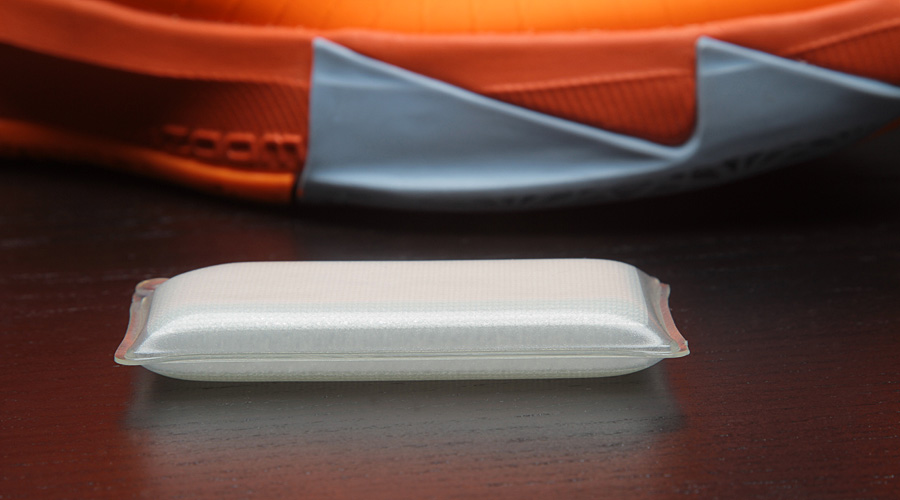 NDP: In terms of cushioning, the platform sounds the same as last year, but is it the exact same Max Air and Zoom units?

LC: Yeah, it's the same. The forefoot bag (seen above) is the same 8 mm rectangular unit from last year, and it's a little narrow, but we always want to make our products as flexible as possible and more nimble. With some of the past forefoot bags that we've had, they had this funny shape and it created some weird kinks sometimes in the way that his shoe flexed. With the straighter angle of the rectangular bag, it allows it to flex in more of a normal way for him. It's an 8 mm thickness, so it's ample cushy. We otherwise were using 6 mm bags in the forefoot in other shoes.
NDP: Was there any big change along the way once you guys got into weartesting, or any particular feedback from him specifically?
LC: He's been playing in it since before the playoffs, and he's been playing in it since right after too. He loves it. He was just texting me the other day, "Looks great with jeans too!" [laughs] He loves everything about it and is really excited. Each one, he just gets more and more excited.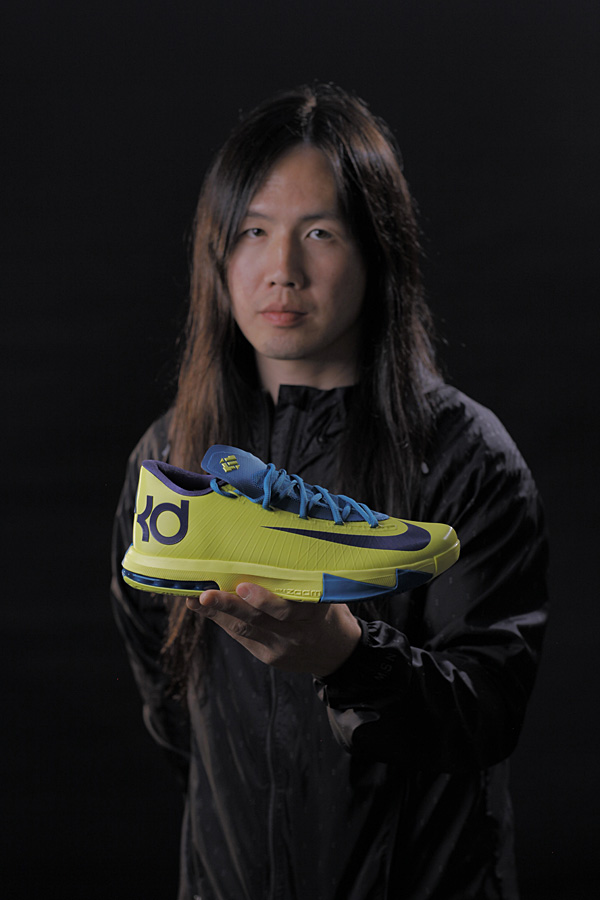 NDP: Obviously the themes and colors, whether it was Nerf or Weatherman in the past, have always taken his shoes to a different level. Which ones are you guys most excited about coming up?
LC: There's some good ones. Going along with the whole notion of moving him to a different season actually dictated something different. We knew that we could do something different to launch his shoe. It's not the NBA season right now, so it's about outdoor basketball and there are no rules. We didn't have to worry about starting with an OKC Thunder colorway, something that he's not going to be wearing until the holiday season. We wanted to talk about Kevin Durant. It's a signature shoe about Kevin and we want to tell stories about his life. One facet of that is playing on the Thunder, and then there are all of the other things in his life. The launch colorway actually came from a doormat that I saw a couple years ago at the Seat Pleasant Activity Center, where he played and practiced every day. Eugene [Rogers] and I sat down and looked at some fresh colors that we felt like we could use, and we came across this palate of teal and yellow, which totally reminded me of the doormat. There was a circle logo that was yellow, teal and then had black letters, and it was all pixelated and was one of those rubber mats. That trip was right after we signed him, and we went to DC and he took us all around to his spots.
NDP: That was when you guys went to Chick-Fil-A?
LC: Yeah. [laughs] We stopped to get Chick-Fil-A, and we're just all eating it in a van together and he's got the longest arms ever and is reaching back to grab stuff.
NDP: That's just such a classic story. You guys just signed him and you're like, "Alright, pick any restaurant in town that you want to go to. What's the best place?" He could've gone to the wildest and fanciest place, and he says, "I want to go to Chick-Fil-A."
LC: It was great! [laughs] It was so dope. You're never going to get that moment again with an athlete. Imagine going back with Michael Jordan or LeBron, and you say, "Take me to all the spots that are really important to you growing up." You're never going to get that opportunity back. So with me being who I am as an Asian guy, I always have my camera with me, and I'm taking way too many photos. [laughs] People were like, "What are you doing?" But literally, I came out of that trip with thousands of photos. That's what I do, because a lot of times, your memory may slip, but I had all this stuff on my computer somewhere, and there are little details that might not always come back. You never know when you're going to use them necessarily, and you may not use them right away. But I dug back in there, found that doormat picture and it was perfect. It's one of those funny ones where he probably saw it and might not have even remembered. People might not really pay attention to their doormat, but yet it welcomes you every day. You walk out over it every day. It's something that he's probably stepped on thousands and thousands of times, and it meets and greets him every day that he's going into the gym.
NDP: There's also this bright orange one?
LC: Yeah, and this orange one – we're calling it "NYC66" -- is based off of his summer two years ago, when he had 66 points at Rucker and he had an amazing game at Dyckman. We were paying homage to that summer that he spent playing in New York, and in general, it pays homage to how he put himself on the map.
NDP: Do you know how many games he played in? It seems like he played in pretty much every game.
LC: Every one. [laughs] And then he was playing football and he was also practicing and working out too. He had this real cool quote that he told us about that. "During the summer, I don't have to play anywhere. So I play everywhere." I loved that.
The Nike Zoom KD VI is now available at Nike.com