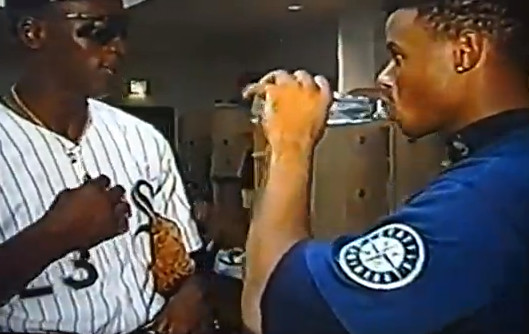 words // Luis Sanchez
It's been almost 20 years since MJ unexpectedly left the hardwood for America's great pastime. And with the 2013 All-Star taking place tonight, we take a look back at one of the most memorable, yet still somewhat forgotten moments of MJ's baseball days.
Hanging out at the '93 MLB All-Star Game just months before announcing his retirement from the NBA, Michael was like a kid in a candy store among some of the games biggest names such as Cal Ripken Jr, Ivan "Pudge" Rodriguez, and of course, Ken Griffey Jr. Making the most of the historic moment, MJ cut Griffey Jr's media availability short and went straight to "The Kid" for an autograph. Not leaving Griffey Jr. empty handed, Jordan then took his #23 White Sox jersey right off his back, signed it, and let Ken keep the one of a kind memento.
Get a look at the classic exchange between MJ and "The Kid" in the video below.