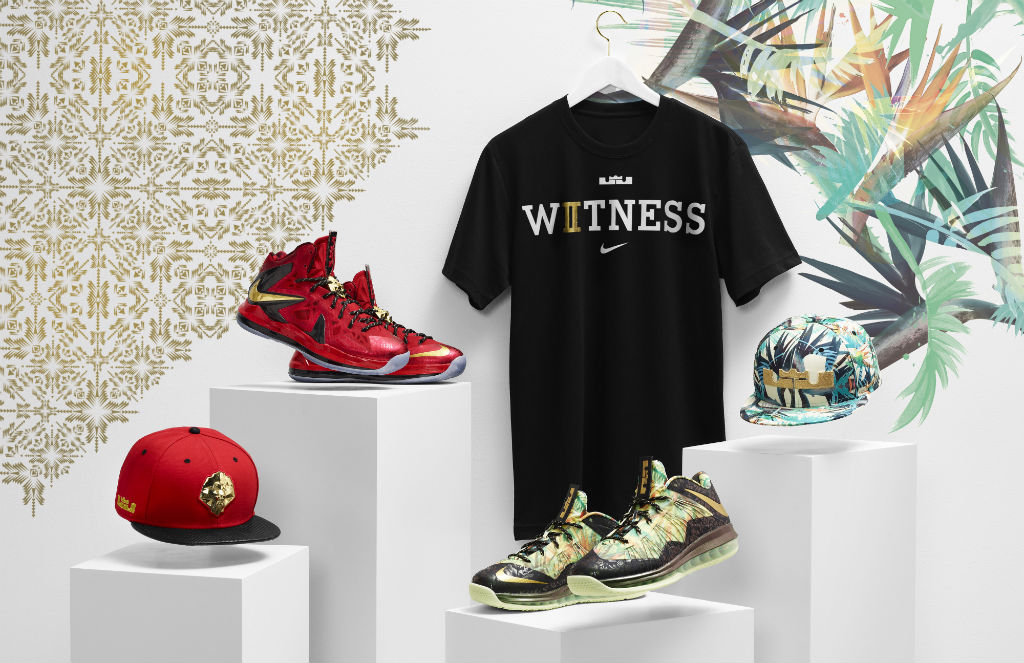 words // Brandon Richard
via Press Release
Nike Basketball pays tribute to James's leadership and perseverance with a limited-edition championship pack, including, the LeBron X PS Elite, the LeBron X Low, two hats and a t-shirt.
Worn by James in the 2013 Finals, the LeBron X PS Elite has a red upper skin with a gloss geometric palm-leaf graphic inspired by Miami's signature Art Deco architecture and native plant life. The shoes sock-liners are imprinted with "2-time champion" on the left and the seasons "11-12, 12-13" on the right.

The LeBron X Low sports an upper skin with a unique floral palm splatter print showcasing birds of paradise and palm trees. The upper is finished with a black matte skin with gloss chromaflair palm print graphic from toe to midsole and a glow-in-the-dark outsole. It also has imprinted "2-time champion" and "11-12, 12-13" sock-liners to celebrate James's championship.

Both shoes and hats will be sold in a pack and will be available in very limited quantities in North America and China. The championship "Witness 2" T-shirt is available to pre-order on nike.com and will hit stores globally early next week.