words // Zack Schlemmer
The 2013 NBA Finals concluded last night, with the Miami Heat winning their second straight championship after defeating the San Antonio Spurs in an epic seven game series. Unfortunately, the end of the NBA season also means the end of the weekly Nike Basketball NBA Sneaker Watch, where we take a look each week at the best on-court Nike footwear. Before signing off until next season, we have a comprehensive look at all Nike basketball footwear worn in this year's Finals.
LeBron James took home another Championship and Finals MVP trophy each, and if we had a Nike Basketball Sneaker Watch trophy, he would certainly have won that as well. LeBron broke out Finals PE editions of his LeBron X Elite in red/gold for home games and black/gold for away games, which most will agree are both incredibly nice looks for the shoe.
Elsewhere on the Heat, Chris Bosh sported gold-accented Finals editions of his Air Max Hyperposite PE, "Birdman" Chris Andersen wore various colorways of the LeBron X, and Norris Cole also broke out special Finals editions of the Hyperdunk 2012 Low and Zoom Hyperdisruptor.
The San Antonio Spurs were significantly less flashy with their Nike Basketball selections, with no players rocking special Finals editions of their shoes except Tiago Splitter who sported a black and gold Hyperdunk 2012. New Finals 3-point record holder Danny Green stuck with the Zoom Soldier 6 that he wore most of the season, along with Manu Ginobili who continued wearing the LeBron X. Kawhi Leonard kept the retro-look alive through the Finals wearing the Air Force Max 2013.
Check out all of the Nike Basketball footwear worn in the Finals in a game-by-game breakdown, and let us know which were your favorite pairs of the seven game series.
Game 1
Chris Andersen -- LeBron X iD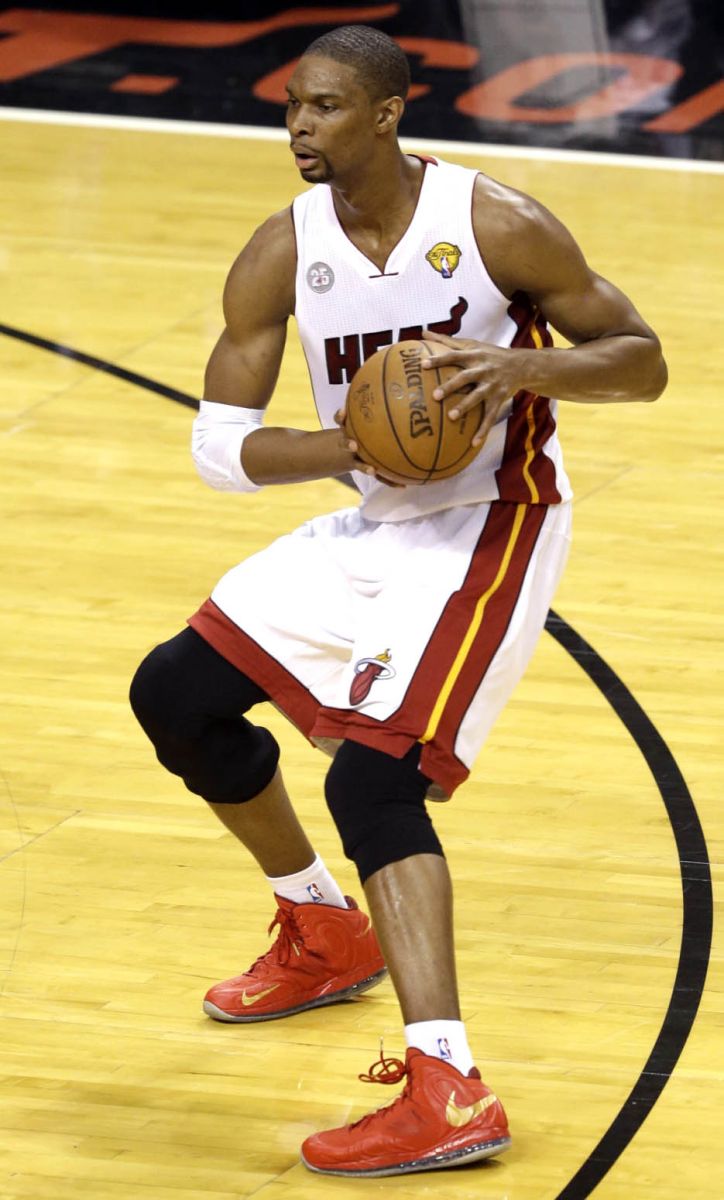 Chris Bosh -- Air Max Hyperposite PE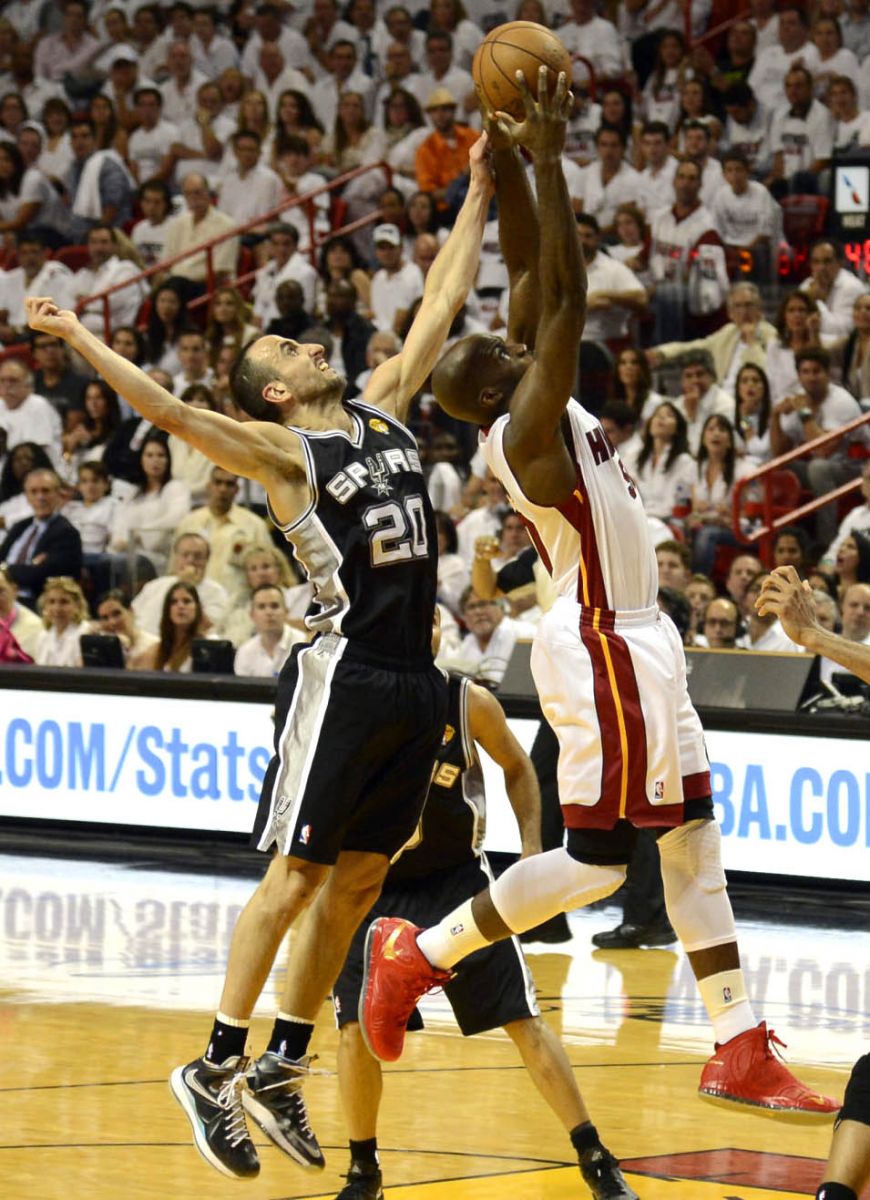 Manu Ginobili -- LeBron X // Joel Anthony -- Chris Bosh Air Max Hyperposite PE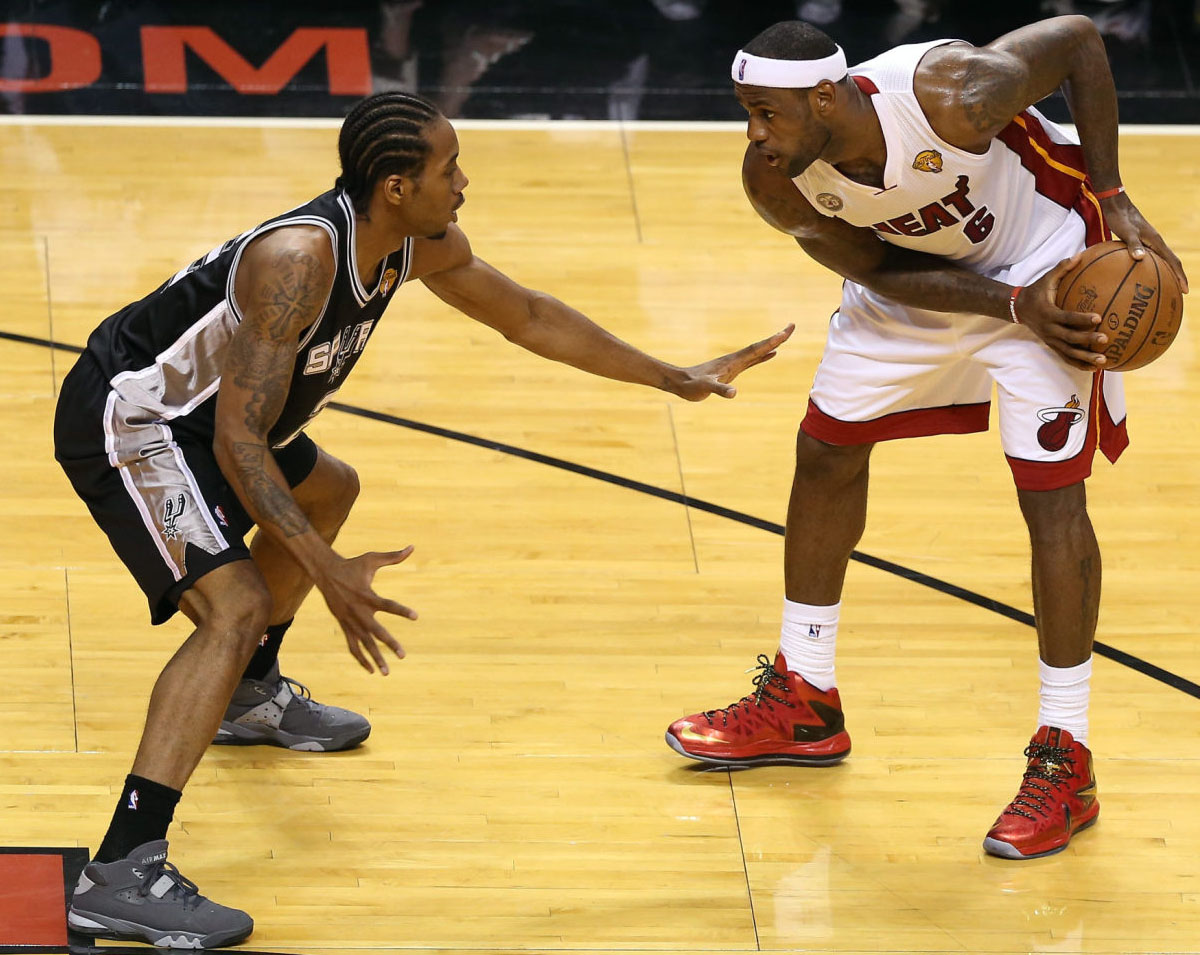 Kawhi Leonard -- Air Force Max 2013 // LeBron James -- LeBron X P.S. Elite PE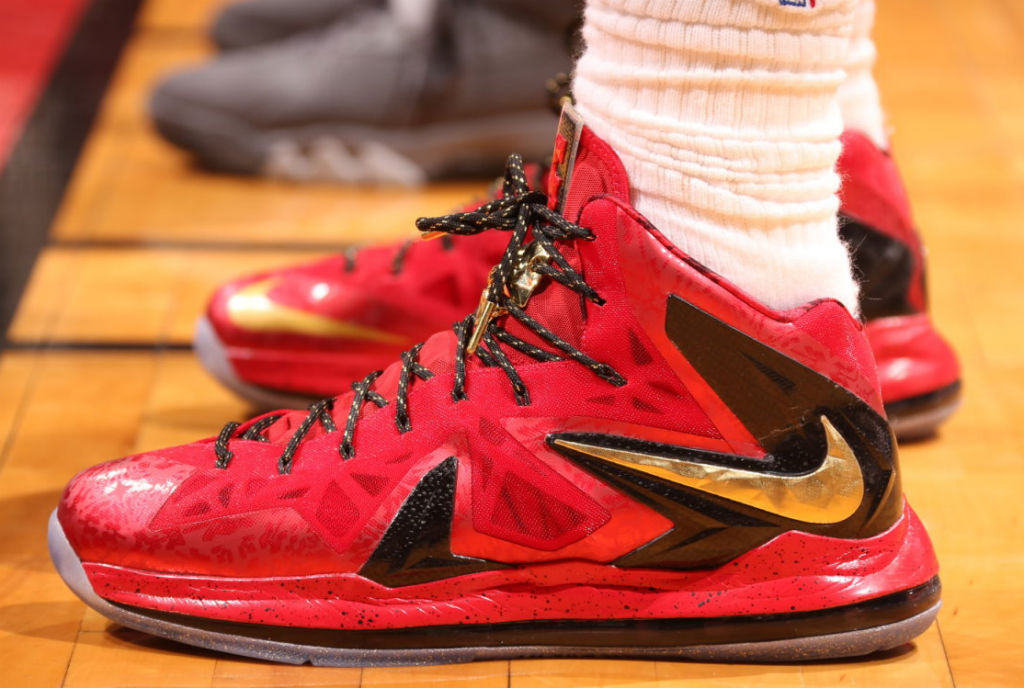 LeBron James -- LeBron X P.S. Elite PE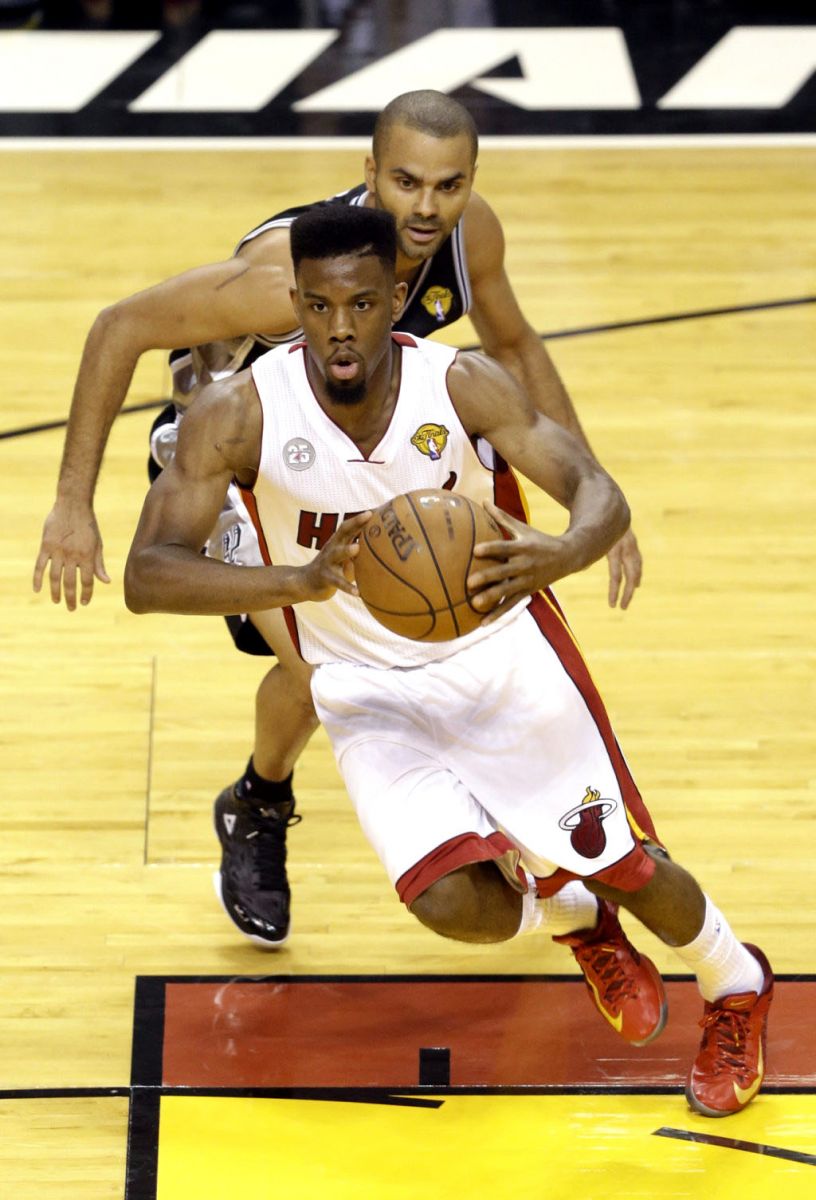 Norris Cole -- Hyperdunk 2012 Low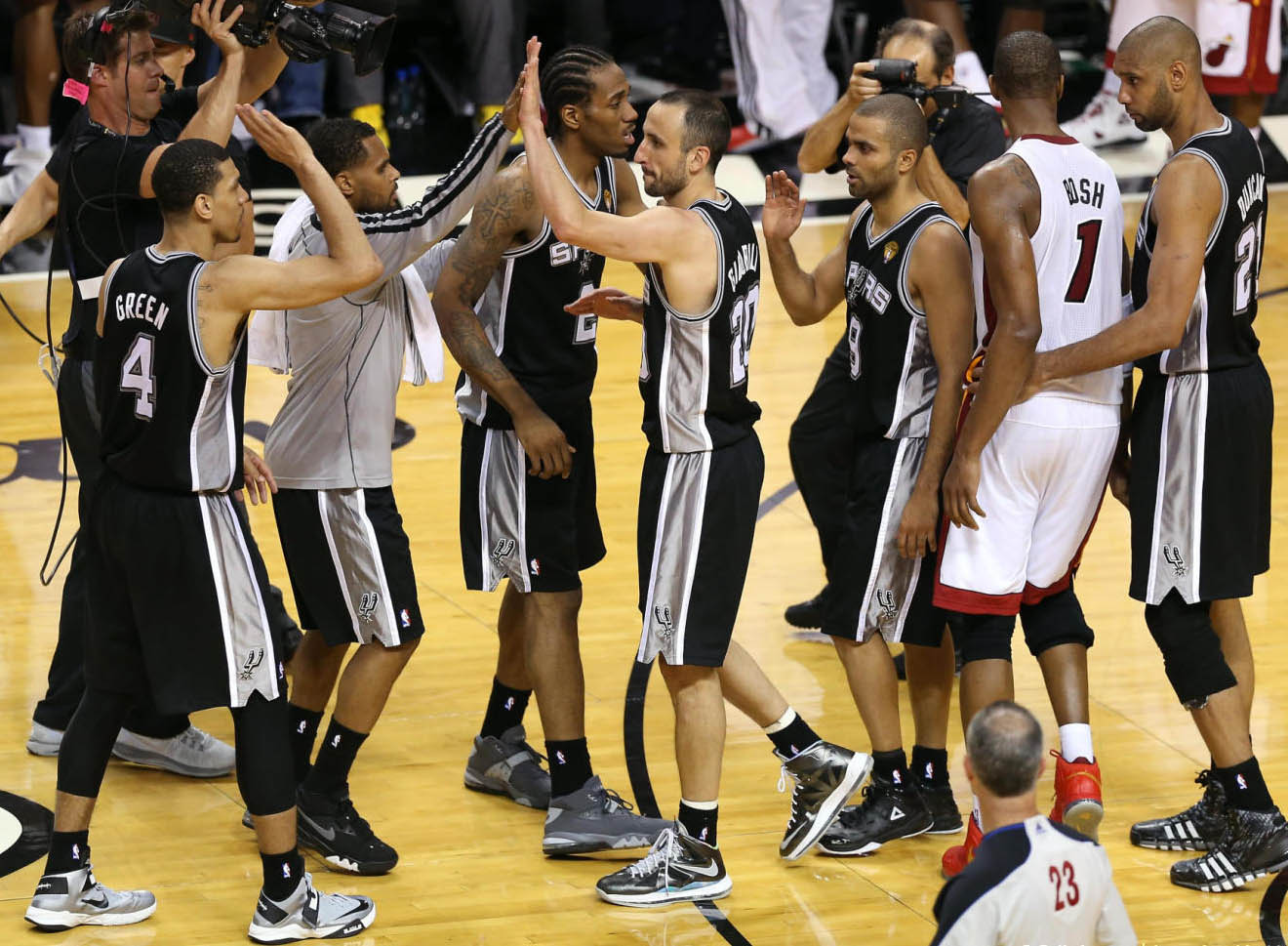 Danny Green -- Zoom Soldier 6 // Patty Mills & Kawhi Leonard -- Air Force Max 2013 // Manu Ginobili -- LeBron X
Game 2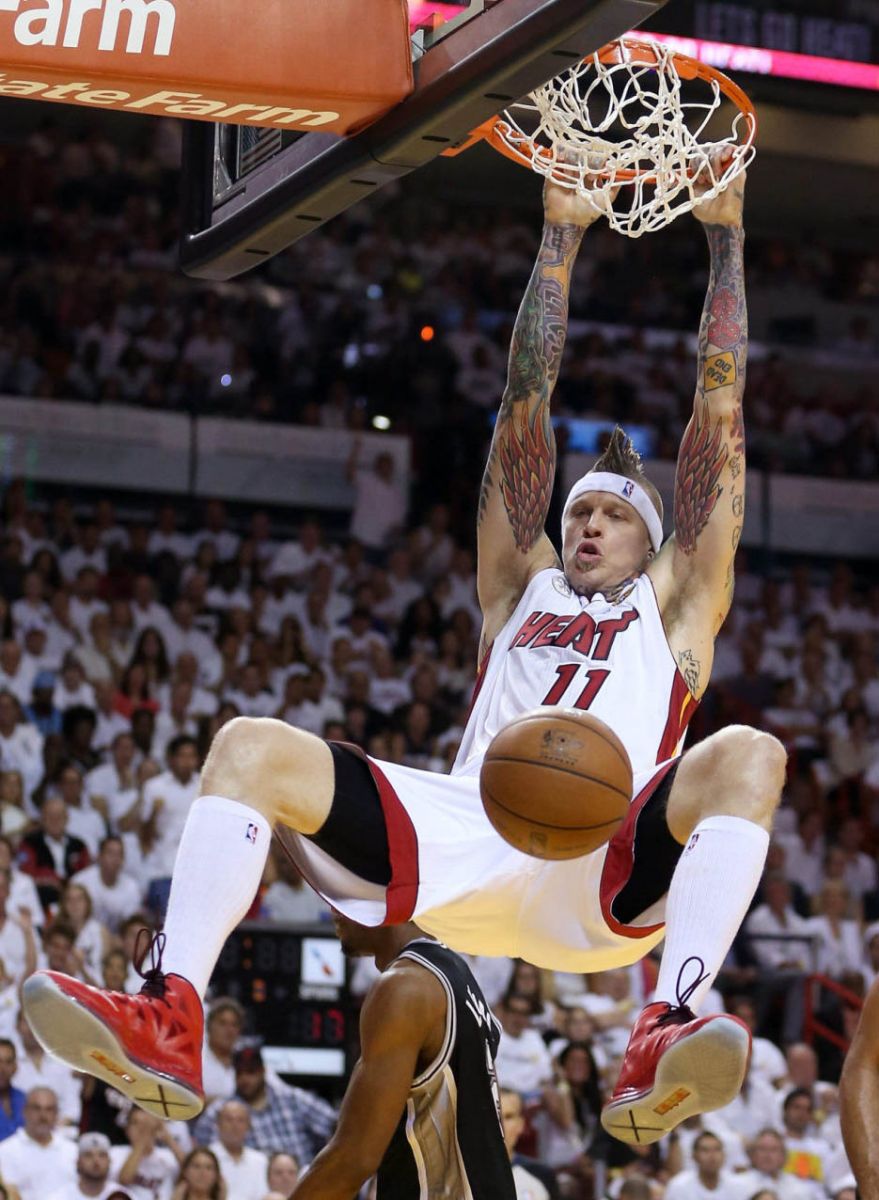 Chris Andersen -- LeBron X iD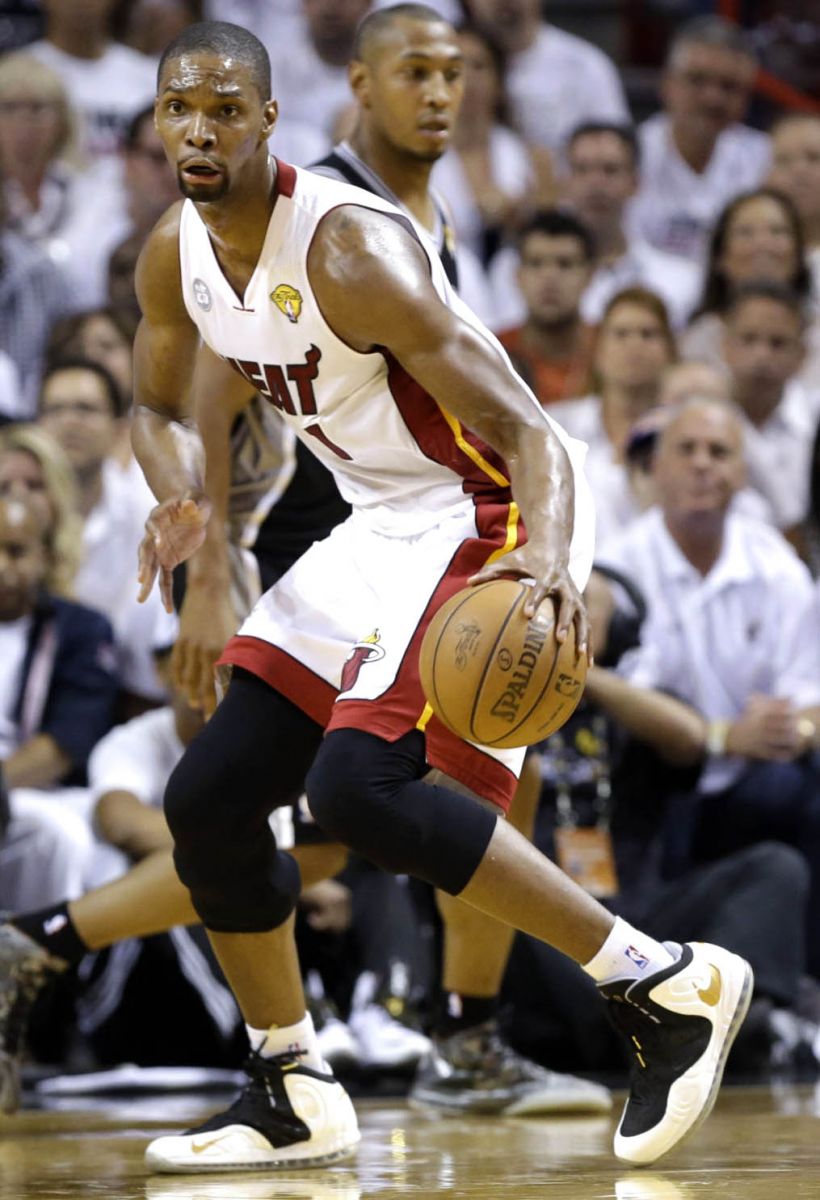 Chris Bosh -- Air Max Hypeposite PE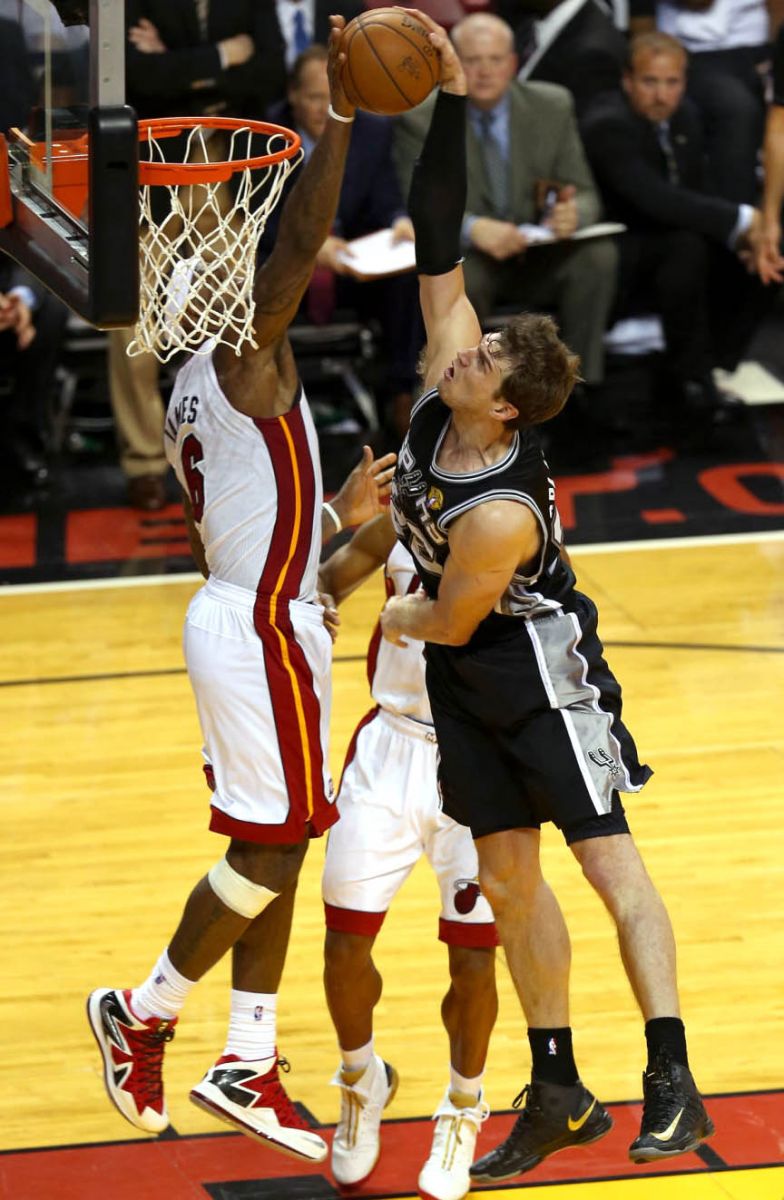 LeBron James -- LeBron X P.S. Elite // Tiago Splitter -- Hyperdunk 2012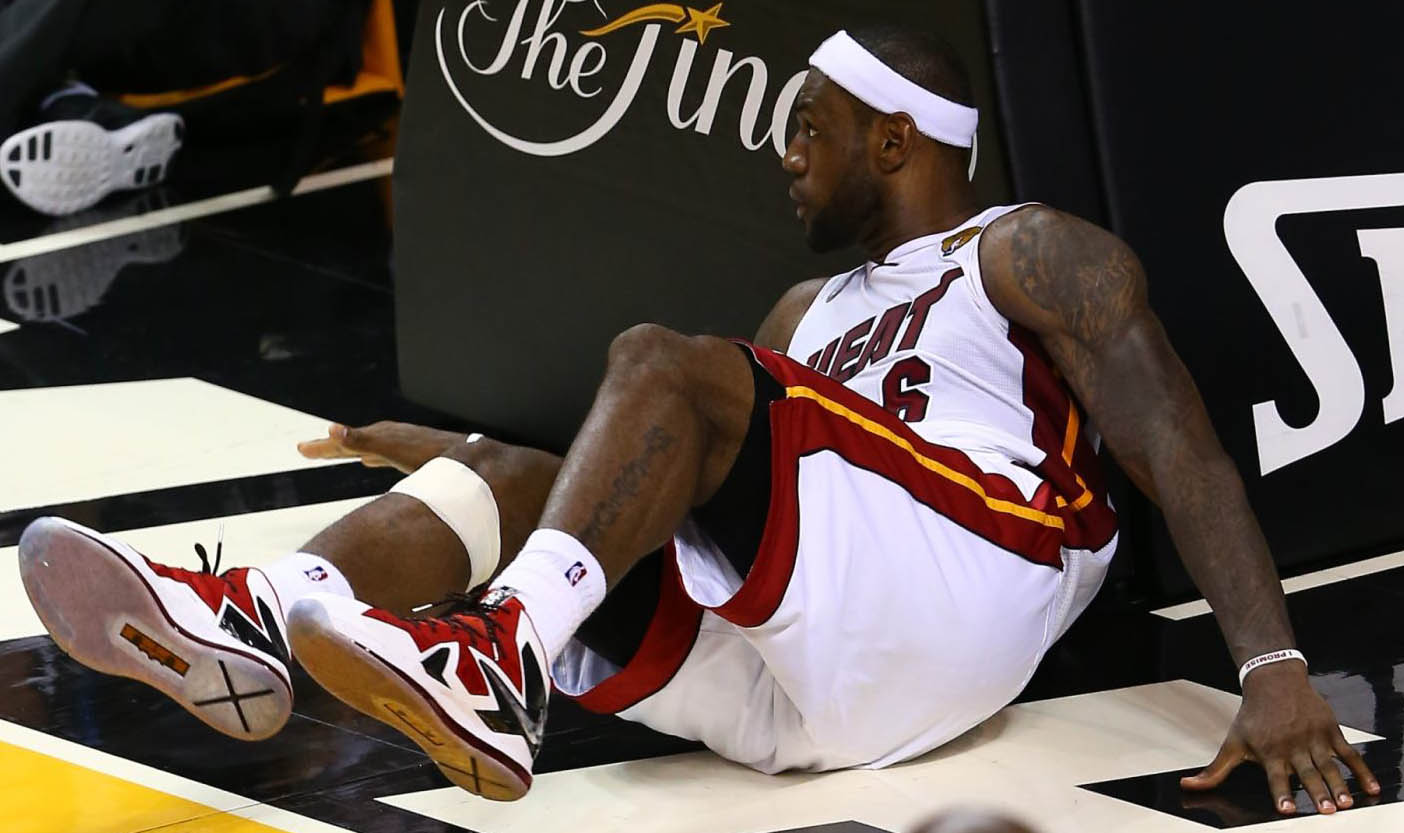 LeBron James -- LeBron X P.S. Elite PE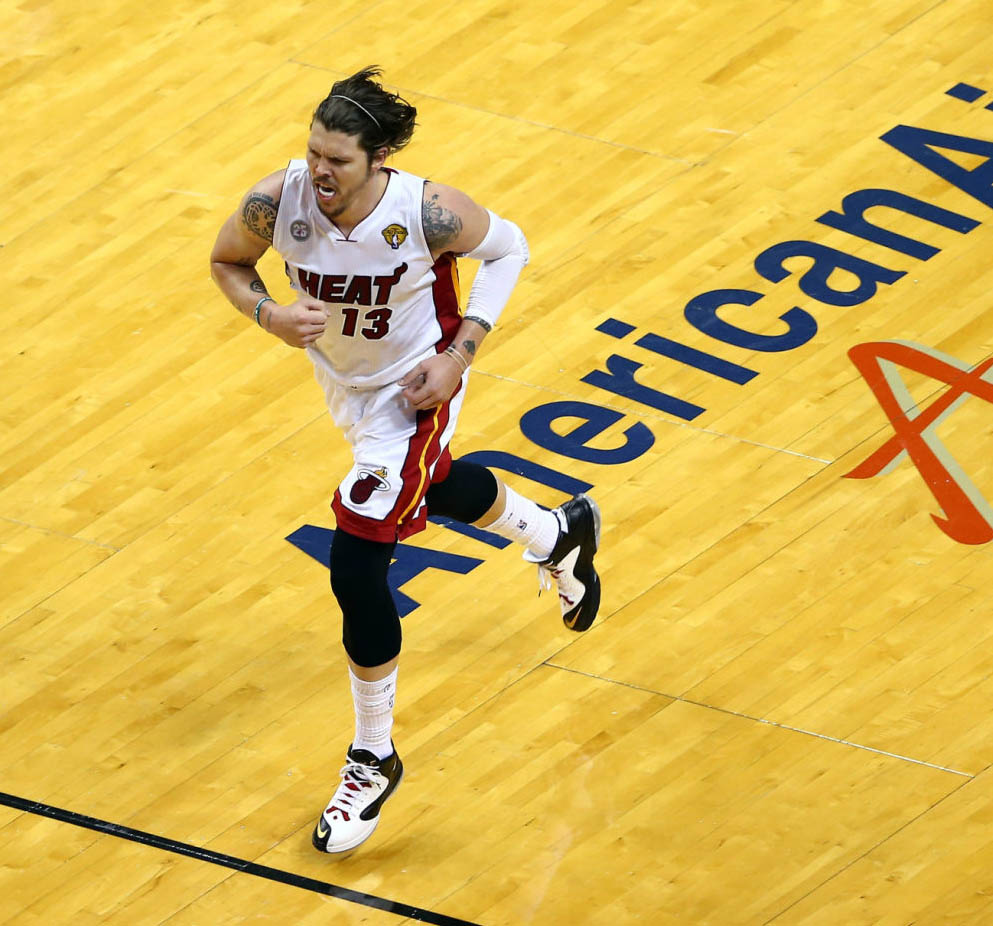 Mike Miller -- Air Max Ambassador V PE
Game 3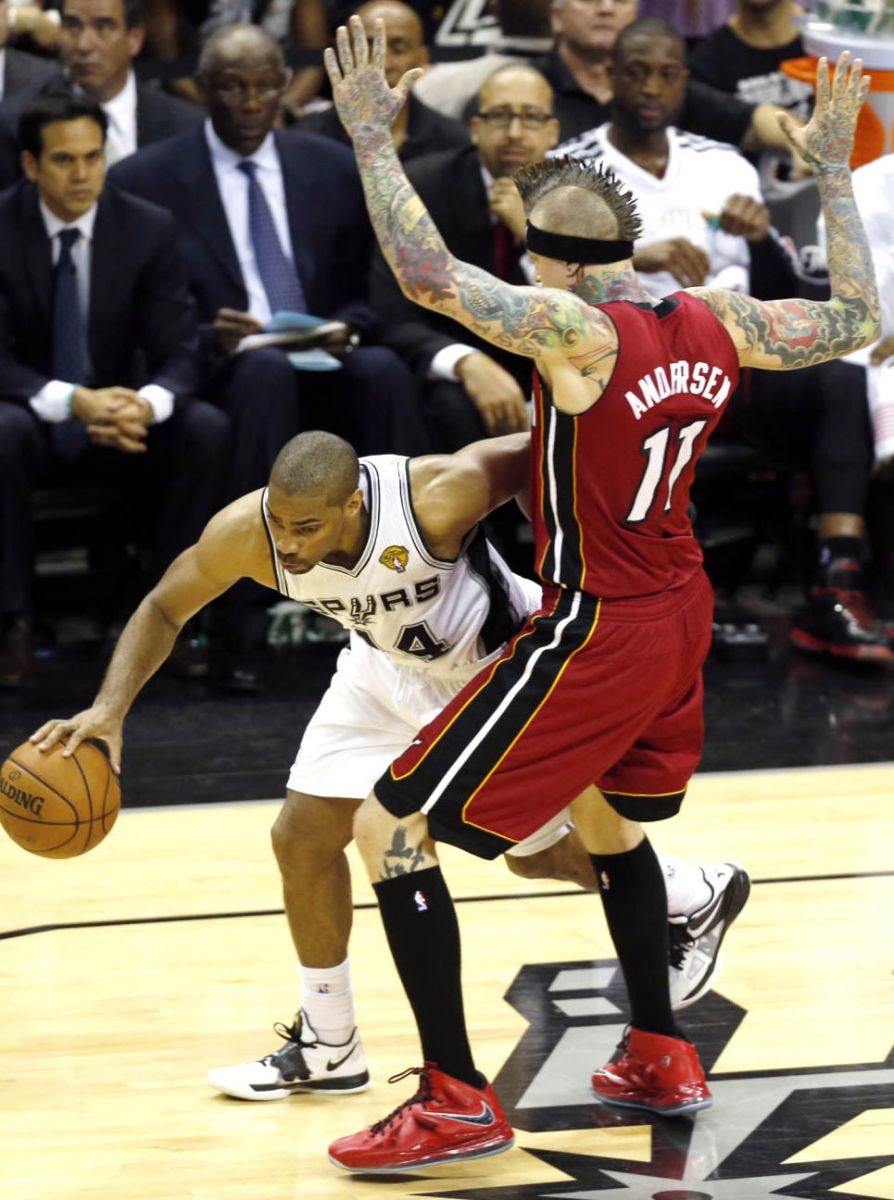 Chris Andersen -- LeBron X iD // Gary Neal -- Zoom KD IV iD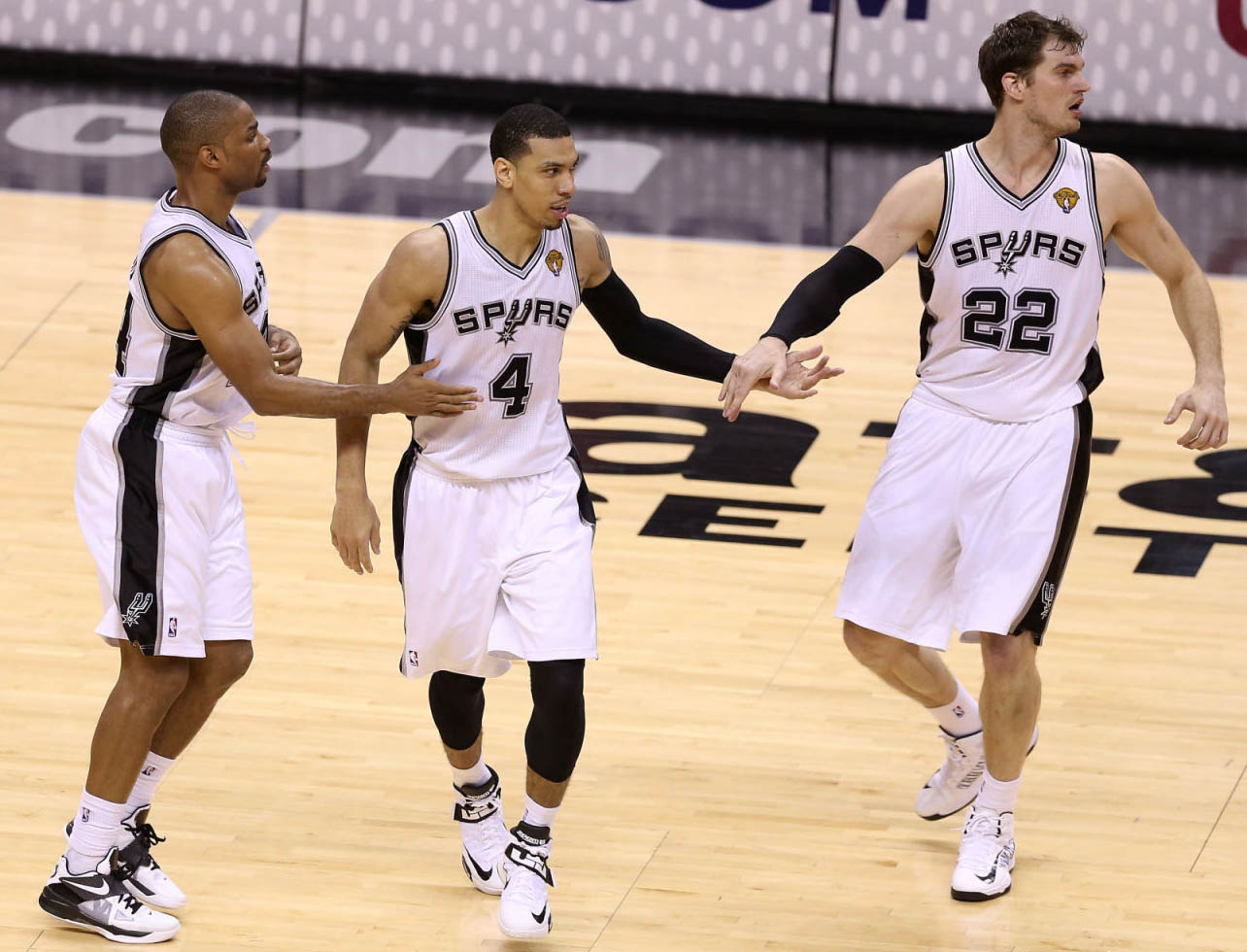 Gary Neal -- Zoom KD IV iD // Danny Green -- Zoom Soldier 6 // Tiago Splitter -- Hyperdunk 2012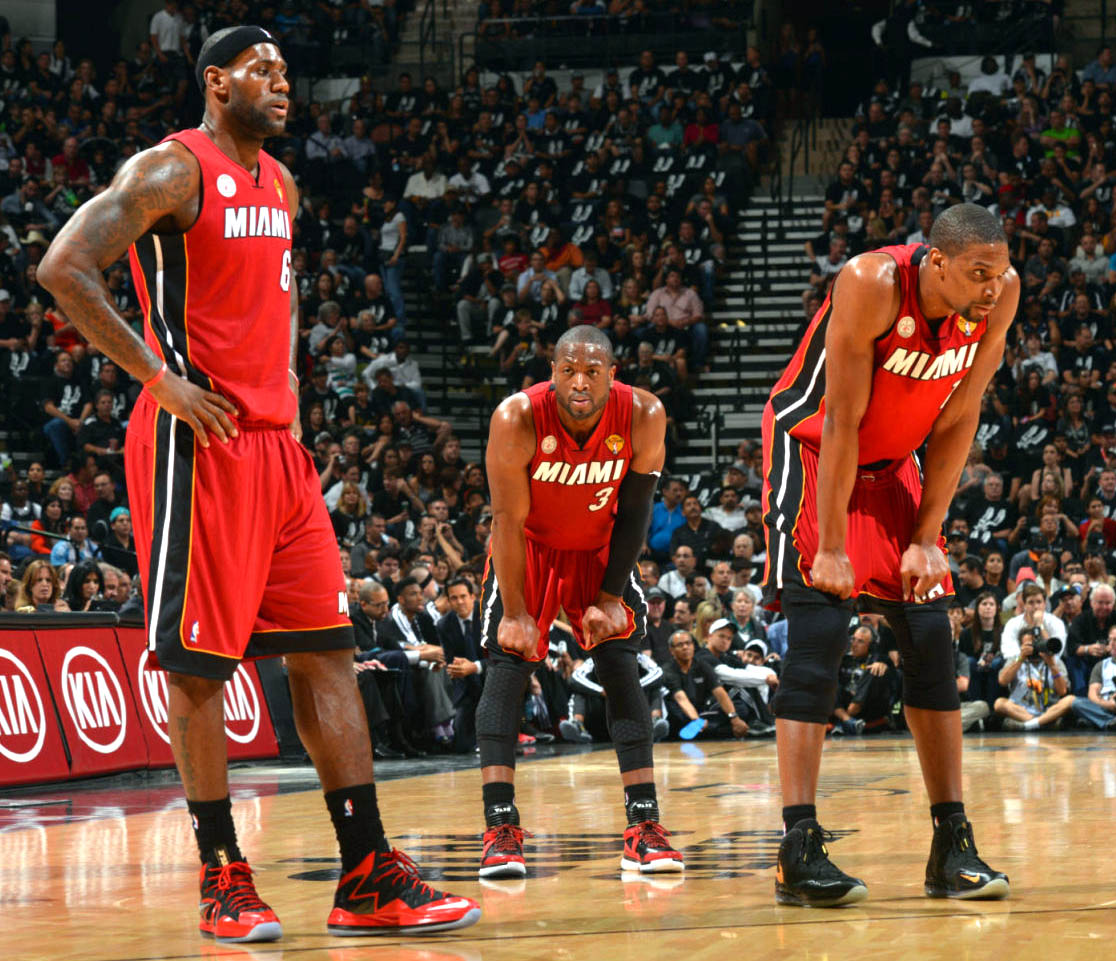 LeBron X P.S. Elite PE // Chris Bosh -- Air Max Hyperposite PE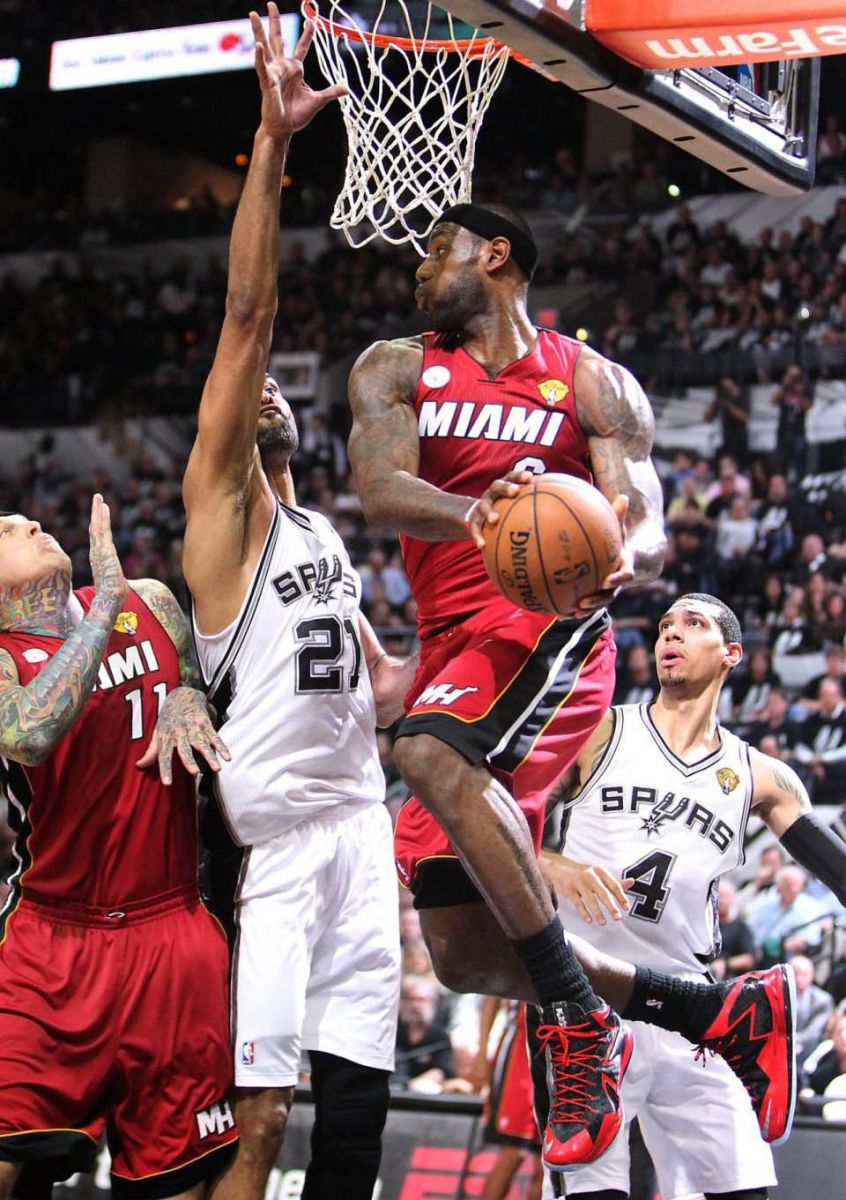 LeBron James -- LeBron X P.S. Elite PE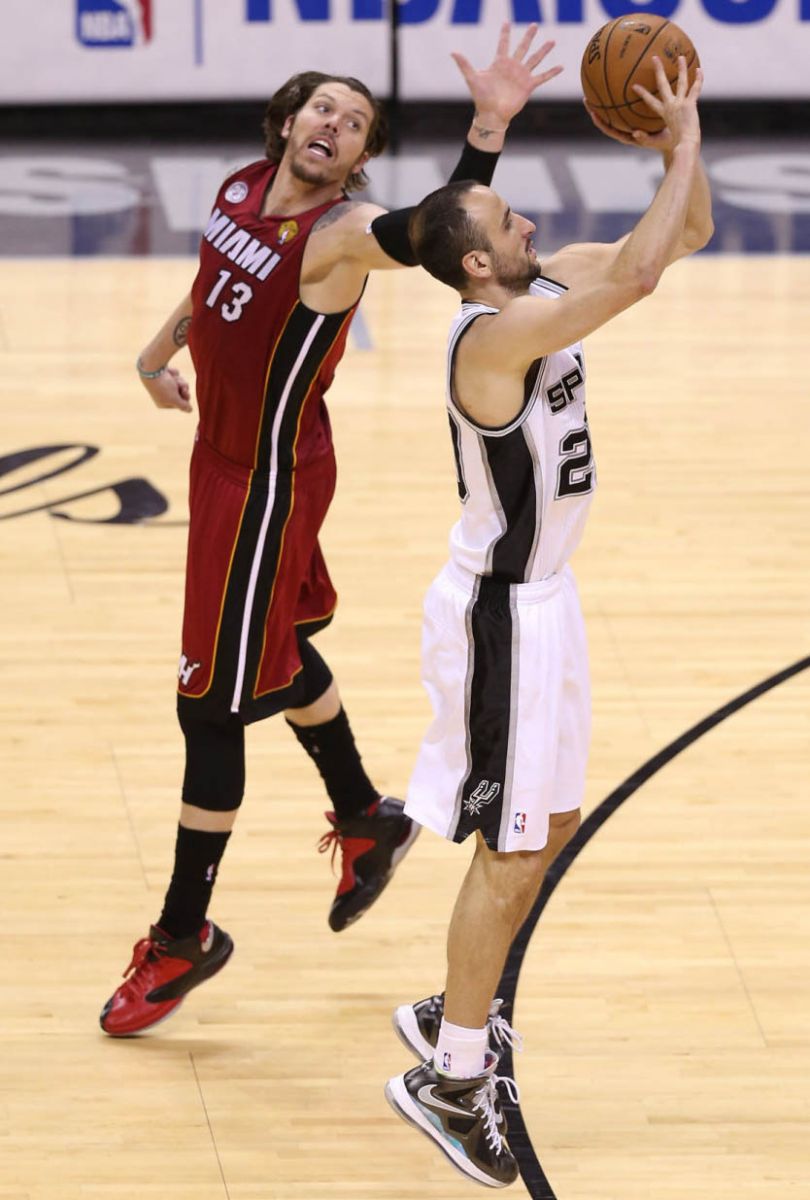 Mike Miller -- Air Max Ambassador V PE // Manu Ginobili -- LeBron X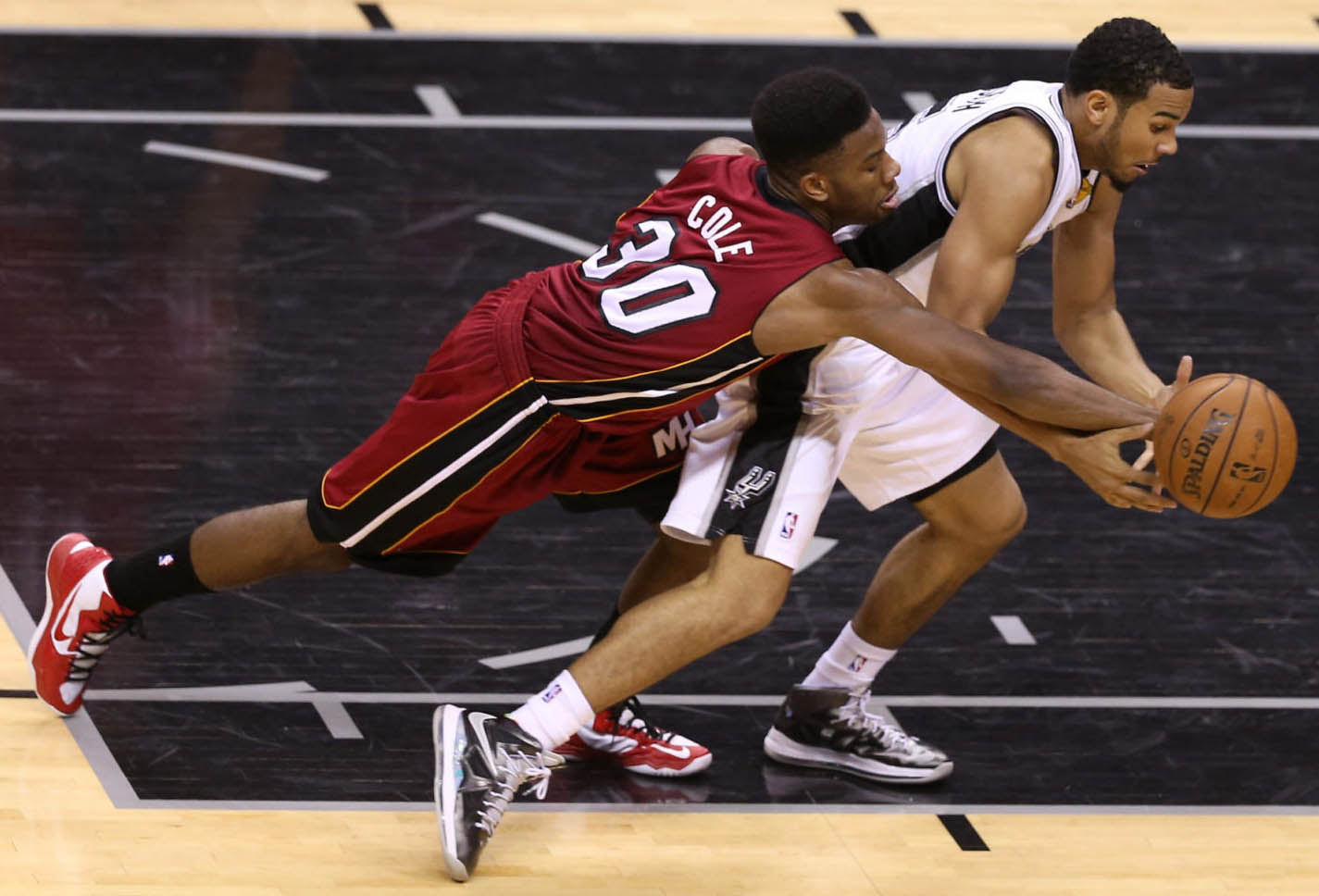 Norris Cole -- Zoom Hyperdisruptor // Cory Joseph -- LeBron X
Game 4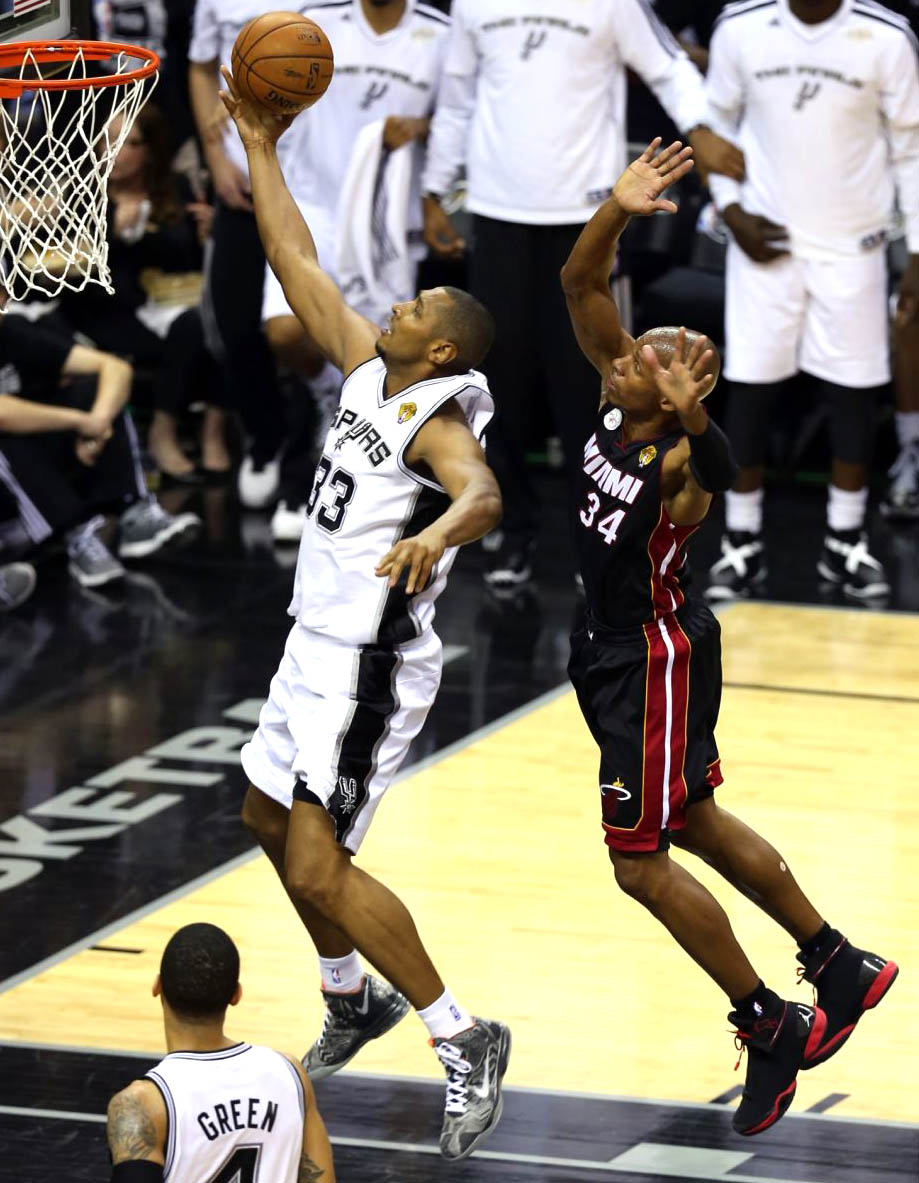 Boris Diaw -- Air Max Hyperaggressor BHM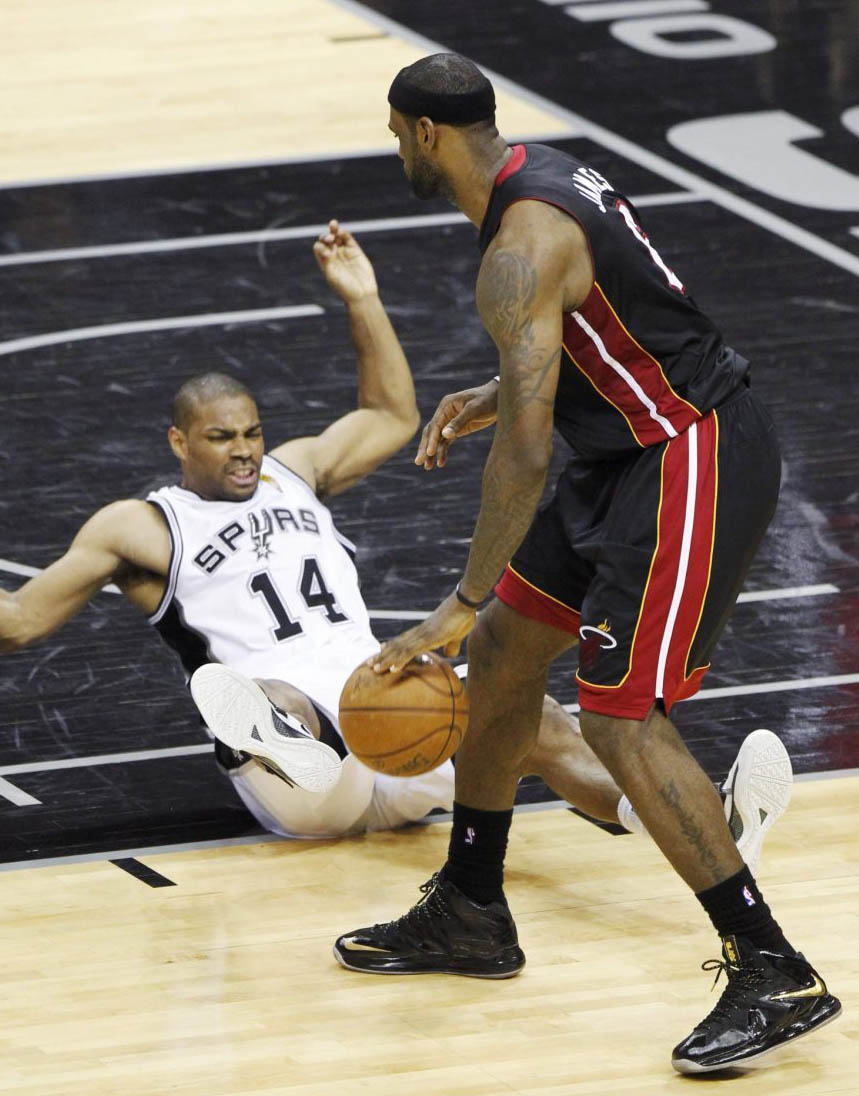 LeBron James -- LeBron X P.S. Elite PE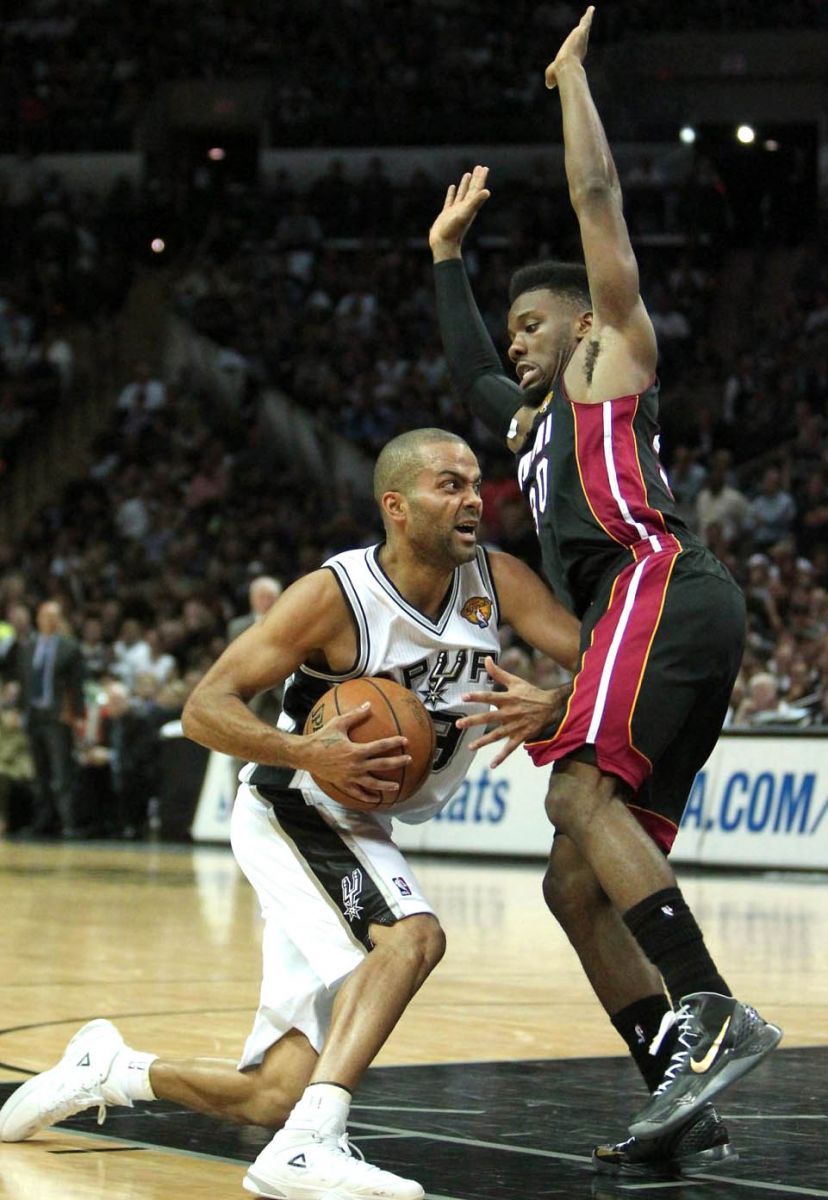 Norris Cole -- Zoom Hyperdisruptor
Game 5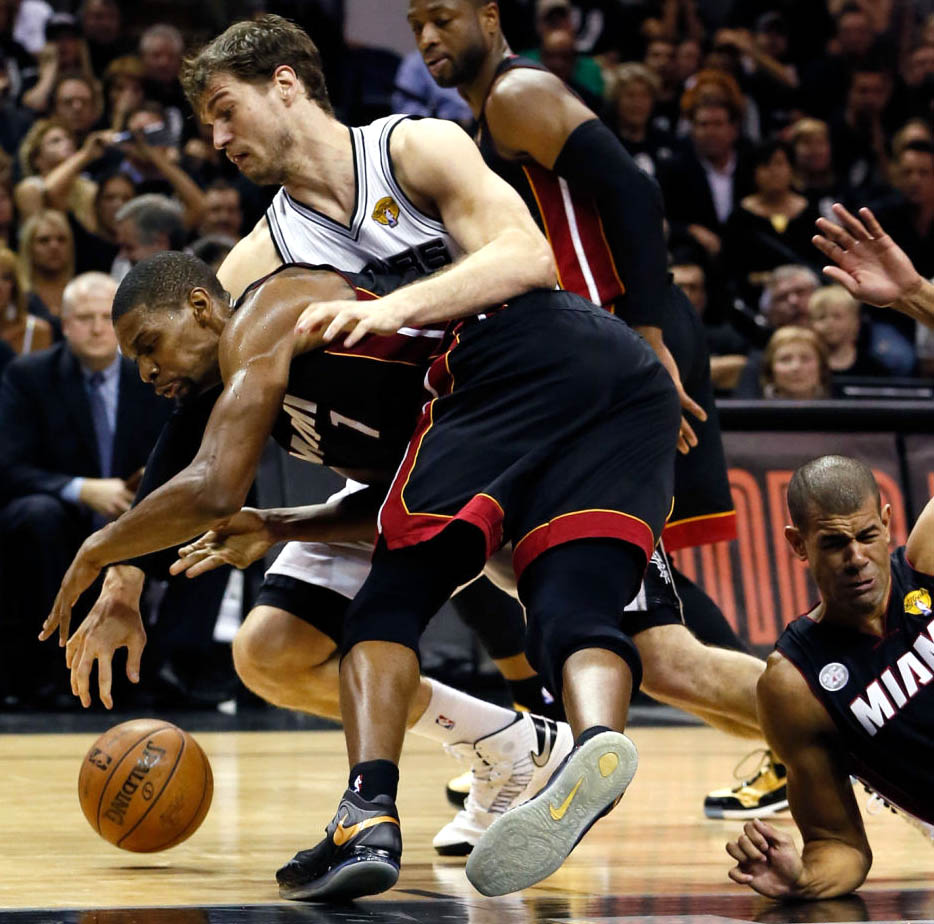 Chris Bosh -- Air Max Hyperposite PE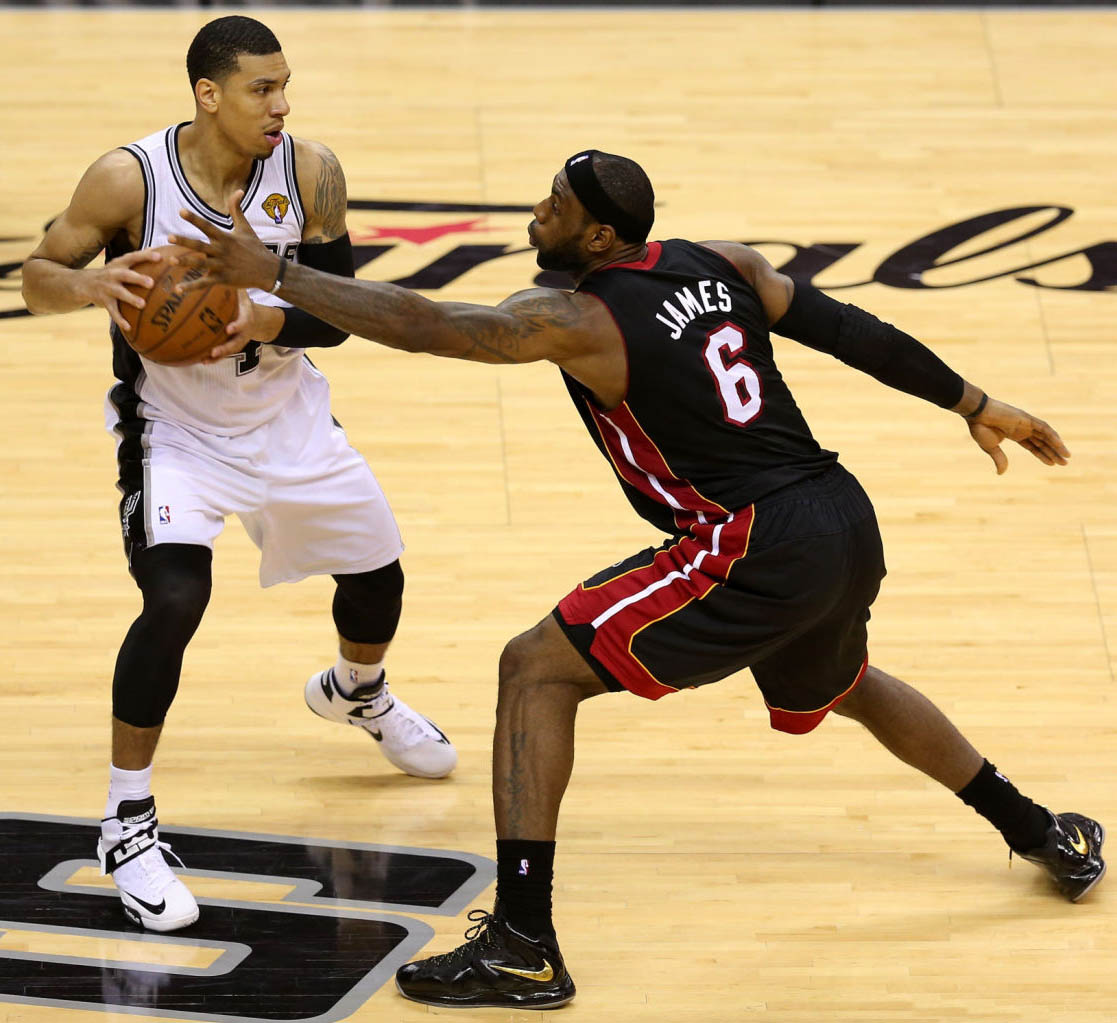 Danny Green -- Zoom Soldier 6 // LeBron X P.S. Elite PE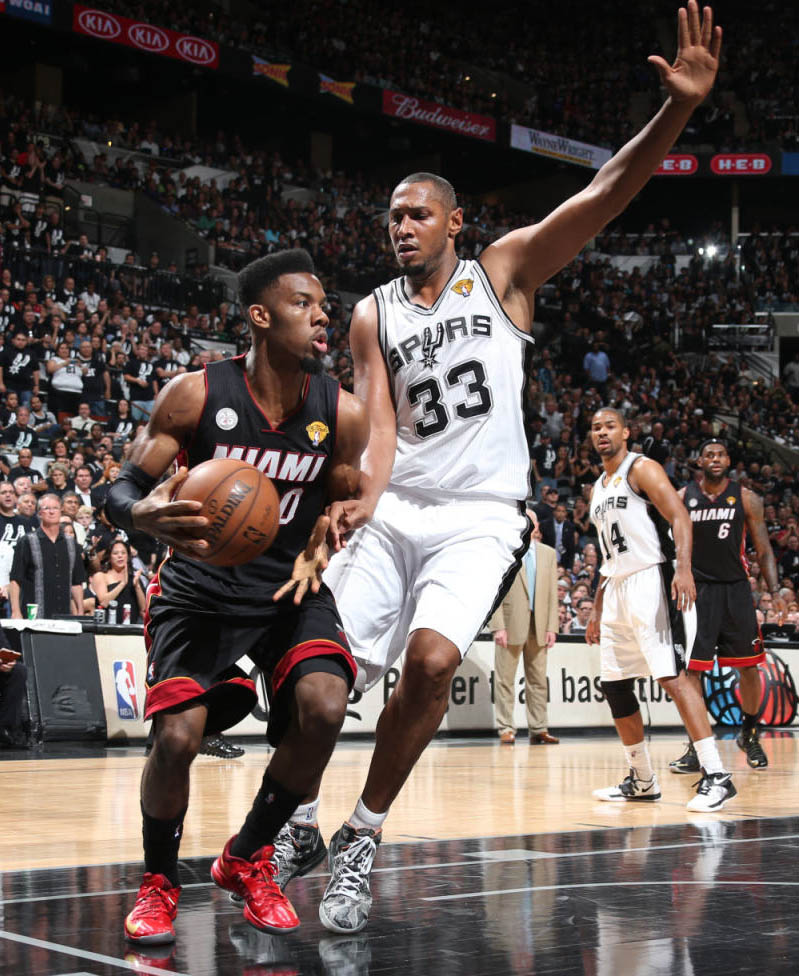 Norris Cole -- Hyperdunk 2012 Low // Boris Diaw -- Air Max Hyperaggressor BHM
Game 6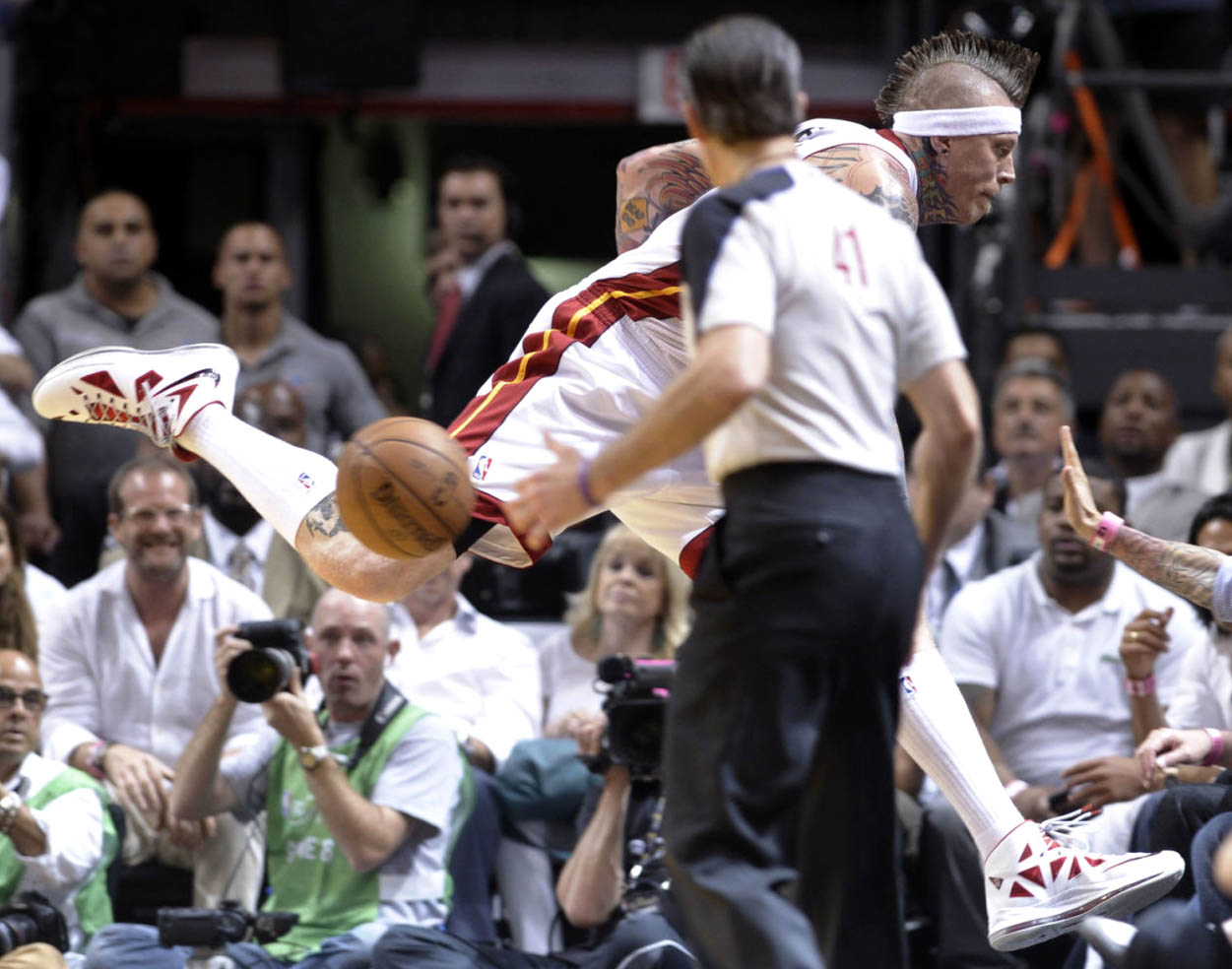 Chris Andersen -- LeBron X iD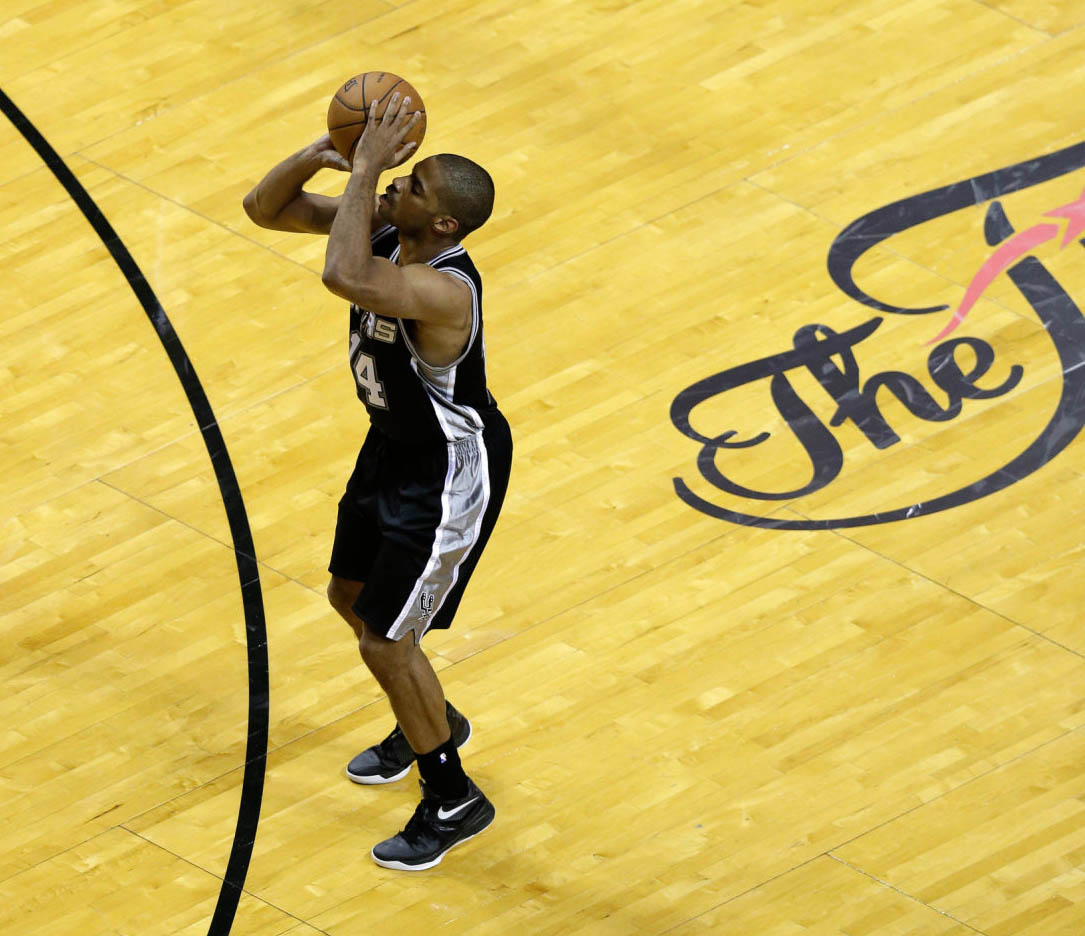 Gary Neal -- Zoom KD IV iD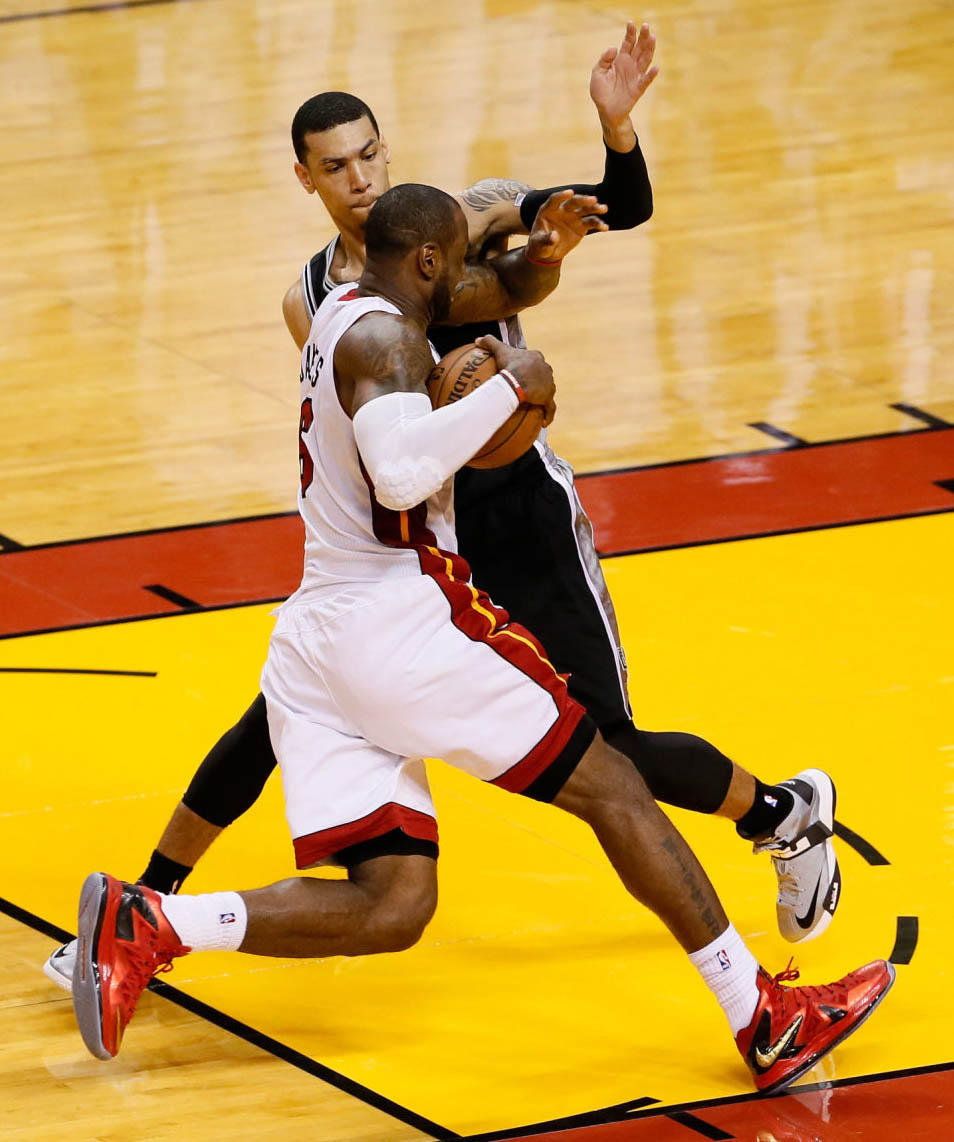 LeBron James -- LeBron X P.S. Elite PE
Game 7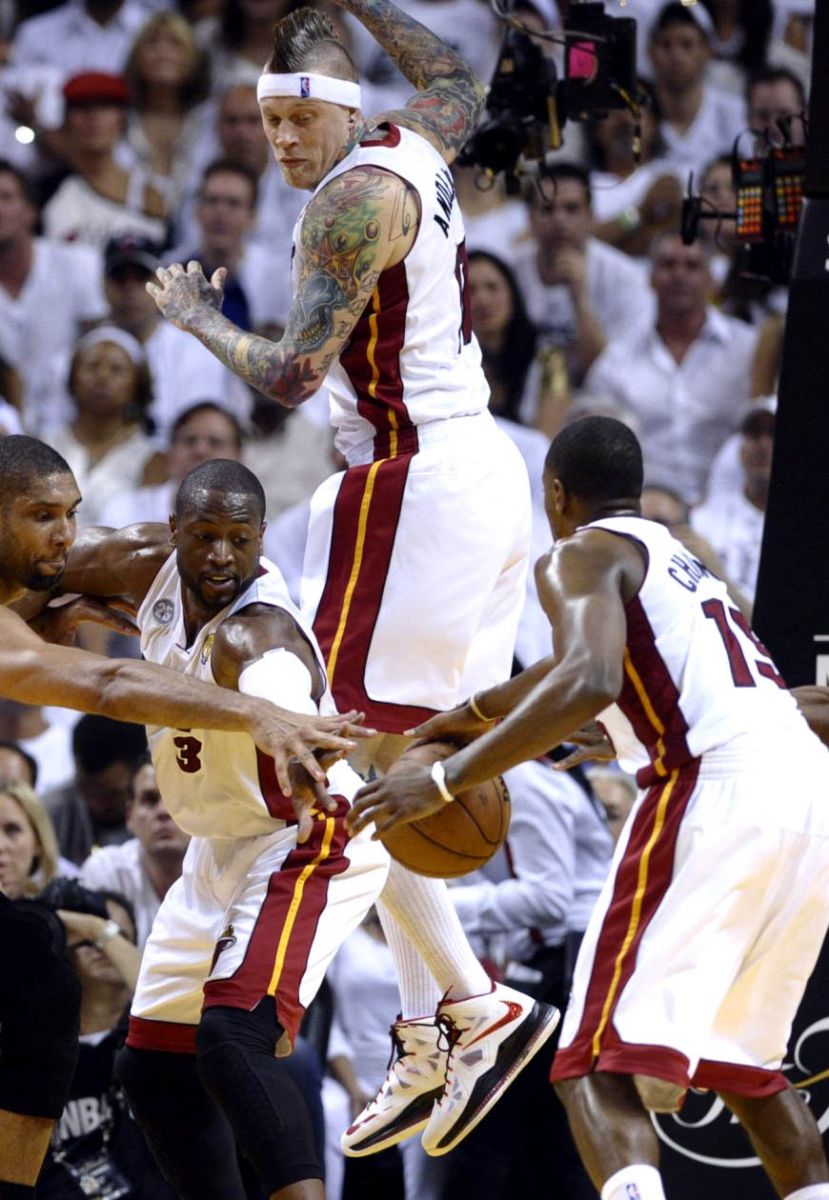 Chris Andersen -- LeBron X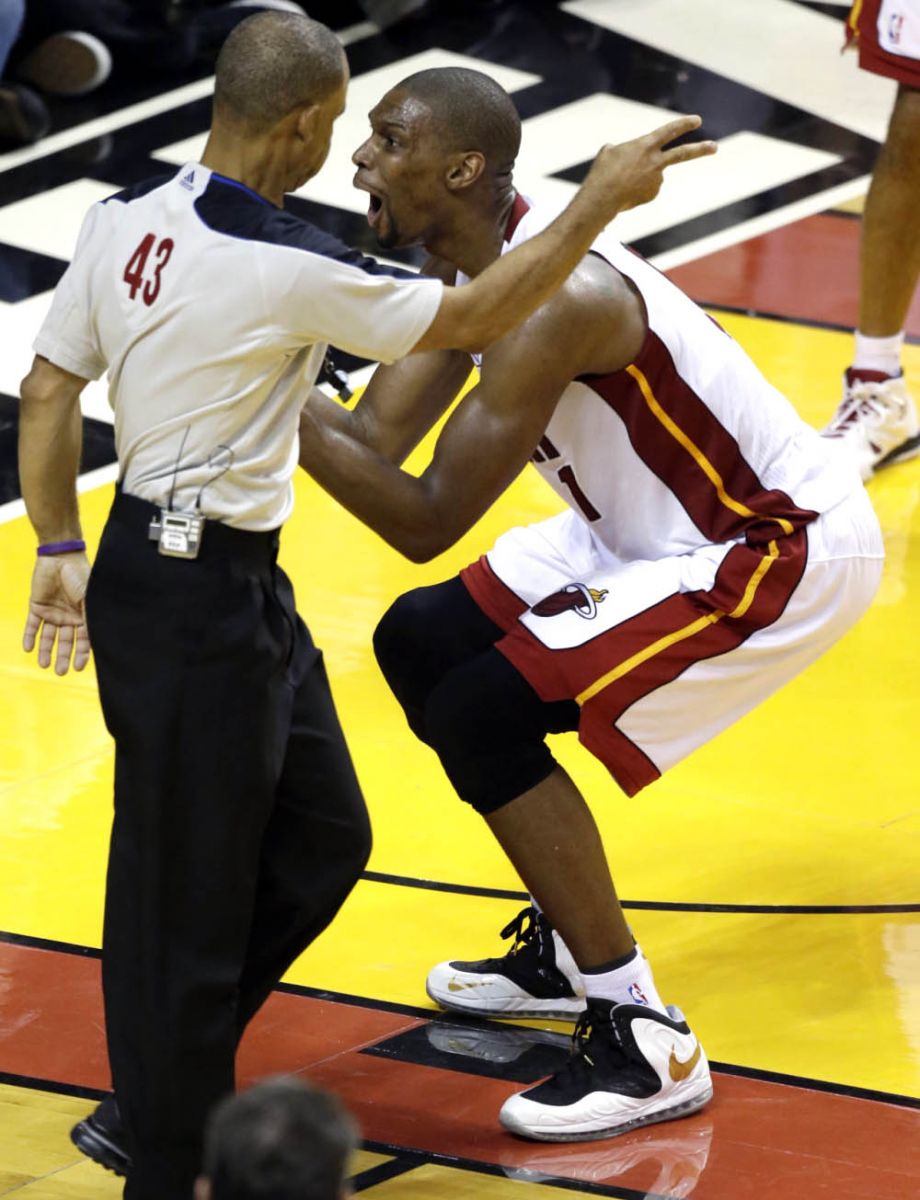 Chris Bosh -- Air Max Hyperposite PE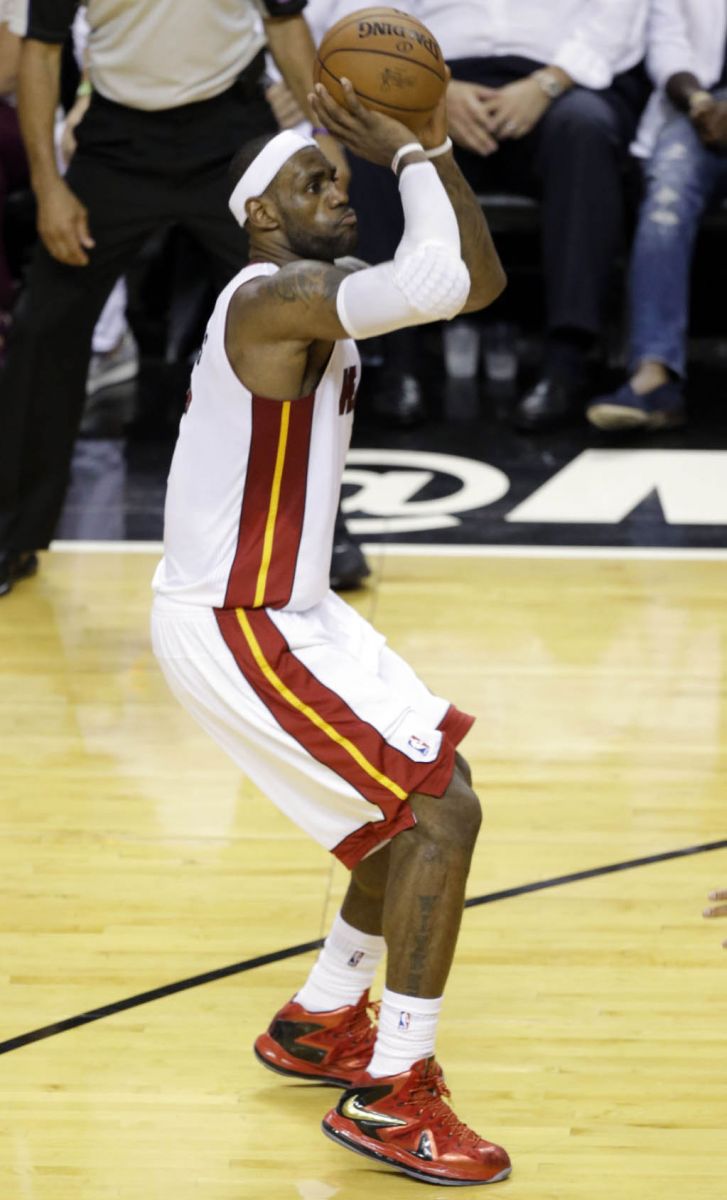 LeBron James -- LeBron X P.S. Elite PE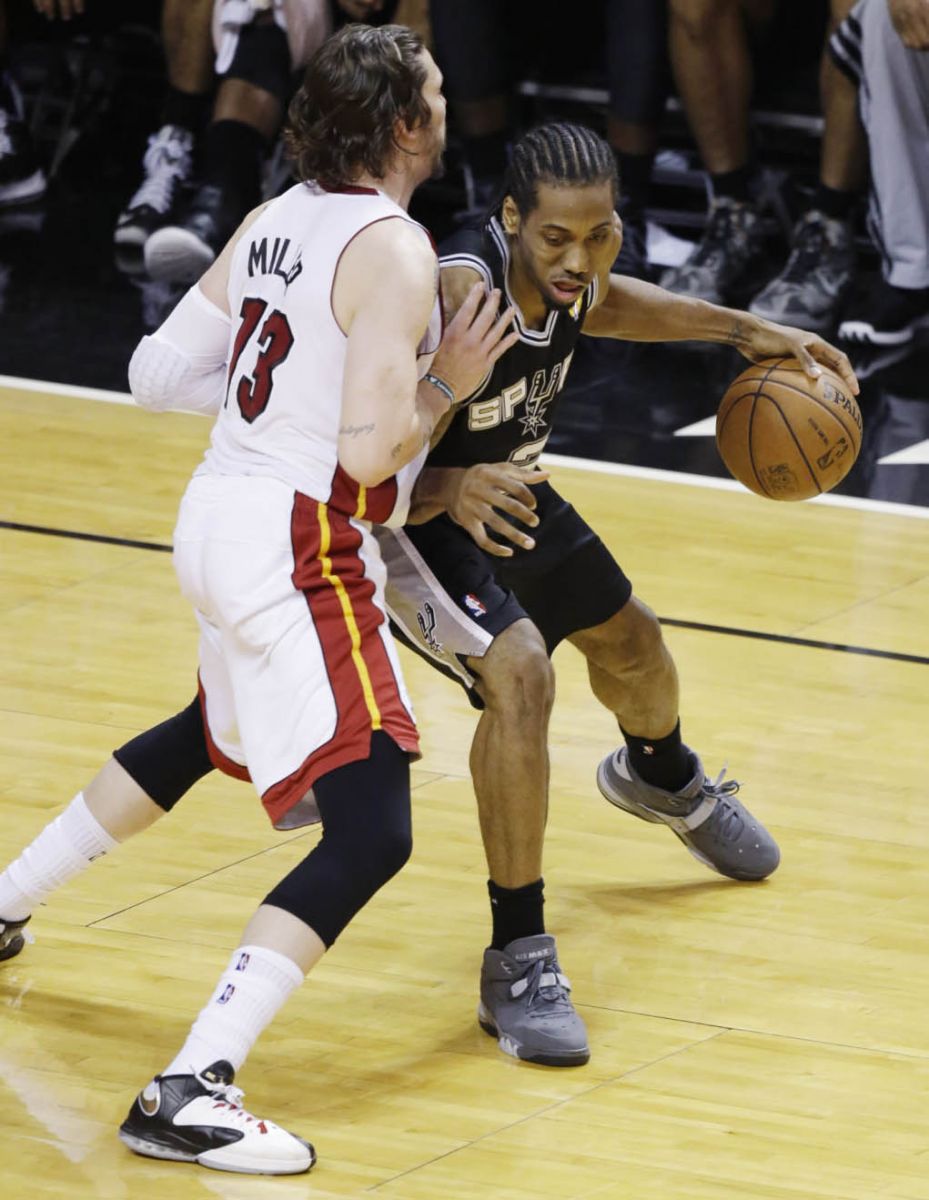 Mike Miller -- Air Max Ambassador V // Kawhi Leonard -- Air Force Max 2013