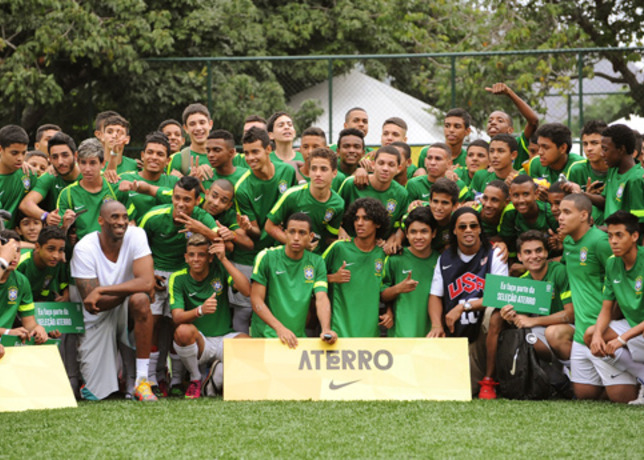 words // Brennan Hiro Williams
Although Kobe Bryant is still on the mend, his global influence is as strong as ever, as evidenced by his current visit to Brazil on the Nike-sponsored Black Mamba Tour. A diehard soccer fan, Kobe is has been enjoying the 2013 Confederations Cup alongside the likes of Neymar, Dani Alves, Mario Balotelli, Leandro Damiao, Ronaldo and Ronaldinho.
The Black Mamba Tour Sao Paulo, where Bryant and Damiao helped open the doors to Nike's new Arena Selecao store before venturing to Ibirapuera Park, where the Mamba oversaw a basketball clinic and dunk contest alongside Leandro Barbosa, Anderson Varejao and Oscar Schmidt.
The tour then continued in Salvador, where Bryant enjoyed the Brazil-Italy semifinal with Ronaldo, before moving on to Rio de Janeiro where Kobe and Ronaldinho enjoyed a visit to a youth soccer tournament at Aterro do Flamengo.
Check out pictures from Kobe's adventures below: