words // Nick DePaula
images // Nick DePaula & Jotham Porzio
as published in iPad Issue 18 : The Kicksology Issue
It's an understatement to say I couldn't believe my eyes when I saw the Charge BB for the first time. Quite a few things jumped out right away. Namely, who exactly was asking for this?
Under Armour has had some nice momentum going with their comfortable and soft CompFit sleeve, seen on baseball cleats, Cam Newton's great debut signature and last season's Juke, which we really liked. But this new approach seemed to be going after just the opposite benefit. CompFit was soft and conforming, offering added protection but also general comfort. The Charge BB's collar was seemingly firm, restrictive and, yeah, humongous as hell.
Part of me was confused that such a thing could even exist, because surely it couldn't have been born from any athlete insight. But I also couldn't help but think that if it looked the way it did, it had to have been perfectly tuned and executed for basketball then, right?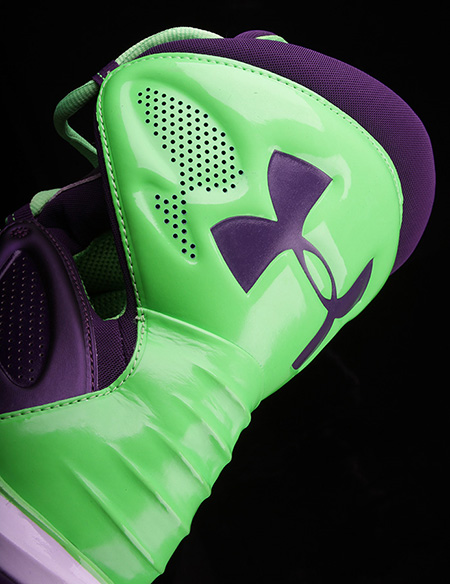 Wrong.
The shoe's collar was unfortunately every bit as stiff, restrictive and unnatural of a playing experience as you can probably imagine, and for that it was my least favorite shoe of the season. Not only is the collar height ridiculously tall – in an era defined by low-tops, no less – but the lacing system doesn't seem to be integrated efficiently along with it. There're four eyelets over the midfoot of the shoe, and then literally one eyelet that helps to pull and engulf the entire bulbous collar thing around your foot.
That made for not only a tricky lacing experience, but also a collar that moved around during play and dug in. Unlike some shoes that dig into your Achilles or lower heel, this shoe is so tall that you'll feel it digging in what seems like just below your calf. It's a really odd feeling while you're trying to focus on your game, is definitely distracting, and it should come as no surprise that no flagship Under Armour athlete wore them for a single game this season. Marquis Daniels wore them once for a pre-season shoot-around in October, and James Johnson wore them a couple times for spot minute stints with the Kings during the middle of the season.
When you get past the huge collar – which is tough, for sure – there's also the fact that the midfoot body of the shoe fits fairly sloppy, and without a traditional tongue, it's hard to really get snug at all. The entire shoe fits all over the place, and as you can imagine, the lockdown isn't remotely good. Luckily there aren't hot spots or points of irritation on the underside of the upper, but the general loose fit through the midfoot and forefoot, coupled with the collar's sheer bulk and uselessness, makes it pretty much impossible to recommend these.
The base of the shoe transitions well enough on its own, but when working in tandem with the collar, the shoe is basically fighting against itself during your run, which sucks. There also could be more of a pronounced outrigger, the midsole can roll a bit too easily, and I could've used a bit more traction surface area too. When it comes to grip, there are two herringbone pod insets along the outsole and that's it.
Not only are there basic silhouette and fit issues throughout, but the price of the shoe is also a deal breaker. At $130, it's the most expensive basketball shoe from Under Armour yet, and the brand makes infinitely better and more versatile shoes in the $90-$110 range. The Torch from last summer was a lace-and-go winner for just $90, with great cushioning, traction and feel. The Micro G Lite from two seasons ago was one of my favorite shoes in recent times. If you're a fan of the emerging brand's design language and great Micro G platform, definitely go grab a pair of those instead.
All in all, the Charge BB will go down simply as a huge swing and miss when it's all said and done. The damning collar was, I guess, an interesting support idea on paper, but the clunkiness and size of it was so flawed from a fit and demand standpoint that I'm still really surprised it made it all the way to retail. With that said, I just can't recommend it for any position or style of play, as there are so, so many better shoes available for much, much less.
GRADE BREAKDOWN //
designer: Ross Klein
best for: players looking for restrictive protection or wanting to stand out on court
colorway tested: Grey / Black / Red ("Maryland's Finest")
key tech: Micro G cushioning platform; TPU midfoot shank; humongous collar
pros: great cushioning platform
cons: collar is ridiculous and overly restrictive; midfoot fit is sloppy; shoe feels clunky; poor value for price
improvements: get rid of the collar as soon as possible; improve traction and fit
buying advice: Simply steer clear of the Charge BB. The cushioning platform is great, but you can find that in the UA Torch for $40 less. The Charge fits poorly and the collar is a defining flaw of the shoe.