words // Nick DePaula
images // Jotham Porzio & Nick DePaula
as published in iPad Issue 18 : The Kicksology Issue
I think it's fair to say I was disappointed in the KD V, yet still really liked it at the same time. That might be confusing, but keep in mind there's been quite a few moving parts in recent years with the signature Kevin Durant series. As KD has continually evolved his game year in and year out, Nike has subsequently elevated the pricing tier of the shoe, taking advantage of his growing profile and growing fanbase, and preparing for Durant to perhaps even take over the $130 slot as Kobe Bryant's career comes to a close.
That's just simple business, and there, in theory, isn't anything wrong with offering a signature shoe for $115, like the KD V is priced at. The problem is that at just $88, both the KD II and KD III without a doubt performed better than the last two higher priced signatures, and part of that disappointment I was alluding to earlier comes with the stagnant progression of the line from a performance standpoint. There's still a lot to like with the latest model, but at a $20 jump and a design that feels like we've seen it before in some psuedo Hyper Blue Chip-esque form, it's easy to feel let down.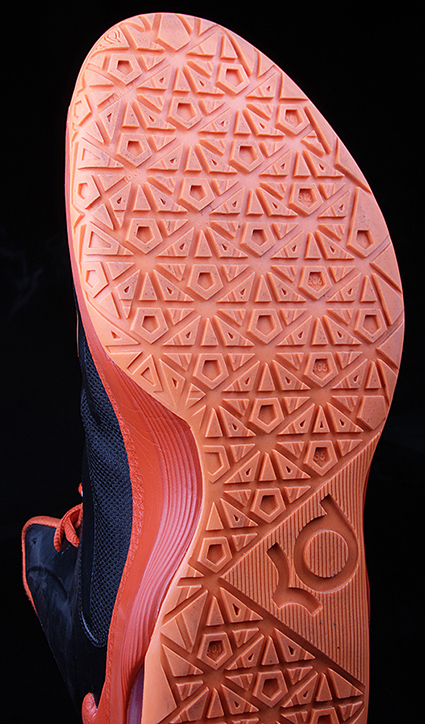 For starters, the shoe's Hyperfuse upper construction fits and hugs well, but isn't nearly as padded or comfortable as the leather uppers found on the II and III. The move to Fuse can largely be justified by a weight savings, but as the upper has gotten thinner and thinner through the years, I also noticed quite a few irritation spots throughout. It's worth noting that I love to play in real thin, real low socks, but that simply wasn't an option in these.
After my first night out for a 2 hour run in no-show socks, I had an open cut on my left Achilles, and rubbed-raw sores also on my inner ankle and above my foot, just under where the middle of the tongue. Needless to say, my feet were wrecked. You'll want to grab some Elite socks or something with a little more protection, as I found the shoe's thin upper is pretty unforgiving in quite a few zones. That's really all just a byproduct of brands becoming more and more conscious of the size 9 listed weight. They've become willing to thin out uppers to shave off anything possible.
Another thing that's been fairly noticeable with the KD series is the move away from the perfectly grippy herringbone pattern found on the KD II and III, towards more storytelling graphic patterns on the IV and now V. The thunder bolt pattern on the IV last year held well, but didn't quite have the squeak that herringbone is known for. Luckily, the pentagon inspired pattern on the V this year is outstanding. As nervous as I was about seeing a designed pattern once again, it was great right out of the box, held up well over time and is definitely the shoe's bright spot. If traction ranks high on your list of priorities, these are worth checking out. The great traction, money outrigger placement and smooth toe off made the KD V fun and fast to play in.
Just above the shoe's outsole lies the most cushioning featured yet in a KD shoe, with a heel Max Air unit and forefoot Zoom bag housed within the shoe's substantial Phylon midsole. The cushioning is sufficient, but is also definitely skimped on a bit thanks to the shoe's $115 pricepoint. The fact that KD's shoe broke the $100 mark for the first time this year was quite a big deal, and my stance all along was that they should've just made this shoe everything it could've been and priced it at $130.
Instead, there's a cheaper heel bag used here, and a smaller overall rectangular Zoom unit in the forefoot. Both units were fine – nothing earth shattering – but the shoe played real low to the ground and the midfoot seemed to flex quite a bit. It's an area that could definitely use some improvement and would've helped with the shoe's overall support and stance.
If you've been following each year of the KD line so far, you'll realize pretty early on that the V follows some of Nike Basketball's best practices when it comes to collar height and cushioning units, but that it also won't blow you away with anything new or truly impressive.
You'll be happy enough with your purchase, but not hunting down backup pairs like I was on the II. As the brand continues to raise KD's profile each upcoming season, I'm hoping that the performance can also be amplified to fit the growing status of Durant's game.
GRADE BREAKDOWN //
designer: Leo Chang
best for: slashing forwards and big
colorway tested: Black / Title Orange / Blaze
key tech: Hyperfuse upper construction, heel Max Air, forefoot Zoom Air
pros: heel impact protection, outstanding traction, durable option as team shoe
cons: shoe feels flimsy, midfoot support less than ideal, several hot spots throughout if you play in thin or no-show socks
improvements: better pad upper, improve midfoot shank support
buying advice: While the KD line was renowned early on for its amazing performance and great value price point, as the line has evolved into higher pricing tiers, unfortunately the performance hasn't followed along with that elevation. You'll be satisfied with the KD V's cushioning and traction, but it won't leave a lasting impact or have you seeking out another pair, like the KD II's total package did. Check them out if you're after top tier traction and a versatile and durable sneaker. Shy away if you have sensitive feet or need more midfoot support.