words // Nick DePaula
images // Jotham Porzio
as published in iPad Issue 18 : The Kicksology Issue
This is going to sound crazy -- the Kobe 8 is the first shoe that I've thought was too comfortable. Comfortable to a fault, that is. Over the month and a half that I spent wearing the 8, I started to realize that there's a difference between comfortable and cushioned, a difference between soft or pillowy and responsive, and it's all of those minor tuning details that, for me, hold the latest edition back from being so close to great yet again.
For the past five years, each of the signature Kobe models during the Low-top era has had one defining performance flaw. They were all among the best performing models of each season, but I'm selfishly after greatness here, and I hate to see room for improvement seemingly left on the table.
The IV's Lunar Foam forefoot simply didn't hold up. I didn't love the V's traction on less than perfect courts. The VI had traction issues as well, and probably could've used a wider volume Zoom Air bag up front. By the time the line offered up huge heel and forefoot Zoom units in the VII, it was by way of a cumbersome interchangeable sockliner "system" that robbed the shoe of the speed, transition and nimbleness that it had become known for.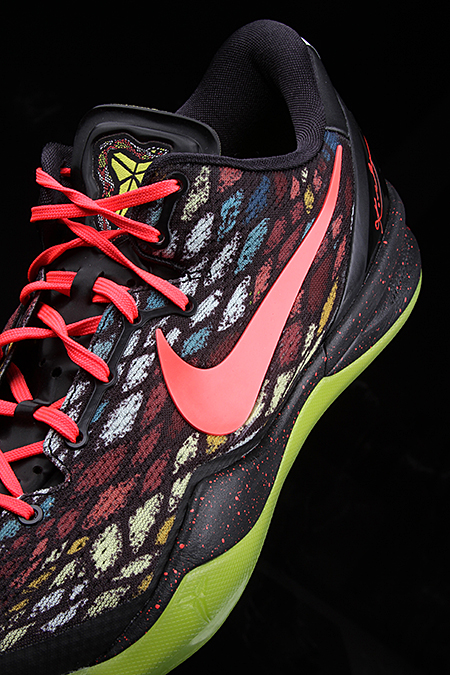 Now with the 8, while they've corrected quite a bit in just a year's time, the shoe still falls short in one category. I just really take issue with the interchangeable sockliner system again. This time, the thick insole is more contoured, sits lower, is more flexible and allows the shoe to play and feel like a traditionally constructed sneaker, as compared to last year's clunky and slappy transition.
But I really didn't care for the fact that it doesn't have a fabric topliner, as the foam footbed doesn't quite have the same hold or the same lockdown. It's just a noticeably different feel and experience, and I'd much rather opt for a traditionally soft fabric to the touch. The "All-Star" Kobe 8 actually does feature a fabric liner, but you'll have to spring some extra coin, as it's a $180 Nike+ enabled version.
I also didn't care for the shoe's cushioning setup and lack of Zoom Air altogether. Which you could've easily guessed if you've read any of my past reviews. As I mentioned at the top, this shoe is comfortable by its vague definition. Step in and you'll love them right away. They're sweet right out of the box, and definitely make for a great everyday sneaker to kick around casually.
The full Lunarlon drop-in sockliner (seen below) is soft, pillowy and comfortable, without question. But it isn't responsive or targeted, and it's not ideal for basketball when I'm after every last ounce of technology from Nike. I know Zoom Air exists, and I want it here. 14 millimeters in the heel and 8 millimeters in the forefoot, to be exact.
A traditional midsole construction and heel and forefoot Zoom units might not've allowed the team to shave as much weight as they did here, but it would've made for far better cushioning and feel, and it's a tradeoff I'd take for another ounce or two.
The cushioning setup is pretty much my one and only complaint, because the rest of the shoe is about as good as you'd expect for a series that's made only small and minor tweaks to the upper and midsole along the way. Gone is the arbitrary nylon Flywire strands, and in is an Engineered Mesh upper that hugs and fits just perfectly.
They fit true to size length-wise, and fairly close and narrow along the sides. I happen to like that soccer cleatesque feel, but you'll probably want to try them on in person if you're nervous about too snug a fit. The tongue is luckily a more traditional construction than last year's footbed-affixed sleeve setup, and the zonal padding and sculpting along the edges are all well executed and impressive.
As always, the collar foam package is just right, and even though the top line continues to veer lower and lower in height as the line has progressed, the combination of a great heel counter working in tandem with a sleekened and secure midfoot fit makes for some great lockdown and ankle support. They're low, yes, but as secure as it gets.
The shoe follows an increasingly basic aesthetic to the naked eye, and would appear to be easily constructed, but because of how thick the Lunarlon midsole actually is, there's quite a bit of trickery along the outsole to make up for it. The inner frame of the shoe itself is entirely cored out for the drop-in sockliner to have room, and as a result, the outsole rubber is actually just a shade over a millimeter thick.
Because of how pliable and flexible the thin rubber is (and even more so on the clear outsole "Christmas" colorway I played in), you'll never get the squeak and perfect hold that some of the best rubber and traction patterns might provide, but the traction still holds fairly well and is dependable on cuts and jabs. I still liked the Kobe IV (and II, since they should also count) traction best, as they had a better balance of squeak, durability and hold, but the 8's pattern is still nothing to get upset about. The full herringbone pattern works well, even as an extra thin outsole layer.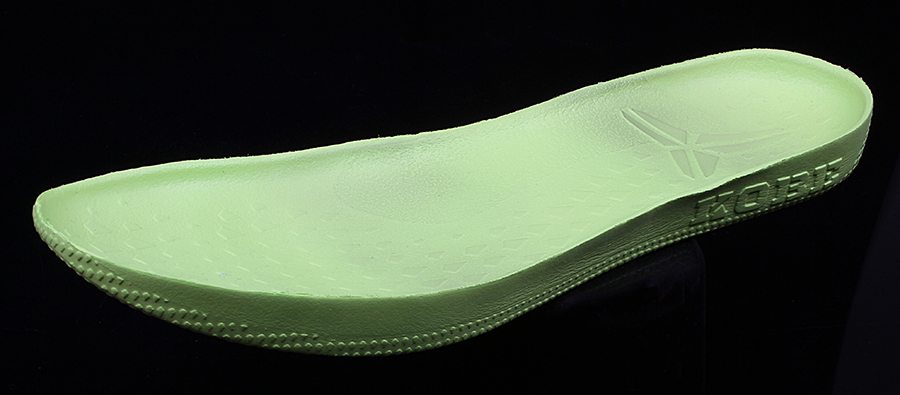 While I had extra high expectations for the 8, just like I do every year for Kobe's product at this point, once again I was let down by just one key factor. Throw some Zoom bags in these and they just might be my favorite shoe of the season, and maybe even favorite shoe in quite a few years.
As it stands, they were still nice to play in, supportive and seriously well-fitting, but I'd rather sacrifice all that for real performance cushioning tuned for hoops. I liked the LeBron X and Jordan XX8 much more than I did the Kobe 8, and if you're after more responsiveness, I'd check out those two models, or even the HyperDisruptor and KD V.
If you want an extremely soft ride, great fit, transition and weight, then the Kobe 8 is definitely a nice choice, but after all these years, I've simply began to hold the line to a higher standard. That standard comes with lofty expectations, and I'm a bit let down when I think about how great these really could've been. I'll be playing in the XX8s in the meantime, and holding out hope that the next Kobe edition down the road that offers up healthy chunks of the best cushioning known to man – Zoom Air.
GRADE BREAKDOWN //
designed by: Eric Avar
best for: guards and forwards
colorway tested: Black / Bright Crimson / Fiberglass
key tech: Engineered Mesh upper, glass fiber midfoot shank, full-length Lunarlon drop-in sockliner, molded heel counter
pros: incredibly lightweight, great court feel, exceptional fit and lockdown
cons: herringbone pattern holds well but could be more reliable and squeaky on less than stellar courts (opt for solid rubber over clear rubber); insole is comfortable but not responsive
improvements: add Zoom Air units to both heel and forefoot; use fabric top liner instead of foam footbed
buying advice: The new Kobe 8 is a surely improved version of last year's seventh model of the series, but the shoe still has a few shortcomings that keep it from reaching the all-time great status that several of the line's models have just barely fallen short on. With the addition of a more targeted cushioning setup and the use of Zoom Air, the 8 would be a must-buy for guards and forwards of all sizes that love to play the game. As it stands, the 8 is a solid option, but doesn't necessarily beat out the competition this season. While the Kobe 8 may be considerably lighter, both the LeBron X and Air Jordan XX8 were more enjoyable all-around playing options.