words // Nick DePaula
images // Jotham Porzio
as published in iPad Issue 18 : The Kicksology Issue
Just like the old basketball sneaker review phrase that nobody ever keeps track of always goes, "No two feet are alike, and no two reviewers weigh things quite the same." Or something like that.
With that in mind, and what I'm ultimately getting at, is while there was a lot to like about the new Crazyquick from adidas, there's one huge disclaimer that kind of ruined the shoe for me. I really value cushioning a lot, more than most people probably, and there's pretty much zero forefoot cushioning in these. It might not be a deal breaker for you, but it certainly was for me. That, in addition to the pretty hard-to-justify $140 price tag, makes the Crazyquick tough to recommend. But, if you're really into the things that the Crazyquick kills it on, then they might be worth checking out.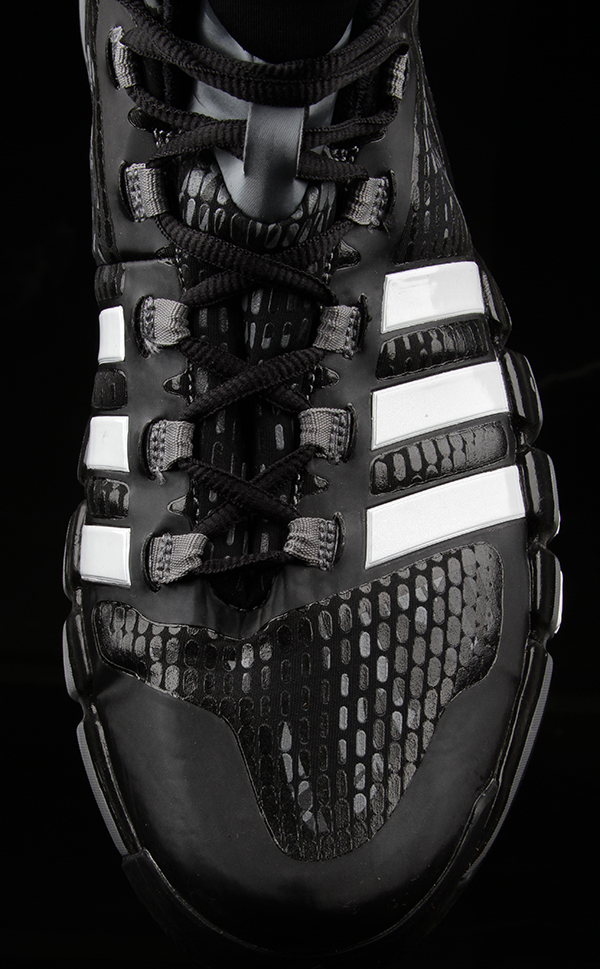 As I mentioned, the cushioning is really frustrating because there isn't any up front. The heel feels soft enough, thanks to a slab of foam that compresses well with some nice radiused sculpting, but up front, you'll be feeling every last zone of firmness. Because the shoe sits so low and is deeply segmented throughout, it's quite similar to the Nike Free experience in terms of flexibility, control and feel – and also, the sheer lack of cushion. Of all the shoes I've played in this season, the Crazyquick was probably the most firm of the batch, and when compared against shoes in its price zone, it's quite hard to overlook.
Having said all of that, if you're ok with wearing a firmer platform, there can definitely be some positives. As you might expect, the shoe's bright spots are traction, quickness and court feel. It's aimed for speedy guards on the go with sudden jabs and movements vital to their game, and the shoe serves that style of play excellently. If you liked the speed and control and didn't mind the firmness of the Rose 1, then you'll probably really like these too. The traction is a little firm to start and takes some breaking in, but by your third night you'll be stopping exactly where you want, every time. Deciding between that cushion vs. control dilemma is really going to be something that each player will have to weigh with the Crazyquick.
The stance is low and the side-to-side support is great in these. Part of the goal of maximizing of your first step that designer Robbie Fuller really focused on is found in the shoe's segmented outsole. Once broken in, the flexibility and exceptional traction are the best parts of the shoe. I could've used a little more rigidity in the midfoot and thought the arch flexed a little too much, but there's still a flow and transition to the shoe that you won't often find. They're really best suited for a guard that gets up and down, plays side-to-side, and values being in complete control at all times. A guy like John Wall, actually. If you're a high flier or someone that in a two-hour game can't withstand a bit of pounding, then the Crazyquick might not be a great fit.
Speaking of great fit (and reaching transitions ...), the shoe's debut of Techfit in hoops is really impressive. The shoe runs true in length and slightly narrow in width, but the stretchy and soft fabric throughout the upper does a great job of conforming where needed, being plush through the collar as preferred, and still offering up the support demanded for basketball in the heavy force zones.
It's a really well-engineered upper pattern, and the design of the shoe basically follows and takes shape around the necessary zones of support. The upper isn't as light as other models out there, but it's well done and hopefully something that adidas looks to as a best practices example going forward.
If you're keeping score at home so far, I really liked the traction, court feel, fit and support, yet struggled to get past the general lack of cushioning. Another knock on the shoe worth mentioning is simply the price. If you're leaving the store with these and a post-tax $150-ish hit to your wallet, you might be disappointed. The materials are solid, though the upper scuffs and creases real easily, but the shoe definitely leaves a lot to be desired from a value standpoint for me.
All in all, I was excited to get into a different shoe once my testing period with the Crazyquick was up, which is usually a telltale sign for my reviews. I just really needed more cushioning for a two-hour stretch of pickup games, and these didn't cut it for me. If you don't rank overall cushioning high on your list of priorities and you play a fast game, there's a chance you might really like these a lot more than I did.
The Crazyquick is entirely unlike the Nike Air Force 25 in terms of silhouette or build, but that shoe quickly came to mind after I got done playing in these. I absolutely hated the AF 25 and thought it was too clunky, unventilated, restrictive and expensive. Yet big men who really valued impact protection, support and a stable base over less weight and court feel thought they were the best things ever. A guy like Carlos Boozer loved them, and I'm nothing like Carlos Boozer and have never painted on my own hair.
It was a great example of how different styles of play and needs on court can leave you with two very different takes on a basketball shoe. The Crazyquick is another one of those polarizing shoes. It might be just right for your game and is so good at some things that it's worth checking out if you're a speedy floor general. At the end of the day, though, it just wasn't the shoe for me, and I'm just one opinion.
GRADE BREAKDOWN //
designer: Robbie Fuller
best for: guards and forwards
colorway tested: Metallic Silver / Collegiate Navy / Light Scarlet
key tech: 14-zone segmented outsole; SPRINTFRAME support chassis; Techfit upper
pros: solid support and fit; great traction once broken in; great court feel
cons: no forefoot cushioning whatsoever; poor value for price; break-in period required
improvements: please, please add some level of cushioning in the forefoot
buying advice: If cushioning is something you require when playing basketball, you can entirely forget about these. If you're willing to get past that for a tradeoff of court feel and a low-to-the-ground feel, then you'll probably like these. Hard to recommend at full retail, but an option that quick guards should look into nonetheless.