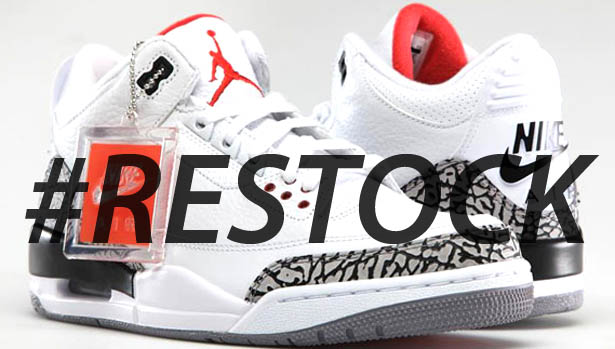 words // Zack Schlemmer
RESTOCK. It's a word many sneaker collectors welcome with open arms, and a word that makes resellers shudder to even think about. Jordan Brand is about to unleash a restock this Memorial Day weekend of pretty much every major retro Air Jordan release of the past few months. Headlining the restock is the Air Jordan 3 '88, which as you probably know, sold out instantly on its early February release, and has since had the majority of pairs posted on eBay at ludicrous resale prices. Now, to the dismay of resellers hoping to move their pairs (or have to put in work to gobble up all the restock pairs), the public gets another crack at the '88's and a few other sought after Air Jordans this weekend.
As the biggest and most hyped release to receive a restock so far, the Air Jordan 3 Retro '88 re-release made restocking a hotly debated topic on every sneaker blog this month. Do restocks help the average consumer get their pair? Do restocks hurt resellers? Do resellers still just get all of the restocked pairs anyway? In this Tuesday Topic, we get the discussion started, and let you weigh in on the pros and cons of the current restock phenomenon.
There seems to already be three main opinions on the restock issue, with examples of each easily pulled from our post on the announcement of the AJ3 '88 restock earlier this month:
#1. F#*k the Resellers:


#2. Resellers Will Still Get All of the Restock Pairs:
#3. Restocks Make a Shoe Lose its "Value" or Exclusivity


So there you have it. Many people are glad to see the restocks which allow another crack at a shoe they may have missed or a chance to stick it to the resellers. Others still aren't even going to bother. And some would like to see the sneakers remain more exclusive with only one release.
But one last area of discussion arises in the restock debate: Why is Nike/Jordan Brand doing this in the first place? Are they actually trying to put an end to reselling? Do they care who buys the shoes at all? Or are they simply trying to sell more sneakers?
There are definitely a lot of dimensions to the restock debate. Now it's time to get this Tuesday Topic discussion rolling in the comments below. Are restocks good or bad for sneaker culture? Will you be trying for any of the restocked Air Jordans this weekend?