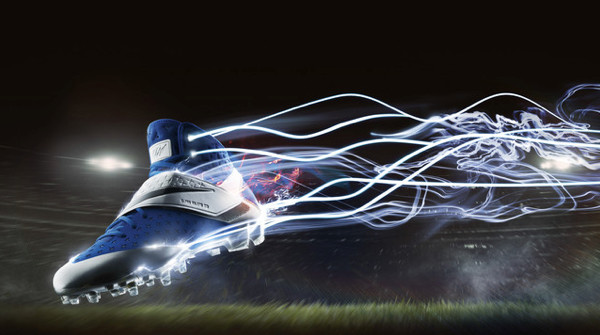 words // Brennan Hiro Williams
Nike and Calvin Johnson officially unveiled the CJ81 Elite TD cleat today, the first signature model for the record-setting receiver. Nike designers worked closely with Megatron on the cleat, which features a dynamic natural motion upper, proprioceptive collar design, full-length Pebax speed plate and a new midfoot lockdown system.
With a background in engineering and a scholarly pedigree, Calvin approaches his game and his equipment from an analytical perspective. His collaboration with Nike designers delivers a cleat that contains, protects and unleashes his athleticism. His size, speed and quickness demand a cleat that offers full range of motion like a low-cut version with the performance benefits and ankle support of a mid. With this in mind, Nike designers created a new lightweight proprioceptive collar that allows full freedom of movement without sacrificing lateral ankle stability and support – a mid-cut that plays like a low.

Based on Johnson's insight, strong arch support is critical to his ability to explode off the line of scrimmage as well as make quick powerful cuts. The CJ81 Elite TD features a new dynamic midfoot arch strap created to provide side-to-side and heel lock-down as well as cradled support. The strap transitions from the internal medial side of the foot to the outside lateral side, providing a more customized fit around the arch, while the open mesh panel allows for more ventilation in this area. To support his powerful movement, he also needs additional toe and ankle protection so the lock-down fit from the strap helps with those quick, sharp cuts.
The Nike CJ81 Elite TD is available now at Nike.com.