words // Zac Dubasik
images // Jotham Porzio & Nick DePaula
as published in The Kicksology Issue
The one characteristic that the entire Dwight line has shared thus far is the fact that despite being designed for the premier big man of the era, their appeal isn't limited to big men. If you're a lightning-quick guard, you definitely can find quicker options more suited to your game. But most other players can find a lot to like in the adiPower Howard 3, which features one of the best protection-to-mobility ratios available today.
While I've been a fan of the Howard line, it hasn't been particularly innovative. After the Superbeast and adiPower Howard shared a tooling, we once again see a reused tooling – this time being carried over from the adiPower Howard 2. That means that it features Alive cushioning, which I find to be one of the best foam-based cushioning systems available today, particularly for bigger players. It's perceivably protective, while maintaining stability. Another standout feature of the tooling is its outstanding transition. At 14.3 ounces, the latest addition to the line certainly isn't the lightest shoe available, but it plays much lighter, thanks at least in part to that smoothness. A great heel-to-toe transition can go a long way in minimizing the perceived weight of a shoe.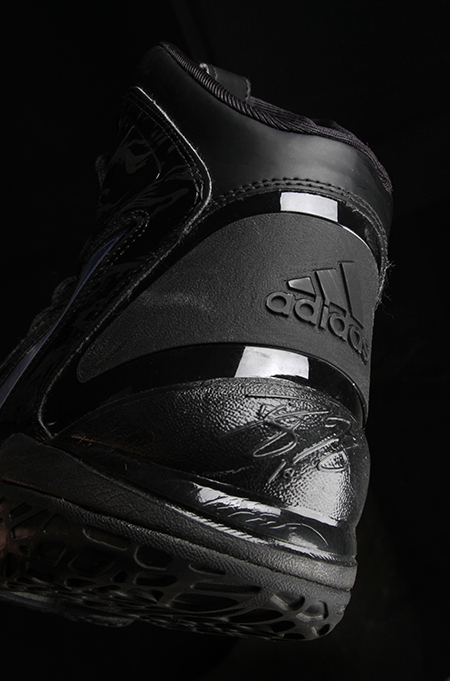 The last area of note on the tooling is the outsole. I once again found the shattered-glass traction pattern to be sticky and reassuring after a short break-in period. After roughly a month of play, though, a problem began to develop in the heel. The entire lateral side began to delaminate, which got worse over the next few wearings. They weren't entirely unplayable when I stopped wearing them, but it was getting to the point where it was a problem.
I was unable to try out a second pair for an extended period time to compare and see if that, too, had that problem. It is worth noting, though, that I had no issues with the adiPower 2, which had the same tooling. That, combined with the fact that I had put a hard month of play into them before the problem started (20+ wearings), eases my worries in recommending them.
The tooling was the highlight of the adiPower Howard 2, which means the main area for improvement was the upper. It's not that the fit was terrible – I still enjoyed playing in them quite a bit. To my eyes, the shape of the 3 didn't excite me in the sense that I thought it would fit better. I thought it looked slightly bulky, and the clear panels were unnecessary. But when I slid my foot in, my opinion immediately changed.
The shoe features a partial bootie construction, plus a little extra. What I mean by that little extra is that there is a wide elastic strap that runs diagonally from the sides of the heel and through the tongue. Despite looking almost archaic in its simplicity, it was effective in terms of comfort and fit. When fully laced, the upper hugs the foot exceptionally well. It might not look pretty – I had some extreme toe-hawk – but my foot was fully locked.
My only real complaint about the upper (and the entire shoe other than the delaminating heel issue) was its lack of breathability. The aforementioned clear panels are very thin, and actually helped rather than hindered the fit. But one thing they didn't do was breathe. In fact, they fogged up so much that my all-black pair appeared to have white stripes.
Which is a kind of cool effect if you're a kid. But not exactly ideal for a performance basketball shoe. Like I always say, though – whether or not a shoe has good breathability, they're always wet after a long run. So, despite not being the best, it didn't materially affect their playability.
The Howard line has since changed directions, but the effective simplicity found here was refreshing. For a pure big man, these are an easy choice, at a reasonably affordable price. They are protective enough for anyone, and mobile enough for most. This was easily one of my favorite shoes of the season, and outside of the possible durability issue, a strong recommendation.
GRADE BREAKDOWN:
colorway tested: Black / Black / Black
best for: all players other than smaller guards
key tech: midfoot TORSION plate; Alive cushioning; external heel counter
pros: cushioning; transition; traction; fit
cons: breathability; durability
improvements: better integrate midfoot cage, or use no cage
buying advice: To different extents, I've enjoyed playing in every shoe so far in the adiPower Howard line. And the 3 was my favorite yet. Nothing about the shoe screamed "refined fit" when looking at it, yet when laced up, the fit was a highlight. That was my biggest issue with the prior versions, and it was finally corrected here. My only issue with the shoe was durability concerns, which is usually the least of my worries with adidas Basketball shoes. After about a month of wear, the outsole began delaminating in the heel, which actually affected their play. I wasn't able to try a second pair, so I don't know if this is an isolated incident, or a potential problem. Other than that potential issue, this is a strong recommendation for anyone looking for a relatively affordable, well-rounded hoops shoe.