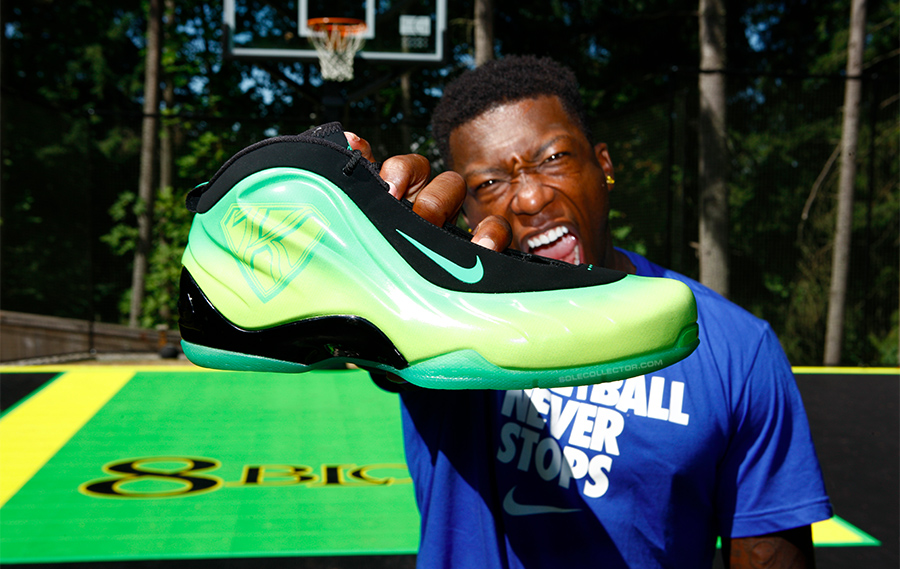 words & interview // Nick DePaula
images // Zac Dubasik
as published in iPad Issue 11 of Sole Collector Magazine
For most players who grew up during the 1990s, Michael Jordan was their guy. They, like you, wanted to be like Mike. Things were no different for Nate Robinson. The fact that he was such a versatile and unique athlete himself early on, coupled with his hometown Seattle's own stars and emerging sneaker scene, helped him develop a love for a variety of shoes and players, but even all these years later, he's still drawn to Mike's greatness on the hardwood and the models he established as longtime icons.
It was his love for MJ and his favorite player from two other sports, Deion Sanders, that helped to inspire Nate early on as a standout athlete in the Seattle area. During Robinson's high school years, not only was he the 2002 Washington state player of the year his senior year in hoops, but he also won the same award for his gridiron exploits, starring as a dual-sport phenom at Rainier Beach High, breaking records on the regular and winning state titles along the way.
Even with an NBA career that's taken him to New York, Boston, Oklahoma City, Oakland and now Chicago, he still calls Seattle home. This past summer, he's been committing himself to building up a sneaker collection featuring the legendary models of his favorite players.
After giving away hundreds of pairs of shoes through the years, whether it was an endless stash of LeBron and Kobe signatures that he'd played in and been done with, or the fact that he has four brothers that all wear the same shoe size he does, his collection had thinned over the years as he moved through the League and couldn't keep everything in one place. As we saw firsthand, he's now got everything neatly ordered along elaborate hardwood shelving, and an agreement in place with his brothers on what they can and can't "borrow."
The Sole Collector team visited Robinson at his family's home just outside of Seattle earlier this to talk all things sneakers, get a personal tour of his closet, re-live the Kryptonate phenomenon, and sort through all of the shoes that he was planning to wear for this season. After growing up a huge MJ fan, he got the chance to don red as the newest member of the Bulls this fall, and he's certainly been taking advantage of the opportunity while helping to lead the Bulls through the NBA playoffs. Just as he's always dreamed, he's finally gotten the chance to "be like Mike."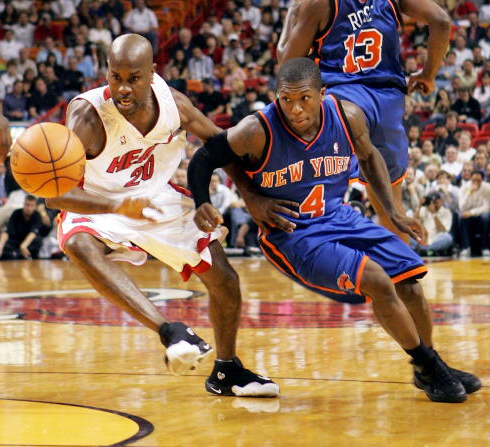 Nick DePaula: How'd you first get into sneakers as a kid?
Nate Robinson: Man, as a kid, it was Michael Jordan everything. You fall into the category of being one of those guys that needed every shoe that Jordan ever wore. You're also going after [any other] sneaker that catches your eye. You just find a way to get every shoe that you can. There were still different guys that had their own shoes too. At one point in time I had the Shaqs back in the day when he was with Reebok. I had the Shawn Kemps, the Reignmans. I was a big fan of the Barkleys back in the day too. I was also a big fan of Gary Payton, and I had all of the GPs and the Gloves. Everything. All the Jordans. It was just something that I took a liking to, and over time, sneakers never get old. There's always a shoe that they can come out with that captures everybody's attention. I'm trying to get my hands on the Marty McFlys now, and I've yet to find them. That's another shoe that I need in my trophy room. Just to see all of the old school shoes and all of the new school shoes that they're creating now, it's just getting better and better each year.
NDP: You mentioned Gary Payton and Shawn Kemp. What was it like just growing up in Seattle and what was the sneaker scene like here?
NR: It was great man, honestly. Being from Seattle and watching those guys play basketball was great. I played for Gary Payton's AAU team; his little All-Star team was called the "GP All-Stars." He blessed us with all of the shoes and with jerseys, and we had like four or five different jerseys. We wore different shoes every game, brand new, and it was crazy. GP really took care of us, and as a kid growing up in high school, I used to always tease Gary Payton. I'd be like, "You know man, I'm gonna make it to the NBA, just like you." He'd be like, "Yeah ..." [Laughs] You know, like, "Yeah kid, whatever. Keep working hard, though." [Laughs] He always said that, and then I remember my first game that I played against him when he was with Miami; I got my first dunk. He was on that team, and he just shook his head. I was like, "Yeah, I'm the same kid on the GP All-Stars! In the NBA now!" [Laughs] It was just great being from Seattle and seeing what he and Shawn Kemp brought to Seattle and to the NBA. It was a beautiful thing.
NDP: A cool thing with you too is that you stayed home and went to the University of Washington for school. Arizona has always been known as a big sneaker school, but now UW is too, and that was started by you and guys like Will Conroy.
NR: Yeah, and for us, it was a big thing to try and stay together and put Seattle on the map. Unfortunately, we couldn't get every guy, like Aaron Brooks, and then Martell [Webster] was supposed to go there. A guy like Pey Pey [Peyton Siva], he went to Louisville. It would be great if we got everyone here to stay and put on for their hometown and we just wanted to put Seattle on the map. I think we did a good job of doing that just by playing hard, and I remember one year they made the [Wheat] Jordan XIIIs in that white and Husky gold, and we wore them at the Great Alaska Shootout. We won the tournament. It was beautiful. I remember just being like, "Man, I'm keeping these forever." My brothers probably took them, though, and I don't even know where they're at now. [Laughs] Sucks.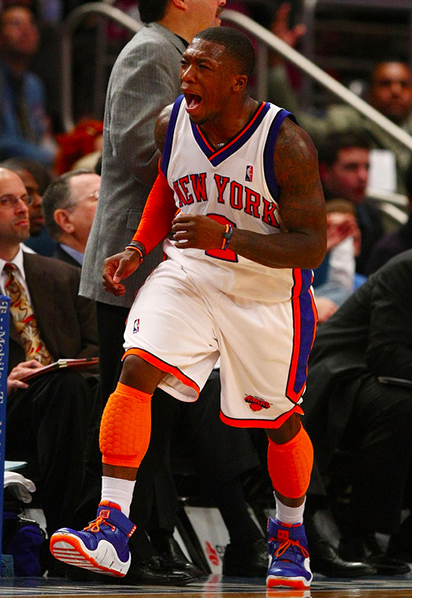 NDP: Once you got drafted and ended up in New York, what was it like just now being in the League and also getting used to the sneaker scene there?
NR: It was crazy. I would always go to Harlem, Brooklyn or the Bronx, and I would always go randomly just searching for shoes. People would be like, "Don't you need security out here?" I'm like, "Man, I'm just trying to find some shoes and have a good time." That's what the fans always loved. They loved that I was always out in the city and enjoying myself. I was always trying to find different stuff, though. In New York, a lot of people are sneakerheads, and that's what they do. They live basketball and sneakers. Just to be a part of the Big Apple when I was there, it just grasps your attention, and it made me feel like I was in a whole other world.
NDP: During the summer before your rookie year, was the Nike deal something that you were dead set on, or were there other brands that you were considering?
NR: You know, I just told my agent, "Man, it's nothing but Nike for me. Nike or Jordan. Anything else, I don't want to wear it." In a sense, that's stubborn, but I'm not all about the money and I just wanted to be comfortable. Deion Sanders said something that I'll never forget: "If you look good, you'll feel good, you'll play good." I know that if I'm wearing Nikes or Jordans, I'll feel at my best and I'll play at my best.
NDP: When you were on the Knicks, you were switching in and out of a lot of stuff. You were wearing Kobe stuff, LeBrons and a bunch of things.
NR: Yeah, LeBrons, the new Forces then [Air Force 25], Barkleys. Any shoe that I could find in Knicks colors or if they had that pop to them, I was trying to wear them. I was always that type of guy where sneakers were something that I loved to wear.
NDP: When you're playing the Lakers, would you specifically not wear Kobe stuff? We've heard guys say that before. Would you think about it like that?
NR: Not really. I'm the type of guy where if I like a shoe, I'm going to wear it. I don't care if the guy is a rookie and he's got his own shoe. I'll wear the KDs if I want, and if I were playing against KD, it wouldn't be like, "Ah, he's in the League." Some guys are real anal about that, but not me. I'm ok with it and I'm not trippin'. As long as my team wins and I do great, then I'm good.
NDP: In New York, that was really when NIKEiD started to pick up and you were one of the guys that was wearing the most iD stuff.
NR: Yeah, and I was on there every day. Before some games, I would go down to the city and go to NIKETOWN, 'cause they had a NIKEiD setup. I'd just go there and kill some time early in the day and go create some shoes and then go to the game. When they came, I'd wear them all in the games. I did a Twitter competition once too to see who could create the best colorway of a shoe and then I created it and wore it in a game with their name on it. A fan won it and I wore the shoes that he created, and it was pretty dope. I used to do just random stuff with NIKEiD and try to create different stuff that Nike doesn't come out with and try and be original.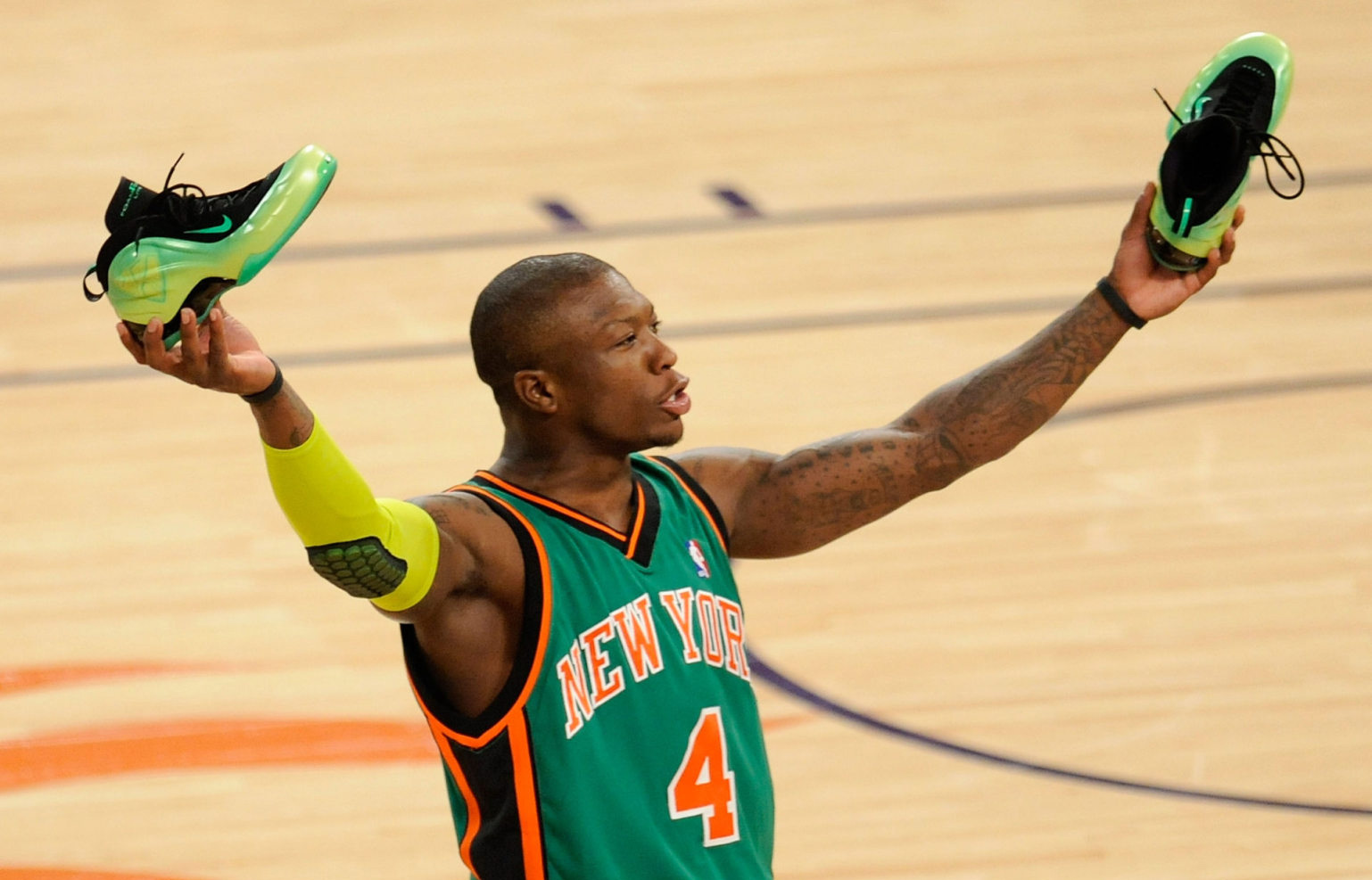 NDP: Once the Dunk Contest came around, what were your expectations the first time around?
NR: Just to win it. [Laughs] I really wasn't worried about anything else, and I had Spud Webb come out for it. Jamal Crawford gave me the best idea. He was like, "Man, it's been 20 years since Spud Webb; you gotta do it." I was like, "Man, it's the perfect idea." I ended up winning that one, and then the next one I ended up losing to Gerald Green. The next year was the Kryptonate deal, and that was pretty awesome.
NDP: Was that something that you came to Nike with?
NR: Yeah, I told my agent about it, and he went to Nike and pitched it. Everyone said, "Ah man, that's going to be awesome." I was like, "We got the green jersey from St. Patty's Day," and they said, "Yeah, that's pretty dope." They ended up making the shoe, a Foamposite at that, and it was pretty crazy that they did it on a Foam. Dwight is a great guy for letting me dunk over him. I asked him, "Hey Man, I've got a great idea for a dunk and I need your help." He was like, "Well, what is it?" I just said, "Let me jump over you. You wear the cape; you're Superman. I'm Kryptonite. We're gonna be living legends for the rest of our lives, and it's going to be funny. People are going to get a kick out of it." He said, "Well first, can you jump over me?" I said, "Come on man, don't insult me right now."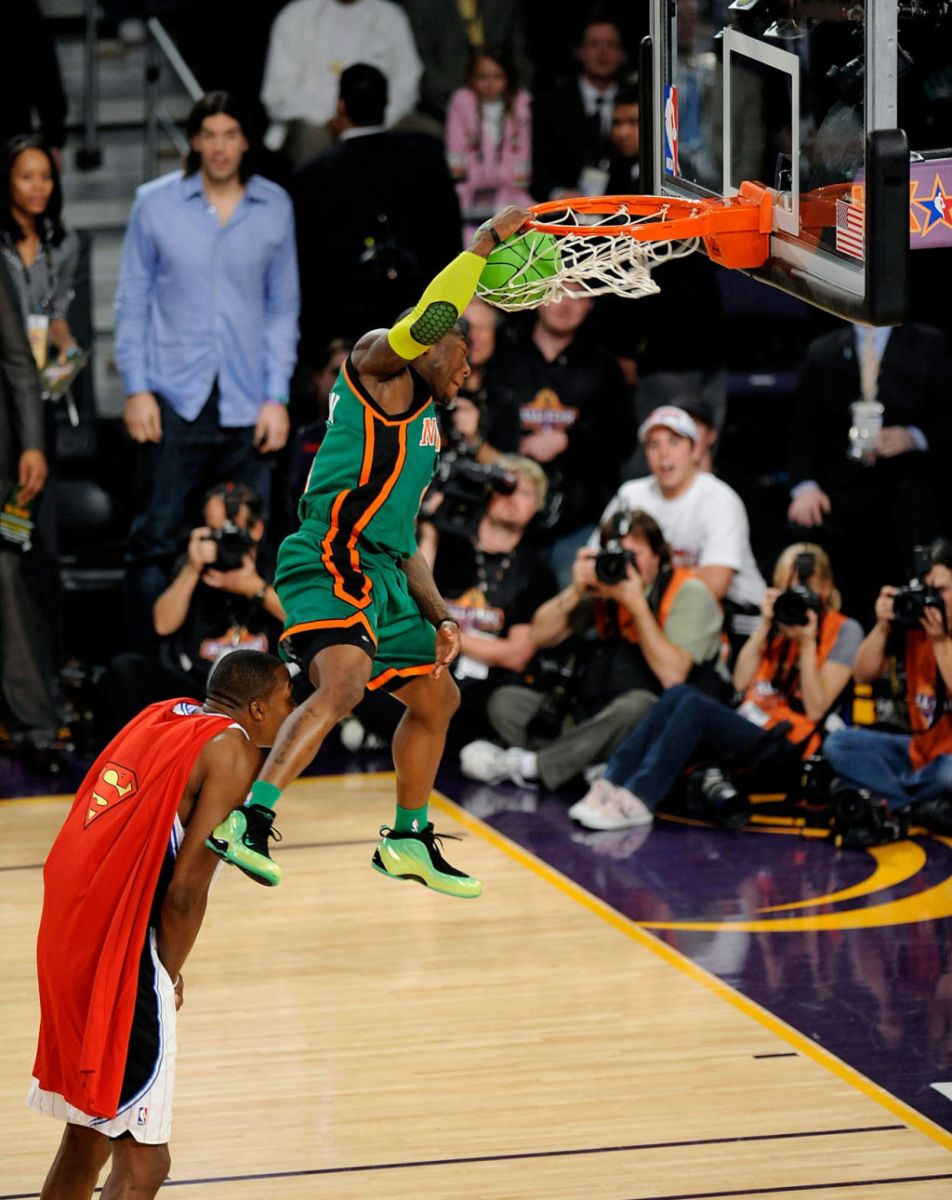 NDP: He didn't register that in that scenario, he'd probably be losing the contest?
NR: [Laughs] Nah, I don't think he did. [Laughs] That's a good point. But he was just a sport about it. For him, we're both getting great publicity out of it, and the kids are going to love it. It was for the kids, and I told him, "Man, the kids will always want to be you or me," and he said yeah. It was pretty cool that it happened and I ended up winning. The Kryptonate thing, I was trying to get them to let me wear them just for one game, but Mr. Stern wouldn't allow it.
NDP: There was a brand thing too with him being an adidas guy and you being with Nike.
NR: Yeah, and he had his own Superman shoes too, and I had my Kryptonate Nikes. That was a big thing between adidas and Nike with the Superman and Kryptonate thing, but Nike prevailed.
Zac Dubasik: What do you think about the Dunk Contest these past few years since you stopped doing them? Do you think they've been as exciting?
NR: Uh, kind of, but not too much. It died down a little bit. You just gotta get the right guys in the Dunk Contest. This year, I would've loved to see Blake Griffin, Gerald Green, and since James White is in the League, hopefully he stays in and would be in it. Terrence Williams, too. Those are the guys that can really jump, and then it would be interesting. Then you got something to go with. Guys are not being creative. Dwight with the whole Superman in the booth thing; that's fun to watch. Nobody has really topped that. Blake Griffin did the dunk with the car and the sunroof, and that was aight, but you gotta be more creative and come up with dunks. That's what fans want to see.
I had so many great ideas. Shaq actually gave me so many ideas for the Dunk Contest. He had me laughing the whole time. To have him think of so many different ideas and just pitch them to me, it was just funny. We were just sitting there laughing on the plane and coming up with so many ideas for the Dunk Contest. [Laughs]
ZD: Can you tell us some of the good ideas that you had that you didn't do?
NR: In Vegas, I was going to jump over a blackjack table with a Playboy Bunny dealing the cards, and then when I dunked it, she'd flip over the ace of spades or whatever. I was going to do that one. Shaq had so many ones. He had one where he wanted me to come in with some female big bodybuilders and these buff women carrying me in. [Laughs] Ah man! He had so many ideas. We had so many different ideas.
NDP: Now that it's been a couple years, has it really sunk in that you won three, which nobody else has done?
NR: Yeah, and for me it's just a blessing to be able to say that I'm the first man to ever win three Slam Dunk competitions. That's history for me. My father is the only guy to ever win an Orange Bowl and a Rose Bowl MVP. For him to have that for 20-something years still ticking since '81 and '85 – almost 30 years now – for my dad to have that accomplishment, and nobody has ever done that. Hopefully he'll be the only one to ever do it. For me, hopefully I'm the only guy that'll be able to win three.
ZD: Do you have any favorite dunks that other people have done?
NR: Yeah. Vince Carter, when he first did the whole between-the-legs and the reverse 360 windmill, that was ill. I love that dunk. The Superman dunk when Dwight threw the ball was sick. I love Spud Webb's dunks, and Dominique Wilkins' power dunks were great. Dr. J from the free throw line, and Michael Jordan from the free throw line and all of his windmills. Shawn Kemp's behind-the-back dunk was pretty sick too when that first came to the Dunk Contest. Jason Richardson's off-the-glass, between-the-legs, man. Him and Desmond Mason both did great. There're so many. Andre Iguodala's dunk off the side of the backboard was pretty sick. JR Smith's dunk where he went behind the back was ill. That was some stuff where you're like, "How do you think about these dunks?"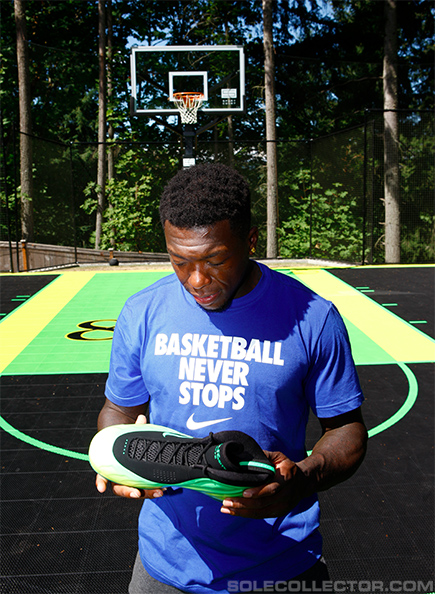 NDP: That's such a hard dunk too. I interviewed a guy with a 49-inch vert and he was saying how he can't do that.
NR: Yeah, the timing is hard.
NDP: The average fan watching doesn't realize how hard it is too.
NR: Yeah, and that was a sick one. Those guys on YouTube do some great dunks, though, and could win any dunk contest in the NBA.
NDP: What are some things you look for in shoes that you're playing in?
NR: Sneakers-wise, just colors. Colors that pop. Blues, like the [Sole Collector Foamposite] shoes that you've got on yourself. Those shoes are hot. Colorways that you can wear with socks that are crazy. With hoopin' shoes in the game, you can never go wrong with Jordans, regardless of what shoe it is. You never can go wrong with those. You've also got the Hyperdunks, and all of the new colors that they're coming out with those, kids eat 'em up. Bright colors attract kids, and that lime green or bright orange and green and yellows, kids love them kinds of colors and they want to rock them. Nike does a great job of coming up with colors and making the kids want to wear them. The Nerf KDs are pretty awesome. Those are one of the best shoes I've ever seen just 'cause of the colorway. It makes you want to wear them.
ZD: Have you ever had a shoe that you thought looked great and you were excited to wear them on the court, but then you didn't like them once you played in them?
NR: Uh, kind of. There're a couple shoes. For me, I'm the type of guy that will wear any shoe, just for the hell of it and just to try. There've been times in a game where I'll switch my shoes like five or six times, like, "Hmm, that ain't feel right." Or maybe I'm slipping too much; I'll go and switch my shoes.
ZD: Do you have any shoes from your collection that are off limits for playing in?
NR: If I couldn't get two pair of them, then yeah. If I only have one pair of them, then I wouldn't hoop in them and I've gotta save them. Some of the BIN Jordans that came out, I've taken a liking to those, but I probably wouldn't hoop in them – unless I had two pair of them. Those are probably a shoe that I wouldn't want to mess up.
NDP: Are there any other shoes that you're really on the hunt for now?
NR: The Marty McFlys are really the main shoe right now. I think I've got every other shoe that I need. There's probably some that I'll go online, look at and try to find from back in the day. I really just try and find retro shoes. I'm a big retro guy. Back in the day, that's when shoes were original and first coming out, and not like now where you take bits and pieces from this shoe and that shoe. I like the original shoes, and for me, the throwback Force [era] when they had Barkley and all of those guys wearing them, that was pretty sick. The ads, campaign and commercials that they did and the pictures that they had back in the day, with "The Iceman" and all of those guys, those are the shoes that I love.
For more on Nate Robinson's collection, be sure to check out our 3-part video tour of Nate's sneaker closet.