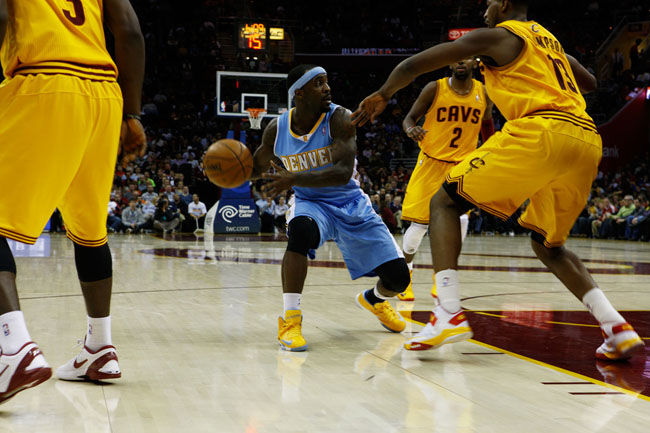 words & images // Zac Dubasik
NBA players have a long history of customizing their sneakers. From Penny Hardaway taking a sharpie to the grooves of his Foamposites, to LeBron commemorating our 44th president on his VIs, to Rasheed Wallace letting his AF1 straps blow in the wind at his heels, there are lots of reasons players tinker with their kicks.
If you watched Game 2 of the Nuggets / Warriors series last night, you may have noticed something different about the Zoom Soldier VIs on Ty Lawson's feet: they are missing the straps.
Lawson has been a longtime fan of the LeBron line, even wearing them in his UNC days, despite the Tar Heels' Jordan Brand sponsorship. But the straps on the Soldier VI just weren't working for him. I caught up with Ty earlier this season to ask him about it.
"I cut them things off, man. I had to tell LeBron it doesn't look too good on there," joked Lawson. While he may have liked the sans-straps look, the real reason was actually performance-based. "The strap kept coming off in the games and getting under my shoe. I had to do something with it, and it actually looks a little bit better, though, without the strap."
Based on the fact that so many players in the League have been wearing the Zoom Soldier VI this season, the straps coming undone doesn't seem to be a chronic problem. It'd be fair to say that Lawson didn't give them much of a chance, though. "I wore them one time with the straps," he continued. "And by the end of the first quarter, I cut them off."
WIth or without the straps, Lawson is one of the fastest players in the League. Check him and the Nuggets out on Friday as their tied series moves to Golden State for Game 3.