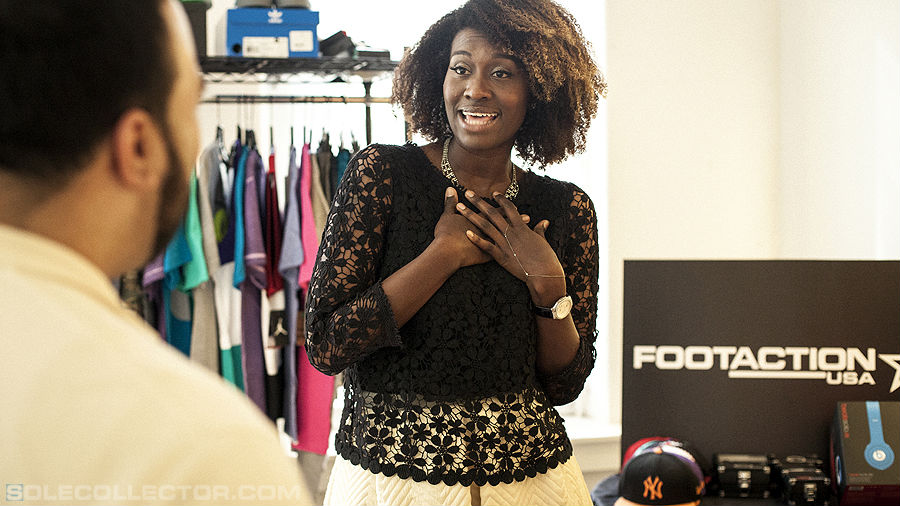 words, interview & images // Angel Navedo
additional images // Cohn & Wolfe
It's taken too long, but an appreciation of sneaker culture is finally expanding into high fashion. For years, the uninitiated referred to all basketball kicks as tennis shoes, denying these artistic fusions of rubber and leather their rightful place in traditional style guides. That's ending.
Rachel Johnson, the chic stylist to fashion-forward star athletes like LeBron James, Dwyane Wade, Amar'e Stoudemire, and Chris Bosh, among others, pieced together her favorite items from Footaction's wardrobe to prove that great style is more about sleek presentation than ever-changing trends.
King James' Nike Zoom Hyperflight PRM kicks from the "Superhero Pack" were paired with slim-cut, self-stitched black denim, a grey tank top, and a complementary blazer to match the sneakers' graphic. A gold-plated FLüD watch with gold and black necklaces rounded a tailored look that looks comfortable while satisfying NBA dress-code rules. Sneakerheads, specifically those who aren't professional athletes, surely know the anxiety of meeting arbitrarily-enforced dress codes when hitting lounges.
"It's all about silhouette and proportion," Johnson explains. "Having a tailored pant changes the look and the silhouette. It makes you look more dressed up and pulled together. Sneakers work here because of the fit of the clothes."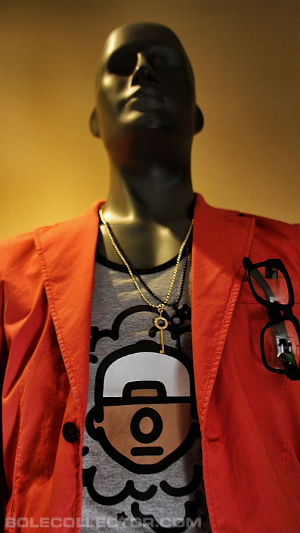 While most sneaker stores focus on athletic apparel and gym gear, Footaction is directing its attention toward lifestyle goods, positioning itself as a one-stop shop for sneakerheads looking to complement their kicks. Levi's, FLüD, Beats by Dre, 9Five Eyewear and Rastaclat are stocked for customers who want to pair their newest pickups with something other than a matching Nike tee.
Sole Collector recently had the opportunity to pick Rachel Johnson's brain to learn more about athlete-inspired style, personal preferences and who's at fault for the lensless glasses trend.
Angel Navedo: When did you realize that athletes cared more about fashion than most would assume?
Rachel Johnson: It all definitely started when the NBA initiated the dress code. They had to fall in line and had to adopt some kind of professional look. Now that everyone works to look good, the NBA pulled back and allows players to express themselves. A rivalry was born out of competition.
People like me were then introduced to the situation, and I was able to help my clients evolve a style and a true love for fashion. I'm a believer in teaching style. But all my clients come from different places with different perspectives, but they all love to look good, if nothing else. Some of them, guys like Amar'e, have an innate sense of style. His mother was a model and he designed his own clothes when he was little.
AN: A lot of these guys make bold fashion statements. How do you balance their fashion instincts with traditional style?
Rachel: There is a delicate balance I try to stress between cool, sexy and street. I meld that together and come up with a look that balances silhouettes, fabrics, and cuts. It all plays into creating these looks I did with Footaction. But everyone wants to look good, and I find ways to emphasize that while making sure they can express themselves. Chris Bosh is the gentleman of the league, very sartorial. He likes to be dressed up. Amar'e is the rock-and-roll skater type, but he changes with the weather. One day it's a Versace shirt, the next it's a double-breasted suit. All of my clients have individual ideas of what their styles are.
AN: So who's responsible for the glasses-without-lenses look?
Rachel: It's my fault (laughs). The trend really started organically. You're executing a look or feel and people latch onto it once they realize it's attainable.
I was vintage shopping, which I do a lot, for accessories. I found glasses that didn't have lenses in them and started thinking about all these different tints. I thought, if it was me, I'd wear them without lenses. But I took them to LeBron, he put them on, and they looked cool. At first, I was thinking a radiant lens for him, and LeBron said "What about without lenses?" That's exactly what I would have done.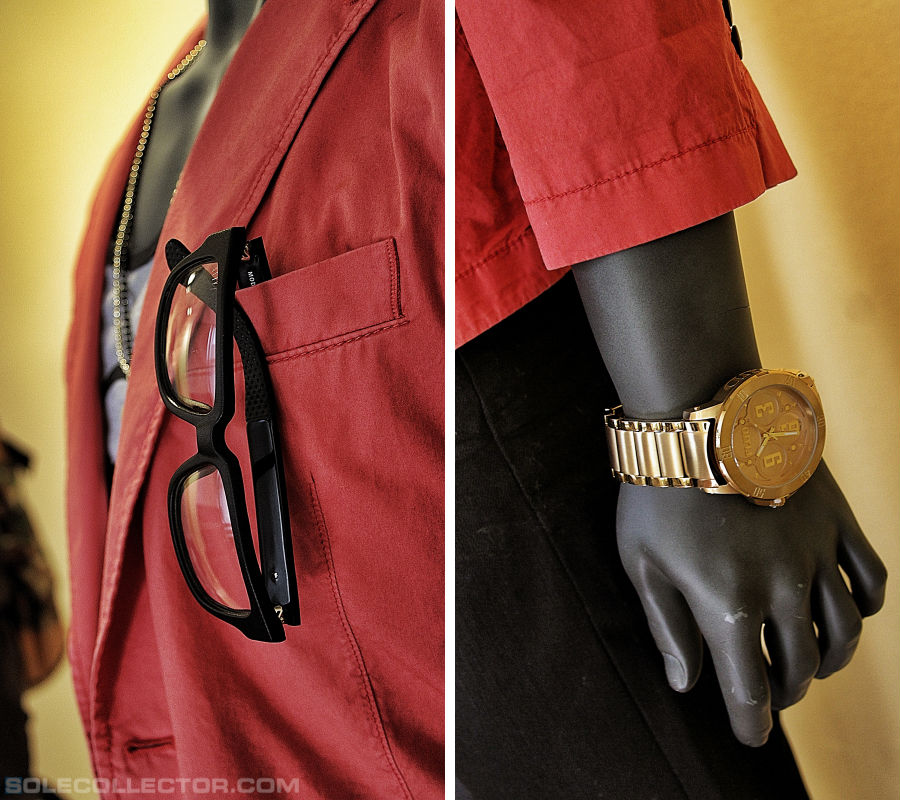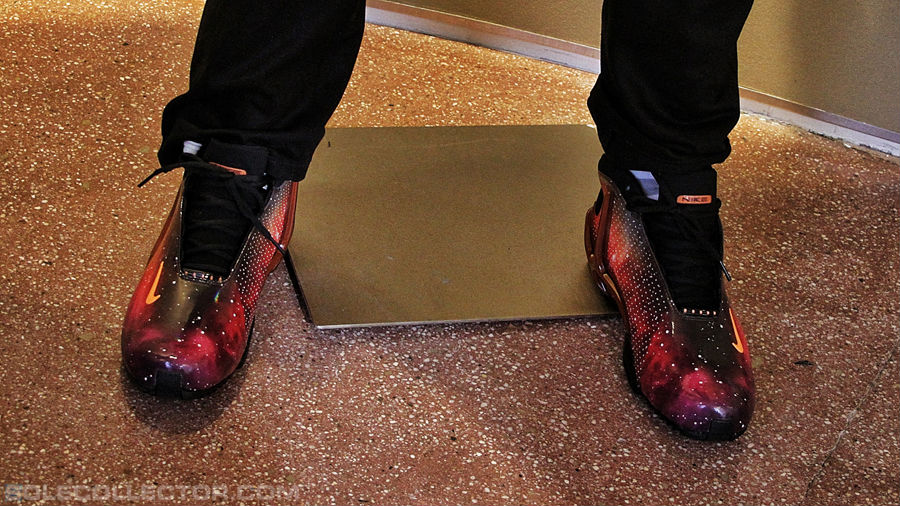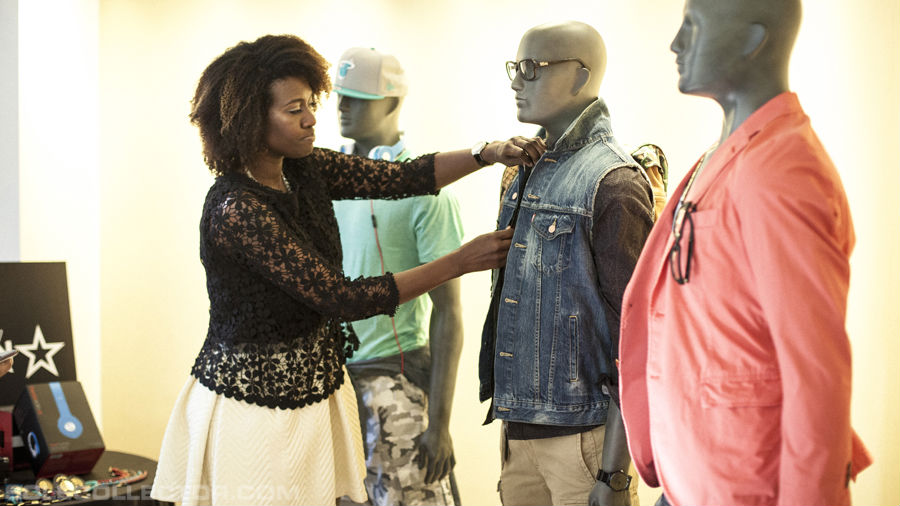 AN: What's your philosophy when styling some of these guys?
Rachel: If you're going to be sitting next to Anna Wintour at a fashion show, I'll battle and say, "No! You're wearing this!" But if you want to wear lensless glasses, I think it's important to let things evolve and materialize without being a dictator. Fashion is a vehicle of expression and owning your look. It's seeing a trend and saying "Oh! I like that. This is how I'm gonna make it mine."
That was a theme in how these looks were curated for Footaction. I identified trends from denim vests to skinny cargos to patterned socks and I found inspiration. Style, in general, is about owning a trend and making it your own.
AN: You have the "Weekend Warrior" look here with camouflage shorts. How much longer do you think camo has in streetwear?
Rachel: Don't get rid of camo. It could never go out of style. It's like the American flag going out of style. To me, camo will continue to evolve and reinvent itself. It's here and it is going to last. I love camo because it's a great way to embrace prints without feeling like you're doing something weird.
Printed shirts and printed pants, especially with what Russell Westbrook has done lately, are a trend that's evolved. These shorts are effective and versatile, and this FLüD backpack is dope because of how the leather and nylon combine with the camo print.
AN: Was a concept of style and how to accessorize beyond the cap something that was missing in sneaker culture?
Rachel: Footaction is about going to one place and getting everything you need. It's natural for me because I can go there, grab jewelry, watches, socks and, of course, footwear. And then you can find unexpected brands like FLüD and 9five and other brands you didn't know were there.
Individualizing a look is about special pieces like accessories. These Rastaclat bracelets are easy to throw on, and you feel inclined to piece them together. You can't build a closet in one day; it's about picking hot pieces and putting them together, and there's a great range of stuff here.
AN: Any tips for sneakerheads looking to make to add more style to their outfits?
Rachel: I believe in tailoring things. You should be on a first-name basis with a tailor, just like you have with a barber. If you want to achieve a clean fit, you have to tailor it. Even things you wouldn't think about tailoring. I'd take a Polo shirt to a tailor -- shorten the front, keep the back kind of long. The smallest tweaks can enhance a look. I'm very specific about things like that, and I encourage men to do the same.
The other trick I love is that when you purchase jeans, grab a pair or two that have self-stitching, like black denim with black stitching. It's an easy way to wear jeans that don't look like jeans. Contrast stitching is a no go if you want to present a more stylish look.